Marketing
5 Platforms for Your Video Content Distribution Strategy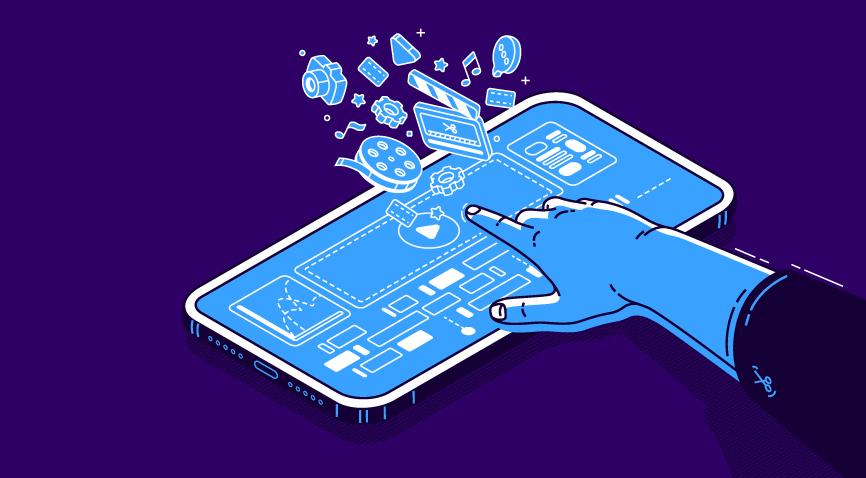 Table of Contents
What Is a Video Content Distribution Strategy?
5 Platforms for Online Video Distribution
Key Takeaways
Conclusion
FAQs
Various factors, including your business objectives, determine the process of releasing the video. You may distribute your video through multiple channels, each having its own set of advantages. Perhaps you want more quality leads, or you'd like more people to recognize your brand. Your video content distribution strategy will be tailored to your objectives and will assist you in achieving them.
The right online video distribution plan puts your content before the relevant audience purchases your products. If done correctly, it may be one of the most effective strategies to generate leads and raise overall brand recognition within your industry and outside. Websites, direct marketing, and social media are some examples of online video delivery. When we say internet video distribution, we are talking about how video material is housed by certain websites. In the survey data below, you can see that video marketing is a growing field. Thus, it will be highly profitable in the upcoming years.
What Is a Video Content Distribution Strategy?
There are four different types of videos that are easier to promote. You have probably heard about the great benefits video content can have for your business, such as increased brand awareness, internet exposure, conversions, and sales, to name a few. Video marketing is expected to account for 80% of all internet traffic by 2022. Isn't it incredible? You must also participate in the game. So, now that you're fully aware of the importance of video content in marketing, let us tell you something: you can use a variety of marketing videos to supplement your video distribution strategy, but some are simpler to disseminate than others. Let's take a look at the key ones.
1. Educational videos
Educational films are an excellent way to enlighten and educate your audience about a particular topic: they have an issue, and you know how to solve it. You then provide your answer in the form of an informative film. They will undoubtedly share your information with others if they find it useful. What's more? Educational films are a no-cost way of brand promotion! In today's times, users search the web for solutions to their questions. If you're there to assist them, you'll get bonus points.
2. Humorous videos
Humorous videos are an important part of a video content distribution strategy. Video has a lot of engaging power, but it's even better if it's amusing and enjoyable. People appreciate viewing and sharing exciting and humorous content, and if they enjoyed your film, they would tell others about it. A dash of levity might help your movie become more appealing and memorable.
3. Video tutorials
You may give a specific answer to a problem with a how-to film, just like you do with instructional videos: you can explain a process or teach your target audience about something you do or know about. As a result, you'll earn a place in their hearts. If they find the information helpful, they will want to share it with their peers.
4. Explainer videos
Animated marketing films are an excellent tool for both informing and educating audiences. Due to the integration of several resources, such as spectacular animations, pleasant pictures, catchy music, fascinating voice-overs, and more, they have great engaging power. It's a highly shareable format that's also incredibly simple to distribute.
5 Platforms for Online Video Distribution
As part of a video content distribution strategy, there are effective channels to help distribute your content. Mentioned below are five of them.
1. Snapchat
In your video distribution plan, don't overlook emerging platforms like Snapchat and Periscope. Did you know that Snapchat receives about 300 million video views every day? Apart from exposure, there are additional advantages to using the app: you may communicate with your most engaged consumers on Snapchat, yet the video production quality demands are minimal.
Here are a few tips for distributing video content on Snapchat.
Create content that can be easily understood and accessed.
Behind-the-scenes (BTS) material is famous.
Try vertical video formats for greater engagement.
2. YouTube
YouTube has a larger audience of millennials than any online video distribution network. The amount of hours spent watching videos on YouTube has increased by 60% year-on-year. It's no surprise, therefore, that so many established brands' video distribution strategies are centered on YouTube. This platform is essential for developing a community, and when combined with your SEO keyword approach, YouTube may help you generate a lot of organic traffic over time. Here are some of the best hacks for YouTubers.
Longer videos are more effective than short ones.
Speak to the camera directly.
Spend some time deciding on which props to use.
Make sure the lighting is adequate.
Target themes that are dynamic and searched for by users.
Divide your video into chapters, for ease of viewing.
3. Instagram
Instagram has approximately two billion monthly users, who spend much of their time each day on the platform. Given its rising popularity among younger customers, it's an essential component of any marketing strategy. A few key elements of video distribution include Reels, Stories, influencer marketing, and more. Here are some tips to post videos on Instagram.
Make your content as relevant and relatable as possible.
It's critical to have high-quality output.
Think about adding celebrity material to your video.
Collaborate with an influencer for virality.
4. Facebook and Twitter
More than four billion video views are recorded on Facebook every day. Twitter, too, is a video hotspot: video views on Twitter have surged by a huge margin too. Because of their rapid "viral" growth and strong interaction potential, we believe Facebook and Twitter are essential aspects of any online video distribution strategy. Here are a few tips to distribute video content on Facebook and Twitter.
The best video length is from 30 to 60 seconds.
Use the first three seconds of the video to instantly grab the attention of viewers.
Try to create videos with more text but less sound.
Experiment with humor.
Leverage paid marketing to increase traction.
5. Video collaborations and partnerships
Media partnerships enable you to reach new audiences with your videos. You'll acquire more impressions and fresh eyes on your branded content if you use media partnerships and collaborations for your online video distribution efforts. Some trends for creators who use media partnerships are as follows.
Celebrity-centric content
Timely tutorials about critical events
Influencer partnerships
Product reviews
Key Takeaways
Video content distribution refers to a distribution strategy in which video content is hosted on various channels.
Educational, humorous, tutorial, and explainer videos are easy to implement and distribute.
Video distribution strategies involve many channels of distribution, including YouTube, Twitter, Facebook, Snapchat, Periscope, and media collaborations.
Conclusion
Video distribution and its success depend highly on its virality. The virality of a video depends on how fresh it is. The faster it is posted, the more viral it can be. It is nearly impossible to ignore video in the marketing industry today. Overall, video increases the standard across owned, earned, and paid media; and with the success of applications like TikTok, YouTube, and Instagram, videos have started to dominate marketing. So, what are you waiting for? Start your video content distribution strategy today.
FAQs
1. What methods do you use to share video content?
Here are six ways to distribute and repurpose video content for maximum exposure.
– Dividing your video into smaller, more focused sections is a good idea.
– Use email to engage.
– Make a social media marketing campaign focused on video. 
– Transcribe your video and add captions. 
– Make a series of blog posts about the video.
2. What does it mean to distribute video?
When we talk about "internet video distribution", we're talking about how video material is hosted on different channels. Making informed choices about which media to employ can assist your company in matching the correct sort of videos with the right target audiences.
3. What is the definition of content distribution?
Publishing material and distributing it to internet users across different media formats is known as content distribution. Earned content distribution is a distribution type, wherein third parties promote your content. Examples include interviews, guest blogs, retweets or shares, and product reviews.
4. How do I make a video available on the internet?
Here are a few key channels for video distribution. 
– Email lists
– Online communities and forums
– Company blogs and websites
– Digital publications 
– Social media ads 
– Google News Showcase