Marketing
A 5-Step Guide to Creating a Content Distribution Plan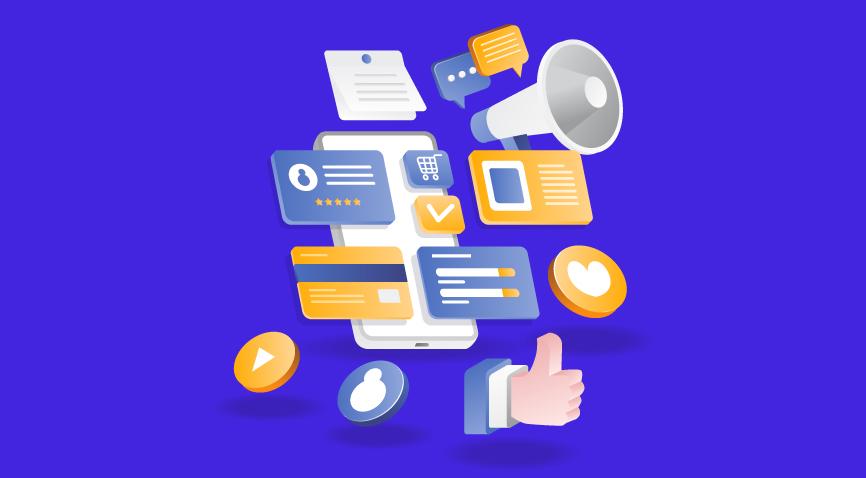 Table of Contents
Introduction
What is content distribution?
How to create a content distribution strategy in 5 easy steps
Key takeaways
Conclusion
FAQs

When you are creating a marketing plan for your brand, the first thing that comes to mind is content. Every website that teaches you about marketing says that content is king. But if you are creating and sharing content without any pre-decided strategy, then you're just shooting in the dark; it may or may not give you results. And if it does, you may never know what worked. To help you plan your content marketing distribution better, we have put together a step-by-step guide below. Keep reading to ensure that your brand has a successful content creation and distribution journey.
What is content distribution?
Content distribution refers to the production and promotion of content to the online audience by various means, such as social media storytelling, email marketing, and more. It's all about creating relevant content about your brand and targeting it at the right audience. This is helpful in generating leads and increasing your outreach. There are three kinds of content marketing channels: owned, earned, and paid.
1. Owned distribution channels

These include all marketing properties that you own, such as websites, blogs, newsletters, emails, and social media accounts. These are the channels on which you have sole control over your content and don't pay for its distribution.

2. Earned distribution channels

These are the channels on which your content is distributed by third parties. This is done through various mediums, such as press coverage, guest articles, review posts, and the like. It is the most credible method of distribution, as it is done organically.

3. Paid distribution channels

These are the distribution channels wherein you pay to market your content. You can pay through different modes for such content, the most common being the cost-per-click (CPC) model. This is when you pay every time a viewer clicks on your ad. Sponsored content that you see on Google, Instagram, Facebook, and on the sidebars of various web pages are examples of this channel.
How to create a content distribution strategy in 5 easy steps

You could be doing content marketing for your business, but if you have not developed a strategy for it, then you're doing it wrong. Every single piece of content that you create about your brand is valuable. Therefore, it's important to create a blueprint that you can refer to, for promotion purposes. It's quite easy to understand. Think of it like creating an itinerary for your trips or a schedule for your working days. If you don't plan it well, you'll miss out on many important things. Since you may be spending money on your distribution, it is all the more essential to have a content marketing distribution plan. To give you a head-start into the world of content creation and distribution, here is a guide consisting of 5 simple steps:
1. Define your goals

Before setting out to create a plan or strategy for your content, it's imperative that you list some goals that you wish to achieve with it. The plan should be created accordingly. For instance, the reach that you wish to attain with your content and the number of sales that you want it to drive are two common goals that you could have. If you are investing money in your plan, the expected return on investment (ROI) must be defined beforehand. Once your goals are clear, it will be easier for you to create content and proceed towards its implementation.

2. Understand your target audience

Once you have your product or service in hand, your next step should be to define your audience. The moment you define the kind of audience you will cater to, marketing will automatically become easy. Social media and other tools such as Google Analytics will come in handy for understanding the demographics and psychographics of your audience. Once you understand the type of your audience you wish to target, deciding the content will be a cakewalk.

3. Streamline the process of content creation

Now that you have defined your goals and target audience, it's time to start producing quality content that will bear results. For this, you must start thinking like a customer and divide your content plan into three parts of the marketing funnel: top, middle, and bottom.

Top funnel
If you were a client, what information about the brand would entice you to know more? That's the top of the funnel. Infographics, blogs, social media posts, etc. will need to be curated to spread awareness in this stage.

Middle funnel
This is when your client will evaluate your product and service. They'll think about its purpose and the problems that it will solve. This is the time when they will conduct extensive research about your product. You need to provide them with valuable insights and information regarding the queries they might have.

Bottom funnel
The final stage includes purchasing. This is when your deal is almost secured, but you need to offer great support to your customer for them to finish that last leg of the journey. In this stage, your content needs to drive people to think why they should choose your services.

4. Market your content

As mentioned above, there are several ways to distribute and market your content. After you have understood your target audience, it should be fairly easy to decide what content goes where. Some content distribution tactics include email marketing, social media ads, blog posts, website ads, and the like. Every marketing medium requires different kinds of content. For example, what works on social media may not work on emails. Therefore, make a list of things that you need in your content strategy, such as adding CTAs to emails, sharing sponsored content on social media, sharing topical content on all channels, and so on. Remember that your purpose won't be met if you don't ace your content marketing distribution strategy.

5. Optimize your content

SEO is an important step in any content marketing journey. If the content on your website is not optimized as per the latest SEO guidelines, then you won't be able to grab as many eyeballs as you'd like. In fact, SEO is linked to social media as well. While what you share on social media may not directly impact your SEO ranking, social media profiles often rank high on SERPs. SEO-optimized content will always give you better conversion and lead generation. This involves searching for keywords, adding them to your content, building backlinks, and analyzing traffic, among other steps.
Key Takeaways
Content is king, but creating a strategy to market it is just as essential.
Before starting with content production, set your goals and conduct market research to understand your audience.
Always divide your content into funnels of your buyer's journey. This will make you an efficient content marketer.
Market your content effectively by closely observing the marketing mediums you have at your disposal. Then gauge what content will work on which one.
Finally, optimize your content and monitor the results to see what's working and what isn't.
Conclusion
Content creation is a fun task if done right. In order to see your content performing well, it's essential to follow a series of vital steps. All your marketing initiatives might go in vain if you do not have a distribution strategy chalked out. Your content marketing distribution plan will take time to show results, but it is a sure-shot way of reaching a greater audience. Finally, always remember to revise your strategy with time.
FAQs
1. What is a content distribution plan?
A content distribution plan is a strategy that every company must follow to ensure that the content reaches a greater audience. This involves setting goals, defining a target audience, producing content, and optimizing it to achieve better results.
2. What does a content marketer do?
A content marketer is someone who understands your brand and target audience, and creates content that is well-suited to both. They understand the kind of content that should be created to meet the goals at separate levels of the funnel, resulting in better lead generation.
3. How do you distribute content effectively?
To distribute your content effectively, make sure that you monitor the different marketing mediums. This will help you understand what kind of content works where. Every channel requires you to promote your brand differently.
4. What is the first step in content marketing?
The first and foremost step in content marketing is to define the goals that you wish to attain with your content. They could be a greater sales figure, higher web traffic, lead generation, and the like.
5. How to create content that sells?
Content that sells well is content that is being consumed well by the audience. It means that the content is generating leads and creating more consumers for the brand. To sell any piece of content, you need to understand your preferred marketing channel and target audience. All these things together help in creating content that sells.