Graphic Design
How Does A Uniform Graphic Design Language Help Your Business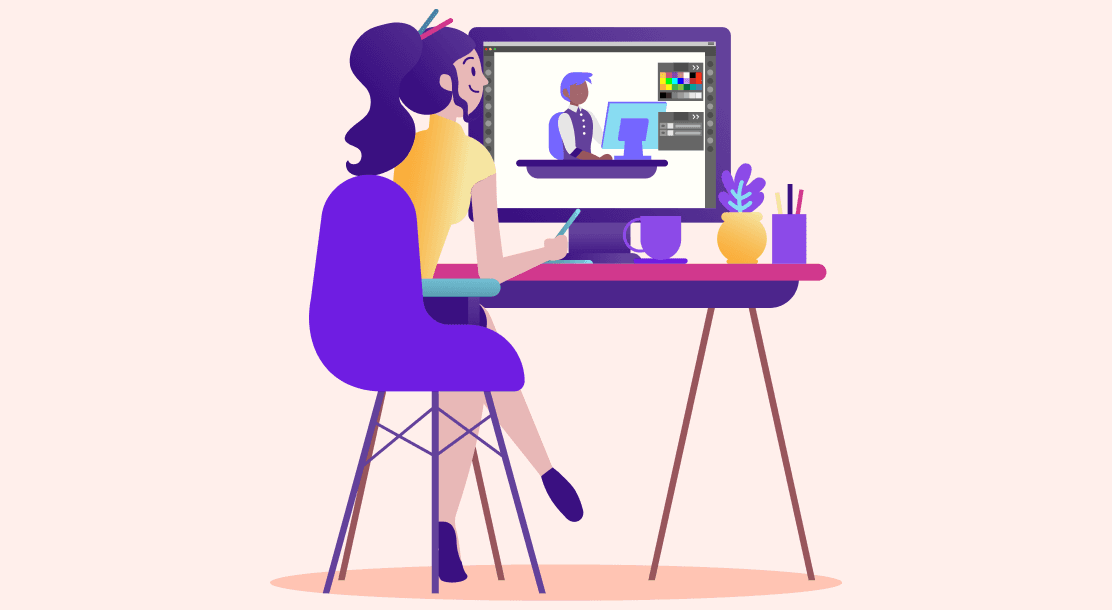 Table of contents
Introduction
How does a uniform design help the business?
What constitutes a design language?
Tips for creating a design language
Is design uniformity important?
Dos and Don'ts of graphic design
Key takeaways
Conclusion
FAQs
Human psychology is designed in a way that the mind can grasp visuals more effectively than text. Businesses should make the best use of graphic design language in their websites, taking advantage of this fact. Visuals are a great way to simplify communication and reach a broader audience. The information conveyed is easily comprehended through designs and graphics. Graphic designing tips by professionals help businesses to achieve this end. We will explore more about the design language, the role of uniformity in it, and some essential tips in the ensuing paragraphs.
How does a uniform design help the business?
Before proceeding further, let us find out what a graphic design language is. The design language is the overall visual design of a digital product. It is a mixture of various components that give a visual charisma to your brand. Broadly it is a set of rules and principles that help to maintain consistency and appeal in the design elements.
Uniform graphic design language can create confidence in the minds of the users. It is also seen as a means of innovation by businesses. Amidst heavy competition, it becomes imperative to innovate and explore. The design gives a lot of scope in this aspect. Exploring ways to show an outstanding design and staying consistent will influence buyer behavior. The design gives a hovering effect. Basic graphic design tips by developers can help in devising a uniform design.
There are many advantages of uniform graphic design language for a business. They provide clarity in the website or the app of the business. When users are on the lookout for some information, they are already anxious and will not read through the long data. When information has clarity and is readily captured, users are very happy to continue with the site.
Also, uniformity announces through the text and colors that it is the same business the users are dealing with. There is no room for confusion, and this feature helps businesses gain a lot of clients. Due to their confidence, they also become long-term clients. It is one of the important Graphic designing tips.
What is a Design Language?
Design language constitutes a series of visual and conceptual elements. These elements define the design language's color, typography, animations, hierarchy, etc. A proper design goes a long way in influencing the buyer. Let us look at some elements of design language. Your designer will pull through a successful design by following the Graphic design do's and don'ts.
The UI audit
The principal factor that goes into design language creation is the UI audit. To lay down the foundation of your design, this step gains prominence. You know by now how consistency is important in design. By doing a UI audit, the anatomy of the platform where the design will be used is analyzed. UI audit helps to identify problems and provides actionable solutions for the same. The steps involved here are:
Understanding the objectives of the business
Know the users and their objectives
Review analytics
Make an evaluation
Arrange the findings
Conduct research
Research is the most important step to design a uniform graphic design. When you think of implementing a design, the basic purpose behind the same must be looked into. Also, comparing competitive platforms helps developers know Graphic design tips and tricks. The research you perform brings to light the challenges users face in the app or site. Moreover, uniformity must also be maintained across platforms to avoid differences while shifting between them. For example, locating a product in the mobile app will be different from that of the website on the PC. When users identify this difference, they become confused and quit the site. All these considerations must form part of your research.
Maintaining a vocabulary
The design team must create a design language vocabulary that clearly defines the visual components. The blocks that make your site and the style elements are the vocabularies. You should know the purpose of each element's placement in the design structure. This will enable consistency and clarity in the design. The ultimate goal of maintaining uniformity can be easily achieved.
Clear definition of principles
How do you understand whether a model design adheres to the guidelines? The basic principle you created as the foundation for your design is the testing factor. What you intend to achieve through your design will be your design principle. This is unique for each business. When your business is different from others, you cannot imbibe the design that you found attractive elsewhere. Your goals and design should be aligned for a successful outcome.
A flexible and evolving language
The design language must be flexible to adapt to changes in industry standards. This way, it will stay relevant and useful. A rigid set of rules is not advisable. Your design language must be created in such a way that it evolves with time. This is also an important component of design language. Being relevant means, users can stay connected with your business.
Establishing rules and adhering to them
The design language should have rules that help communicate between the product and the user. The developers should successfully implement this. There can be two types of rules: the strict ones, which cannot be avoided at any cost, and the loose rules, which can be omitted if the design demands so. Adhering to the rules will only help develop a competent design and is not a restriction to the designers. Maintaining uniformity is easier when rules are adhered to strictly.
Tips to Create a Design Language
We all must have noticed that certain websites score over others easily even though they display the same products or services. The attention-grabbing design is the reason for the user's inclination. Though so many websites strive to accomplish the same goal, the one with a better design stays closer to the heart and the mind. The mantle to create such a design becomes your task. Make sure the following elements are included so that the design is successful.
Try to follow a minimalistic design
Your landing page should have a minimalistic design to appear clutter-free and attractive. The other elements of the site can be carried over to other pages. The first look at the site should create the best impression. When you dump so many design elements on the landing page, the users can get confused and exit. If you wish to create interest, your formula should be minimum design, maximum reception.
Maintaining a grid
It is equally important to consider their spacing and placement when planning the elements. This creates a better visual image with a neat look. The grid has a designated place for each design element and is needed to avoid chaos right on the landing page.
A color palette
One of the essential elements of design is the color palette selection. It should be powerful and represent your brand. You should try to be consistent with the colors that indicate your brand. When competition is abounding, the slightest difference in hues will carry forward a different image to the viewer. Whenever people think of a particular color, your brand should pop into their minds instantly. The red and yellow conjoined circles represent the MasterCard and are known universally. It will be none other than the exact shade that people recall.
Typographic hierarchy
Maintaining a typographic hierarchy imparts the tone you use to communicate with the viewers. Designing the hierarchy is a real challenge, as you should know the key elements and how to make them stand apart. There should be no random elements, and each is equally important. The scale should be built so that each level is different in size from the previous one. Descending order of size is the norm.
Faster loading of elements
Google research reveals that more than 50% of people leave a site if it takes long to load. This implies that the design elements you incorporate into your site should not take much time to load. Quicker site delivery will ensure that the audience does not shift to competitor sites. Even though the components in your site may rank better, a faster loading site with a poor design will have an edge.
Is Design Uniformity Important?
Influencing the user to be attached to the business should be the main motto of the business. Maintaining uniformity can help to breed familiarity. It is one of the incredibly important principles that can help businesses. The users can rely on your brand based on the consistency in the design. Every user expects the same experience every time they visit your site, and any deviation can lead to an imbalance in trust.
Design uniformity can lead to faster usage
Consistency in your design language makes it easier for navigation across the site. It is understood as a universal language. There is more clarity, and users can instantly join the dots. Adding lots of bells and whistles can only lead to confusion. When you create a site design that is uniform and consistent, it is easily memorizable. Ultimately, it leads to faster usage of the site. The user is more comfortable and is happy while browsing through the pages. A happy user is more likely to make repeated visits.
It eliminates confusion
Uniformity in design can help eliminate confusion in the minds of the user. A confused user can translate to an irritated user. You should make sure not to give any room to lose clients. Retaining customers is the primary motto of any business, and the same should be kept in mind while implementing the design. A logical structure that the users can easily navigate is expected.
It is easier to reach the target audience
Every business has a target group to which it communicates every time a new promotion is launched. With a uniform design, it is easier to reach this particular audience. They can easily recognize your brand and will help augment sales. A coherent design structure will bring your site in front of the user's eyes. Learn the Graphic design tips and tricks to enable this.
Uniformity generates an emotional response
A strong connection with the UI design helps invoke an emotional response, obviously in a positive way. It is a known fact that emotions can intensify buying decisions. An interested user stays on the site for a longer time. A well-structured and uniform UI can help the business in a great way.
Dos and Don'ts of Graphic Design
Knowing some graphic design dos and don'ts makes it easier to create a compelling design.
Dos
Taking inspiration from the latest design language is a good thing. This is to keep you informed and take necessary actions to upgrade outdated components in the design. The users visit multiple channels and expect similar results on your site too.
Use a clear font so that it is easier to read and understand. You can also implement any modern, unique font as long as it is clear and understandable.
Use images in your design as they are more attractive and carry the intent precisely. Infographics can be used to grab the attention of the users.
Implement a spectacular color scheme on your site which compliments well. A plethora of resources are available online to choose the color scheme. Make sure that it coordinates with your goals.
Do mind the white space in the design. They highlight the important text in your design language.
Don'ts
Don't try to ape what has been used on other sites. Each business requirement is different, and you will not be able to get the desired reach with your users if the design is not planned.
Do not clutter your design with so many types of fonts. Also, avoid stylish fonts as users do not readily accept them. Research and find out the best font and size for your design language.
Use images of great quality and impart some knowledge about the business. Randomly placing images just to seek attention will only have a negative impact.
Key Takeaways
Your design language is a very important tool to communicate with clients. It is a broad term that defines the overall visual design of your app or site. The Basic graphic design tips can help you in the process.
Uniform design language helps the users comprehend the message easily. User experience depends on exceptional graphic design only.
Design language consists of various elements like the UI components, style guides, and semantics.
The main aim of uniform graphic design is to create a brand identity and confidence in the users' minds.
Developing an extraordinary design is a collaborative effort of various professionals in the team. They help execute a uniform design language that conveys the main intent of the business.
Conclusion
Developing a uniform graphic design language is an important task but not as simple as it sounds. Your design language should be robust and must convey the business goals. It should give the best user experience so that clients fraternize with the site. Graphic designing tips are guidelines that explicitly spell out the Dos and Don'ts in the design process. Make sure you implement them for an incredible experience for the user. The elements and principles of graphic design language are not universal. If you have more than one business avenue, the same design elements cannot be implemented in all. Take time to understand and bring out the best design to help your business.
FAQs
1. What is a design language in a website?
A design language is a set of rules that help maintain the visual representation of a business. It contains many standards based on concepts and visuals.
2. Who creates an effective design language?
Several specialists like UI designers, Ux writers, front-end developers, researchers, and accessibility specialists help create a uniform design. They learn the tips for graphic designers before venturing into action.
3. What is a UI/Ux audit?
User experience or User interface is the feedback for your design elements. Auditing implies analyzing discrepancies, identifying faults, and implementing changes. All these are done to enhance the user experience.
4. What constitutes a good design?
A good design elicits a positive response from your users. It should be crisp and attractive and must also be consistent. Businesses must research and learn graphic design tips and tricks to generate a good design.
5. Why is design language important?
The ultimate goal of a business is to reach a wide range of customers. A design language brings identity to your brand and implies consistency, thereby helping the business upgrade.