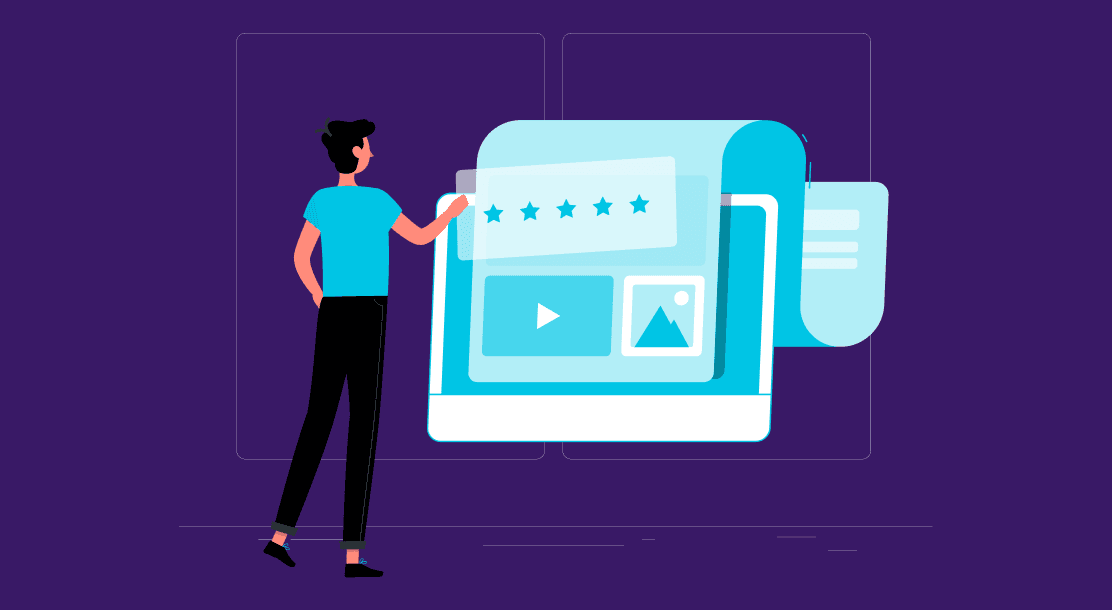 In this article, we list seven of the most popular types of graphic design styles businesses should know.
We live in a visual world. Let's take right now for example. No matter where you're sitting, there will be at least 10 odd kinds of graphic design or some art floating around in your space – it can be a diary you're writing in, a water bottle you're drinking from, or a phone cover that you recently bought. These components convey a thought or idea, which is the sole purpose of graphic design.
Essentially, a field with various specialties and types: that is what graphic designing is at its core. There are different types of graphic design, and each specialty has an alternate range of abilities that can assist brands with accomplishing their objectives.
Further, in this article, we will broadly cover the essence of graphic designing, its different elements, the types of graphic design styles, why each is important in its own way, and the emerging graphic design trends for 2022.
What Is Graphic Design?
"Design adds value faster than it adds costs." – Joel Spolsky, web programmer, writer, and creator of Trello.
Graphic design is the process of creating visible content that facilitates communication with the audience. Brands looking to educate and inform their audience about a particular service or product need visual communication at every step of their journey.
Nearly everybody today uses visual depiction in their everyday activities, whether adding text to a picture for virtual entertainment or shading/coding an accounting sheet for work.
Professional visual depiction can also get an enthusiastic reaction from the watcher or even persuade them to make a move. The "join" page on a site, for instance, is usually intended to allure guests to join an email rundown or begin a free newsletter subscription. Hence, good design can streamline communication.
To additionally understand what graphic design caters to, let's look at the various elements it comprises of:
Color
Typography
Line
Shape
Size
Space
Texture
Hierarchy
The usage of all these elements together usually creates award-winning graphic designs. Further, you can use these elements in any structure or format that requires text, pictures, and thoughts to communicate something, from banners and bulletins to leaflets and brochures.
Why Is Graphic Design Important for Businesses?
As visual communication develops increasingly, it is also crucial for businesses to build their brand and design language.
Graphic design is significant for any business hoping to make a positive and long-lasting impression on its audience. Effective visual depiction can help your business reach new heights and become inseparable from your brand.
Whether you have a private company or are running a huge organization, your website layout will help you stand apart from the competition.
Additionally, good graphic design usually caters to a lot of factors like building brand identity, increasing sales, gaining trust and credibility, and market positioning of overall brand image. Here are a few others:
Solid first impression
Whether it's a deals page, a business card, or a virtual entertainment post, the first brand design your client sees will represent the impression of your business.
Attracting the right audience
Graphic design permits you to attract a suitable consumer base by acting as an effective communicative device. It could make a product without difficulty identifiable and make the selection process easy for your purchaser.
Contributing to sales
People are profoundly visual animals – by using exceptionally great content and visual design, you can draw in more clients and increment your possibilities of deals and transformations. Extraordinary designs do end up influencing a buyer's decisions.
There are many advantages of graphic design for organizations. When utilized productively, visual depiction can assist/support your brand heavily.
Graphic design is, thus, a type of correspondence between your business and your audience. Organizations use designs in each phase of their campaigns to illuminate, draw in, and at last convince potential clients to make a buy or make an ideal move.
Now that you know the importance of graphic design for your business, let's look at the type of graphic designs there are.
7 Different Types of Graphic Design You Should Know About
Graphic design comes with different kinds of specialization, and all of those specializations have one common purpose: to communicate and convey specific information to users. One can surely achieve a clear and powerful visual design by using the right kind of typography, color, form, and imagery.
We're here to expand your design dictionary and take you through the different types of graphic design styles that exist currently.
1. Advertising design
A renowned form of graphic design is ad design, an integral part of marketing and advertising activities. Since visual content lies at the core of business for many marketing and advertising professionals, they usually leverage it to the maximum to captivate their audience.
Getting more explicit, the objective of ad design is, for the most part (yet not generally) lead generation. When an advertisement's objective isn't to drive deals, it's to drive another particular activity, usually an activity that will ultimately prompt lead generation.
While other types of design have a different scope of purpose, for example, to impart brand values to acquainting an item with the market, advertising design is painstakingly targeted at segmented audiences in general.
Graphics for email, content, and social media marketing are some examples of advertising graphic design. Other examples include:
Display Ads
Video Ads
Outdoor Ads
Why is graphic design essential for advertising?
Visual communication has a basic influence on advertising systems. Visual components like logos, banners, ads tend to convey a message or thought to the interest group, subsequently expanding the outcome of sales.
Another justification for why graphic design is important for advertising is how it conveys your message to expected clients. Eye-catching illustrations can bring your thoughts to reality and make the audience much more familiar with your brand. Hence, always strive to make your designs memorable and profitable when advertising.
2. Publication design
When utilized correctly, visual communication can do amazing things for publication, helping key messages impact the audience through visual design and language. Publication design generally aims to catch the audience's attention and provide perception into the piece that's been written. Some examples of publication design include books, newspapers, magazines, catalogs, etc.
Good publication design can make your content clean to study and appealing to look at. That's why it's essential to have a talented publication designer heading your crew if you're publishing anything online or in print.
Publication designers need to possess brilliant verbal communication and design layout skills. In addition to graphic design knowledge, they should also understand the basic principles of good design.
To conclude, publication design is a vital part of the publishing system. If you want to make your content smooth and appealing, it would be best to hire a great publication designer to do the job.
3. Motion design
Motion graphics are essentially a way to speak with the viewer, and add depth to the content being viewed. Together with music and effective copy, it provides us with a message.
Motion designs are typically used to create advertisements or identify sequences for movies. Simply put, motion graphics are designs that are moving. Some examples are animation, imagery, video, audio, etc., that are generally used for television and commercial films.
Why use motion graphics?
Motion graphics are suitable for various areas. The moving shapes, combined with changing hues and backgrounds, have a completely dynamic effect and capture the target market's interest accordingly.
This kind of animation is appropriate for education and explainer movies. However, they also work for social media channels to breathe extra life into text-primarily based facts.
Since this type of animation is based totally on icons and typography, it's less time-consuming while creating videos.
4. UI design
"A user interface is like a joke. If you have to explain it, it's not that good." — Martin LeBlanc
A user interface (UI) is how a user interacts with a device or application. UI configuration revolves around the client's visual experience and the plan of realistic on-screen components like buttons, menus, miniature communications.
But, that's only the tip of the iceberg. UI designers must know how to balance the technical aspect and the user's interests when working on a project.
UI designing is usually done for mobile apps, web apps, desktops, and games. The designers usually have to collaborate with UI developers and UX designers to design a successful product.
Why is UI design important?
UI Design is one reason your website will begin to see an influx of users. It attracts individuals and keeps them there. The odds are that individuals won't remain on your website if it's challenging to use. When individuals visit your site, their overall experience should be one of your main concerns while designing.
Once individuals have a decent-to-good experience on your site, the chances are that they will generally inform more individuals. This implies more opportunities to get your conversions up and, surprisingly, higher chances to develop your client base.
However, if it's the other way round, the possibility of your brand or organization being ignored by the user increases rapidly. UI is easily one aspect that you shouldn't overlook while wanting to create a good experience for your user.
5. Web design
Whenever someone visits your website, it gives them the initial impression of your business. They will create an easy judgment on your business in practically no time. In these initial couple of moments, you need to make an impact.
Good web design creates the general appearance and experience when someone is using your website. Website design is significant because it impacts how your users see your brand. The impression you make on them can either motivate them to stay on your page and find out about your business or pass on your page and go to a contender.
To make sure they stay and convert, you need to check various elements that determine how a website looks visually and works on multiple devices like design, layout, content, etc.
Additionally, when you have a well-maintained website, users tend to be interested. It also assembles trust, and when guests trust you, they will not feel somewhat uncertain in getting your items and administrations. In actuality, you will have a flourishing and productive business.
6. Packaging design
When you visit any grocery shop, you take a second to look at some particular items and their packaging. Every brand you see there on that shelf has a chance to tell their story through one thing and one thing only – packaging.
Retail, cosmetics, and food industries are a few spaces where packaging design is king in showcasing the brand story. Assuming your brand needs to address a specific category/genre, ensure that you have all the right elements to start.
Right from the colors, fonts, and logo to the content that needs to go onto the packaging, get all these ready before you start.
Also, make sure to keep the following in mind when designing a package:
Choose the right type of packaging – know the difference between choosing a bottle or a box for a particular brand.
Make the packaging an accurate representation of the product
Visualize how the product will look in stores
Collect feedback on your design
7. Visual Identity Design
Visual character is an assortment of visual components that address and separate a brand. All the more explicitly, it alludes to any noticeable parts, for example, a logo or brand colors that assist clients with recognizing a brand. Utilizing reliable and key visuals to help convey a solid visual personality allows recounting your image story.
Each visual component cooperates to make a brought-together personality that conveys your brand's visual language. Brand colors, typography, logo, and icons are some elements that will always remain at the core of your visual design language.
Graphic Design Trends to Watch Out For
2022 is intended to be the year of intense, expressive, yet deliberate and purposeful design. Many variables will impact visual design trends, including changing preferences and styles and friendly and innovative changes like how we live and the items we interact with.
While certain designers are exploring advanced patterns, for example, 3D designs and NFTs, others are returning to their prior options by getting back to old-school designs.
Let's take a closer look at some of the emerging graphic design trends being predicted for 2022:
90s Nostalgia: These unusual, fun, smiley symbols are all over social media. It's not difficult to recognize this pattern because of its strong, hand-drawn style.
Daydream doodles: Designers infuse their expertise with their own abstract drawing superpowers.
Anti-design: While we see the majority of it online, its design goes against the standard principles and has colors that have been unusually matched.
Escapism: In simple words, this is all about designers escaping their usual ways and expanding their imaginations.
Y2K: This is a bit of grunge, anime, pop, a lot of tech. It has a cheap feel in the most endearing way possible.
Maximalism: As the name recommends, is the specialty of brightening a design with the most extreme utilization of tones.
Conclusion
Everyone is surrounded by design which can influence heavily. It could appear odd to call graphic design a method of communication. However, with these different types of graphic design styles, it is very valid considering the opportunities it provides to individuals and businesses.
Besides, it is extremely adaptable. Using a blend of pictures, dynamic images, and even typography shows your image's message through a physical or digital medium and upgrades your brand's perceivability.
Thus, if someone wants to begin their excursion as a design expert, they should be acquainted with the essentials of a visual design language professional.
It is also a consistently developing field. If you're a business searching for the ideal professional to take up a project, knowing the various types of graphic designing and the expertise required in each might help you distinguish the best from the rest. Be sure to also emphasize the ad copy along with the design.
FAQs
1. Why is it imperative to have a visual brand identity?
Your brand's visual personality impacts insight and has an enduring effect. It's useful for various reasons such as differentiation from other brands, relatability with the audience, consistency of image in the brand presence in the market, and customer loyalty.
2. How important is graphic design for your business?
Good graphic design helps businesses gain high visibility which in turn can lead to increased sales.
3. How does graphic design impact your business?
Good graphic design increases your company's value, boosts sales, and puts your business in a better financial position.