Content
Top 15 Types of Blogs That Make Money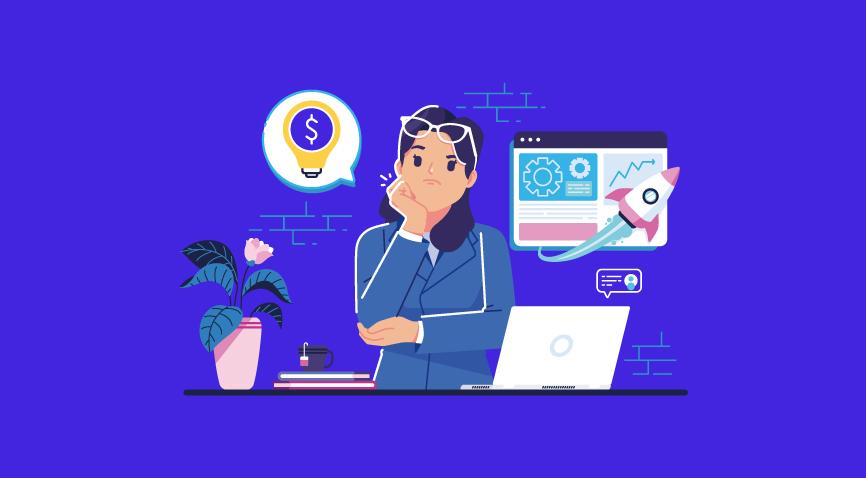 Table of Contents
Which Type Of Blog Is The Best To Make Money?
Health and Wellness Blog
Fashion Blog
Gaming Blog
Food Blog
Book Blog
Travel Blog
Parenting Blog
Lifestyle Blog
Finance Blog
Inspiration Blog
News and Political Blog
DIY and Craft Blog
Home Decor Blog
Frugal Living Blog
Makeup Blog
5 Key Takeaways About Types Of Blogs And How To Choose One
FAQs
Top 15 Types of Blogs That Make Money
Over time, blogging has become more than a hobby. It is now a source of credible income for many writers whom we call 'bloggers'.
Blogging has a multitude of benefits, both creative and professional. Creative benefits include the expression of your thoughts, knowledge, passion and refining your writing skills. Professional benefits include engaging with your audience, connecting with other bloggers and building a network, learning how to make money, building an online portfolio, earning exposure, and becoming an authority in your industry, among others.
However, even though there are numerous categories of blogs to choose from, not every blog can generate income. Let's take a look at 15 types of blogs that make money:
Which type of blog is the best to make money?
Out of all the benefits, earning enough to make blogging a full-time career is a goal many want to achieve but don't know where to start. To start making money via blogging, you need a plan of action, rigorous work, quality content, and exposure. Once your blog gets recognized by the right audience, you can start making money! Let's start by understanding the different kinds of blogs.
This list of types of blog posts will help you understand what topics to choose and which niche to focus on (in your area of expertise) to start earning an income:
1. Health and Wellness Blog
Health and wellness is a sought-after blog topic and one of the best types of blogs to make money, especially when lifestyles have become grueling. A good health blog will be expert-driven, based on the ongoing fitness trends, and a credible source of information for people.
Once your health blog reaches the right audience, you will find ways to make money from it. For the exposure, be consistent with posting, write about topics that people search for, and provide solutions to everyday health struggles.
Based on these factors, a health blog makes good money with affiliate marketing, guest blogs written by health experts, nutritionists, doctors, and sponsor integrations.
2. Fashion Blog
Fashion blogging has boomed considerably in the past five years. People love experimenting with their clothes, especially Indians. They want to see how they can pair different clothes, which colors to wear, how to style and accessorize while going out for dinner, brunch, or a wedding.
People rely heavily on fashion bloggers and influencers for fashion advice. With creative ideas, trending topics, and fashion inspiration on your blog, you can gain followers. After getting exposure through the blog and social media, a fashion blogger can start making money.
As a fashion blogger, you can earn well from different types of blog posts, like sponsor integrations, brand shoutouts, paid reviews, collaborations. You can further add to your income by displaying network/banner ads.
3. Gaming Blog
Gaming blogs and vlogs have become very popular, especially since the advent of YouTube and live stream gaming. You can find a niche of your own within this niche, such as role-playing games, and start earning money.
There are many ways to make money from these types of blogs: Affiliate sales instead of Adsense (selling games and other products that go along with them), promoting pre-orders of games. You can also hire a mentor who will guide you through the entire process of how to hone in on your skills for these types of blogs to make money.
4. Food Blog
A food blog is a treat to the eyes and taste buds. Starting this type of blog is easy when you're passionate about food and everything related to it. But this passion could be channeled into earning if you know how to make money through your original recipes and documentations of food.
For a successful food blog, you need to click some good food shots, visit different eateries, and write genuine reviews. A blogger can do it alone or pair up with other food bloggers to start things up. The best part about starting a food blog is that you can easily promote these types of blog posts through social media channels.
With this type of blog, you can use sponsor integration from brands. Some other ways you can earn from your food blog are teaming up with brands and using their products in your recipes, social media collaborations, and advertisements on your blog.
5. Book Blog
A book blog is every bookworm's dream, both to own and to be a reader of. If you love books, a book blog is the best way to share your reviews with others. The best part about this kind of blog is that you only need to share your thoughts on the books. So, not a lot of work is required to get pictures, visit places, and create content.
Book blogs work best, and you can make money when you write about reading lists, review the latest books, review your favorite books, and collaborate with authors.
6. Travel Blog
Who doesn't want to make a list of places they want to visit? Travel blogs cater to the wanderlust of people. Replete with beautiful photos and vivid descriptions of all the places you've been to, these types of blogs can be a great source of income.
While travel blogs require more effort for clicking pictures, visiting places, reviewing hotels and activities, it is still a lot of fun! It can be the best type of blog that makes money for someone who loves to travel and explore the globe.
You can make money through travel blogging by endorsing hotels, homestays, and hostels, rating means of travel, putting up photos for sale, and collaborating with other travel bloggers.
7. Parenting Blog
Becoming a parent is scary, especially for first-timers.
With so many changes in your life, your personality grows, and you learn new things every day. So, it is best to share your words of wisdom with fellow parents and help them through this life-altering experience.
Your parenting blog will help new parents and even those who've been doing it for a long time because any insight into parenthood is always welcome. You can make money through this kind of blog by endorsing brands of baby essentials that you like and recommend, partnering with companies that cater to new parents and newborns, teaming up with other parent bloggers to write collaborative pieces, etc.
8. Lifestyle Blog
A lifestyle blog is a curated list of an author's interests and hobbies. Through this type of blog post, you share information about places you visit, things you do, clothes you wear, brands you use, etc. You can also share lifestyle tips, celebrity lifestyles, and other information. A lifestyle blog is your life written on a blog.
However, this does not mean that you cannot make money from it. The blog can have a wide variety of things like your daily breakfast routine, cleansing routine, what kind of exercises you do, and so on. You can make money off of a lifestyle blog by affiliate marketing, sponsor integration, becoming the face of a small brand, or integrating a brand (if you like it) into your daily life.
9. Finance Blog
A niche finance blog can be super helpful for the younger population who are still learning how to manage their finances. As a finance blogger, you can work on different types of blogs, including information on investing, stocks, savings, etc. These kinds of blogs keep readers abreast of the state of the financial market, personal financial management, how to save money, where and how to spend finances, how to invest, etc. It's ironic to state that you can make easy money through a finance blog through sponsor integration of financial apps and advertisements on your blog.
10. Inspirational Blog
Inspiration doesn't go to waste, be it in any era! Inspirational and motivational blogs talk about how to conquer your stage fear, get over procrastination, be as productive as you can, etc. You can share life tips, examples of great people, and real-life stories on your blog to inspire people through these types of blogs.
You can collaborate with brands related to your niche. For example, a journal brand if your blog exclusively deals with productivity and daily life.
When you start engaging the right audience, your blog can do very well. You can then switch to podcasts, collaborate with other bloggers, and get sponsored. All this will help you make money through your blog.
11. News and Political Blog
As the name suggests, these types of blogs focus on the daily happenings and are divided into a multitude of niches. These niches include national news, international news, regional news, human stories, and so on. To make your content unique, you can offer a different perspective of events in the country and around the world. You can make money from news and political blogs, primarily from pinning advertisements on your website.
12. DIY and Craft Blog
The satisfaction of making someone entirely out of scratch is something else altogether. There are multiple ways in which you can make money off DIY and craft blogs. These include brand integration (craft supplies), short videos demonstrating how to make something, pinning advertisements on your blog, and collaborating with other craft bloggers whose niche is different, but the larger objective is crafting.
Many people love to seek DIY and craft ideas and try them. So, look for unique ideas, channelize your creativity, and share them through your blog. When your people start liking your content, you can get the exposure you need and start making money from this kind of blog through affiliate marketing, reviews, and collaborations.
13. Home Decor Blog
These types of blogs focus on home design, furniture, paint, accessories, etc. A home decor blog mainly caters to home designers, people who want to do home decor by themselves, or for design students to take examples and advice from. You can make money from your home decor blog by advertising products on your website, affiliate marketing, testing products, and giving reviews (lights, paint, rugs, pillows, etc.).
14. Frugal Living Blog
Minimalist living has been quite the trend for some years now. Not only does it focus on sustainability but also on saving money. You can earn money from this type of blog by brand integration of sustainable products, DIY videos and ideas, sponsor integration, talking about your minimalist lifestyle, and creating and selling your products.
15. Makeup Blog
A makeup blog caters to a specific niche of makeup enthusiasts. For example, your blog might just be about eye makeup or skincare as a whole. These types of blogs open up a whole new list of income possibilities like affiliate marketing, collaborating with brands and selling their products on your website, sponsor integration, tutorial videos, collaborations with other makeup bloggers, and endorsements.
Making money through blogs seems like a tedious process, but it can be a piece of cake if you know where to look and which areas to target.
5 Key Takeaways About Types of Blogs and How to Choose One
Now that we have explored the different types of blogs, let us have a look at the key takeaways from the above discussion:
1. Choosing a Niche Can Be Overwhelming

We just discussed 15 different types of blogs. However, besides such a diverse choice, choosing one niche and sticking with it for a long time is not easy for bloggers. To make the right decision, you need to know how connected and involved you feel with your niche. So, before you choose a type of blog, ask yourself these questions:

Why do you want to start a particular type of blog?
What knowledge do you have about the niche you want to choose?
Are you passionate or an expert in the field?
Would you still find the category interesting after some time?
Would you be able to gather and generate data for new blogs frequently?
Once you have your answers, you will know how connected you are to a certain industry or field, and it gets easy to choose a niche.
2. The Reputation of Your Blog Decides The Money You Make
Blogging is not a piece of cake. There is a lot that goes into becoming a successful blogger. Once you are there, you can make loads of money! At the initial stage, you need to work hard to build a blog people love. Once you have some decent traffic, you can start earning through your blog. So, go all-in at the beginning and make your blog worthwhile for your audience. Just remember, brands and sponsors only look for influential bloggers who have a good follower base.
3. In-Depth Research Will Help You Choose a Niche
Usually, people start blogging about something they have a skill for or something they have expertise in. On the other hand, some people want to start a type of blog to make money. In the latter case, bloggers do not have much experience with the category they choose. So, to start on the right foot, it is recommended to perform some prior research. You can seek information about some things like:
What type of blog has the most audience?
Do you think the niche is beneficial for blogging?
If you choose a certain niche, do you have a chance to get a good response?
Who are the biggest influencers in the chosen niche?
What type of content are they creating?
Are you capable of creating such content?
After you find the answers to these questions, the decision will become easier.
4. A Content Plan Can Help
Are you still confused about choosing a category of blog? You need to do some brainstorming. Make a list of the content ideas you have if you choose a particular niche. Also, write down how you will create and schedule the content. If you think you have a promising plan on the paper with enough ideas to kickstart your blog, go for it! You can make a more informed decision this way. On the flip side, if you don't have enough ideas for the type of blog you have in mind – you can drop the niche and explore another.
5. Don't Rush
As you have read above, there are countless categories of blogs you need to choose from. So, it is inevitable to feel confused. However, avoid making an impulsive decision. If you cannot decide, get a second opinion from your friends, family, or an expert.
Whatever you do, make sure you make the right decision. Do not rush and take a closer look at the different types of blogs before you decide.
FAQs
1. How can I make money by blogging?
Blogging provides numerous opportunities to make money. The key here is to make your blog reliable and reputed. Once you have the right amount of traffic, you can start earning from ads, affiliate marketing, sponsored posting, direct selling on your blog, influencer marketing, and whatnot. All these ways will help you make money through your blog. 
2. Can I live off of the blogging revenue?
If you do it right – the answer is yes. When you have a blog that gets a good audience response, you can go for an ad network, and the ads will run on your blog. It is one of the best ways to make money through a blog. Once the revenue increases and you think you are earning enough, you can live off of it. 
3. How can I choose the right blogging niche?
The niche in which you are skilled or have expertise can shine a light on the best types of blogs to make money for you. However, if you are unsure and still want to start a blog, go with what you are the most interested in. For instance, if you love trying new beers, you can start a beer blog. If that does not solve the issue, research the digital space and look for the most beneficial niche for bloggers. You can choose the same if no expert experience is required. 
4. How can I improve the traffic on my blog?
There are many ways to do that. Begin with writing high-quality content and posting it frequently on your blog. Now, share this content as much as you can. You can use forums, social media channels, micro-blogging websites, etc., to promote your blog. At the end of each month, go through your blog's analytics report to look for the loopholes and fix them for the upcoming month. 
5. Can I pay to promote my blog?
Yes, you can have paid promotions for your blog through a planned PPC campaign. You can also use paid social media tools like paid Facebook and Instagram ads to promote your blog. 
6. Can I combine two or more blog categories?
Of course, you can! Many influencers combine the different types of blogs that interest them, like fashion and lifestyle, parenting and home decor, etc. Just remember that the niches you combine must be related and relevant to each other.