Marketing
LinkedIn Hashtags Trending Now: 100+ Hashtags to Boost Your Reach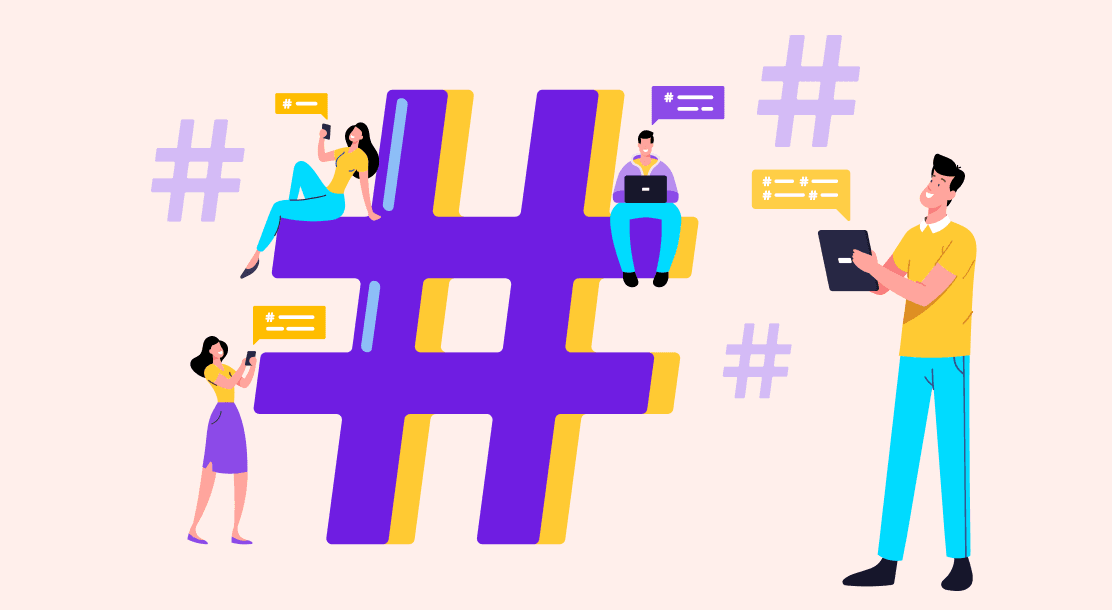 In this blog, you have the chance to learn which are the top LinkedIn hashtags trending right now across fields, along with tips on how to use them effectively.
When it comes to social media marketing, LinkedIn is becoming a popular platform for users by the day. Like Instagram or YouTube, LinkedIn requires you to use a few marketing strategies to build your network faster and achieve profile growth effectively. The first key to creating an exceptional LinkedIn marketing strategy is using LinkedIn hashtags trending on the platform.
In this blog, we tell you all about trending LinkedIn hashtags and share multiple lists of hashtags that you should start using today. But first, let's understand what a trending hashtag on LinkedIn is.
What Is a Trending Hashtag?
Like most other social media platforms, LinkedIn gives you an effective marketing tool in the form of a hashtag. A hashtag converts any text preceded by the "#" symbol into a data collection set.
On LinkedIn, you can follow hashtags for regular updates on any topic, making it easier for users to go through posts containing that hashtag. When multiple people are talking about the same topic, using a relevant hashtag simultaneously, it becomes a trending LinkedIn hashtag.
Top LinkedIn Hashtags Trending in 2022
In this blog, we help you with more than 100 hashtags, from the ones that are most followed to industry-specific ones. Let's begin with the best 50 hashtags trending on LinkedIn, which are a sure-shot tool to increase your reach.
1.
The Most Trending LinkedIn Hashtags in 2022
There are a bunch of hashtags that millions of users are using, following, and reading in 2022. Below, we've collated the top 50 hashtags that you can use to increase the reach of your posts and also give a boost to your networking.
Please note that these hashtags are a collection from across industries and fields. Refer to the other lists we have shared below for hashtags relevant to your domain and topic.
● #Networking
● #Life
● #WorkFromHome
● #Startups
● #HomeOffice
● #Careers
● #DigitalMarketing
● #WorkingAtHome
● #Entrepreneurship
● #Work
● #Success
● #Mentorship
● #Futurism
● #BestAdvice
● #Entrepreneur
● #Marketing
● #Leadership
● #India
● #Creativity
● #LeanStartups
● #Healthcare
● #SocialMedia
● #Management
● #Technology
● #Productivity
● #BankingIndustry
● #PersonalBranding
● #Future
● #MondayMotivation
● #SocialNetworking
● #HumanResources
● #Branding
● #WhatInspiresMe
● #Innovation
● #MobileApplications
● #Markets
● #Economics
● #PersonalDevelopment
● #Investing
● #JobInterviews
● #Inspiration
● #Education
● #Motivation
● #AdvertisingAndMarketing
● #VentureCapital
● #CEO
● #Automation
● #Goals
● #ArtificalIntelligence
● #COVID19
While these are the ultimate trending LinkedIn hashtags, it is crucial to use only the ones that are relevant to your field and the theme of your post. This is why we have created multiple sublists of popular hashtags you can use depending on your field. You can find them below.
2.
Popular Digital Marketing Hashtags on LinkedIn
Digital marketing is one of the most popular fields on LinkedIn. The hashtag #DigitalMarketing itself has more than 28 million followers, followed by #Marketing and #SocialMedia at 20+ million. Here are the top LinkedIn trending hashtags related to marketing:
● #DigitalMarketing
● #Marketing
● #SEO
● #SocialMedia
● #SocialEntrepreneurship
● #Advertisement
● #MarketingAndAdvertising
● #MarketingCommunications
● #Branding
● #Storytelling
● #SocialNetworking
● #MobileMarketing
● #Website
3.
Best LinkedIn Trending Hashtags for Hiring
Hiring remains one of the top trending LinkedIn hashtags for obvious reasons. Here are some variations that are also quite popular on the platform:
● #Hiring
● #HiringAlert
● #HiringNow
● #Careers
● #HiringInterns
● #HR
● #Jobs
● #Career
● #Culture
● #JobInterviews
● #JobSeekers
● #JobSearch
4.
Top Hashtags Used in Self-Help Posts
Self-help posts are the kinds of posts that guide individuals to better career growth. LinkedIn users tend to help each other out with tips and practices that aid in their overall professional growth. You can find such posts under the following LinkedIn hashtags trending for self-help:
● #SelfHelp
● #Education
● #Money
● #PersonalDevelopment
● #Investing
● #Motivation
● #BusinessIntelligence
● #PersonalBranding
● #WhatInspiresMe
● #SelfHealing
● #SelfDiscipline
● #SelfImprovement
● #SelfConfidence
5.
Mental Health Hashtags on LinkedIn
Posts on mental health, a healthy work-life balance, and the upliftment of employees also do quite well on LinkedIn. The example given below shows the usage of #StressAwarenessMonth, which is a topic that talks about work stress and how to fight it. Nikhil Narayanan is a popular Indian personality in marketing and media, who was formerly with Ogilvy.
Here are some LinkedIn trending hashtags to use when you wish to get vocal about mental health at work:
● #MentalHealth
● #MentalHealthAwareness
● #MentalHealthAwarenessMonth
● #Therapy
● #Counseling
● #Therapist
● #MentalHealthMatters
● #WorkLifeBalance
● #MentalHealthSupport
● #MentalIllness
● #MentalHealthMonth
6.
Trending LinkedIn Hashtags for Management
In any given company, managers across departments are likely to write more thought leadership posts on LinkedIn than their junior- or mid-senior-level counterparts. Moreover, management is a skill that is learned hands-on more than any other way, so tips on management are a big hit on LinkedIn. Following are the best trending LinkedIn hashtags on management that you can use:
● #Management
● #ManagementStyle
● #Innovation
● #Strategy
● #ManagementServices
● #Sales
● #Technology
● #Sales
● #Business
● #Productivity
● #ManagementDevelopment
● #HiringAndPromotion
● #AdvertisingAndMarketing
7.
Leadership Hashtags on LinkedIn
Leaders are highly looked upon on LinkedIn. The platform proves to be a great way for leaders to connect and share tips with the world. If you are a leader or look forward to becoming one in the future, these LinkedIn hashtags trending currently should add more value to your posts:
● #Management
● #Leadership
● #LeadershipDevelopment
● #Mentor
● #Mentoring
● #Leader
● #LeadershipFirst
● #Manager
● #ThoughtLeadership
● #ManagementDevelopment
● #Mentorship
● #LeadershipMatters
● #LeadershipCoaching
8.
Hashtags to Look Out for as a Job Seeker
When you scroll through your feed, you are likely to see connections who are #OpentoWork. This initiative by LinkedIn has made it easier for job seekers to step forward in large numbers. Along with #OpenToWork, here are some more hashtags that you must search for and use in your posts while seeking a job:
● #Job
● #Hiring
● #JobAlert
● #JobSearch
● #JobOpening
● #JobPosting
● #HR
● #Openings
● #JobVacancy
● #Interviewing
● #JobHunters
● #CV
9.
Entrepreneurship-Related Hashtags on LinkedIn
In the last decade, startups have gained more limelight and are all the rage now. Naturally, startup management and employees are quite active on LinkedIn, as it is a good source to build connections and do networking. The following trending hashtags on LinkedIn for startups and entrepreneurship should come in handy if you are in the same space:
● #Entrepreneurship
● #SocialEntrepeneurs
● #Startup
● #EntrepreneurMindset
● #LeanStartups
● #HappyFounders
● #Markets
● #FemaleEntrepreneur
● #StartupTips
● #StartupCompany
● #BusinessMindsets
● #Crowdfunding
● #StartupGrowth
● #StartupStrategy
10.
General LinkedIn Hashtags to Use in Your Posts
For everyday posts, these 25 trending hashtags could help you reach more people:
● #Thoughts
● #Ideas
● #TipsForSuccess
● #Training
● #Mentoring
● #Lessons
● #Learnings
● #Inspiration
● #Mindfulness
● #Coaching
● #Believe
● #Brand
● #CEO
● #Innovation
● #Creativity
● #SelfWorth
● #Sustainability
● #Health
● #Fundraising
● #Culture
● #Network
● #Storytelling
● #Leadership
● #SocialMedia
● #Productivity
11.
LinkedIn's Most Used Community Hashtags
A people-first platform, LinkedIn has a strong community. Job seekers help each other out, managers build networks, and companies collaborate on this platform. To build your own network, community-related trending hashtags on LinkedIn are helpful:
● #Community
● #Leaders
● #LinkedIn
● #Communities
● #GivingBack
● #CommunityFirst
● #LeadershipByExample
● #Family
● #HelpingOthers
● #Leadership
● #CommunityBuilding
● #LinkedInProfiles
● #LinkedInStories
● #Networking
For example, Pawan Rochwani from Pepper Content shared a post on community management using three relevant hashtags, one of which includes #Community.
12.
Technology-Related Hashtags on LinkedIn
#Technology on LinkedIn has a shocking total of 26.4 million followers. On the same lines, futurism stands tall at 23.5 million followers. These figures reveal that technology is a highly relevant field of discussion on LinkedIn. If you belong to the tech and engineering field, you might benefit from using these trending hashtags on LinkedIn:
● #Technology
● #AI
● #Future
● #Futurism
● #Cloud
● #MachineLearning
● #Engineering
● #Management
● #Security
● #CyberSecurity
● #Data
● #Blockchain
● #Cryptocurrency
● #Entrepreneur
● #Web3
● #Aviation
● #Energy
● #Startup
● #FinTech
● #Automotive
● #Programing
● #Automation
● #Creativity
● #Tech
The Importance of Hashtags on LinkedIn
Just as trending or frequently used hashtags increase the reach of your Instagram post or YouTube video, LinkedIn trending hashtags give you the following benefits:
● First of all, hashtags stand out. When a hashtag accompanies your post, the reader is likely to look at the text in blue (hashtag) to gauge what the post is about quickly.
● Hashtags help you make a collection of data, allowing you to group the subject and topic into a more relevant theme that resonates with your audience.
● Using trending LinkedIn hashtags helps increase engagement on your post, as users are likely to relate to your content because it is trending.
● Your posts can reach a newer audience by using a hashtag. LinkedIn allows users to follow hashtags, and, thus, shows relevant content from profiles that they may not even be following.
8 Tips to Use LinkedIn Hashtags for Better Networking
Using trending hashtags on LinkedIn has multiple benefits for your profile. It helps you improve your reach, boost engagement on your posts, and build a stronger network of connections. Here are some tips to keep in mind while using LinkedIn trending hashtags.
1.
Use relevant hashtags only
While there are thousands of hashtags you can use, it does not mean that you should use any random ones. While writing a post, use hashtags that are relevant to your field and the topic you are talking about.
2.
Create your own list of trending hashtags
You know your field best. Spend a few minutes searching for random keywords on LinkedIn's search bar. It will show you a handful of widely used hashtags around those keywords. Another good way to source your own keywords is by following plenty of relevant hashtags. Then keep an eye out for any hashtag that LinkedIn recommends you to follow based on similar interests.
3.
Craft a social media strategy for hashtags
Build a calendar plan of your LinkedIn posts and put some extra effort into noting down which hashtags you will use for each post. This will help you tap into more and more trending LinkedIn hashtags. One more way to bring your LinkedIn profile to life is by researching trending hashtags that are relevant to you. Then, you can try and build a post around those topics.
4.
Don't use too many hashtags
While hashtags help you increase your reach, spamming others with a pool of hashtags is a strict no-no on LinkedIn. Stick to the best three or five hashtags per post. Start by using primary topical hashtags, and then, if you still have some space, use one or two generic hashtags.
5.
Use hashtags suggested by LinkedIn
LinkedIn pays quite some attention to its hashtags. The top hashtags on LinkedIn have followers of millions, in fact. So, when the platform suggests a few hashtags, you could trust the word. When you're writing, LinkedIn automatically suggests a few trending hashtags, depending on the first few hashtags you use. Make sure to incorporate the relevant ones.
6.
Get inspiration from the leaders
Follow leaders from your industry and beyond. Stay updated with what they are talking about and the kinds of hashtags they are using. Not only will you garner tips for your career, but you will also be inspired to make a more meaningful marketing strategy for your LinkedIn profile.
7.
Analyze the performance of hashtags
Once you start using trending hashtags, always look back at your posts and analyze their performance. Learn which hashtags tend to perform the best, which combination is the most effective, and what kinds of posts are getting a better response from your audience. Keep experimenting and learning.
8.
Keep updating your list of hashtags
While some hashtags are evergreen, others fade away with time. Every month or so, do a quick run on the hashtags you are using. Remove any that are not relevant or not performing like before.
With this guide about the trending hashtags on LinkedIn, we hand the wisdom over to you. You are now ready to take the first step towards achieving growth on your LinkedIn profile using hashtags. Then, keep building your pool of hashtags and succeed at LinkedIn networking.
FAQs
1. What are the most significant trending hashtags LinkedIn has right now?
As of 2022, the top trending LinkedIn hashtags have millions of subscribers. The top three are as follows:
● #DigitalMarketing stands first and has a whopping 27.5M subscribers.
● #Marketing is second among the most trending hashtags on LinkedIn, with 20.3M subscribers.
● #Economy follows suit with 19M subscribers.
2. How to find the top LinkedIn trending hashtags?
LinkedIn has a trick for finding trending hashtags on the platform. First, go to the homepage. You will see a "Followed Hashtags" section in the bottom-left corner. Click on "Discover More" right beneath it. LinkedIn will show you other popular hashtags related to the ones you follow already.
3. Are hashtags useful on LinkedIn?
Yes, using LinkedIn hashtags helps your post and profile in multiple ways. For example, when you use trending or relevant hashtags, others will come across your post. Some hashtags are also great for catching readers' attention since they are highlighted in a different color than the rest of the text.
4. What is the best time to post on LinkedIn?
It is advisable to post on Tuesdays and Fridays since weekends usually are not a popular time for most users on LinkedIn. The best time to post is 8 am–10 am. However, many marketers also recommend posting between 4 am–and 5 pm on weekday