Design
Top 9 Visual Trends in Email Design in 2022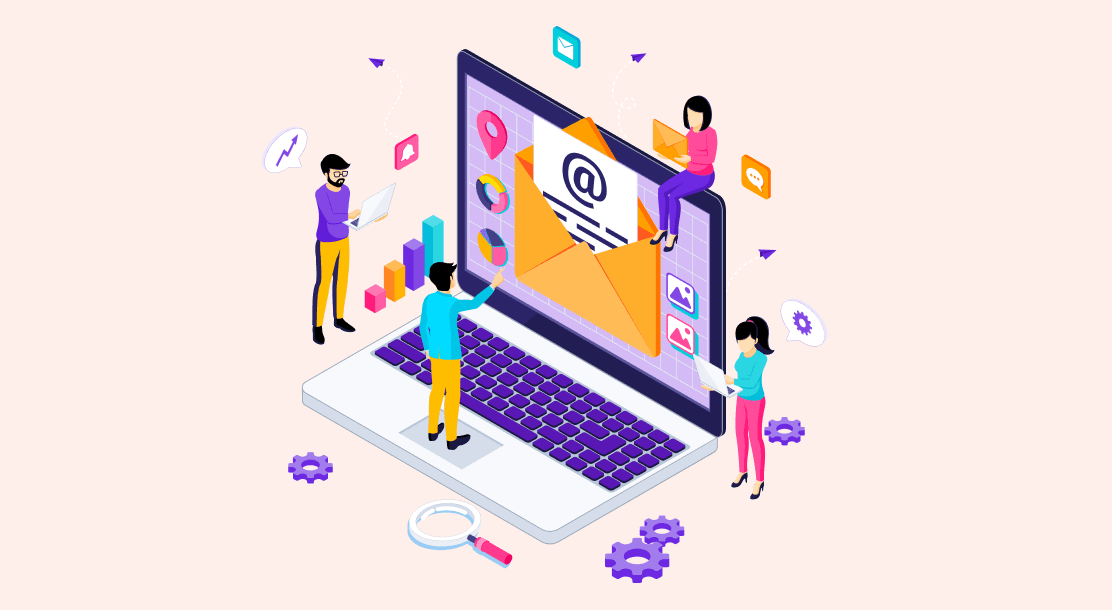 Follow these visual trends in email design to capture readers' interest and boost your email marketing campaigns.
Email marketing is at an all-time high. More than 85% of marketers rank email newsletters as the most vital tool for generating quality leads. That said, merely sending email blasts to subscribers won't guarantee success. You also need to make sure your email marketing design is on-trend. Here, we will look at the top visual trends in email design that are leading the charts in 2022.
9 Leading Visual Trends in Email Design
As another year arrives, many new email design trends emerge to ramp up your email templates. From bold typography and interactive elements to minimalism and the effective use of white space, there are many visual design trends that can help you grow your subscriber list, increase click-through rates (CTR), and reinforce customer loyalty.
While some of these trends feel more like a natural progression from the 2021 trends, there are several new entrants that can widely increase the possibilities for your next email marketing campaign. So, without further ado, let us dive into the top email visual design trends for 2022.
1.
Hyper-personalization is key
Personalization is no new trend. In fact, a lot of you may have already heard of it. But despite that, a lot of marketers fail to personalize their emails, thus losing a large number of subscribers.
2022 is all about taking personalization to a new level. People, nowadays, are flooded with choices. Consequently, they have become much more informed and are looking for smarter solutions that speak to them, and not merely treat them as transactions. Every individual wants to feel valued, and thus, creating ultra-personalized experiences has become crucial.
Of course, when we talk about personalization, we mean much more than addressing the user by their name or offering special birthday discounts. Hyper-personalization goes beyond design. It necessitates a fundamental shift in both strategy and email design to make sure that your email is as relevant to the recipient as possible.
Therefore, you also need to focus on elements outside email marketing. For instance, there are checkout forms or landing pages that should be personalized and pre-filled with all user data. You can take Litmus' above email as a reference to understand how the company leverages hyper-personalization in its email design to connect with the users.
2.
The use of interactive elements
One of the top visual design trends in 2022 is incorporating interactive elements in emails. The human attention span has dropped to eight seconds. Thus, grabbing your user's attention is not always easy. Thankfully, embracing animation and other rich media in your emails can help.
Interactive elements have a great appeal. Whether it is animated GIFs, scroll animations, or interactive menus, these effects can boost reader engagement. They not only help capture the audience's attention but also maintain it long enough for them to convert. Mind you, unlike in previous years, the use of interactive elements in emails is not just about showcasing new technology but working it into the overall email communication.
Moving on, some ways to integrate interactive elements into your email design include:
● Use interactive features to showcase a product's special features. For instance, you can transform a list of text into blocks with animated GIFs. Alternatively, you can use animations to show how a specific product works.
● Use interactive elements to boost accessibility. For instance, you can allow your subscribers to switch to light mode or dark mode.
● Use the rollover effect to offer more helpful and relevant information on the spot.
● Save on space by using interactive elements, such as carousels or slides, which display valuable information.
● Use gamified elements or blocks to boost the user experience.
3.
Custom illustrations for storytelling
Another one of the top visual trends that are expected to be big in 2022 is custom illustrations. Illustrations are among the most powerful storytelling tools. Marketers can leverage custom illustrations to demonstrate their product in action and deliver conceptual messages in an interesting way.
Illustrations, especially hand-drawn ones, evoke feelings in the viewers. They help showcase the playful side of your brand, and thus, make your email campaigns stand out from your competitors.
As per research, relevant and meaningful imagery makes the audience more likely to engage with your brand. Often, readers spend more time looking at images that are relevant rather than spending time on generic imagery. In fact, using too much stock imagery in your email design can negatively impact customer faith in your product or service.
Also, it is seen that emails with illustrations enjoy 50% greater open rates than emails that come without them. Some of the key illustration trends to incorporate into your visual email design include daydreamy doodles, minimalistic illustration, line art, 90s nostalgia, and more.
4.
Soft gradients
A gradual blending of one color into another defines a gradient. And the use of gradients in email design is one of the leading visual design trends that is expected to rise in 2022.
Although this trend was there last year as well, it wasn't so wholeheartedly embraced. In 2022, a lot of designers are using softer colors for a more subtle gradient effect.
Softly blended shades, especially pastels, together with a gentle background, can create a soothing aesthetic. It can lighten up the mood of the recipients, thus making them more open to consuming content. It is for this reason that many brands are using gradients in their email design templates. If you are confused about the color palette you can use, refer to your brand's identity and character.
5.
Experiment with 3D imagery
Using 3D imagery is another one of the leading visual design trends. 3D images bring your regular emails to life. When you showcase your products in 3D, your prospects can easily view the item from all sides. This gives them more confidence to make the purchase decision and instills faith in your brand.
Sometimes, creating 3D images for your email marketing campaigns can be difficult, but they can certainly add much-needed depth and vibrancy to a campaign. But make sure to not add too many 3D images, as that may appear distracting and even radically increase the email size. One company making the best use of 3D pictures is Nike. And here is a snapshot from one of their email campaigns using brilliant 3D imagery.
6.
Dark mode compatibility
An increasing number of mobile users now prefer to use their smartphones in dark mode. And thus, it is only natural that this visual trend has made its way to email design. Excessive exposure to mobile screens has led to a great strain on people's eyes. Thankfully, dark mode is here to save the day.
Emails in dark mode are easy on the eyes, especially when viewed in low-light conditions. Additionally, they consume less power. A survey by Android Authority showed that 91.8% of people prefer dark mode for their emails.
For those who are not familiar with the concept, dark mode is a feature that changes the color scheme on your device. So, instead of having all the email elements on a white display, you use a dark background, which is softer on the eyes.
This is one of the hottest visual design trends in 2022, and using it in a campaign is a great way to appeal to the readers. However, implementing a dark mode can be slightly tricky. You can take the help of expert email design services to ensure you make the best out of this trend.
7.
Big and bold typography
Your typography is the primary component of communication within your email. So, it needs to be bold to catch the eye. But make sure to only use bold typography for headlines. Do not make the entire text block bold, as that will distract the readers.
Big and bold headlines are very quickly becoming a norm in email design. And this is because they instantly grab the reader's interest, deliver value, and make a dramatic statement. Using bold typography may seem a little overwhelming at first. But if you choose the correct font, ensure adequate white space, and balance it out with the right color palette, this trend can have a huge impact.
8.
Pops of neon
Another one of the top visual trends in email design that you must take note of is the use of neon colors. Incorporating neon colors in your email design is a great way to stand out. Vibrant and neon hues are symbolic of excitement and boldness. While most marketers choose to play it safe with a neutral color palette, adding a pop of neon adds a playful and fun appeal to the email.
But remember, using neon colors in large spaces is not advisable. You must use them sparingly in your email design. Be wary of using neon backgrounds in your design, as that can put off the readers. Use pops of these shades, especially when designing your email in dark mode, to create an exciting and eye-grabbing impact.
9.
Data-backed emails
Consumers, today, have become much more cognizant. They are aware of all marketing tactics, and thus, playing to their emotions to persuade them is not enough. Everything that you claim must be backed by data and statistics to appeal to logical minds.
Incorporating exciting data and statistics in your email is one of the best email design visual trends. You can get an edge over your competitors by making your offer sound more convincing. You can showcase your authority over a topic as well as create personalized experiences this way.
You can use data in your emails in many ways. For instance, you can talk about the number of products sold or your average rating. You can also deliver personalized data, such as yearly or monthly reviews.
How to Apply Visual Trends in Email Design
The aforementioned visual design trends are worth following to ramp up your email marketing game. But how can you apply these visual trends? Should you try them all at once? Well, no.
Before you plan to apply any visual trend in your email design, make sure it complements your brand's personality and identity. For instance, if you are a B2B software company, you really cannot benefit from using 3D imagery in your email design.
Moving on, you must consider your audience's behavior before incorporating any trend. You can enquire about your audience's preferences by sending them survey-based emails. If you find that they do not enjoy dark mode emails, refrain from using the trend altogether. Lastly, you must also consider the time and cost involved in developing the design.
When it comes to nailing your email design, make sure to conduct A/B testing. This helps identify what is working and what needs to be replaced.
The importance of design in email marketing cannot be overemphasized. Using the right colors, design elements, shapes, and imagery not only attracts the users but also adds to your brand's identity. When you pay attention to your email design, you can easily grab the user's attention, educate them about your brand, and even persuade them to take the next step. So, follow these aforementioned visual trends for your email design and create the most amazing email campaigns.
Key Takeaways
● Your email layout, content, text hierarchy, and interactive elements, all come together to create the foundation of email design.
● Having a good email design is critical to stand out and increase engagement with your subscribers.
● You need to be aware of your audience's behavior before incorporating any visual design trend.
● Incorporating the latest visual design trends can augment your email marketing efforts.
FAQs
1. How can I design an email?
To design an email, you must begin with a simple wireframe. Use this wireframe to create a rough layout with marked white space, and then choose a template and a suitable theme for your email. Select a color palette that complements your brand's identity. Draft a clear and concise ad copy, and finally, add relevant images as per your need.
2. What should I include in an email design?
Various elements come together to form a comprehensive email design. These elements include:
● A strong subject line
● An attention-grabbing preheader
● Logos and colors that complement your brand
● Text and images
● A clear call to action
● A well-designed footer
3. What are some best practices for email design?
Include interactive elements, such as animated GIFs or countdown timers. Use pops of neon and bold typography to create focus on crucial elements. Emojis, custom illustrations, and gradients can further boost the look of your email design.
4. What are some of the latest trends in email marketing?
Some email marketing trends that are crucial in 2022 include:
● User-generated content
● Hyper-personalization
● Mobile optimization
● AR/VR technologies
● Focus on data privacy