Content
15 Top Newsletters for Marketers to Subscribe to in 2022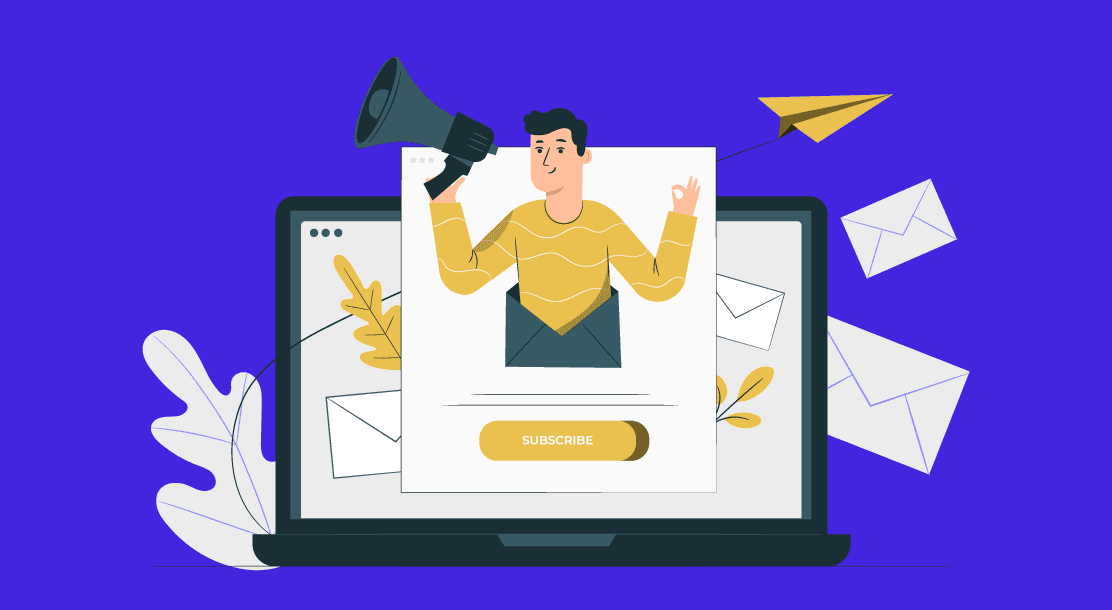 As a marketer, your aim is to slay the marketing game that can only be done by reading latest trends. So, here are 15 top newsletters to subscribe to.
Newsletters provide concise information on various topics that can be quickly consumed. This is ideal for people who want to stay on top of their game but don't have the time to read lengthy articles.
Marketers are always on the lookout for such beneficial newsletters but don't know where to find them. Hence, to make your life easier, we've compiled a list of the best newsletters for marketing.
If your goal is to stay ahead of your competition and impress your peers, check out our list of the best newsletters for marketing you should subscribe to right away.
15 Top Marketing Newsletters
Let's check out some fantastic marketing newsletters. While these are great resources to help you learn and understand the various topics within marketing, nothing will replace you actually doing marketing on your own.
1. The Daily Carnage
Carney+Co. is a full-service agency specializing in developing and designing desktop, browser, and mobile platforms. The Daily Carnage is one of the best newsletters if you want a hand-picked list of great marketing content daily. Their newsletter provides you with amazing knowledge, the latest industry trends, and marketing best practices. It's a free newsletter that delivers content on various channels like blogs, podcasts, and videos.
2. REI
REI, Recreational Equipment, Inc., is known for its high-end gear and apparel, rental equipment, expert advice, outdoor experiences, and inspiring stories of life outside the four walls.
REI does what most brands find challenging: promoting good products with good content. Take a look at the image below. It clearly shows how REI delivers a variety of different materials to its subscribers and how each point is related to the other. It starts with seasonal product offerings, followed by the training they provide to educate on these products, and then blogs for those looking for more information about the outdoor lifestyle.
3. Marketing Brew
This thrice-weekly email newsletter delivers the latest and most important business, tech, and financial news.
Each Morning Brew newsletter perfectly summarises the latest news on different sections of marketing, real estate, stocks, etc., and not just what's discussed on social media but as a human. If you're a Millennial and Gen-Z, this is an excellent newsletter to subscribe to.
4. Austin Kleon
Austin Kleon's weekly marketing newsletter is sent every Friday. This is a curated newsletter, meaning it does not have original content but links to blogs and posts from other websites that are highly beneficial.
He shares a list of 10 interesting things he thinks are worth sharing, like writing, new art, marketing tips and tricks, interesting links, and more. He writes in a conversational and friendly tone that doesn't sound like a marketing email.
5. HubSpot Marketing Blog
HubSpot Marketing blog is a free marketing-oriented email newsletter that shares the most insightful news and updates about marketing. You will get access to marketing-related topics such as tips to create better content, different marketing channels, and more.
6. HotPod
HotPod is an email newsletter about podcasting and the on-demand audio industry sharing two emails every week with a complete insight into podcast news and trends. This is an excellent newsletter to subscribe to if you're looking to start a podcast or improve your existing podcast. However, it's a paid newsletter that will cost you $7/month or $70/year.
7. Buffer's Social Media Newsletter
Buffer's social media newsletter is a complete resource for social media marketers, especially as it shares all the social media marketing tools and trends across all the social media platforms for free.
8. InVision
InVision sends a newsletter every week, which includes a digest of their most engaging blog content of that week along with other top blogs that will help you in your marketing game. Their newsletters are mobile-friendly, easy to read, and feature fun GIFs, making them ideal for young Gen-Z subscribers.
9. MarketingProfs
MarketingProfs is a resource site for modern marketing tools, training, articles, forums, and seminars, and these are brought to you by industry-leading experts. Their free email newsletters are a daily round-up of perspectives, lessons, know-how, and practical marketing insights.
10. Ariyh
Ariyh is a weekly newsletter that follows a simple, unique, and effective format. Every week, you receive a newsletter featuring a brand new, evidence-based marketing tip from peer-reviewed, unbiased, scientific research done by some of the best business schools in the world.
This newsletter contains zero fluff, and each tip is explained in great detail and backed by an academically-sound study. In the three minutes you take to read this newsletter, you will learn what to do, why you should be doing it, who it works for the best, and real-life examples of brands that benefitted from it.
11. Medium
Medium is a well-known content publishing platform where many users publish their blogs daily. This makes it overwhelming for anyone looking to consume some great content. But their email newsletters make it easier for their users by sending daily or weekly (as per your choice) free newsletters with the most relatable content per your interest.
12. The Mention Memo
The Mention Memo newsletter is ideal for young Millennials and Gen-Z subscribers. This weekly newsletter features cool GIFs, valuable free resources, along with insightful commentary revolving around trending topics on marketing, including Instagram Stories, Tik Tok, Facebook, and more.
Additionally, the newsletter provides practical tips, tricks, and resources that you can use to create a tailor-made marketing strategy for yourself. What we like most about this newsletter is how visually appealing it is and how it stands out from most newsletters we typically see.
13. Please Advise
Please Advice by Top Hat is a marketing email newsletter sent out daily. You can consider this the perfect daily call to action. The newsletter is divided into three easy sections: Look, Do, and Try.
This newsletter is packed with information on marketing that you'll actually use and can be read with a quick swipe. This well-designed, quick-read newsletter is the perfect way to get your daily dose of marketing information.
14. TL;DR Marketing
TL;DR Marketing's newsletters are for those looking for a no-fuss, minimalist format to stay up to date with all the latest news on marketing without any distractions. Their newsletters provide a succinct overview of all marketing essentials, including the latest paid media marketing updates, SEO, social media, and more.
This daily newsletter is ideal for marketers who are strapped for time and only want to focus on brief and highly informative content.
15. This Week in Content Marketing
This Week in Content Marketing is a newsletter by The Content Marketing Institute. It is a phenomenal resource for all things related to content marketing. The newsletter will give you insight into what's new in content marketing and how you can keep up with these changes.
The Content Marketing Institute also offers newsletters like the CMWorld Community News, where you can receive curated newsletters from their community.
Conclusion
There are many top marketing newsletters to subscribe to if you want to leverage the marketing industry and become a professional. As a digital marketer, you should have an excellent knowledge of digital marketing and know that it delivers excellent results if done right.
While you don't need to subscribe to all the newsletters mentioned above, pick a few you think would provide the most value to you and your business.
FAQs
1. What are the three pillars of a good newsletter?
A good newsletter's three pillars are Content, Design, and Value.

2. What should a good newsletter look like?
A good newsletter should be as simple as possible. As a reader, you don't want a newsletter with unnecessary information or too much design that serves no purpose. Subscribe to newsletters that keep the content straightforward.