Marketing
7 Tools to Ace Your Social Media Marketing Strategy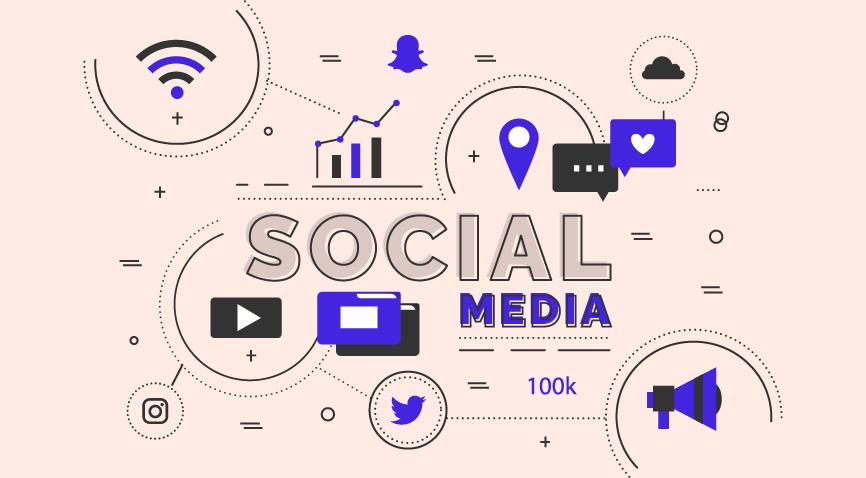 Table of Contents
Introduction
Why do you need social media marketing tools?
Types of tools:

Buffer
Quuu
Canva
Socialinsider
GaggleAMP
Qwaya
If This, Then That (IFTTT)

Key Takeaways
FAQs
Any successful online marketing strategy is a mix of visually pleasing posts, catchy headlines, intriguing phrases, and a lot of other significant attributes. However, just knowing is not enough. You may be an experienced digital marketer, but if you're determined to make the most of your available resources, you'd want to save time at every step. Among the plenty of social media marketing tools available online, it only takes a fine eye to sort the best that not only fasten your planning process but also can significantly improve your social media's performance.
As difficult as it is, a business owner has to adorn different hats and it's not easy for them to do it all with no prior experience. Hence, there is a need for technological intervention. With the help of leading social media marketing tools, any business owner, irrespective of the size of the business, can make sure their individual tasks are handled professionally and can keep a track of them.
Here's what investing in the best tools can do to your business:
Track the presentation of all your social network profiles in one place.
Screen the adequacy of social media campaigns by labeling and covering them separately.
See which messages reverberate most in your audience to direct your publishing technique.
Keep an eye on the competitors to perceive how their commitment and development compares to your own.
Track how rapidly and productively you're replying to the messages that require attention.
See which of your employees are the most productive in creating, attracting and distributing more content.
Here are some of the finest digital marketing tools for every noob that can make any business' online marketing strategy easy-as-a-pie.
Top 7 Social Media Marketing Tools
1. Buffer
Social media marketing tools by Buffer are built especially for small businesses. You can use the tool to optimize planning, collaborating, and publishing content or use it to get an in-depth understanding of the various parameters necessary for social media business growth. All these can be done from one simple dashboard which is quite easy to use.
Cost: There's a free version you can begin with. The paid version, however, comes with more options.
Best known for: It allows integrations with other tools as well as extensions, plugins for streamlined performance:
Buffer's Publishing Tool:
Smart scheduling of content across social media – know the prime time for each platform
Real-time tools for all major social networks – Facebook, Instagram, LinkedIn, Pinterest
Special tools & tips for instagram posts/campaigns
Crafting effective posts for each of your social media accounts
This tool will help you all the way from planning to publishing
Get all things done with much more efficiency within one place
Buffer's Analytical Tool:
Strengthen your brand on social media using in-depth insights
Measure your marketing performance with the right social media marketing metrics to guide you on
Create reports of your social media performance
Analyze your content performance across multiple social channels
Use solid recommendations to enhance reach, strengthen engagement & drive sales
2. Quuu
This is a great tool to help with your social media content. Content has always been and will remain king in the world of online marketing. However, coming up with engaging and relevant posts could be difficult at times. This tool will save you time in generating content as well as supercharging your content feed across social handles.
Cost: Pro version for $5 per month or use for free with limited features. There's also a business version for $15.83.
Best known for:
Discover amazing contents from creators/consumers community across variety of topics
Identify and follow awesome creators
Contribute content within the community
Save, read and or share content
Get carefully selected well-reviewed high-quality content suggestions
Integrate with other social media marketing tools (Buzzer, for example)
Discover and follow great RSS feeds and newsletters
Text-to-speech feature to get content in audio format
3. Canva
Canva is one of the best, if not the best, designing platforms out there. That's because you don't have to be a pro designer to create awesome designs on Canva. It's simple enough for amateurs. Many businesses on social media are already utilizing this wonderful social media and marketing management tool. Join the band and use Canva to aid your feed with great attractive visuals.
Cost: Free version available. Paid version ranges from ₹ 2,200 to ₹ 8,900.00/year (or $ 9.99 per user/month).
Best known for:
Ease of creating designs: Just drag and drop onto the canvas
Templates for almost any design purpose: Posters, pamphlets, presentations, greeting cards, newsletters, banners, infographics, calendar, reports, comic strips, videos, gifs, animated graphics, you name it.
Specific social media templates and designs: Instagram posts, reels, stories, highlighter, Ads; Facebook cover, post, event cover; Youtube banner, thumbnail, introduction, channel art; Tiktok videos; Linkedin banner and post; Twitter post; Pinterest pin, and so on.
Create good-to-go design real quick in as short as 1 minute
Join edit feature available
The free account comes loaded with elements and templates and often suffices for most social media design requirements
4. Socialinsider
A great social media marketing tool for business for analytics, Socialinsider true to its name takes you into the nitty-gritty of social media metrics. It'll help you understand marketing benchmarks to better analyze your performance.
Cost: Free for the first 7 days; paid plans from $59 a month.
Best known for:
Comprehensive list of metrics on performance, engagements and profile stats across major social media platforms
Peep into competitors' social media strategy for inspirations and learnings
Close comparison of your performance with competitors in the industry – let you know where you rank in the social media marketing scene
Benchmarks and analysis of your content and brand, including hashtags and ads analytics.
5. GaggleAMP
Expanding your content reach beyond your network audience is made easy with one of the best social media marketing tools, GaggleAMP.
This tool enables you to make the best out of your content by discovering broader contacts. A distinctive feature of this tool is allowing employee engagement in your brand's social media activities.
Cost: Free for the first 14 days; monthly plans start from $300 a month.
Best known for:
Drive online engagement by utilizing employees participation in your business promotion
Share content with new prospects to strengthen social selling and business relationships
Tap into and leverage large network reach of influencers and partners
Easy-to-use social media advertising tool manages auto posts of your content in the networks of your colleagues and influencers.
Email prompts for engagement and actions which employees can update in their respective networks
Activity and content performance analysis
Marketing tool integrations feature available
6. Qwaya
Social media advertising tools such as Qwaya are an important part of any marketing strategy. Launching advertising campaigns on social media should implement reliable plans so your money doesn't go wasted. Qwaya is a tool for Facebook and Instagram advertisements.
Cost: Plans start at $149/month.
Best known for:
A/B testing of your ad campaigns to avoid ad cost wastage
Compare split testing results to decide on advertising techniques that work the best
Determine where you should or shouldn't be spending money on in your ad campaign
Get to know prime time for ads posting and schedule accordingly
Campaign schedule targeted for peak ROI period
Great customer support with free training webinars and sessions.
7. If This, Then That (IFTTT)
IFTTT is a free social media marketing tool that'll enable you to incorporate automation at its best. The name of the tool says it all: If THIS activity happens, THEN (triggering cue activity) THAT activity will follow suit automatically. This is pretty useful in streamlining your various social media marketing content and posts. It works using an applet system where certain actions trigger another action (automated Linkedin post triggered by a new blog post, for example). The activation will depend on the trigger factors set by you.
Cost: Free
Best known for:
Lineup series of automated social media actions using IFTTT applets
The applet system will be created as per parameters that best suits your business
Provides integrations with a plethora of services and platforms (Twitter, Evernote, Dropbox, Amazon Alexa, and Google Assistant, to name a few).
Great tool to sync daily activities across digital platforms not just for business but for your personal life as well.
There's no limit to your social media automation
Automate content research
Automate posts
Automate influencers updates
Auto-post tweet whenever you put up new blog post
Get notifications for your brand mentions on various sites
Save content posts to a spreadsheet
Auto-share LinkedIn posts using specific tags
Key Takeaways
While the best social media marketing tools are continually changing depending on the nature of work, there are some that are an absolute necessity that need to rule your social strategy.
Social media channels continue to develop every year. Thus, fostering a compelling online content strategy is indispensable.
Your objectives must drive your social media marketing strategy.
Your audience will assist you with sorting out everything, right from choosing the right platform to each ounce of content you'll make at any point.
You must have to sort out who your target audience is and what social media platforms they use.
FAQs
1. Which is the best social media marketing tool for my business?
The best social media tool for your business is the one that lets you curate content and helps in planning and upgrading the post for all the popular social media channels. It should allow you to schedule and monitor those posts as well.
2. How do you create a digital marketing strategy for beginners?
Here are some social media marketing tips for success:
– Distinguish the right social media channel
– Benefit as much as possible from live recordings
– Make your brand's image a successful story
– Influence client produced content
– Utilize socially-accommodating pictures
3. What is PPC?
PPC or pay-per-click is one of the social media marketing strategies that include online promotions. Promoters pay each time a client taps on one of their advertisements.
4.  What is SEO? Is it important?
Search Engine Optimization is the act of further improving a site with the goal that it becomes web index amicable and carries natural traffic to the site.
5. Which platform is the most suitable for me and my business?
Facebook is ideal to expand brand awareness or produce leads. Then again, to grow your organization with influencers and experts, then, Twitter and LinkedIn might be the top choices. While TikTok and Instagram are prime choices when a more youthful audience is needed to be targeted, in specific.