Marketing
15 Top Marketing Experts on the Ideal Content Distribution Strategy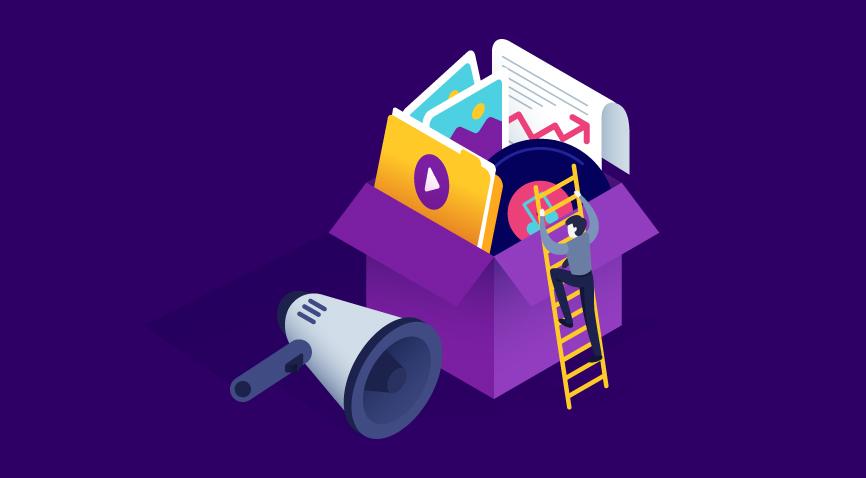 Table Of Contents
Why You Need A Marketing Guru
15 Top Content Distribution Channels
15 Top Marketing Experts: Reasons To Follow Them
Key Takeaways
Conclusion
FAQ
Whether you want to start your own business or scale your existing one, you should have a well-thought-out content marketing strategy. But, in the era of digital marketing, it's hard to stand out your business from the crowd.
Don't worry; we've got your back! Ace your marketing campaign with tips from these top marketing experts and nurture your target audience with the proper content distribution channels through this article.
Why You Need A Marketing Guru?
Top marketing gurus are the top digital marketing experts or professionals with years of experience. They share their experiences, mistakes, and strategies, which are wildly helpful for you if you want to get into digital marketing or level up your business's marketing strategy.
In this article, we'll show a complete list of the world's famous marketing experts, but before that, let's deep dive into content distribution channels and see which channel would be best for you.
15 Top Content Distribution Channels
A content distribution channel is a platform where you share your content to increase your brand's awareness and reach and nurture your target audience. Because let's face it, your target audience will not search for your brand name to make a purchase, they will search just for their needs, and it's your responsibility to show up and stand out among the crowd.
And, to do this, a great way is to publish and distribute your content on different content distribution channels. But, to execute it correctly, you first need to create a content distribution strategy which is nothing but a strategic action plan to distribute and promote your content on different marketing platforms.
After creating your strategy, the next step is to choose the proper channels to distribute your content which mainly depends on your target audience.
There are three categories of content marketing channels – owned, earned, and paid. According to eMarketers' research, 60% of marketers create one piece of content every day. But not all the content you create can be distributed on every channel; generally, each type requires its content creation and content distribution plan.
With that said, let's check out the 15 top content distribution channels.
Owned Content Distribution
Owned media channels are distribution platforms in your control, and you have full access without paying any extra amount.
1. Videos
Video content is continuously booming, and you should take this as an advantage to increase your brand's awareness. You can also repurpose your text posts in video format, and of the best ways to distribute it would be YouTube.
2. Ebooks
In-depth explanations on any topic are a great way to prove your expertise and that is why ebooks are a great content distribution channel that allows you to share your brand's knowledge within your industry.
3. Blogs
Blogs are one of the best channels to distribute your content because they drive tons of traffic to your website and build trust with your target audience.
4. Infographics
Research shows that our brain decodes visual content 60,000 times faster than text. Visual content grabs audiences' attention, so you should consider this in your content distribution strategy.
5. Email newsletters
It's a direct way to nurture your target audience by sharing your company's news, updates, or any form of content. You can also use email newsletters to share your blogs, YouTube videos, or other social media posts to get more reach and engagement.
Earned content distribution
When people share your social media posts on their handles or tweet your recent podcast, these activities all come under earned content distribution.
6. Podcasts
Podcasts are trending nowadays, and it's safe to say they will grow enormously in the future. Do you know there are 1 million active podcasts and more than 30 million podcast episodes while you are reading this article? Yes, it's true!
7. QA platforms
Using QA platforms can be beneficial for your brand to reach your target audience and increase your credibility. QA platforms include communities like Reddit and Quora, where people ask their questions, and you can answer them with a link to your content, be it a YouTube video or a blog post.
Be human and solve their query. If they like your answer, they might share them on their social media handles or other platforms.
8. Social media groups
Social media groups comprise thousands of followers, making it a great place to share your content if you want to reach a larger audience. Also, there are some industry-specific groups that you can find and share your content to attract your target audience.
9. Guest blogging
Guest blogging is a great way to increase referral traffic to your website, which helps you reach a wider audience and make long-term and fruitful relationships with industry experts. Keep in mind that to get the desired results, focus on authoritative websites from your industry.
10. Press releases
Ever seen a brand name in any PR article and thought, "This company is doing great!?" If yes, you can also make your target audience feel the same about your brand by sharing news and updates. Also, it's not a regular channel to share your daily content; it only works if you want to promote your product or services or have a significant change within your company.
11. Online platforms
Online platforms like Medium are great for sharing your content. It has a vast community of writers, thoughtful storytellers, and leaders, which means more people will see your content, ultimately increasing your brand awareness.
Paid content distribution
This channel refers to when you pay specific channels to promote your content;
hence the name "paid."
12. Pay-per-click (PPC) ads
In PPC, you need to pay a certain amount each time people interact with your ad through clicks/impressions. PPC ads are most common in search engine results pages (SERPs) and come under search engine marketing (SEM) and, if executed correctly, can bring quality leads. According to HubSpot research, the most common platform for PPC ads is Google Ads.
13. Sponsored content
Sponsored content is promotional media in which an advertiser pays to promote the content but is created and promoted by another person – an influencer, a publisher, or a brand. It's highly effective when it includes an influencer or brand that already has your target audience and aligns with your brand.
14. Paid influencer marketing
Influencer marketing is a marketing strategy businesses use to improve brand awareness, increase traffic, and drive messages to brands' target audiences. In influencer marketing, brands collaborate with their niche-specific influencers to help them expand their reach towards more target audiences.
15. Paid social ads
PPC ads, sponsored content, and influencer marketing are examples of paid social media ads. Content is promoted on major social media platforms such as Facebook, Instagram, LinkedIn, YouTube by targeting the audience that aligns with your brand.
15 Top Marketing Experts: Reasons To Follow Them
As promised, here's the complete list of 15 top marketing experts and the reasons why you should follow them.
1. Neil Patel
He is the co-founder of KISSMetrics, Crazy Egg, HelloBar, and Quick Sprout, and according to Forbes, he is one of the top 10 marketers. Former US President Barack Obama has also recognized him as one of the top 100 entrepreneurs under 30. He has a great work portfolio and has worked with big brands like Amazon, Google, eBay, General Motors, and many more.
Why should you follow him? He is one of the best digital marketing experts, especially in SEO.
2. Liz Strauss
She was called "the most influential relational blogger on the Internet" by EatonWeb and is an expert in building customer relationships. She has an excellent knowledge of business and influencer marketing. According to Forbes, she is one of the top 10 social media influencers and top 50 social media power influencers.
Why should you follow her? She also owns a blog where she shares actionable advice through skillful writing. She participates in the ongoing discussions on her site about managing customer relationships and giving valuable advice.
3. Rand Fishkin
He is the Co-founder and former CEO of MOZ, also called 'the Wizard of Moz.' He is a great tech entrepreneur, blogger, and leader, specializing in marketing and SEO and has written numerous blogs and articles such as Inbound Marketing and SEO: Insights from the Moz Blog.
Why should you follow him? He is one of the 30 Best Tech Entrepreneurs Under 30 by Business Week, and his Moz 'Whiteboard Friday' videos are one of the best resources available to learn SEO.
4. Ann Handley
She is an author, speaker, pioneer, and one of the top digital marketing experts. She is the co-founder of the online publication ClickZ and the chief content officer of MarketingProfs.
Why should you follow her? IBM named her as one of the seven people shaping modern marketing. She also shares actionable tips that everyone can use to improve their writing.
5. Gary Vaynerchuk
He is one of the top digital marketing gurus, a self-starter, a social media influencer, the CEO of VaynerMedia, a social media digital agency, and an investor who has made investments in Facebook, Tumblr, Twitter, Uber, and other startups.
Why should you follow him? He is one of Crain's 40 under 40 and INC's 25 Social Media Keynote Speakers You Need to Know. He has excellent knowledge in building startups, growing social media, and making the right investments.
6. Jay Baer
He is the founder of Convince & Convert, a digital marketing consulting agency. He has an experience of more than 20 years in digital marketing and has consulted over 700 companies, including Salesforce and Oracle.
Why should you follow him? According to Leadtail and PunchTab, he is the world's most retweeted person by digital marketers and the second most retweeted person by B2B marketers.
6. Pam Moore
She is one of the top social media influencers with great social media marketing and conversion optimization skills with more than 1,000,000 followers.
Why should you follow her? No doubt, she is one of the top digital marketing experts. She shares her knowledge of branding, social media, and conversion marketing with other marketers to help them specialize in these fields.
7. Scott Stratten
He is one of the top digital marketing gurus, author of 5 best-selling business books, a leading video influencer, and a keynote speaker.
Why should you follow him? Scott is the creator of UnMarketing and has consulted companies like Walmart, Adobe, IBM, Microsoft, and many more.
8. Jeff Sheehan
He is a viral marketing expert, and his company, Sheehan Marketing Strategies, has developed digital marketing strategies for big brands like Apple.
Why should you follow him? He is a specialist in Twitter and LinkedIn marketing.
9. Larry Kim
He is an influencer, one of the most famous marketing experts, and the CEO of the chatbot building platform, MobileMonkey.
Why should you follow him? He is one of the eight most popular authors on Medium and a contributor to CNBC and Inc. Magazine. He shares his skills in digital marketing, Facebook, and Google Ads.
10. Eric Siu
He is the CEO of the digital marketing agency Single Grain and the co-host of the Marketing School podcast with Neil Patel.
Why should you follow him? He has consulted approximately 500 Fortune companies and venture-backed startups and has excellent expertise in digital marketing.
11. Jennifer Polk
She is the Managing VP at Gartner and leads a team of experts who advise technology product marketers.
Why should you follow her? She is a master in market strategy, demand generation, messaging, and positioning, and her expertise can be beneficial for your business.
12. Leonard Kim
He is one of the most followed TED speakers, a branding expert, and one of the top digital marketing influencers in the world.
Why should you follow him? With great knowledge in influencer and LinkedIn marketing, he is the go-to person to learn about the latest digital marketing trends and best-working techniques, business mindset, personal branding, influencer marketing, and startup approaches.
13. Neal Schaffer
He is famous for his digital marketing and social media marketing hacks. He is also an influencer, speaker, and consultant.
Why should you follow him? He creates content for Forbes, USA Today, and Mashable.
14. Donna Moritz
She is a professional content strategist and creator, and visual storyteller. She is also the brand ambassador of some successful and big companies.
Why should you follow her? She runs a blog Socially Sorted, sharing marketing hacks, tricks, and tips.
15. Kim Garst
She is one of the most popular social media influencers and a keynote speaker. She has consulted various brands such as IBM, MasterCard, and Microsoft.
Why should you follow her? According to Forbes, she is one of the top 10 social media influencers, and she shares her social media and conversion marketing skills on her social media handles.
Key Takeaways
You should leverage content distribution channels to increase your brand awareness and reach your target audience.
Always choose the content distribution channels that align with your brand and target audience.
Never do guesswork while defining your target audience, always use data-driven insights and tools, or otherwise, it can cost you sales.
Top marketing experts are excellent sources for learning the latest digital marketing methods, techniques, and practices.
There are so many digital marketing gurus; even if they don't share everything they know, they provide you with some great resources and insights that can benefit your business.
Conclusion
Now, as you have the complete insight of content distribution and top marketing experts, it's time to start implementing this knowledge in your business.
Define your target audience, choose your content distribution channels and follow these marketing gurus to ace the digital marketing game of your business.
FAQs
1. How do you choose a distribution channel?
You can choose a distribution channel by analyzing the nature and market of your product and by defining your target audience.
2. What is digital content distribution?
Digital content distribution means the content is shared digitally or online. Such as videos, podcasts, and ebooks.
3. What is the best content distribution channel for my business?
It can be videos, ebooks, blogs, social media platforms, PPC, etc., depending upon where your target audience hangs out.
4. What is the top social media marketing channel?
Facebook.
5. What is a content distribution tool?
The content distribution channels are also known as content distribution tools.
6. What is the main objective of content distribution?
To increase your brand awareness and generate more quality leads.