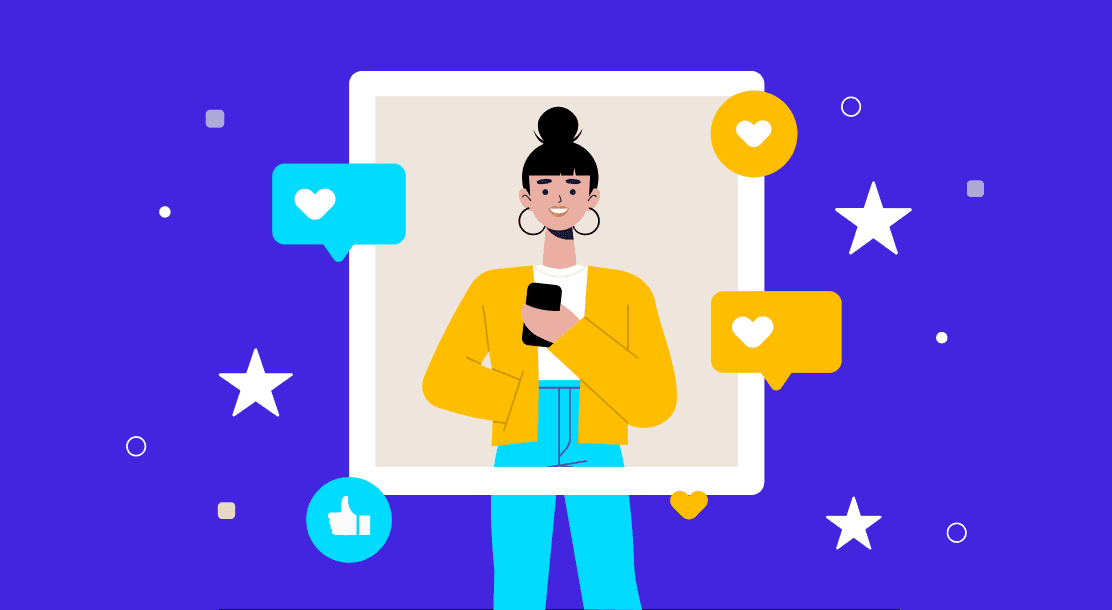 Are you looking for some Instagram inspiration? We've listed the top 6 Instagram influencers that you must follow today.
Table of Contents
Instagram Influencer Marketing
Top 6 Instagram Influencers
Benefits of Influencer Marketing
How to Approach Instagram Influencers
Instagram is one of the best visual social media platforms, perfect for brands and businesses to tell their story. There's no doubt that being an Instagram influencer is not an easy task, given that the competition is tough. To be successful on Instagram, you need to work hard and stay consistent.
Instagram influencer marketing is growing fast, and more and more brands are looking to get in touch with different influencers to market their products. It's an excellent platform for influencers and marketers looking to learn from some of the big names in their niches. Marketers can use Instagram to decide which Instagram influencers can make a significant impact. In the same way, influencers can also learn from other popular influencers to better themselves and improve.
If you're looking for some of the best influencers on Instagram, then here are the top Instagram influencers you must check out to learn from.
Top 6 Instagram Influencers
Instagram is a popular platform to find Instagram influencers that you can use for your marketing strategies. Many brands and businesses use famous Instagram influencers for marketing their products and services. Here we've listed 6 of the top Instagram influencers that are awesome creators while they also help different brands and businesses with their marketing campaigns.
1. Kusha Kapila
Kusha Kapila is an influencer whose name you will surely see in the list of top Instagram influencers in India. Her videos came into the spotlight when she was with the digital publication iDiva. Her favorite "Billi Masi" persona won hearts, contributing to her success. She is now one of the most entertaining Instagrammers in the country. Lifestyle, makeup, fashion, marriage, skincare, comical videos, and reels are part of her content on Instagram. Currently, she has around 2.3 million followers on Instagram, making her one of the top Instagram influencers to watch out for.
2. Dolly Singh
Dolly Singh is another popular Instagram influencer who gained importance with her iDiva videos such as "Raju ki Mummy." Since then, she has been known for creating funny videos like "Shree the Artist" and "Guddi Bhabhi." She creates entertaining and funny videos with relatable situations and characters for millennials and Gen Z Indians. She has around 1.4 million followers on Instagram and is one of the best influencers on Instagram that you can collaborate with or learn from.
3. Ankush Bahuguna
With an 877K follower base, Ankush Bahuguna continues to impress and grow on Instagram. One of the top Instagram influencers in India, his content consists of funny sketches, satirical videos, and relatable content that has made him popular.
Earlier, he used to feature in iDiva and MensXP videos, and he also has videos of his mom roasting her son. Being one of the top Instagram influencers, Ankush is also known for wearing fashionable makeup and his drip lifestyle. His followers enjoy the witty and hilarious posts and reels on Instagram. He is an excellent example of how you can make interesting and engaging viral content to increase your follower base.
4. Komal Pandey
When it comes to the best influencers on Instagram, Komal Pandey is a popular and influential fashion vlogger. She is also a trend-setter and boasts a massive fan following of 1.6 million followers. When she was in college, Komal started posting pictures on the Instagram platform while she worked at PopXo. All her hard work paid off when she won the Cosmopolitan Best Fashion Influencer and Vlogger Award 20-21. She is a significant Instagram influencer if you're looking for some inspiration.
5. Aashna Shroff
Aashna Shroff is another popular lifestyle Instagram Influencer with a massive following of 918K. She first started with her blog – The Snob Journal and has become one of the best influencers on Instagram in the lifestyle niche. She has worked with several different brands, and her posts include home inspiration, outfits, and makeup. She is one of the famous Instagram influencers that you can follow.
6. Shivesh Bhatia
If food and baking are your things and you're looking for some popular Instagram influencers to follow and learn from, check out Shivesh Bhatia. Shivesh is a self-taught baker with a fan following of 720K. His blog and food photography are outstanding, and he continues to win hearts with his fabulous baking recipes. So right from baking a flourless cake to making Jim jam cookies and brownies, Shivesh is one of the best Instagram influencers in India in the food industry.
What is Instagram Influencer Marketing?
Influencers are people who build a reputation around a particular niche. They are internet celebrities who sometimes function as brand ambassadors and help brands with their marketing strategies. Influencer marketing is a brilliant social media marketing strategy where influencers receive payouts to endorse a brand's service or product. These payouts can come in different forms like discounts, free products, or cash.
Brands and businesses often collaborate with the right influencers to create content that promotes their services and products. This allows brands to reach out to a wider audience and build brand awareness in the best way possible.
Influencer marketing is like when your friend recommends a popular eating joint or a vacation destination. The recommendation is valued because you trust your friend. Similarly, people who follow a particular influencer will trust their suggestions and recommendations. So, when a brand teams up with an influencer to help market its products and services, it can reach out to a broader audience to help you grow your business.
Benefits of Influencer Marketing
According to eMarketer, influencer marketing will grow to almost 72.5% in 2022. With more brands collaborating with Instagram influencers to market their products and services, it's becoming a popular strategy for most brands. Here are some of the benefits of influencer marketing.
1. Building deeper relationships
With influencer marketing, the influencer builds trust with their audience through engagement and presentation. In this way, influencer marketing helps to foster deep customer relationships through brand associations. However, it's essential that your needs and the influencer's brand match for maximum impact. This includes the industry, audience, values, etcetera. It's also crucial that your brand provides value to the audience.
Influencer partnerships help to save resources, time, and money. It also helps with brand credibility and is a win-win partnership for both your company and the influencer. The profit comes almost immediately when you collaborate with the right influencer in your particular industry and niche.
2. Enriched content strategy
It's not easy to continuously produce engaging and fresh content for your audience. There could be times when you are stuck or out of ideas, which is precisely when influencer marketing comes in.
It can help to fill in the gaps and maintain consistency when it comes to posting regularly. The goal is to produce quality and engaging content while staying consistent. You need to interact with your followers daily if you're looking for maximum benefits.
Content distribution is a crucial part of marketing. It's important to understand this well and consider this before you start working with influencers. So, even if you do not have any new ideas, you must prepare a content distribution strategy so that your influencers and company know your brand objectives.
3. Increase reach
Another important benefit of collaborating with an influencer is increased reach. Influencers can help you reach a wider audience or reach specific audiences depending on the brand goals. You can reach out to many Instagram influencers in your particular niche to increase your reach.
4. Increase social engagement
Increasing reach is not the only metric you must measure for influencer marketing. It's also important to consider an increase in social engagement. Greater engagement leads to a higher brand awareness rate since platforms like these show posts that your audience engages with. Another advantage is that if a brand uses the language of the audience, then you'll often get more advocates for your brand.
5. Drives purchase decisions
Instagram influencers help to drive the purchase decisions of customers. Since people trust and respect their influencers, they are more receptive to recommendations and suggestions. Various studies show that influencers can help to drive purchase decisions at every level.
6. Boosts ROI and SEO
Influencer marketing can indirectly and directly benefit your SEO. 86% of advertisers use influencer marketing for their marketing campaigns, and 57% say its performance exceeds other brand content. Since influencers come with a loyal fan-following, partnering with them will allow you to reach a wider audience rather than focusing on SEO activities alone.
Instagram influencers also help big brands to attract and draw in more customers. It enables medium-sized and small businesses to grow by getting visibility, providing a higher ROI than other channels.
How to Approach Instagram Influencers?
If you want to work with Instagram influencers to promote your brand and services, then here are eight tips on approaching Instagram influencers in the best way.
1. Know your campaign goals
Before you get in touch with an influencer, you must set your marketing objectives and goals for the campaigns. This can include creating content and increasing sales and brand awareness.
Without having your marketing goals put in place, you will find it challenging to determine which influencer you must work with and how to succeed when it comes to influencer campaigns.
2. Research influencers for relevance
If you want to succeed, you must research and find the right influencers in your industry. You must reach out to Instagram influencers relevant to your brand and business. To stay authentic, influencers are always looking to partner with businesses and brands that match their values and profiles. They also look forward to promoting services and products they already use and love.
3. Engage with influencers on social media
To make things easy and smooth, you must connect with the right influencers on Instagram. Follow and engage with them on Instagram a few weeks before you approach them. You can get in touch with them through their social media channels or email.
4. Sort your marketing campaign logistics
Before approaching an influencer, you must have a clear picture of what you want the influencers to do. Things like collaboration complete dates and how much you are willing to offer them. Doing this gives you a better idea of when to start contacting the influencers.
5. Choose different contact methods
There are many different ways you can reach out to influencers. Some of the most common forms are Instagram DMs and emails. When influencers put out their email addresses in their bio, you know that they are open to business promotions on social media platforms.
6. Pitch your brand
Instagram Influencers get dozens of brand collaborations every day, and they are often too busy to check all their emails. So, it's important to draft and pitch your brand in a way that will grab their attention instantly. It should be a good impression. You must personalize your messages, keep your messages brief, be clear and concise, and add a call-to-action (CTA).
7. Follow up
Update your lists or spreadsheets with the contact dates after sending the first set of outreach emails and messages to Instagram influencers. This helps you track when you contacted them and when you need to send them a follow-up message. Follow-up messages are important as there could be many reasons why you've not received a reply from an influencer.
You can send around two follow-up messages to avoid being spammy. We recommend sending follow-up messages at least two days apart to help your company stay on top of its minds. If you decide to wait longer to send out a follow-up message, there are chances that the influencer may forget or not remember your previous message.
Remember to keep all your follow-up messages short and simple. You must provide them value so that it will convince them to partner with you. Keep in mind that you are marketing your brand to them, so offer to answer any questions that they may have about your brand, its services, or products.
8. Be professional
Throughout the process, ensure that you communicate with them professionally and respectfully. You want to give them a good impression because this may be their first interaction with your brand. You can also create the right impression by promptly responding to all their queries. This helps to show them that you are a committed, professional and trustworthy brand to partner with.
Even if an influencer declines to collaborate or work with you, always thank them for their time. This helps maintain a good relationship with them, and they may consider collaborating with your brand in the future.
In the End
Influencer marketing is growing tremendously, with more brands looking to engage with Instagram influencers to promote their services and brands. So, whether you are a brand, marketing professional, or someone looking to make a mark on Instagram, the key is to first find out the top Instagram influencers on the platform.
Observe what they do, how they engage their audience, and the type of content they create to attract and draw in the audience. To be a successful Instagram influencer, the key is to stay consistent and patient. With time, you will be able to draw in the right audience and grow eventually.
FAQs
1. What is the meaning of influencer marketing?
Influencer marketing is a social media marketing strategy that brands use to market their services and products. Brands and businesses collaborate with different influencers to help them reach out to a wider audience. Influencers endorse and mention brand products and services to their audience to build brand trust and credibility.
2. What is an example of influencer marketing?
Today, many brands use influencer marketing to reach their target audience. Popular brands like Adidas, Pepsi, Motorola, and Dunkin' Donuts all use influencer marketing to promote their products.
3. What are the advantages and benefits of using Instagram influencers for your products and services?
1. Building deeper relationships
2. Enriched content strategy
3. Increase reach
4. Increase social engagement
5. Drive purchase decisions and boost ROI and SEO.
4. How do you manage influencers?
1. Set clear expectations
2. Give them the freedom to be creative
3. Treat them professionally
4. Offer proper compensation
5. Track their posts and engagement.
5. How do I become an influencer in marketing?
1. Pick your platform and niche.
2. Create engaging and compelling content
3. Engage and listen to your followers
4. Collaborate with other influencers
5. Be consistent and posts valuable content.