Content Marketing
Content Marketing Tools: Top 30 Content Creation Tools for Freelancers and Marketers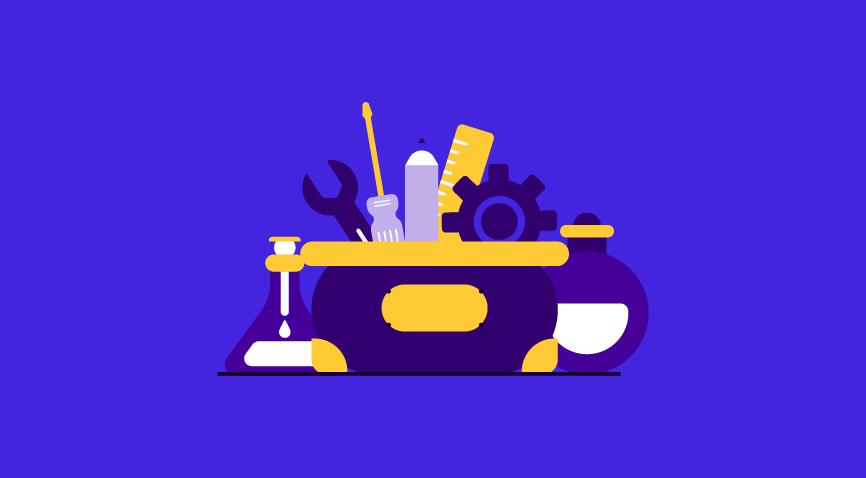 Table of Contents
Email marketing
Content Tools for Email Marketing
Content Tools for Videos, Motion Graphics, Music, and Slideshows
Content Creation Tools for Blogs
Content Creation Tools for Infographics
Content Creation Tools for Producing Podcasts
Content Creation Tools for Social Media
Key Takeaways
Conclusion
FAQs
Everyone can use a little bit of help sometimes. This list of content creation tools for marketing is a goldmine for freelance writers and marketers.
Being a freelancer is a lonely journey. The use of tools for content creation can make that journey slightly less lonely and simpler. Similarly, for marketers struggling to organize and structure their day-to-day work. In a world where technology is evolving so fast to solve our problems and make our lives simpler, it is obvious that there are thousands of free content marketing tools and content marketing tips and tools that can reduce the time and effort marketers and freelancers spend in mundane content-creation tasks.
According to several recent surveys, over 25% of marketers cited content production as the biggest challenge they face when marketing content. The list of content creation tools below would hopefully help you make better content marketing efforts. People spend a lot of their time and effort creating strategies for content marketing, often neglecting the actual production aspect of it. This blog breaks down the different types of tasks marketers need to scale and structure their content marketing efforts. Let's begin!
Email Marketing
While some experts may say that email marketing is dead, that couldn't be further from the truth. Statistics show that 87% of marketers use email marketing, making it the third most effective distribution channel.
Content Tools for Email Marketing
Here are some content marketing tools you can use for email marketing:
1. Sender: A free email marketing tool, Sender offers a variety of templates anyone can customize without the need for knowing advanced HTML. Common visual elements like videos, images, and texts can create stunning and attractive emails and newsletters.
Free Plan: You can send up to 15,000 emails every month.
Paid Plans: Start at $10 per month.
2. Sendinblue: This content creation tool functions as a communication platform while allowing you to manage email marketing. It has more than 70 design templates that will enable you to customize, design, and create visually appealing emails that can also be previewed and tested using A/B testing features. Another exciting feature is its segmented recipient list which can help you categorize your target audience and send out bulk emails to specific groups manually. The process saves time while optimizing your email marketing efforts.
Free Plan: 300 emails per day and unlimited subscribers.
Paid Plans: Starts at $25 per month
3. SendPulse: Although commonly known as a multi-marketing channel platform, SendPulse is widely used as an email marketing tool. Its USP is a subscriber rating feature that helps you analyze click rates and read and unread messages of each subscriber. On paid plans, users can coordinate a number of services such as web push, email, SMS, SMTP, Facebook Messenger, and Viber.
Free Plan: Send up to 15,000 emails each month and 2,500 subscribers.
Paid Plans: Starts at $9.85 per month.
4. HubSpot: One of the most widely known content marketing tools for emails, HubSpot offers an automated platform for your email marketing needs. Its free email marketing tool helps many small businesses just starting. HubSpot also has a lot of other content creation tools for marketing, natively integrated, and allows a centralized form of access once you have an account. Ready-to-use templates, a drag-and-drop visual editor, and a user-friendly interface make HubSpot a highly preferred email marketing tool.
Free Plan: Up to 2,000 emails per month that come with HubSpot branding.
Paid Plans: Start at $480 a year.
5. Mailchimp: A leader in the email marketing tools space, Mailchimp offers a free plan with limited features and one you can upgrade to by paying. With its basic free plan, marketers can access features like creating and scheduling emails. Mailchimp's USP is an intelligent recommendation feature. This feature gives you an insight into your audience and optimizes your email marketing efforts. The content manager enables you to save your designs and store files for future access. Automated welcome emails, order confirmations, and abandoned cart reminders save your time.
Free Plan: Up to 2,000 contacts, with 10,000 sends per month and a daily limit of 2,000.
Paid Plans: Starts at $10 per month.
6. Mailjet: An intuitive and collaborative tool for email marketing, this product comes with many pre-designed templates for creating responsive emails. Teams can easily create, edit and send their emails using a single platform. It's perfect for those looking to send less than 6,000 emails every month.
Free Plan: You can send up to 6,000 emails a month.
Paid Plans: Start at $8.69 per month.
7. Moosend: This email marketing tool allows you to launch behavioral campaigns based on activities and information provided by subscribers. Using the detailed performance reports provided by the tool, you will create better-crafted emails for a more targeted subscriber base, thereby leading to a higher ROI. Repetitive emails and tasks can be automated. Moosend's USP does not include its logo in its emails. It's an excellent choice for marketers with a small list.
Free Plan: 1,000 subscribers and unlimited emails a month.
Paid Plans: Start at $10 a month.
8. Omnisend: Use this platform for all your email communication and draw insights from its analytics regarding consumers and audiences. It's an all-inclusive platform that comes with free and paid plans. The free plan is mainly designed to keep merchants in mind who are just beginning to promote their services and products using email marketing. Therefore, it lacks the additional features that come with the paid plans. However, on the free plan, you can use automated workflows and email campaigns.
Free Plan: Send up to 15,000 emails a month/ 2,000 emails a day.
Paid Plans: Start at $16 per month.
Content Tools For Videos, Motion Graphics, Music, and Slideshows
When visually appealing content is the need of the hour, businesses must invest in high-quality content creation tools for marketing and creating videos, music, and slides.
9. PowToon: This easy video editing and content creation tool allows you to create professional marketing videos. PowToon's drag-and-drop feature, animated designs, and exciting visuals can be customized. PowToon has a three-tier pricing structure, with one part being accessible and offering some basic features.
Free Plan: Best for personal use, comes with Powtoon branding, storage 100 MB, and maximum length up to 3 minutes.
Paid Plans: Start at Rs. 279 a month.
10. Ezgif: It's an exciting content creation tool for GIFs. This standalone tool allows you to upload images, change their sequence and create animated GIFs that can be resized for your needs.
11. Wideo: This online video platform helps users create, edit and share videos. Personalize your content with your brand logo and design ideas using this tool. Wideo also has a variety of pre-made templates for those who may not be comfortable creating a video from scratch.
Free Plan: 10 video templates, branded videos, and 1-minute videos.
Paid plans: Starts at $19 per month.
12. Slidely: Create visually appealing slides using existing content and add your music using Slidely. This tool enables you to directly share your content on social media platforms without dealing with resolution issues.
13. Canva: A handy and versatile content creation tool that can be used to create anything from static social media posts to ads, presentations, newsletters, and even videos. This all-encompassing tool for content creation, Canva, is excellent for creating infographics and any other visual content online that can be used for blog posts, slide shows, video thumbnails, dashboard images, social media posts, etc. much more.
Free Plan: 250,000+ free templates, 100+ design types.
Paid Plan: Rs. 499 a month for up to 5 people.
14. Prezi: Another template-based presentation tool, Prezi can make boring presentations highly engaging and interactive through its dynamic format. It makes your presentation a more immersive experience, almost like a video.
Paid Plans: Start at $3 per month
15. Rocketium: Online video maker Rocketium is a great content creation tool for social media. It offers a straightforward and intuitive interface, making it a quick and easy tool for video production.
Content Creation Tools for Blogs
16. Sumo: A free blogging tool, Sumo has features like social media sharing buttons, email capture for subscribers, and some in-built analytics for your blog. You can even upgrade to a paid version for additional features. Content generator tools like these are beneficial for blog posts.
Free Plan: Email opt-in forms, fully customizable design, social media sharing, and visitor targeting.
Paid Plan: $39 per month/ $468 annually.
17. Grammarly: A tool most people might overlook for their content creation needs. Grammarly is not for creating content but for ensuring that the content produced is error-free. It has a browser extension feature and works with almost any commonly used software. It is the perfect tool for editing and creating grammatically correct content. This is one of the most popular content generator tools available.
Free Plan: Spelling, grammar, and punctuation.
Paid Plans: Start at $12.00 per month.
18. Copyscape: A tool to check for plagiarism, this is an effective way for editors to gauge the authenticity of the content that is put out in the blogs. It has a free version, as well as a premium option.
Paid Plan: $4.95 per month
Content Creation Tools for Infographics
19. Infogram: Create designer-level infographic posts using this content creation tool. Infographics are powerful content that can be shared on any medium. Infogram has various pricing options and offers features in pre-built templates and ready-to-use images.
Free Plan: 37+ interactive chart types, up to 10 projects, 5 pages per project, object animations, and 13 map types.
Paid Plans: Start at $19 per month.
20. Piktochart: A great content creation tool for interesting infographics, presentations, flyers, and promotional posters, without the need for a professional designer. This content can be added to blogs to make them more appealing.
Free Plan: Up to 5 active projects, 100 MB storage for image uploads, unlimited access to templates, unlimited access to images, icons, and illustrations.
Paid Plans: Start at $21.67 per month.
21. Easel.ly: Another helpful tool for creating stunning visuals for infographics with its vast repository of templates and graphics with quick turn-around times.
Paid Plans: Start at $2 per month.
Content Creation Tools for Producing Podcasts
The internet is overcrowded with visual elements in videos, slideshows, live streams, and social media posts. Podcasts are new but have a vast potential target audience to tap into. Here are some great audio creation tools you can use for getting started on your podcasts.
22. Audacity: This free software tool is a must-have for beginners. Audacity's accurate sound recording and editing features allow you to generate audio content in various file formats, including wav, mp3, and aif.
23. Alitu: A great tool known for its simplicity in editing. Alitu is a web-based tool and allows you to refine your audio with features like noise-reduction, compression, conversion of file formats, and audio leveling. It can mainly be used for five-minute snippets and is suitable for recording intros and outros.
Paid Plans: $32 per month/ $320 a year
24. Adobe Audition: Another content creation tool from the Adobe suite of software, Audition is advanced professional editing software that can create podcasts.
Paid Plans: Premiere Pro/After Effects/Audition/Animate at Rs. 1,675.60 per month and all apps at Rs. 4,230.30 per month
25. Logic Pro X: This is an easy-to-use advanced audio editing tool for Apple users out there. Its robust features allow you to record podcasts. It has professional music and audio mixing features.
Paid Plan: $199
26. Zencastr: A software for advanced content creators, this content creation tool allows you to record interviews live chats, and produce high-quality podcasts.
Free Plan: Up to 4 guests, host +5 or more guests, and unlimited audio recordings.
Paid Plan: Starts at $20 per month.
Content Creation Tools for Social Media
According to a survey, almost 31% of US adults report being online constantly in the age of smartphones and continuously connected devices. This plays a significant role in their exposure to content marketing online, primarily through social media. Consequently, investing in a content marketing tool for creating effective social media content is essential for any marketing strategy.
Here are some of the best content marketing tools you can use for social media content:
27. Adobe Spark: A content creation tool you can use for creating eye-catching social media graphics. Adobe Spark has a repository of templates and existing content pieces and adds your own. These can be used to customize and create memorable and visually appealing posts for your audience on social media.
Free Plan: Pick from thousands of free images and icons for your designs.
Paid Plans: Start at $9.99 per month.
28. Lumen5: This is essentially a video maker with unique features. AI content and text from your blog can convert videos into informative marketing content using this tool.
Free Plan: Unlimited videos, contains Lumen5 watermark and 720p video resolution.
Paid Plans: Start at $11 per month
29. Animoto: Animoto can be used to create short-form content or videos by turning photos, videos, and clips into slideshows that are great for social media platforms.
Free Plan: All standard features and Animoto branding on videos.
Paid Plans: Start at Rs. 560.83 per month
30. Stencil: It's an excellent tool for adding graphics to your social media posts and adding your unique touch to images.
Free Plan: Save up to 10 images per month, limited photos, limited icons, and upload up to 50 images.
Paid Plans: Start at $9 per month.
Key Takeaways
If you're someone new to content marketing and are looking for content creation tools, then make sure to check out all the features of each tool to choose the best tool for you.
Free content marketing tools are always better if you're just starting with content marketing and wouldn't like to spend a lot of money.
Make sure to spend a little time playing around with the different features to get the hang of how the tool works before using the tools.
If you're a fast-moving business and you're looking out for the best content marketing tools, then make sure to use the paid plans because they come with more advanced features.
With busy schedules staying consistent with content creation can be difficult. Hence, content generator tools are always helpful.
Conclusion
Content marketing helps you to build a credible social media presence. It allows you to gain the trust of your consumers and aids in increasing the number of website visits and blog subscribers. 30 of the best content marketing tools available for freelancers and marketers. Make sure to check the features of these content creation tools for marketing before you go ahead and purchase any of the paid plans. Hope these content marketing tips were helpful for you.
FAQs
1. What are the different marketing tools that freelancers can use?
Freelancers can use content marketing tools: Customer Relationship Management (CRM), social media, Search Engine Optimization, online advertising, social media video marketing, event marketing, and lead capture and conversion.
2. How to choose the best content marketing tool?
Ensure that the content creation tool you choose is easy to use and simple, it has an easy interface, and integration focuses on customer service and a tool accepted by the entire team.
3. How do free content marketing tools help?
There are plenty of content marketing tools available online. Each of these tools come with their own set of features. Some free tools give you access to all its features, while others have limited access. Hence, you must check each tool and its free features before choosing the best one.
4. What are the benefits of content marketing tools?
Content marketing tools can help you stay consistent and updated with your marketing campaigns and strategies. It also helps you stay organized and streamlines the whole process. With some of the best content creation tools, you can also save a lot of time and effort.
5. How do freelancers and small businesses use content marketing tools?
There are tons of free content creation tools available online that freelancers and small businesses can use without spending any money. Simply search for a tool online, create an account and start using the tool.
6. What are the different types of content marketing tools?
Free content creation tools are perfect for email marketing, blogs, infographics, social media, and podcasts. Simply pick a tool that suits your requirements the best.