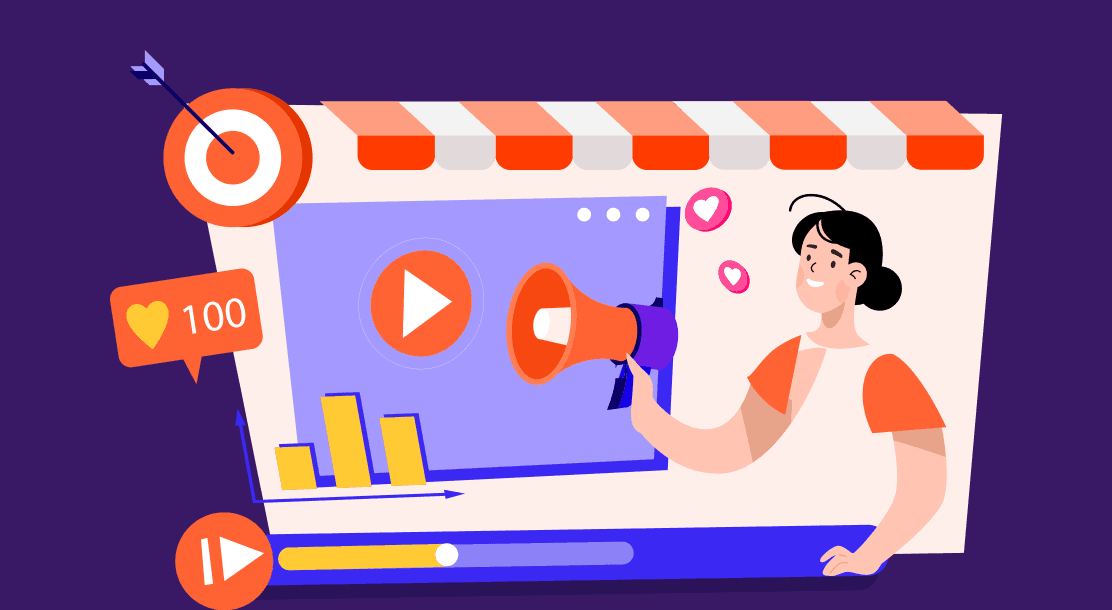 Looking for ideas on small business video marketing? Look no further, as this article combines the most effective local business video marketing tips.
Small business owners have a lot more to deal with than their counterparts who run already established enterprises. More often than not, local business video marketing is the last thing on their priority list. But did you know that creating video content for small businesses is not really that big a deal and can be cost-effective too? Read on to find out how best to go about video advertising for small businesses.
Best Small Business Video Marketing Ideas
Video marketing content can be simple yet powerful. Check out this
video.
1. Introductory videos
For small businesses trying to make a mark, getting lost in an ocean of digital content is very easy. And therefore, it might be useful for you to introduce yourself properly to the world for they to remember you.
Start with an introductory brand video and take things from there on. You can do a behind-the-scenes video of your business's operations or a live Q&A on a social media platform. Some small businesses even create a short video that answers customers' most frequently asked questions.
2. Customer testimonials
Video advertising for small businesses is all about giving a real feel of the products to the world. This brings them closer to your brand and turns them into potential leads. Get your customers to review your products or services and create short videos out of them. Customer reviews are a great way to capture attention and often reflect brand values.
But be careful not to make it too sales-driven, or it might defeat the whole idea behind the video content for small businesses. So, you can shoot the videos in places that do not appear set up but look more organic.
You can even request that customers record their own videos and upload them on social media or your brand website. Social media pages offer a rich pool of such videos where you can ask the individual to repost and tag your brand.
3. Employee videos
One of the USPs of local businesses is the human connection they can establish with their customers. And this can be leveraged and turned into a great local business video marketing idea.
More than the brand, people are interested to see the people who make it what it is. So, go ahead and record short clips of the inner workings of your business – how your day as the business owner looks like or how your production team is an ensemble of diverse individuals working towards the same vision.
Remember that brand value comes from people-driven culture, and your customers believe that too.
4. Shareable social media videos
Create bite-sized video content for social media. Watch this video for inspiration.
Small business video marketing is a great idea because most people around you rely on visual content to absorb new information today. Considering that social media is the new norm and a great repository of new information, you can leverage this platform by creating video content to capture attention.
Social media is flooded with new content every second of the day. So, unless your content is different, people will scroll past it and onto the next one mindlessly. You can avoid this by making video content that is bite-sized and shareable.
Video advertising for small businesses through social media works because the focus is more on the message than on the content per se. As a small business owner, if you do not want to spend too much on video content, you can create short videos by using images and adding moving elements like graphics or text.
5. User-generated ads
One of the most affordable ways to market your brand is to use customer-generated content for your products in video format. It is no secret that the most important factor driving customers' purchase decisions is, well, customer reviews. So, why not make that work to your advantage?
You can simply request your existing customers for testimonial videos and use the video content for small business marketing. Make sure to add product features and highlight good reviews in the final cut. Also, add a CTA (Call to Action) to ensure that new customers are checking out your brand.
6. Influencers
Social media influencers are another great video advertising channel for small business owners. It is one of the best word-of-mouth marketing strategies used by both big and local brands. Whether it is Facebook, Instagram, or YouTube you can leverage influencer-generated content on any of these platforms.
7. Explainer videos
A very old concept of video marketing is tutorials. Explainer or educational videos on specific products are an excellent way to engage your audiences and keep them coming back for more! In fact, it works better for local business video marketing as the products are home-grown or more organic.
8. Content recycling
Another easy way to create video content for small businesses is to repurpose existing content and recreate it into beautiful videos. Refer to old blog posts or images, and use your creativity to put them together in a story. And you have a brand video – fresh and new!
Importance of Video Advertising for Small Businesses
No matter the scale of your brand, your video content should reflect strong values.
Source
1. Brand awareness
Videos are the most expressive medium for weaving and telling a story. This makes it a powerful tool for local business marketing. Video content for small businesses can talk about the products and services while conveying the brand message effectively.
2. Search engine optimization
Small business video marketing is the best way to drive organic traffic to your website. If you are optimizing your video for search engines, you are increasing your chances of getting more online visibility and converting leads.
3. Social shares
Video sharing is almost a trend nowadays, irrespective of whether you are a local brand or a big market player. Social shares are another important benefit of local business video marketing that can help you reach out to potential customers and convert leads.
4. Higher conversions
Generally speaking, videos have a higher likelihood of conversions than still ads. When you can show your customers exactly how it's done or what it is, it will impact their buying decision more than just looking at a flyer.
5. Credibility and trust
Quality videos that tell a brand's story are powerful tools for building customer faith and trust. They have stronger emotional connections, which are more effective as a marketing tool.
Video content for small businesses is thus one of the best ways to market your brand and get better returns on your efforts. If done well, it can become your most important marketing strategy in the long run, saving you time and money that can be invested elsewhere to grow your business.
Key Takeaways
Small business video marketing is an inexpensive and efficient way to reach existing and new customers.
Customer testimonials and product videos are a small business's most popular video advertising tools.
Some relatively newer local business video marketing ideas are influencer-generated marketing and content recycling.
Video content for a small business helps to build its awareness and credibility.
Small business video marketing also improves SEO and leads to higher conversions.
FAQs
1. What are the benefits of video advertising for small businesses?
The benefits of video advertising for small businesses include building brand awareness and customer trust, improving SEO, and increasing conversions and social shares.

2. How to use local business video marketing to promote the brand?
Local business video marketing can promote your brand by increasing the organic traffic to your website.

3. What makes good video content for small businesses?
Key features of good video content for small businesses include customer testimonials, product reviews, locales, etc.

4. How to use small business video marketing to scale?
Small business video marketing gives you the exposure needed for a business to expand.

5. How to brand your business through video marketing?
Branding your business through video marketing requires focusing on quality rather than content volume.