Marketing
The Basics of Video Content Marketing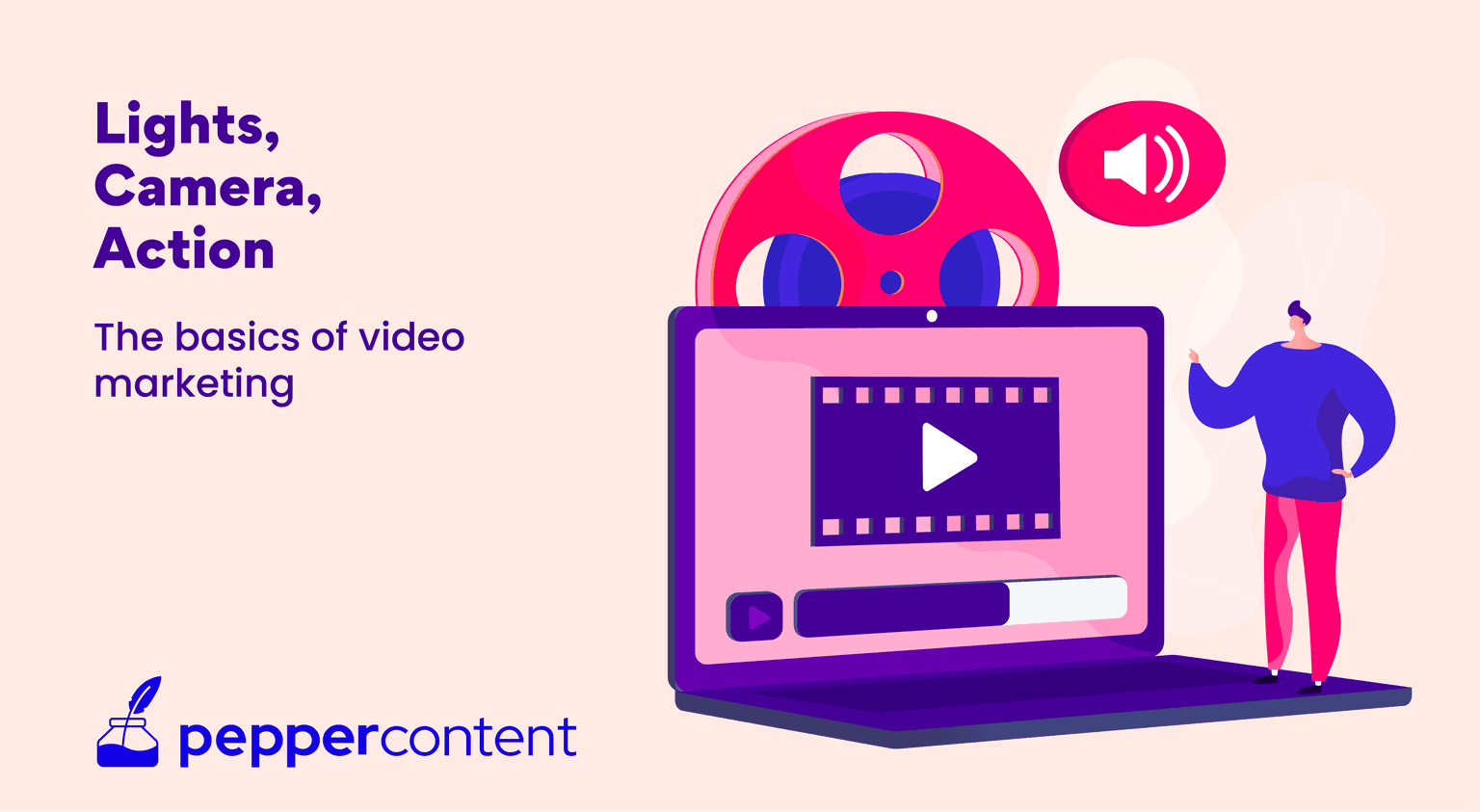 Table of Contents
Video marketing stats
How video marketing evolved over the years
How does video marketing work?
Why do we need it?
How to Use Video in Your Content Marketing Strategy: A Primer
Video Marketing Best Practices
Free Content Marketing Courses in Video Creation & Editing
FAQs
Video marketing is nothing new in this day and age. Most content marketing courses on the Internet today talk about how videos should be the focal point of your marketing strategy. And the numbers corroborate the story:
Online video viewing time is set to reach 100 minutes a day in 2021
500 million-plus users watch over 100 million hours of video content every day
Video marketing stats
Nearly two-thirds of users buy a product after watching its brand video on social channels.
41% more SaaS deals were struck when brands incorporated videos in their proposals.
The mere presence of the word 'video' in an email's subject line can increase its 'open' rates by 6%. As far as growth hacks go, this is up there with the best!
It shouldn't come as a surprise then that 87% (Wyzowl) of marketers harness the power of videos. And it has grown steadily through the years. So, if you have not invested in videos so far, you should devise a video marketing strategy ASAP or risk getting left behind.
How video marketing evolved over the years
According to Lemonz Studios, the face of video marketing has changed dramatically over the years. Let us track its journey over the past 15 years:
2006
This was the year when videos really broke through as a format when Blendtec launched its hilariously good 'Will it Blend?' commercial. This was before YouTube had even started crawling, but it triggered other businesses to jump on the video marketing bandwagon.
2007
Video production started to become democratized, as anyone with a smartphone could shoot a video and upload it on the internet. The best example of this was the viral 'Charlie bit my finger' video that amassed millions of views (878 million as of December 2020) and held the record for being the most viewed video of all time. This laid the groundwork for a video being a great tool for advertisements.
2010
To appeal to millennial audiences, Old Spice created a brand new interactive video campaign that paved the way for future interactive promotional campaigns.
The last decade saw technologists really pushing the boundaries of video marketing with novel formats like 360° videos, motion graphics, 2D/3D animations, AR/VR, ephemeral video content, live streams, short-form looping videos, and more. We can only guess what the next evolutionary leap in video marketing will be. Maybe videos will transcend screen boundaries and become immersive, something that you can experience as if it's happening in real-time. But one thing's for sure; it will happen sooner rather than later.
How does video marketing work?
Today, mere written content and images won't do. Have you been mulling over the question 'how to do video marketing'?
Experts suggest it is crucial to wean away customers from the flood of live streaming and augmented reality to exciting and engaging videos. That's why you must become a part of the $135 billion digital video marketing industry (Magisto report) by investing in creating and distributing videos.
1. Researching and planning
If you haven't jumped on the bandwagon yet, it's time you did. It's easier said than done because video content marketing involves intense research before creating a master plan. You need to focus on umpteen things like the budget allotted to you, timelines (which are crucial), the production process you adopt, the conversion metrics you need to worry about, and much more.
You need to first start with your goals, and the first one is to ensure that you make a video for the top, middle, and bottom of the marketing funnel. While the video for the top part of the funnel should focus on creating awareness for attracting new customers, the video for the middle part should be all about engaging your audience. The bottom of the funnel is the all-important part where the video nurtures your prospects and helps them decide.
2. Identifying the target audience
It is equally essential to identify your target audience, and this crucial step involves creating a video intended for a specific audience. Remember, a video is useless if your target audience never watches it. To get to know your target audience, you need first to create a buyer persona. Once you've mapped your buyer's persona, identifying your target audience is easy. Whoever you had in mind while creating your product or service is your buyer persona.
The high point of your audience strategy lies in figuring out if the buyer's persona matches your product or service. The purpose of your video gets served only when the buyer persona falls in the targeted part (top, middle, or bottom). It is also crucial to find out where your buyer persona hangs out because this will help decide how and where you can distribute the video.
3. What story should you tell?
That's the million-dollar question because deciding the story your video tells can be fun and a challenge at the same time. You have very little time and a lot to say. Your story should be well-aligned with your target audience. It is also crucial that you understand their pain points before you introduce your product or service. The focus should be on how your product or service can help resolve the problems. The way you weave your story works on the viewers' emotions and leaves them happy and inspired at the end of the video. The video's script plays as crucial a role as the images do and should match the relevant props, colors, wardrobe, lighting, and location you choose.
4. Be as creative as you can
Remember, your story and video have to get past your manager, the CEO, the folks in the marketing department, among others, before passing the litmus test. There's bound to be feedback midway, and amidst frantic changes in the script, message, and the ultimate goal, you still need to be at your best as far as creativity is concerned. The trick lies in taking creative feedback with a smile and never deviating from the ultimate goal.
5. Religiously sticking to the timeline
Production is a long journey: Creative imagination, painstakingly creating a video, and successfully distributing it. Unless you stick to a timeline, not just the overall timeline but production and distribution timelines as well, you'll never be aware of what's done and what's to be done. Also, your timelines should synchronize with the production and marketing teams' timelines, not to mention the social media team. Everyone needs to be kept updated on all developments with an expected deadline in mind.
6. Stick to your budget
It all boils down to how much money you are allowed to spend and achieve your goals with it. Unless you have a proper budget, achieving your goal can be a challenge. Your plan should match your resources; if possible, try to complete most of the work in-house because outsourcing can be costly. You can't splurge on anything unless it is wholly justified.
7. What type of video content marketing suits you?
Some of the most popular videos include brand videos. Today, even FAQs are presented as videos, though the most-watched is probably instructional videos. However, the type of video you want depends on the marketing funnel you are contending with.
Commercials, of course, are all-time favorites and are known for their brevity and catchiness. Commercials need to be stunning and end with a definite call to action. While the TV is flooded with such videos (expensive on prime time), social media presents excellent opportunities for creative commercials. They tend to leave a lasting impression on the viewers' minds. Commercials are used on websites, especially the homepage.
Videos for social media are the short videos you get to view on Facebook, Twitter, LinkedIn, and Instagram, among others. These short, fun videos are pretty engaging and prompt a quick share with the users' friends. Besides videos featuring interviews, some promote products or services and lifestyle clips. The videos that miss the TV are sure to find their place on social media, and the shorter and crisper the video, the more viral it goes.
Explainer videos are more 'how-to' videos that teach the viewer about a company, its brand, product, or service, and how to use it. Most such videos focus on problem-solving and are a great way to introduce your brand. Suppose the video is about your company; it explains briefly what your company does. The focus is always on the viewers' situation, how to fix it, and why they should choose your company's product or service to fix the problem. Whatever the type of video, it plays a vital part in your content marketing strategy.
It is worth mentioning that several videos on how to do video marketing are already doing the rounds on social media.
Why do we need video content marketing?
1. Increasing conversions and sales
Did you know that viewers find videos more engaging than any other content? What's more is you can tell your complete story, a narrative packed with enough emotions to prompt action, all within minutes. You can include infographics, text, voiceovers, photos, and more to make your video more engaging and lead to conversions. Seeing is believing, and a video lets the customers see what they get, and what better way to build trust? Seeing a product in action is enough proof for a person to visualize using it.
2. Achieving the perfect ROI
According to Statista, 2.6 billion users worldwide watched digital videos in 2019, and the figure is likely to exceed 3.1 billion by 2023. Most brands opt for video content marketing because it helps generate the desired ROI incredibly quickly. Over 78% of internet users watch videos regularly (once a week), and 55% swear by such videos and watch them daily. Such endeared watching has led to a 100% increase in online video watching each year. No wonder that 86% of the leading brands use video as one of their primary marketing tools. These statistics establish that videos play a significant role in the future of online content for all businesses. It is easier to watch a video than to read text, most of which is merely scanned, anyway. With the users' attention span getting shorter by the day, you need to convey your message in a matter of seconds (usually 8 to 10), and videos are easy to make, cost relatively less, and help achieve the desired ROI.
3. Building trust to win over customers
A catchy, creative video lets you authenticate your brand story as they give your brand a unique identity and a powerful voice. Every successful brand has a story to tell, and the audience laps up your story as they are curious to learn what your mission is and why they should go with your company. Giving a personal touch to your videos and storytelling helps gel with your target audience. Your videos can highlight how your brand is different from the others and why it respects value and authenticity more than anything else. Adding a personal touch to your videos by interviewing employees who helped create your product and why they love working with you goes a long way in building trust.
How to use video in your content marketing strategy: A primer
Let users do the talking
Nothing convinces someone more than an honest, unbiased customer testimonial. Incentivize your customers to post review videos describing their experience using your product or service. A GoPro enthusiast captured the heart-wrenching story of nursing a frozen kitten back to life using the product. User-generated content like this is the final seal of approval that potential customers need to trust your brand.
Organize video AMAs and contests
Social media today is all about the here and now. Use Facebook or Instagram Live to host Ask Me Anything videos (AMAs), virtual meetups, quizzes, contests, giveaways, and more to engage your audience better. Not only can you answer questions and address customer concerns, but you can also come across as being authentic and approachable. In other words, it humanizes your brand. Did you know that Bill Gates' eighth AMA post on Reddit in 2020 generated over 87,000 upvotes?
Share behind-the-scenes (BTS) videos
BTS clips are a great way to introduce users to your people and processes, which fosters long-term relationships and enhances rapport. People get a sneak peek into the way you go about things and the brand values you stand for. Dove, which always uses real women in its ad commercials, boasted 'Real Beauty Products' in its behind-the-scenes beauty commercial. The ad showcases its "100% women crew" that works tirelessly off-screen to heighten the brand's production value. The video provides a look into all the efforts put in by this crew to create something new and noteworthy.
Create product explainers
If a picture is worth a thousand words, a video is worth a thousand pictures. Literally. Create a library of helpful product explainer videos or how-to tutorials to highlight a product's salient features or guide users through its complex flows. Asana's 'How To Asana' series is a prime example of how simple, easy-to-consume video content can go a long way in helping people get comfortable with your product.
Use humor
A little quirk or humor can increase video engagement and shareability manifold. Dollar Shave Club's (DSC) cheeky ad (their dry wit was as sharp as their razors) bears testimony to this fact. Generating a huge buzz in the video marketing space at that time, it eventually helped DSC bag a billion-dollar exit with Unilever in 2016.
5 types of marketing videos you can leverage today
Demo Videos: Demonstrate how your product works, be it a software walkthrough of features or a physical unboxing and hardware testing.
Brand Videos: Typically created to communicate a brand's high-level vision, values, and ethos. These are aspirational and not promotional.
Expert Interviews: Think fireside chats between brands and thought leaders in their industry. For example, this casual tete-a-tete offers viewers a deep dive into viral marketing.
Testimonial Videos: Your prospects want to be reassured that your product solves their specific pain points. Getting your loyal customers to vouch for you in front of the camera is the best way to get prospects over the fence. Don't prompt them though, let them describe their journey in their own words.
Event Videos: This is a highlight reel summarizing the key points from a conference (like WWDC or Google I/O), panel debate, round-table discussion, or any other event that your business conducts.
Video marketing best practices
Add a catchy intro. You get about 3 seconds to capture viewers' attention, so hook them with a captivating title and a riveting intro animation.
Narrate a story. Ensure your videos tell a story and have a proper narrative arc – a beginning, a middle, and an end.
By default, most people set auto-playing videos on mute. Add closed captions to deliver the message even if viewers don't have earphones or cannot watch the video in full volume.
Target virality. Your videos have to elicit a strong emotional reaction (joy, surprise, disbelief, anger) to reach millions and make an impact.
Free Content Marketing Courses in Video Creation & Editing
These are just a handful of content marketing courses that will supercharge your video editing skills and make you a video wizard!
Video marketing can seem intimidating at first, but you can get started and master it in no time if you follow the guide above. Just pick up a camera, start shooting or get your hands dirty with any myriad of video creation software. Take your video content marketing to the next level.
FAQs
1. What is meant by the term content marketing video?
Video content marketing is the latest strategy in marketing that revolves around the principle of making and sharing meaningful video content to a targeted audience to generate leads.
2. How do you deploy video content in marketing?
Video content can be ideally used for storytelling, especially for promoting your brand. You can feature the video content on your website or promote it on social media. You can use your videos anywhere – at the top, middle, or bottom of the funnel. It is suitable for PR and external communications as well.  
3. What is meant by video marketing strategy?
In the video marketing domain, the marketing team designs a unique strategy by creating, curating, and utilizing videos to market their products or services to a target audience. Video marketing strategy involves keeping the target audience engaged with your brand, ultimately leading to conversion. In short, the approach dwells on how to do video marketing.
4. How to make content marketing successful?
The key lies in identifying and understanding your target audience. Two crucial things to successful content marketing include portraying your brand and targeting the audience to whom your brand is relevant.
5. What role does content marketing play?
Content marketing strategy is a unique way to create and spread valuable and relevant content amidst a well-defined audience with the sole objective of converting the customer. Simply put, an approach to gently but persistently coax the customer to buy.
6. Are there any benefits in content marketing?
Several, like driving more organic traffic your way, using your expertise and authority to create trust, spreading brand awareness, portraying a well-defined brand personality, and achieving better and consistent conversion rates.