Design
A Beginner's Guide: 10 Tips for Graphic Designers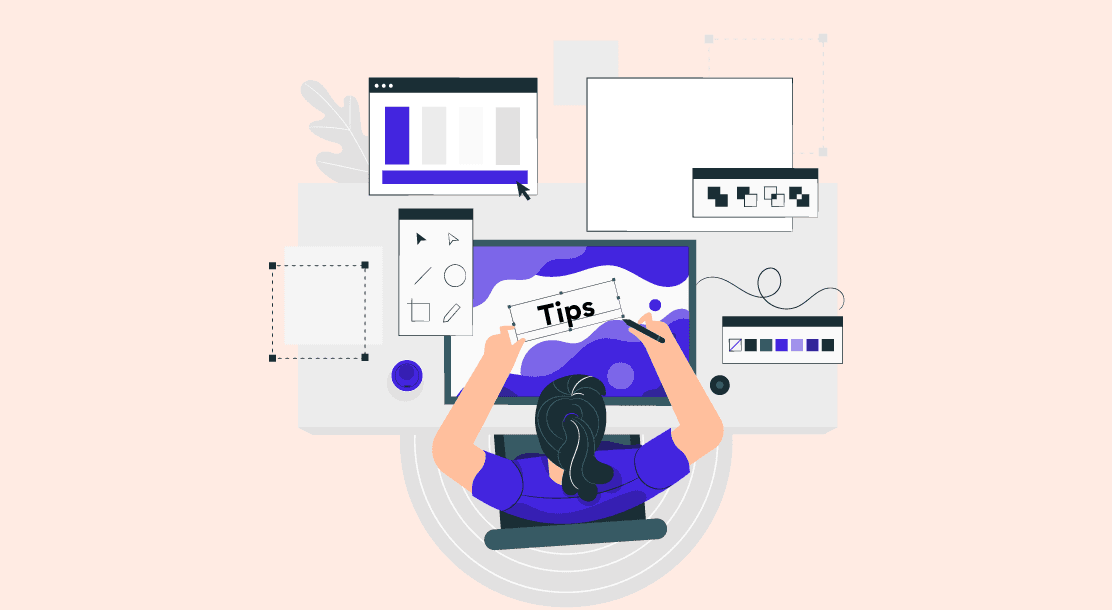 Table of Contents
10 Tips for Graphic Designers
Key Takeaways
Conclusion
FAQs
Graphic designers can create visual designs based on different concepts, using various software or freehand. It is the best way to communicate ideas that inspire, inform, and captivate consumers—creatively designing for logos, brochures, magazines, advertisements, and reports.
10 Tips for Graphic Designers
1. Research before you begin
This is the most critical design tip for graphic designers – to be aware of the topic they need to work on.
Conduct all the research required before you begin to jot down or create. Study, research, read and resource.
Research provides a more extensive perspective for our design, and it's always good to have a clear picture of your design in your mind. It's better if it's on paper as well.
Brainstorm, do design mapping or simply Google your topic and see what other graphic designers have created. This will guide you to reach the level of expertise required.
Understand market needs and how your design can help outshine the other designs.
The research will help you build your perspective, and when you have a clear plan in your head, it becomes easier to execute.
2. Pay attention to the design process
Don't cut corners while designing something.
When you trust the layout technique, you have a higher risk of making a successful layout.
Don't skip any step in the design process. As a child takes baby steps, you, too, need to take baby steps and move slowly to the next level. Every effort requires time and research.
Design theory will lead you to the best design as it will focus on every detail, which is the trick most graphic designers follow.
3. Keep it simple yet elegant
Your design should be pleasing to the eyes and catchy and maintain the style as per the brief.
Imagine you are about to have dinner at a fancy restaurant, and the waiter keeps a plate piled with food on the table. It is what you ordered but is poorly presented. In the same way, you can use every design element or the best color schemes, but nothing will work unless presented beautifully.
Focus on using elements as required, assemble every design element correctly; otherwise, it would become a messy plate, and no one would like that.
4. Use a small color scheme
Colors are essential in your life, so use a color palette that the design requires while designing.
Choose a color scheme with 1-3 primary colors and an additional 1-3 secondary colors that contrast and complement one another.
Use different hues of the same color by adjusting brightness or contrast.
Create a mood board for the design and color palette, too.
Fine typefaces need more robust distinction against a colored background.
5. Fonts needed to be handled smartly
Fonts can be simple, classy, and stylish. But the usage depends on the theme; before selecting any typography for the design, understand the font required. It depends on the vibe the design requires.
Serifs offer an exquisite and sophisticated look; hard-edged geometric typefaces (sans serifs) are robust, and serifs express a friendlier tone (Quicksand is utilized here).
Fonts have to be chosen wisely as they are the mood changer. They can create or destroy a vibe. So, font size, font type, and typography required in the layout need to be according to the design.
However, do not reduce letter spacing so much that it can't be read or increased so that the letters become detached from each other.
Create clean, crisp, and clear imagery
Increase contrast by altering the brightness of the backdrop picture so that it contrasts with the text color, making the plan easy to read. This is an excellent way to apply white or black text over a picture to create a robust 'cut-out' effect.
6. Understand positive and negative spaces
Filling up your layout with too many elements or adding too much unnecessary font gives the customer an unpleasant experience, which is the last thing you want.
Now, imagine the best paintings of all time. One thing in common is that they use the theory of negative and positive spaces.
It's the easiest trick to remember for graphic designers, and execution is relatively easy.
Leave some white space, too, for the piece to look more organized so that the customer does not lose focus of what you are trying to depict.
7. Understanding the psychology of color
Color plays a vital role for graphic designers. Color palettes, color themes, font colors, element colors, image colors are all as essential as the color of the design.
.
You need to understand the mindset required for your design. Colors can't be used randomly; there needs to be a reason behind using specific colors and color boards. You have to look for the trending colors, the aesthetics, the current design scenario.
Designs with robust, bold colors compared to gentle pastel colorations encourage exclusive emotional reactions within the viewer.
8. Don't be scared of the scale
Graphic design beginners apply scale to

Type
Shapes
Elements or
Compositional features that require proportionate emphasis.

Use appropriate colors to reinforce this system while ensuring suitable typefaces that look good when increased in size.
Just like there's a golden ratio that works for every design, similarly, apply proportions and scale as required. It seems simple, but it will create a tremendous difference in your design.
9. Respect the space of other elements
Use letter spacing to fill dead space, align text, or condense words that take up an excessive amount of space.
However, do not reduce letter spacing so much that it can't be read or increased so that the letters become detached from each other.
Elements are essential to communicate faster than text so choosing the correct elements is important.
10. Think out of the box
Be creative and think of ideas that have not been executed or thought of by someone else.
Let the imagination break all the doors of creativity and brainstorm as much as possible.
Think of every design, every possible graphic, and give your best when creating a new design.
Push yourself to think unusually, creatively, and extraordinarily. Don't limit yourself with rules; if you believe in your design and trust your instincts, create it.
If great creators don't necessarily have unfathomable expertise, they seek a broader scenario.
Key Takeaways
Always do research.
Maintain simplicity in your design.
Use easy-to-read fonts for easy and effective graphic design.
The colors selected must have a rhythm with the design created.
Alignment plays a significant role.
Find the perfect color scheme.
Make a color and mood board.
Understand white space.
Conclusion
Every design decision must have a reason behind it. Don't start randomly without any research or idea behind the design. Balance your layout; focus on typography, color palette, alignment, scales, and negative and positive spaces.
One needs to be persistent to master skills. Experiment as much as possible and learn from other graphic designers. Make mistakes but also learn from others' mistakes. And refer to these 10 tips for graphic designers for more information.
FAQs
1. How can I learn to design by myself?
There are numerous online tools to assist you in learning design on your own. Practice, on the other hand, is the single most crucial factor. The more you put your skills to use, the more you'll learn. These are the most crucial pointers for learning to design.
Learn from your blunders.
Continue to practice.
Follow tutorials for skills you're unfamiliar with.
Inquire about comments.
Take classes on specialized design principles.
 
2. How can I come up with unique design concepts?
1. Examining the work of other designers is the finest approach to getting innovative ideas. Begin by visiting Behance, Dribbble, and Pinterest. Inspiration can be found on the websites of firms such as Apple, Anthropologie, and Swatch.
2. Look at design work at all levels; anything might inspire you. To keep track of what you've discovered, make inspiration mood boards. You'll gradually develop a set of favorites. Templates can also be a terrific source of ideas.
3. Everything visual and artistic has the potential to inspire. You can also keep your eyes peeled for design in everything you see. The videos you watch, the books you read, the things you buy, and the advertisements you click on are all part of your digital footprin
3. Is graphic design a profession on the decline?
Graphic design is far from a disappearing profession. In reality, it's constantly changing. Graphic designers transitioned from hand-cut and-pasted work to digital work thirty years ago. Designers are now required to shift from static to interactive content, among other things.Budding graphic designers are being driven to study more and progress in their new careers now that there are easier and more accessible design tools.
4.  What are the five essential tips for beginner graphic designers?
It is feasible to train oneself to be a graphic designer with enough time, effort, and devotion. 
Follow these steps to become a self-taught excellent graphic designer:
1. Learn the fundamentals of design
2. Learn about color theory, grids, space, typography, and all fundamental visual design principles.
3. Follow the design process and stick to it.
4. Learn patience; it will take time.
5. What is the first thing a graphic designer should learn?
Learn Adobe Creative Cloud (Illustrator, Sketchbook, Inkscape, InDesign, Photoshop) and Sketch.

6. What are the best graphic design tips?
1. Brainstorm before you begin designing.
2. Research as much as possible.
3. Always keep the design elements in mind.
4. Try imitating graphic designers' best designs.
5. Experiment as much as possible.
6. As a beginner, you need to practice and use various tools.
7. Follow the design process.