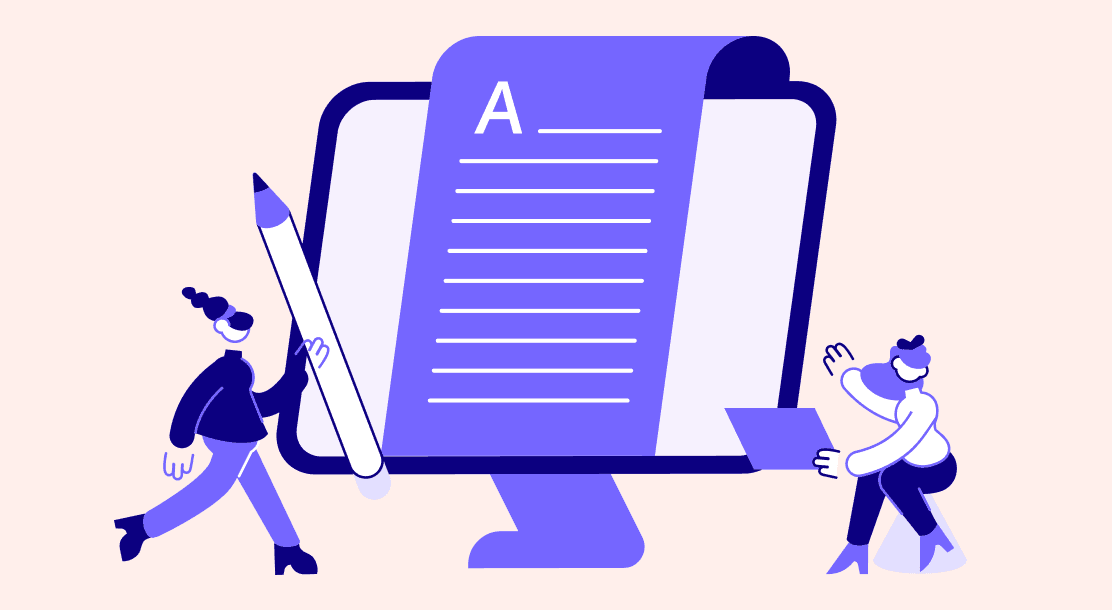 All you need to know about AI content creation tools including how they work and which ones from today' crowded AI landscape are the best in business.
Content is crucial in digital marketing, and Artificial Intelligence (AI) has been rescuing content creators lately. Because AI-powered content creation has improved the efficiency of the process.
AI content creation tools can create a wide range of content like blog posts, social media copy, ebooks, landing pages, emails, product listings, and audio and video content. These tools offer a variety of skills, from creating blog posts in bulk to writing email subject lines.
How Does an AI Tool for Content Work?
AI content creation software uses natural language processing (NLP) and natural language generation (NLG) models to create content that feels human-like. Marketers can enter prompts for the type of content they want, and the AI tools can generate it in a few seconds. They can also help with suggestions of topics and specific writing styles by scanning through existing content and utilizing NLP techniques.

You can use any AI tool for content creation to enhance your productivity. With AI tools, you can automate the writing of emails, web pages, descriptions of products, social media posts, and more. AI content creation software will streamline your content and generate ideas for content.
However, you can't depend on AI tools to do labor-intensive work, for instance, long-form blog posts. AI tools can efficiently generate words for you but lack creativity and human imagination.
AI Content Creation Software List
Here is a list of some of the best AI content creation tools in the market:
Peppertype is AI content creation software that uses machine learning to give users information and ideas. It is a fantastic resource for folks who want to generate material at once without a steep learning curve.
Key Features:
Offers easy readability across all platforms through structured sentences
Has engagement analytics that allows you to alter and evaluate your content
Restructures sentences automatically and converts unprofessional writing into well-written prose
Identifies errors using an automatic grammar checker with artificial intelligence
Plagiarism detection software to guard against the overuse of words
2. Grammarly
Writing content and making it readable could be two different things. Ideally, content should be free of spelling mistakes so the reader can understand clearly. Grammarly is one such AI content-creation tool that helps in writing error-free text.
Key Features:
Recommends spellings specific to a region, better sentence structure, and more
Can be integrated with other platforms such as email, Google Docs, WordPress, and so on
Has a plagiarism checker to ensure the content you have created is original and unique
3. Copy.ai
Copy.ai is an AI content creation tool that could help creators overcome writer's block. It offers a wide range of tools and templates to guide you through creating blog posts, landing pages, PPC ad copy, social media posts, and more. Content teams can increase their output without losing quality.
Key Features:
Over 100 templates are available for creating a copy
Simple to use; you don't need to be an expert user of the platform
Possibility of producing sales copy, blog material, eCommerce copy, website copy, social media copy, and digital ad copy
Uses various languages
Keeps your target market in mind
4. Jasper.ai
Jasper.ai is an AI content creation software that has sparked interest in the SaaS industry. Jasper has 50+ templates and "recipes" for producing various content. Although it integrates with other tools, teams looking to scale up may find it costly.
Key Features:
Enables users to produce content like social media postings, landing sites, PPC text, and blog articles
Offers over 50 templates and AI tools for content creation
Users must pay separately for third-party integrations, which can be restrictive for companies trying to scale.]
5. MarketMuse
MarketMuse is an AI content creation tool. It can suggest semantically related keywords other than the usual keywords, subheadings, and other on-page SEO elements. Although MarketMuse may not be the typical AI content creation software, it can seamlessly outline ideas and give tips for content optimization. It can not be used for writing content like other AI tools.
Key Features:
Analyses content with other relevant content using the same keyword
Provides relevant keywords and tips to optimize your article for updates
Uses AI and machine learning for basic SEO-focused strategies
Gives content suggestions to help rank higher search engine pages
6. Frase
Frase is an AI tool for content creation that can build overviews and outlines based on similar content online. It uses machine learning to suggest keywords and subheadings and to help rank well in search engine results.
Key Features:
Can create a (rough)framework based on search queries
Can be integrated with Google Search Console
Offers the option to undo/redo for content writing which many AI content creation tools don't
Can export content content to Excel, HTML, or PDF
Content creation is a complex process that requires time, effort, and input from marketers. It taps into creativity but is time-consuming and nuanced. With the help of AI content creation tools, you can write content to rank well on SEO pages. However, AI tools won't give you the emotional intelligence of humans.

Are you or your team looking to create at scale with more efficiency? If so, check out the features and price plans of Peppertype.io for a seamless AI content creation experience.
FAQs
1. Is it possible for Google to identify content created using AI content-creating software?
Yes. Google is easily able to detect any sort of AI-generated content. However, it is challenging to turn AI-generated content into a ready-to-publish post. AI tools' writing needs to be reviewed, edited, and revised.
2. Does Google penalize for using AI tools for content creation?
It is still unclear if Google penalizes for publishing AI content. Some writers may use AI content creation software for creating content, and some might use it for only generating leads.