Content
The Ultimate Guide to Tracking Content Marketing KPIs in 2023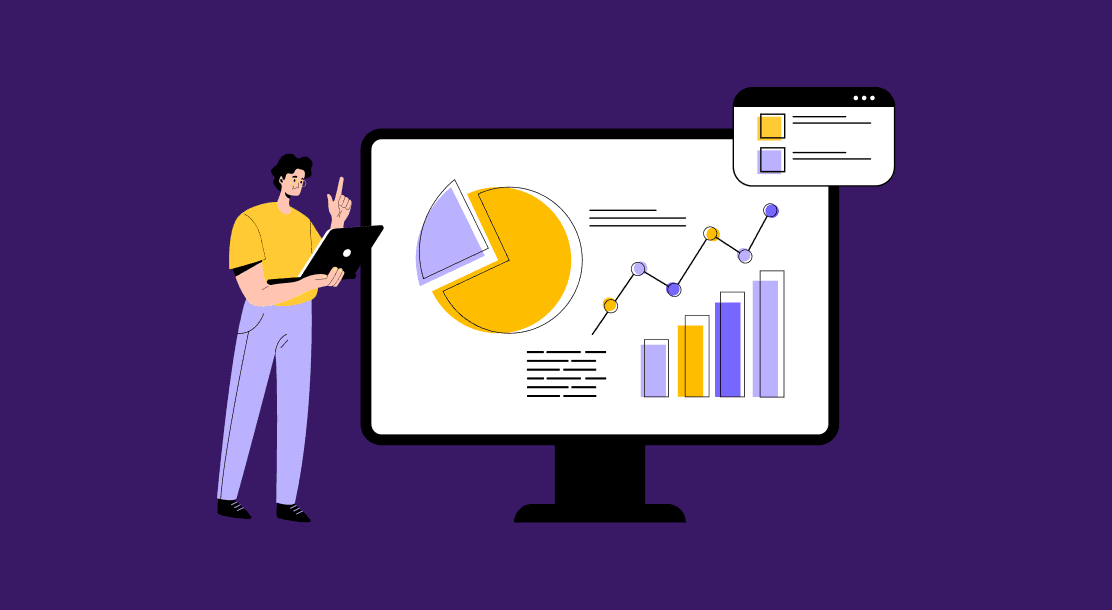 Learn how you can identify, set, and track content marketing KPIs to help your content strategy bring in higher ROI. Read to know more.
An effective and comprehensive content marketing strategy is the lifeblood of any successful brand or business. Without this, your business may struggle to attract leads, generate brand awareness, and meet sales goals. However, when done right, content marketing can help build your brand's image, generate revenue, and improve conversion rates.
But how can you ensure that your content marketing strategy is working? By measuring and tracking content marketing KPIs, of course!
However, content marketing does not bring in overnight results. This long-term strategy usually takes time to bring in measurable ROI for your business. The long waiting period makes tracking content performance important at every stage of the marketing funnel. Here's where content KPIs come into the picture.
Knowing More About KPIs
KPIs (key performance indicators) refer to a set of quantifiable measures that when tracked, can give insights into the overall performance. KPIs also help measure the performance of specific objectives, clarify sales objectives, and act as milestones to chart progress. While we will focus on Content KPIs in this article, key performance indicators are also implemented in areas of business like HR, sales, business development, marketing, etc. to ensure growth in the right direction.
Why is it important to track content marketing KPIs?
Without KPIs, it is impossible to understand whether your target audience responds appropriately to your published content. On the other hand, with measurable content marketing KPIs in place, you can understand whether your content reaches the desired target audience. These content KPIs also help you understand whether your content is liked, engaged with, and resonates with the audience it is intended for.
Moreover, tracking certain content strategy KPIs will also help you understand whether your distribution channels work. Tracking all these helps content marketers course-correct their strategies wherever needed and consequently improve campaign ROIs.
Now that you know why it is important to track content KPIs, let's take a look at some of the most important ones to track.
Important Content Marketing KPIs To Track
Before we dive into discussing the important content marketing KPIs for your strategy, let's first look at the four key content marketing goals for any business.
Brand awareness
Lead generation
Conversion
Engagement
1. Content marketing KPIs to track for brand awareness
Brand awareness refers to the level of familiarity audiences have with your brand. With content marketing KPIs that track brand awareness, you will understand whether your target audience knows you exist, what your brand represents, what products and services you offer, and what other activities your brand undertakes.
If your goal is brand awareness, here are the content KPIs and metrics to track –
Article views: Tracking the number of views blog articles receive can offer insight into brand awareness. Additionally, you can get insights into metrics like website session duration, traffic sources, and bounce rates.
Branded search volume: Search data is a key indicator of brand awareness and market share. When tracking this, make sure to also analyze the specific keywords that are helping you drive traffic to the website and any landing pages.
Brand mentions: An important indicator of brand awareness is whether or not people are talking about you online – also known as brand mentions. With relevant tools, you will be able to track mentions across the internet, including social media platforms, influencer profiles, blogs, user posts, and even other websites.
2. Content marketing KPIs to track for lead generation
Lead generation refers to the process where you try to gain the interest of current or potential customers and get them to take a desired action. Lead generation is usually the basis for all sales and revenue generation. Hence, tracking these activities can help effectively convert leads into paying customers.
When it comes to crafting a content marketing strategy to help lead generation, the best you can do is offer up valuable content (lead magnet) that your audience will willingly trade their details for. You could also offer downloadable guides, exclusive insights, printables, e-books, checklists, etc.
If your goal is lead generation, here are the content KPIs and metrics to track.
Bounce rate: Tracking the bounce rate can tell you how many users left your website after viewing only one page. This KPI allows you to course-correct and reassess the type of lead magnets you offer, your target audience, and even traffic sources.
Cost-per-acquisition: Cost of customer acquisition (CAC) tells you how much it costs to land a successful lead. Needless to say, lower CACs are better for business and can help you stay within budget and get higher ROIs. Another interesting content marketing KPI you can track is cost-per-click, which refers to the cost of getting a single click on your campaign ads.
Downloads and sign-ups: Tracking how many users downloaded your app, signed up for a newsletter, or shared their information in exchange for a lead magnet allows you to better understand your potential buyers.
3. Content marketing KPIs to track for conversion
Conversion refers to the point in a customer's journey where they perform a desired action as a result of receiving a targeted marketing message. With content marketing KPIs that track conversion, you will understand what happens after a customer interacts with your content or ads and converts into a buyer or user.
If your goal is conversion, here are the important content KPIs and metrics to track.
Conversion rate: This may seem like a no-brainer, but it is an important metric when it comes to ensuring high ROI on your lead generation efforts. Tracking conversion rates helps you understand what percentage of your users complete actions that correspond to your business goals, and it also allows you to identify improvement areas within your strategy.
Customer lifetime value: CLV refers to the revenue a customer generates for the period that they choose to do business with you. Tracking and measuring CLV helps determine how much marketing spending should be allocated to various marketing channels and which product or service to highlight.
4. Content marketing KPIs to track for engagement
Engagement refers to all the different ways users interact with your content across all channels. This includes the obvious ones like social media, but also email, websites, blogs, etc. With content marketing KPIs that track engagement, it becomes easier to understand how interested your target audience is in what you are communicating. Tracking engagement KPIs also allows you to understand your customer better and helps change or update your marketing strategies to make your content more appealing to them.
If your goal is higher engagement, here are the important content KPIs and metrics to track.
Social shares and engagement: Audiences are most likely to support a brand if they engage with or share its content. By tracking and measuring metrics such as likes, shares, comments, and engagement you understand the size of your audience as well as how much of an impact your content creates on them.
Social media engagement metrics: Social media metrics refer to quantifiable data points that offer insight into your content's performance on a given platform. Important content KPIs to track include reach, impressions, audience growth rate, comments, total engagement rates, video views, and video completion rates.
Click-through rate: Click-through rates (CTR) are an important KPI as they tell you how effectively your content converts users or visitors into prospective leads. By comparing click-through rates, you can also identify which type of content, content format, and content topics are most effective at capturing your audience's attention and nudging them toward your business.
Final Thoughts
Without strong content marketing KPIs in place, there is a limit to how much ROI you can generate from your marketing activities. With this guide, we hope to help you get started on the journey to identifying and measuring different metrics and performance indicators to help you achieve your business objectives.
Key Takeaways
KPIs help measure the performance of specific objectives, clarify sales objectives, and act as milestones to chart progress.
Content marketing KPIs to track for increasing brand awareness include article views, branded search volume, and brand mentions.
Content marketing KPIs to track to boost lead generation include bounce rates, cost-per-acquisition, cost-per-click, downloads, and sign-ups..
Content marketing KPIs to track for measuring conversions include conversion rates and customer-lifetime-value (CLV).
Content marketing KPIs to track for engagement include social metrics (likes, shares, comments, etc), shares, as well as click-through-rates.