SEO
SEO Content Marketing Strategy: The 8 Steps to Success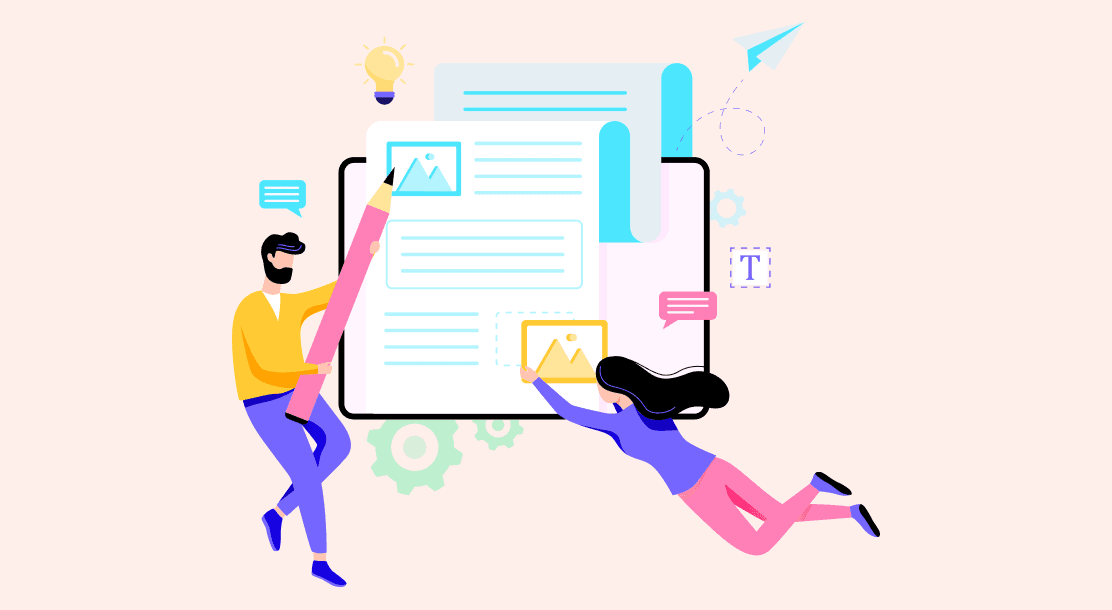 Designing an SEO content marketing strategy can reap great rewards if done right. Here are eight steps to help you design and execute the same successfully.
"Content is what the search engines use to fulfill user intent." – Dave Davies, CEO of Beanstalk Internet Marketing.
A key element in generating new leads and growing your business in today's digital age, SEO-optimized content for businesses is here to stay. Gone are the days when you could pick a random topic, spruce it up by stuffing keywords, and expect it to deliver results. To derive results today, your content and content marketing strategy need to be crisp, well-researched, and, most importantly, directed to provide your target audience with meaningful information.
So, how do you create your own successful SEO content marketing strategy? We will look at all this and more here. However, before we get into the details of SEO-optimized content, it is essential not to lose sight of the foundation here—to create content keeping in mind what your users want.
Let's First Define SEO-Optimized Content
Search engine optimization (SEO), which is also known as content optimization or SEO content, is the art of writing content in a way that search engine algorithms and bots (like Google, Bing, Yahoo, AOL, etc.) understand and present your web content higher up in the search results for every relevant search the user makes. Writing SEO content usually involves creating curated content, keeping in mind what your users are looking for with specific targeted search keywords.
The Importance of a Content Marketing SEO Strategy
Simply put, when you incorporate the right SEO content marketing strategy while writing SEO content, you automatically encourage search engine bots to rank your web content higher in the order of the search results for a user. This will lead to higher visibility, higher traffic or relevant users, and more organic users. With higher traffic generated through your SEO content, you automatically improve the chances of converting some prospects to paying customers, thus impacting your bottom line directly.
8 Steps to a Successful SEO Content Strategy
Now that we know what SEO-optimized content is and why a content marketing strategy is important let's look at the eight critical steps to follow while writing SEO content.
1. Identify your market and the target audience.
For your SEO content marketing to be successful, you must write SEO content first; this is a no-brainer. However, it is even more critical to identify your target audience, so you know what content you need to create.
When we say know your audience, look for both qualitative and quantitative data concerning their demography, gender, age group, likes and dislikes, browsing patterns, etc. It helps to look at their social media engagements, which can give you a lot of insight into what the customers are looking for. For your SEO content marketing strategy to be successful, it is super important to know your target better and to identify the needs that you could satisfy with your SEO content.
2. Generate a pool of high-value topics in your niche
Now that you know what your audience is looking for, the next important step toward building your successful SEO content marketing strategy is figuring out what to write about.
A strategy that will serve you well while working on your SEO content ideas is creating content according to your strengths and expertise while incorporating the audience data gathered. When it comes to generating ideas for topics for writing SEO content, the goal should be to provide information on the topics that are your strong suit, peppered with a unique perspective based on the audience's likes.
When achieving success with your SEO-optimized content, it is essential to keep producing content in a scheduled manner. Thus, remember to generate a pool of high-value topics to write on so you have ample ideas as your SEO gathers steam.
3. Research keywords that resonate with your audience
With the critical steps of identifying the right audience and the content you will be writing about out of the way, it's time to focus on the almighty keyword research.
There are various ways you could construct your keyword research; however, the simplest way would be to start with a broad search term and then narrow it down to more specifics.
While researching keywords for writing SEO content, it helps to put yourself in your audience's place to understand what would help them most to find your content online.
Think of what you might search for as an audience to find the content you create. You can even run a Google search to get more ideas for keywords. Research and add long-tail keywords to your list, too.
Various online tools, both paid and free, can also help you with your keyword research. Running your broad outline of keywords through these keyword research tools can help you with focused keywords for your SEO content and overall content marketing strategy.
4. Incorporate various content formats
With digital ruling today, there are multiple formats you can choose from for SEO content as part of your SEO content marketing strategy. Among those available to choose from for our SEO optimized content, some of the most popular include
Podcasts
Blogs
eBooks
Infographics
Case studies
Testimonials
Videos
Blogs have long been considered a must-have for achieving success in content marketing. While this may be true, it helps to understand what format your audience likes to spend the most time on and add that to your content marketing strategy.
5. Formalize your editorial calendar
When it comes to building a successful SEO content marketing campaign, consistency in publishing posts and content ranks high. Publishing high-quality SEO optimized content consistently not only helps in building anticipation among the existing audience but also helps to attract a newer audience to your platform.
Further, bringing inconsistency in your posts also develops a sense of anticipation with your regular audience. This helps to strengthen engagement with your audience and boost your ranking. Not to mention the apparent advantage of more online content to keep your audience engaged.
A formal editorial calendar or content calendar helps you to stay organized. With a content calendar, you will always know when to create, update and publish your content. An editorial calendar also allows your team to move towards a common goal post and provides direction to the entire team.
6. Spruce up existing content and the audience's experience
The cool part of any SEO content creation strategy is that you need not always be working on newer content alone. As important as creating and publishing newer content is for a content marketing SEO strategy, so is updating all existing content.
Evaluate data points gathered to ascertain whether your audience is growing and what pages the audience is spending maximum time and minimum time on. Keeping your content fresh helps with a successful content marketing strategy. However, other ways to add freshness to your content include
Prioritizing and updating all high-performance content to make them more relevant and factual
Focusing on revamping your low-performance content to make them high-performance content as well
Keeping your content relevant by updating facts and figures at least once a year.
Remember, simply doing a one-time great job with your content will not bring success.
A good content marketing strategy involves revisiting your content and sprucing it now and then to keep it factually accurate and according to times.
7. Analyze performance and update your content
Building a successful SEO-optimized content strategy is not just about the number of links you build or the audience you grow; rather, it focuses on the 360-degree value your strategy creates for your audience. To build a successful SEO content marketing strategy, it is vital to remain true to your objectives. This can be achieved only when you audit your strategy once in a while and keep updating your content. Build a KPI model for tracking your SEO and your team's performance.
8. Track your success
Content marketing SEO can be both time-consuming and monetarily taxing. If you do not monitor your SEO content's performance, it is very easy to lose track, and you will keep spending without optimizing your returns.
Look at some of the most common trends like
Traffic
Bounce rates
Page visits
Unique visitors
Dwell time, etc
Tracking these matrices will help you stay on course to achieving SEO success.
To Summarize
A successful SEO optimized content marketing strategy requires time, effort, planning and loads of research. It requires you to know not just what your audience wants, but also to know how to package your expertise in a way that the audience would want to read the content.
As important as it is to create new content, it is equally important to constantly update your existing content to ensure your ranking keeps improving. If done right, however, SEO content is one of the easiest ways to not just acquire an audience, but also to establish your authority on your niche among your audience.
Key Takeaways
Before venturing into content marketing, know what your audience wants and what your unique offerings are.
Analyze and choose the proper format that suits your requirements.
An editorial calendar can help you and your team to stay focused on a common goal.
The content marketing strategy also involves regularly updating your existing content.
SEO content marketing strategy requires constant monitoring and analysis.
FAQs
1. What is an SEO content strategy?
An SEO content strategy is the process of planning a website content to increase the ranking in search results. This process helps you to maximize the organic traffic gained from search engines.
2. What are the golden rules of SEO?
SEO's golden rule is understanding the customers' needs and creating an experience that meets those needs. This includes everything from the first impression, search result listing, and ability to navigate to easily find the relevant content.
3. How should you plan an SEO content strategy?
The first step is to conduct keyword research that meets your target audience's needs and then develop a list of topics. The next step is to develop a content strategy that works around the keywords in the content.
4. Is it possible to learn SEO on my own?
Yes, it is possible; SEO is not hard to understand. You don't have to be an SEO expert to work on SEO content strategy. All it takes to manage SEO is a little focus, willingness, and time.