Content
The Secret Sauce to Nailing Your Blog SEO Writing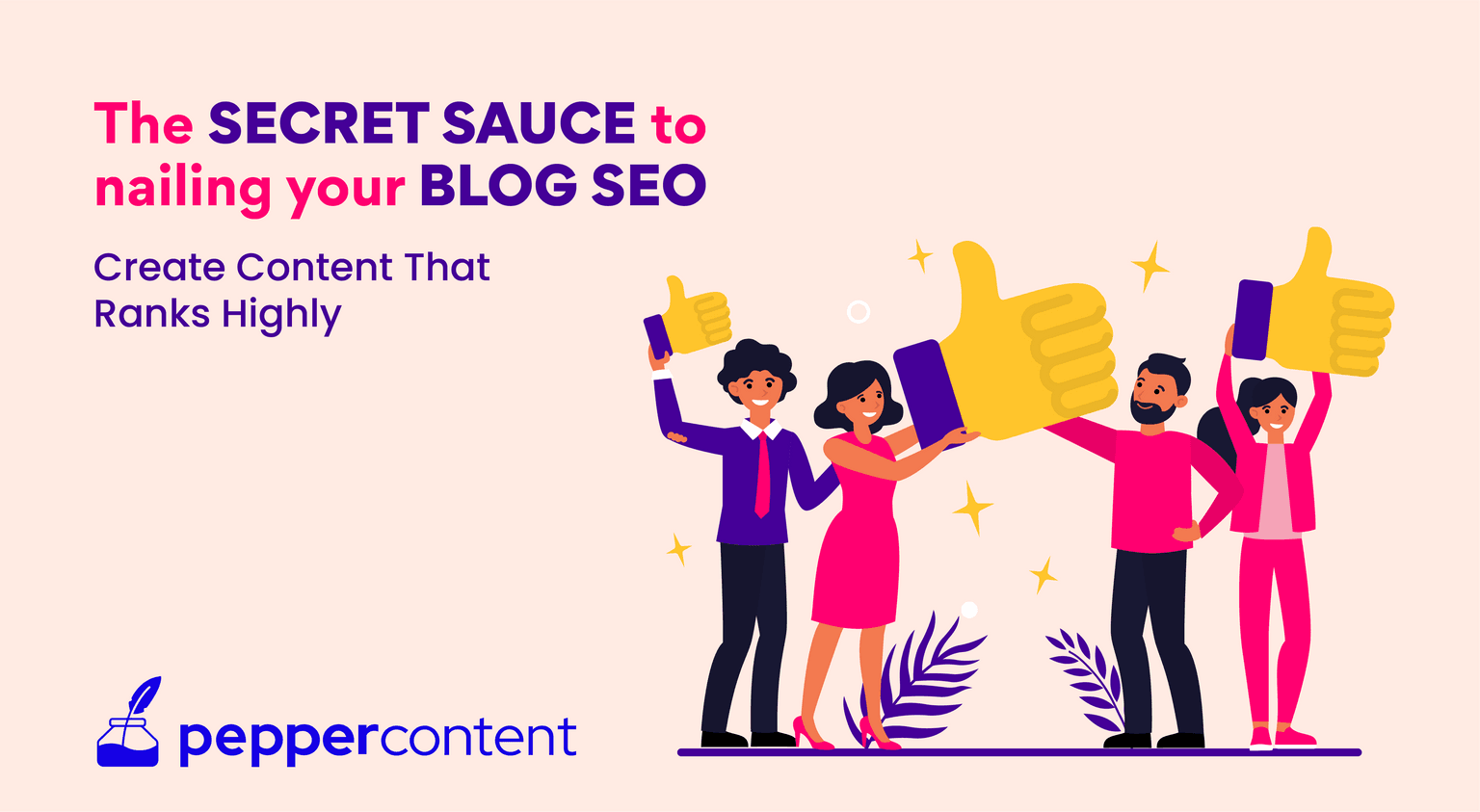 Old-school SEO was just about using the right keywords, but the modern-day SEO is quite different and comprehensive. It relies on elements like the page structure, page authority, domain authority, content relevance, knowledge and information transfer, page experience, keyword usage, and more.
Table of Contents
Introduction
What Is On-Page & Off-Page SEO Writing (And Why Does It Matter) in Blogging?
Factors Affecting On-Page SEO
Factors Affecting Off-Page SEO
What Blog SEO Parameters to Optimize for Generating More Traffic?
Verdict
Key Takeaways
FAQs
"Today, it's not about getting the traffic; it's about getting the targeted and relevant traffic. "
— Jill Whalen, former CEO of High Rankings and co-founder of Search Engine Marketing New England
In today's online world, every website is launched with mostly one goal in mind; getting visitors. With over 1.7 billion websites on the web according to Website Live Stats, you can only imagine how big of a bloodbath it is to get in front of your target audience.
However, one little hack that surfaced more than two decades ago has changed things forever. This little hack is called Search Engine Optimization (SEO).
By definition, SEO is the practice of improving the quality and quantity of a website's traffic. But, in today's world, it is not only limited to that. Nowadays, pages are optimized to get noticed by Google first and then rank in the upper spectrum of search results. The same applies to optimizing blogs for Google.
Old-school SEO writing was just about using the right keywords, but modern-day blog SEO is quite different and comprehensive. It relies on elements like page structure, page authority, domain authority, content relevance, knowledge and information transfer, page experience, keyword usage, and more. Let's understand how to use them to your benefit to nail the SEO for your blog.
What is On-Page & Off-Page SEO Writing (And Why Does it Matter) in Blogging?
Before we dive into the nitty-gritty of optimizing a page, let's first understand the various facets of blog SEO. They are broadly divided into two groups, On-Page SEO and Off-Page SEO. While the end goal of both is the same, the way they work is quite different. Here are their differences:
| | | |
| --- | --- | --- |
| Parameter | On-Page SEO | Off-Page SEO |
| Definition | By definition, On-Page SEO includes activities you work on directly on the page or website to improve its rankings. | Off-Page SEO includes factors that are not directly on your page but link back to a particular page, like backlinks and promotional campaigns. |
| Affecting Factors | Content, Keywords, Title, Meta Description, Alt-Text, URL Structure, Interlinking, Breadcrumbs, Page Performance, Schema, Mobile Friendliness, Page Experience | Backlinks, Domain Authority, Page Authority, Social Promotion, Local SEO, Promotional (PPC) Campaigns |
| Preference | First | Second |
As inferred from the table, the affecting factors for on-page SEO for your blog or website are far more than the off-page SEO. Furthermore, on-page SEO also gets the first preference during optimization as compared to the latter. That begs the question, why?
SEO tactics do not give identical results. On-page SEO for your blog or website gets preference because unless the content quality is not up to the mark and does not use the right keywords and deliver information, Google will not let the page rank. In short, you won't be able to optimize your blog for Google. And until the page does not rank, the page will not build an authority. And if the page does not build authority, the website does not get a better domain rating. And that impacts rankings in the long run because it is a precursor to off-page SEO. As a result of all this, you will not get social shares or backlinks to the page.
Hence, on-page SEO is more critical than off-page SEO and needs much more attention. However, once you optimize your blog for Google perfectly, the foundation of the building is laid. Off-page SEO works on constructing the tower. It helps build credibility faster, helping the page and domain authority to increase eventually.
A top-ranking website of any particular domain has a domain authority of 90+ and an average of 10 backlinks to a page. And that's massive. So let's take a look at how all the factors of on-page and off-page SEO affect the page itself.
Factors Affecting On-Page SEO
As explained, on-page SEO is the optimization done on the page itself to help it rank better. The factors that influence on-page SEO are:
Content: Content truly is the king here, and for a website, it could not be more accurate. Until the content being put on a particular page is relevant, informative, and, most of all, good quality, the page will not rank.
Keywords used: When it comes to SEO-friendly blogs, everyone out there keeps talking about 'Keywords'. Using the right keywords in the content correctly without over-stuffing automatically optimizes the content to rank.
Title: An apt title with the right inserted keywords will quickly hook users and draw in traffic.
Meta description: Before reading the article, the 2-3 lines of text that you see under the search result on Google is the meta description. This plays a vital role in ranking and traffic generation.
Alt-text: Google cannot see images. Instead, it reads the alternate text (alt-text) to find out what the picture contains. The more detailed and keyword-centric the image is, the better it will help the page rank.
URL structure: If your URL structure is too long for the article in question, then the chances are that the blog will struggle to rank. Shorter URLs with precise keywords have better chances of ranking on Google.
Interlinking: Interlinking increases credibility and helps the search engine and the people understand the page's structure. It also enables you to increase the session time of a user.
Breadcrumbs: On some websites, you might see a navigation bar at the top of the page. It might go like: Home> Articles > News> and so on. Having breadcrumbs allows Google and the user to understand where exactly they are on your website.
Page performance: With the increased use of digital devices, attention span has reduced. If your page or image takes too long to load, or the content keeps shifting too much because of all this, it reflects poorly on the page's performance.
Schema: Schema is the structured elements on the page that help Google learn what your page is all about. Furthermore, the schema is often turned into snippets or a search term.
Mobile-friendliness: With 54.8% of all internet traffic coming from mobile devices according to Statista, a page should be mobile-friendly to be more accessible.
Page experience: With more and more emphasis being given by Google on how a site feels, a good page experience will soon become imperative for ranking.
All of these help in optimizing blogs for Google or better website optimization.
Factors Affecting Off-Page SEO
Now that you know what factors affect on-page SEO, it's time to determine how off-page SEO is impacted:
Backlinks: The most significant factor affecting off-page SEO is backlinks. The more backlinks you have, the better will be the page and domain authority. Google will understand that the content on this page is credible enough to be mentioned in many places.
Domain authority: Domain authority is a score from 1-100 that determines the strength of the website. It is built eventually over time with carefully placed content and consistency in putting out good quality content. The higher the domain authority, the better are the chances of ranking in the full spectrum of search results.
Page authority: Like domain authority, page authority has to do with the strength of a page. It is only mildly dependent on the domain authority. If the page content is credible enough, there are high chances that a low domain authority page will rank higher than a high domain authority page.
Social promotion: This does not affect the rank directly but helps in boosting traffic. The more the number of excellent and credible social shares, the more traffic you generate.
Local SEO: Google also uses location services for optimized blogs pages to rank in a specific geographical location. Hence, depending on your geography, local SEO comes into play to decide where and when the page will rank.
Promotional (PPC) campaigns: Sometimes, domains run keyword-specific ads to maximize traffic and leads. These ads appear at the top of any relevant search results for their trigger keyword. Depending on these, your site will generate traffic, resulting in backlinks, improving off-page SEO.
As a newbie website, the first milestone is acquiring 1 million users in organic traffic. Some websites that meticulously use SEO tactics can do it faster, while some that ad-libbed took a little longer. So what are the factors that you need to reach the coveted mark of 1 million organic traffic? And how to improve blog SEO? Read on.
What Blog SEO Parameters to Optimize for Generating More Traffic?
While on-page and off-page SEO parameters cover blog SEO basics, some parameters directly impact how a page ranks. Here are the parameters you need to work on for the best results on Google Search Results:
1. Nail your keyword research
Keywords are essential when content is being created. Not only do they help the content rank, but they also help answer queries that people have been asking Google. This is an important blog optimization tip.
Here are a few types of keywords to know about:
Head Keyword: The head keyword is the main topic that the article is about. E.g., 2021 Honda Civic.
Semantic (LSI) Keyword: A semantic or LSI keyword is the phrase or keyword with the same or related meaning to the head keyword. E.g. 2021 Civic or Honda Civic.
Long-Tail Keywords: Long-tail keywords are the ones that highly specify a search query. E.g., 2021 Honda Civic Price in Illinois.
Tools for Keyword search: Ubersuggest, Keyword.io, SEMRush, Answerthepublic
2. Focus on user intent and quality
Often, the process of content creation makes one forget that the end-user is a person and not a search engine. This makes the content seem more mechanical and mundane. Instead, understand that the best way to nail your blog SEO is to understand what your audience wants. Now, in a well-designed manner, deliver good quality content that is keyword rich and informative.
Google has recently deployed an Artificial Intelligence algorithm known as BERT, which overlooks 10% of all search queries on the website. It goes through the page like a human would and then decides its relevance for ranking. So make sure that the content being put out caters to humans and not robots.
3. Take your time writing blog SEO-friendly headlines
Like in a newspaper article, if the headline is not catchy enough, the users might not open the page altogether. The heading should be under 60 characters ideally, and a maximum of 63 characters since that is the number of characters on Google for a heading.
Furthermore, a heading should evoke some kind of emotion in the user. Straight titles that seem mechanical seldom have good rankings and click rates.
Tools for checking the effectiveness of a heading: Portent Title maker, AM Institute Headline analyzer, Coschedule Headline Analyzer.
4. Use proper heading tags
To make really impactful with headings, using a head keyword and an associated topic keyword is imperative. Using the correct heading tags can skyrocket the rank quickly.
Here is what a mundane headline looks like '2021 Honda Civic Review.' While this will generate traffic and views, it won't be able to sustain them. The heading has a score of 50% on the AM Institute headline analyzer tool. This again is a crucial tip on how to improve blog SEO.
Here is what a headline with the proper heading tags looks like '2021 Honda Civic Review – Probably the best car under $25,000?' This headline scored 63% on the same tool. The shift in percentages happened because the second headline used the right kind of tags and evoked emotion in the probable user.
5. Optimize your page URL
Long URLs are a thing of the past. In a world obsessed with making things more compact, Google also prefers the same approach to URLs. The shorter and more precise the URL, the better it will help your ranking.
Make sure that even the URL has a breadcrumb approach and contains keywords as well. A good SEO optimized blog's URL might look something like this:
www.carindigo.com/honda/civic – This automatically shows that the first one is the leading website, the second is the brand page, and the third is the car page. Use the breadcrumb structure since it is short and targets the keywords.
To make it even more precise, try www.carindigo.com/honda/civic/interiors. This URL shows that you will now access the interior page of the car, and it targets the keywords related to the head keyword, i.e., Honda Civic, and remains short and precise.
6. Be strategic with your links
As we explained before, interlinking is essential. However, vague interlinking without a proper match will not be of any use. Instead, the interlinks should be targeted to a specific page on your website (preferably) and anchored on the right target keywords.
The target keyword for interlinking is called anchor text. It appears as a blue text with an underline apart from the other text on the page. Pretty much like the link you saw above.
With the right anchor text interlinking to the right page, users and even Google will understand what page this interlink will redirect to if clicked.
7. Craft an enticing meta description
As explained above, meta descriptions are the few lines of text that you see below the search result's heading on Google. The meta description is also called metadata at times.
The meta description should be enticing enough to hook the user. The probable user should see a glimpse of what kind of information will be delivered on that page. Enticing metadata includes the critical information put forward a little creatively to grasp a user's attention.
This should generally be kept up to 160 characters since anything more than that will not be visible.
8. Optimize your images
Google cannot directly see your pictures. Instead, it infers what an image has via its alternative text (alt-text). Making an alt-text perfectly SEO optimized for your blog is about delivering the maximum information about the picture and targeting all keywords.
Not many people know, but Google ranks images and text separately. So if your content has not been indexed, but the picture is optimized with a well-targeted alt-text, then the chances are that your page will rank high in the images section. So, the users can come to your website from there. A fantastic tip on how to improve blog SEO!
A well-detailed alt-text of the image above looks like this:
2021 Honda Civic Red Color Front Three Quarter View HD Wallpaper
This targets all the keywords and delivers information about what the picture has and the image's resolution.
9. Ensure mobile-friendliness
According to various sources, over 54.8% of all traffic on the internet comes from mobile devices. Hence, it has become essential for a website to be mobile-friendly. If you want to check how your website looks like on a mobile device, try one of three options:
Option 1: Right-click on your mouse and press the 'inspect' option
Option 2: Press F12 on your keyboard
Option 3: Press Ctrl+Shift+i
Using any of these options, a dialog box will open up on the right side. On the left side of the page, you will see a dropdown saying 'Responsive'. Click on it, and the dropdown list will show a list of major mobile devices. Using that, you can check how your webpage looks on any mobile.
Keeping in mind these results, you can decide what parameters need to be analyzed. Nowadays, website auditor tools and other online websites run free diagnostic checks to help you figure out how you can reduce page loading time.
Tools for Page Metrics: GTmetrix.com, Link Assistant Website Auditor.
If your image is too big, you can use tools like Kraken.io to optimize its size correctly and reduce the page loading time.
10. Promote your content
Like any other product, marketing and promoting your content are crucial. The more it is advertised, the more traffic and backlinks it will be able to build. Just make sure that the marketing campaigns are set up correctly, and you will be able to get site traffic and rankings a lot faster.
Verdict
While choosing what kind of blog SEO writing your website needs, always go for a comprehensive optimization method to achieve the best results. While it may seem like a daunting task as a budding newbie blogger, eventually, you will thank yourself for putting in the time and effort. With tons of resources at your disposal, performing SEO-related activities has become a cakewalk. So, it's time to SEO-ing your articles to get those ranks and traffic!
Key Takeaways
Any blog or website on the internet is not meeting its purpose if it is not holding a great rank on Google SERPs.
One of the best ways of ranking on Google is optimizing the blogs or websites aptly.
Some of the tips to better optimize your blogs for better ranking are as simple as using proper header tags and creating meta titles and descriptions.
However, some important blog optimization methods also include conducting thorough keyword research, writing SEO-friendly headlines, and promoting the content on various platforms.
FAQs
1. How to make a blog SEO-friendly?
The most important tip to writing an SEO-friendly blog is to write with flair. Besides that some steps to follow to make your blog SEO-friendly are: 
1. Think and write
2. Create a framework
3. Lock the title of your blog post
4. Use headings correctly
5. Use crisp and short paragraphs
6. Add links to support the content
7. Use keywords but don't overstuff
8. Optimize the length 
2. What are some SEO writing best practices?
Some best practices to follow to write SEO-friendly blogs or articles include: 
1. Doing keyword research
2. Coming up with catchy titles 
3. Following a proper structure
4. Having quality content
5. Having proper paragraphs, headings, and subheadings
3. What is the best blog layout for SEO?
An SEO-friendly blog design would include the following parameters? 
1. Keeping important information above the fold
2. Limit the number of links
3. Limit ad space
4. Design your site for speed
5. Keep images small
6. Design your navigation for UX and SEO
4. How to optimize blog posts for SEO?
A few tips on how to improve blog SEO include: 
1. Plan content according to keyword research
2. Come up with an effective blog post title
3. Use internal linking wisely
4. Reader-friendly blog 
5. Have unique content
6. Always track content results
5. What is the secret of SEO?
One of the secrets of SEO is structured data or Schema. This helps Google come up with its search results. This is the language of search engines. This semantic vocabulary also includes reviews, ratings, images, news articles, and locations that help increase a site's ranking.