Marketing
Marketing to Millennials: 3 Actionable Social Media Tips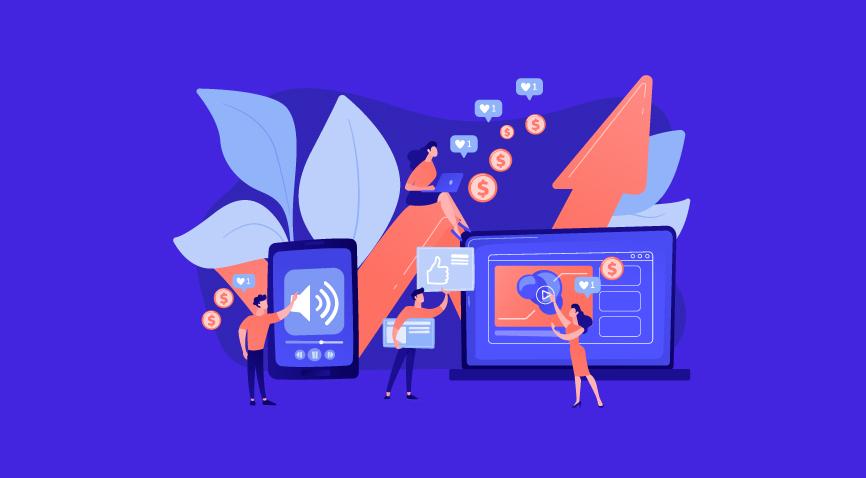 Here are a few social media tips that will revolutionize the way you promote your brand to millennials.
According to a 2020 study by the Boston Consulting Group (BCG), millennials are poised to increase their per-capita spending by 10% over the next few years. In terms of the post-pandemic behavior, both the millennial and Gen Z segments spend 62% more time on social media. Therefore, our social media tips for marketing to millennials cannot come at a more opportune time.
Millennials and Social Media Marketing
The term "millennials" refers to the human population born between the early-1980s to the mid-1990s. They are also known as Generation Y or Gen Y. Although their birth range is still not clearly defined, 1981-to-1996 is a widely accepted range for the millennials.
If you are a business targeting your service or products to millennials, it is important to understand their common buying behaviors and characteristics. Millennials are everywhere on the internet. This makes Instagram, Twitter, Facebook, and Snapchat the top platforms you should target.
Social media marketing entails promoting your products or services on social media. It helps in brand building, driving engagement, generating leads, and much more. It is a crucial tool for positioning your business in front of millennials. In order to win big on social media, you must keep the following things in mind:
Be present on the right social platforms.
Create the right content.
Track your performance.
While some businesses have thrived, many marketers continue to struggle to make meaningful connections with millennials. If revenue and growth are the goals, marketers must develop winning tactics targeting this demographic. Since millennials currently have a lot of purchasing power, you can take advantage of that with the right social media marketing strategy.
3 Social Media Marketing Tips to Target Millennials
To convert millennials as per your business goals, here are a few social media marketing tips to follow.
1. Find the right social platform
Social media usage stats show that over 3.96 billion people are active on social platforms. This huge number could be intimidating if you are new to social media marketing. Therefore, for a successful social media marketing strategy, your first step is to find the right platform.
To find it, below are the top two pieces of advice from famous marketers:
As per Kara Cowie of SkillPath, the nature of your business can help you decide your social platform. If your business is B2B, choose LinkedIn. If your business is B2C, start with Facebook and Instagram.
Another piece of advice is from Amanda Dalrymple of Amanda Dalrymple Designs. She suggests doing a demographic test of your prospective clients. This will help you find the right platform. Don't exhaust your time and resources by being present all over the internet.
2. Create the right type of content
Social media platforms are flooding with content. In this scenario, choosing the right content strategy for a social media platform may get a little complicated, especially while targeting millennials. Experienced marketers suggest using content that is either educational, emotional, promotional, or entertaining in nature.
We have researched three well-employed social media best practices that you can use for content creation on these platforms.
Use visual and interactive content
Millennials are largely visual consumers. That means a textual post for your social media page will not drive the amount of engagement you want. But a visual (image, infographic, GIF, video, etc.) will do the job.
Millennials are also quite taken to interactive content. Add cinemagraphs, polls, and quizzes to your social media marketing strategy. This type of content will hook millennials to your page.
Attach a cause to your business
Almost half of the millennial population is willing to buy from a business that supports a cause. Remember, millennials are smart enough to know whether you are here only for profits or to provide value. They will be more interested in your brand if they see you supporting some pressing societal issues.
Let us understand the effect of cause marketing with two examples.
#ForeverAgainstAnimalTesting by The Body Shop
The Body Shop ran this petition to raise its voice against testing beauty and skincare products on animals. Having launched in 2017, the campaign advocated the ban on animal testing globally. The petition garnered eight million signatures, and was launched on social with the hashtag #ForeverAgainstAnimalTesting.
The brand roped in many celebrities and influencers to popularize the campaign, thereby garnering massive reach. This is a good example of leveraging social media to support causes that matter to you most as a brand.
"For Once, Don't Do It" by Nike
Nike, the world's leading sportswear brand, is known for its iconic slogan "Just do it." However, in light of George Floyd's death in 2020, Nike released a campaign that said "For Once, Don't Do It," urging people to speak out against racism.
The post went as follows:
"For once, don't do it. Don't pretend there's not a problem in America. Don't turn your back on racism. Don't accept innocent lives being taken from us. Don't make any more excuses. Don't think this doesn't affect you. Don't sit back and be silent. Don't think you can't be part of the change. Let's all be part of the change."
Your content should be authentic and relatable
The above data shows that 46% of millennials post original photos or videos online. This indicates that millennials tend to engage with authentic content. Using original content is a key social media content writing tip, as it portrays your brand as real and reliable in the audience's eyes.
Let's understand this with an example.
Danae Mercer is an activist and content creator that utilizes her clout to tell people to love their bodies just as they are. She regularly posts photos that tell the viewer that not everything they see on Instagram is real. Her posts bring to the fore the amount of filters, Photoshop edits, and poses people use to make their bodies look picture-perfect on social media.
She also often shares her past struggle with body issues and how she overcame them, thereby inspiring her viewers. Since Danae keeps it real with her content, her following on social media has been growing astronomically.
3. Social media management
If you are a B2C business targeting millennials, there is a high chance your social media marketing strategy involves multiple platforms. And having more social pages means you have more tasks on your everyday to-do list. Managing your workflow simultaneously can, thus, be overwhelming.
For convenience, consider using social media management tools like Buffer, Hootsuite, and Sprout Social, if you are a small or medium-size business. You can use HubSpot or Sprinklr if you are an enterprise-level business. These tools will amalgamate your social pages, helping you stay active on multiple platforms from one place itself.
Also, some of these tools include a free trial or even a free plan at times, which can help you try out some social media practices on the platforms and decide your strategy accordingly.
The top benefits of these tools for social media marketing include:
Integrating multiple social pages on one dashboard
Planning a content calendar
Creating, scheduling, and publishing content
Monitoring the performance of posts
Studying the trends of the industry performance of competitors
Customer relationship management (CRM) and response management facilities
Not just that! Some tools like Buffer can even curate personalized content ideas for your page. These ideas are generated based on your content history, competitor analysis, and industry trends.
While some of the above-mentioned social media tips are simple to implement, others may require more time and effort. Keep in mind your team's capability and business goals before moving ahead. It's not difficult to market to millennials: all it takes is a human touch, and content that is real and intuitive. Focus on providing real experiences and compelling material, as well as genuinely listening to what they're looking for.
Keep track of what your millennial consumers are engaging and interacting with the most. These social media tips may work as a foundation for millennial marketing, but the best will only come with experience.
FAQs
1.

What are the core pillars of social media marketing?
There are five main pillars of social media marketing. They include:
1. Strategy
2. Planning & Publishing
3. Listening & Engagement
4. Analytics
5. Advertising
2.

What are some top

social media marketing tips for beginners

?
According to top marketers, beginners can follow these social media tips to build a strategy:
1. Sync all of your social media accounts
2. Older posts should be republished and updated
3. Posts should be scheduled for the night
4. To improve engagement, use hashtags
5. When possible, use graphics

3. How is social media marketing important in 2021?
Today, companies use social media marketing to communicate with existing consumers and reach out to new ones while promoting their intended culture, mission, or tone. Marketers can measure the performance of their efforts with social media marketing's purpose-built data analytics tools.
4. Which is the best social media platform for business in 2022?
Instagram is the ideal social media platform for businesses looking to share photographs and videos with their customers. Nonetheless, the platform is a helpful tool for establishing your brand's identity as it also allows you to implement various social media marketing best practices and tactics to grow your organic reach.
5.

How to get started with millennial marketing?
Here are five guaranteed social media tips & strategies to get you started in the right direction while marketing to millennials:
1. Stay mobile
2. Create peer brand evangelists
3. Be socially connected
4. Create authentic content
5. Give them a say