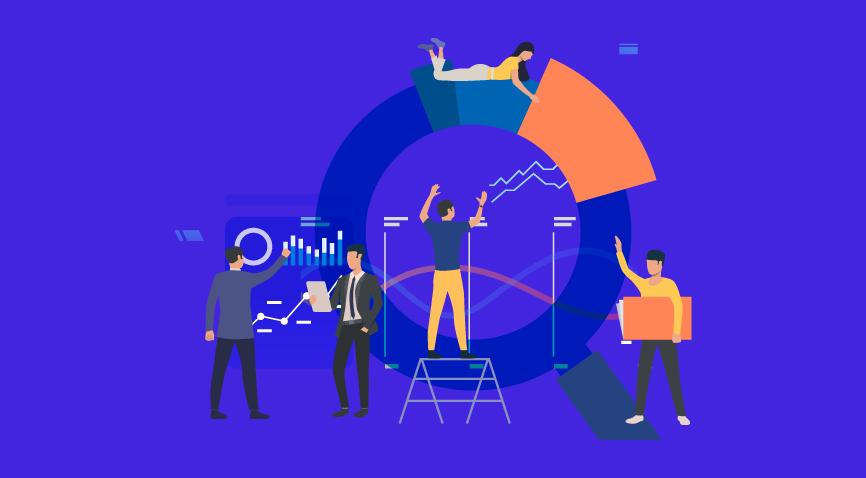 Table of Contents
Introduction
The 20 Best Social Media Management Tools for Businesses
Facebook Business Free Tools
Ripl
Linktree
Hootsuite
HubSpot
Zoho Social
Buffer
TweetDeck
SEMrush
SocialPilot
Agorapulse
Socialbakers
HeyOrca
Sprout Social
Loomly
Sendible
MeetEdgar
Crowdfire
Eclincher
Falcon.io
How do you manage all of your social media marketing responsibilities?
Since the world of social media marketing and management is moving fast, it's easy to become overwhelmed when you consider all the tasks that social media marketers must do daily — from content creation and publication to analytics and reporting. But thankfully, there is a slew of fantastic top social media management tools at your disposal. These technologies can help you optimize your operations, save time, and guarantee that your material is delivered to the correct audience at the right time.
Every day you'll see a new trending app with a host of features, and as a brand, you'll have to get on it to be relatable. As a social media marketer or even a digital writer, staying on top of the game might seem intimidating. There are currently 448 million social media users in India, and the number of users has increased by 78 million between 2020 and 2021 (DataReportal, 2021). This gives you a huge opportunity to drive sales, get new consumers, and establish a strong social media presence for your brand.
Still, how do you choose which product to use, though?
With so many best social media management tools available, it is hard to make the right choice. But guess what, you don't need to do this all on your own. We've compiled a list of the 20 best social media management tools for your business. They will help you make it big in the social media world and craft brilliant social media strategies. Here they are:
20 Best Social Media Management Tools For You
Facebook Business Free Tools
Facebook For Business offers a host of free tools which help you drive sales, build a community, increase awareness online, download free story templates, connect with customers and manage your business to get real-time results. You can even select tools based on your business goals.
If you want to simplify all of your social media tasks, this is just the platform for you. With a 7-day free trial and plans starting at $14.99, you can access readymade templates, brand management tools, customizable content creation tools, performance tracking and optimization tools, social media sharing tools, and mobile and desktop support. As reported by Ripl, 4.5 million small businesses already use their products for all their social media platforms.
Tired of updating links in your bio? Here's one of the best free social media management tools that can help connect all your audiences with just one link. Linktree seamlessly connects your website, campaign links, youtube channels, blogs and articles, payment gateways, and more in one embedded link. Their 'forever free' plan lets you do all of this without any hidden costs, and if you want an advanced plan you just have to pay $6 a month.
Hootsuite is a go-to tool for most businesses today. The reason for its popularity is that it's an all-in-one platform that lets you curate and plan content, track social ROI, execute social media marketing, and do a lot more, all under one roof.
You can schedule posts, curate content with ease through in-built tagging, searching, and usage statistics, track and improve your social media return on investment and do social media research of your brand and competitors easily. All of their paid plans start with a 30-day free trial.
Apart from being a full suite marketing software, HubSpot offers brilliant free and paid tools, and they are not just limited to social media marketing. Free tools for customer relationship management, marketing, sales, services, and operations are available, and all you have to do is create a free account on HubSpot. You get to add 1L free contacts, too, with no time limit.
Zoho provides tools for agencies to manage all clients under one roof. These tools include post scheduling, publishing calendars, content curation, discovering trends, monitoring brand conversations, statistics and analysis, customer reports, and much more.
The best part is that you can add your clients to Zoho Social and delegate team members to handle their tasks. Client approvals, feedback, and reporting can't get easier than this. You can even track performance, revenue, and return on investment for your paid campaigns. You can try their 15-day free trial pack or their basic paid plans that start at Rs 600 per month.
A social media management platform made for small businesses, Buffer is a convenient and straightforward social media management tool trusted by more than 75,000 companies, including Shopify, Spotify, Food52, etc.
You can visually plan your social media campaigns, measure and report the performance of your content, build long-lasting relationships with your audience, plan your stories, research hashtags, and much more. You can start with a free plan which connects three social media platforms and gives you ten scheduled posts.
If Twitter is a major part of your social media management tasks, then TweetDeck is the perfect support partner for you. It helps you sync multiple timelines in one interface, manages multiple Twitter accounts, schedule tweets in advance, build a host of Twitter collections, and much more. The best part is that it is a free social media management tool for those with an active Twitter account.
The SEMrush social media management tool has a variety of data and creative tools for all aspects of social media marketing and management. You can schedule your social media post in one platform, edit images, and track your own as well as competitor engagement metrics. You can choose a 14-day free trial or go for a monthly subscription of $119.95, including other tools for content writing, public relations, etc.
This all-in-one social media management platform helps you schedule posts and track engagement ratios like reactions, mentions, etc. You can even schedule bulk posts at very affordable prices. You also get to monitor and curate trending content by filtering through targeted keywords that will help draft inspiring content for your own brand. Although you can access a free 14-day trial, the subscription starts at $25 per month.
Social media posts scheduling can get a little stressful when you have to manage multiple platforms. With Agorapulse's synchronized publishing, you can plan, schedule, and collaborate on all your social media channels. You can even manage all your social media messages, comments, and reviews in one place and respond faster than before. If you're a startup or a small business, Agorapulse also has free social media management tools like Facebook Ads Report, Twitter reports, and much more.
Powered by Artificial Intelligence, this is a first-of-its-kind social media marketing platform for brands and agencies. This platform lets you:
Schedule, plan and arrange posts on one platform
Manage your community with prompt social media customer support tools
Analyze and see how the paid and organic strategy has worked for your brand
Create smart, shareable content with content intelligence
Access an influencer marketing tool to see the engagement and success of all your influencer campaigns.
You can start with their Essentials Plan at Rs 13,300 a month billed annually and link 10 of your brand's social profiles.
Want to shorten the time of client approvals for your social media post banks? With HeyOrca, present social media plans to all your clients on one platform, manage client approvals and feedback, track performance, and deliver reports to clients without any Excel sheets. On top of all this, you still get basic features of social media management like bulk posting, scheduling, planning, and social listening. Price starts per calendar so pay only for what you need, starting at $99 per month.
Sprout Social, like Hootsuite, combines several social media tools into one platform, including social media scheduling, monitoring, and reporting.
It is one of the few best social media management tools that include customer relationship management (CRM) functionality. Having a thorough profile of your consumers allows you to serve them better and develop deeper connections.
Because of the platform's accessibility, publishing options, and statistics across all major social media networks, Sprout Social happens to be a favorite. This company also has one of the best free trials in the industry that lasts for 30 days! It is included with any of the Sprout Social's services. The standard plan offers many of the same features as the professional plan, but you can only manage five social accounts in this one.
With its extensive plans for teams of up to 26 individuals, Loomly is a top social media management tool for large team cooperation. It is excellent for large groups working on a social media strategy together.
While their basic plan only allows for up to two users, their top-tier commercial plan allows for up to 26. Loomly's plans include key capabilities like audience targeting, automatic publishing, post sponsorship, interaction monitoring, fundamental analytics, and the ability to submit infinite material. With each of their options, you'll also get live chat and email customer assistance. Regardless of the type of coverage you choose to test out, you can get a 15-day free trial.
Because of the sheer variety of platforms with which it can be used, Sendible has been chosen as the best social media management tool in 2021 for integration. You can link Sendible with Facebook, Twitter, Instagram, LinkedIn, Google My Business (GMB), Pinterest, YouTube, WordPress, Canva, Google Analytics, Google Drive, and much more.
It can integrate with 18 different platforms or tools in total. Up to 10 queues, content publication, workflow tools, bulk scheduling, keyword tools, and an inbox for interaction and monitoring are included in all Sendible services. Moreover, more premium subscriptions feature more queues and users and the option to manage a bigger number of social accounts.
Sendible offers a 14-day free trial on all of its social media management solutions. You may also cancel your subscription at any moment.
MeetEdgar is remarkable for its automation and scheduling capabilities. It also provides continuous posting, which means it will automatically filter and reshare relevant items on your social network profiles.
This social media management tool allows you to create posts using a browser extension, schedule articles based on categories to save time and effort, and conduct continuous posting to keep your audience engaged.
You also receive access to an endless material collection with MeetEdgar, which the platform can mix and plan for you. You can also utilize an automated link shortener to conserve space when sharing your material on social media and set up your account to post your newest work automatically. It comes with a 7-day free trial.
This app also allows you to manage your Twitter account (follow and unfollow) and suggests items to share in addition to scheduling material.
Crowdfire differs from other social media management tools since it allows you to connect your blogs, YouTube channels, and online stores. It also automatically produces social media postings for every change you make. Moreover, it's known to be one of the best free social media management tools in 2021.
Due to its past grassroots' word of mouth' content marketing efforts, Eclincher may be the best-kept secret in social media. This digital marketing tool centered on marketing automation, helps social media managers save time by utilizing a single dashboard and automating monotonous marketing chores with bulk scheduling options, queues, and more.
Eclincher is an all-in-one best social media management tool in 2021 and a platform that is constantly evolving. It has everything a social media team needs.
Pricing ranges from $59 per month for the most basic plans to $219 for the most advanced. Although the pricing allows for up to 40 social media profiles, some clients have hundreds of profiles and want a customized social media package. Their crew is accessible for LIVE demonstrations, and they presently offer a 14-day free trial with no credit card necessary.
This cloud-based social media marketing and customer experience management tool include features for listening, engaging, generating the content, monitoring, and managing customer data. Falcon.io provides customers with a content calendar to collaborate with marketing teams to plan, generate, and schedule content.
It also makes it easier to create pages using the campaign builder, which includes pre-designed templates and APIs that give social data, audience, and content metrics to connect current CRM, CMS, and analytics systems.
On business days, this social media management software provides help via online manuals, tutorials, email, and a ticket submission system, which is open 24 hours a day, seven days a week.
Pricing starts at $129 per month and rises as bespoke features are added.
Conclusion
Each of the best social media management tools we've looked at has its own set of pros and cons. And one thing is for certain: what suits one individual may not suit another.
Some tools are better suitable for groups and agencies, while others are better suited for solopreneurs and small firms. Of course, even the greatest technologies will not be able to handle all of your social media problems.
As a result, you must pick the correct tool for your position and budget. And in certain circumstances, not utilizing any of these free social media management tools may be the best option.
Increased traffic necessitates the use of social media marketing. However, without the right social media management software, you won't be able to run a successful marketing campaign. In the area of social media management services, it's no different. Which sort of social media management platform best suits your goals, budget, and preferences will be determined by your business demands.
We propose that you pick a partner that will save you and your team important time automating social media marketing processes, collaborative workflows, and actionable insights, given the variety of features available among these top social media management tools.
Make a list to prioritize your business's demands and see which choice ticks the most requirements, whether it's a fully integrated end-to-end solution to enhance your engagement and brand recognition, a lead-generation machine, or a monthly content schedule for social media content and blogging.
Social media management tools & software should assist you rather than impede you.
FAQs
1.

What are some best free social media management tools in 2021 for startups?
You might be able to get by with native scheduling and creation tools if you're a solopreneur or a seed business founder without a budget for social tools.
Alternatively, you may combine free plans from all-in-one platforms like Hootsuite or Buffer with tools provided by the social media networks themselves, such as Twitter's TweetDeck and Facebook's Creator Studio.
2.

Why is it necessary to use social media management tools?
Using a social media management tool makes it easier to keep track of all your chats. To begin with, having all of your data in one location simplifies your job. Some applications also let you search for discussions by keyword, giving you the impression that you have social media superpowers.
3.

What are the expected costs of Social Media Management Software?
Although some social media management software is free, the free basic plans offered by certain firms come with limited features and are usually only valid for one user.
You may need to pay extra if you have a large firm and want several user identities or access to multiple social media accounts across various brands.
4.

How to choose the Best Social Media Management Tools for your business?
It would help if you thought about your social media goals and needs, scheduling and engagement, user experience, and other essential criteria before choosing a social media management solution for your organization.
5.

List the names of some trending & best social media management tools.
Some of the most popular & best social media management tools 2021 are Sprout Social, Hootsuite, HubSpot, MeetEdgar, SocialPilot, Canva, Buffer, Loomly, etc.
6.

Is there a demand for social media managers?
One of the most in-demand jobs nowadays is that of a social media manager. As the physical world grows more reliant on the digital world, employing a highly trained social media manager to build a social media strategy and increase an organization's online presence is becoming increasingly important.
7.

Is it difficult to understand how to manage social media?
Learning how to manage social media is not tough. You must, however, be willing to constantly improve your talents and stay up to date with the latest trends. You can develop or enhance your social media management abilities in a variety of ways. You can also learn some of the social media management techniques and attend courses to improve your abilities.