Design
15 Awesome Social Media Graphic Design Ideas to Follow in 2022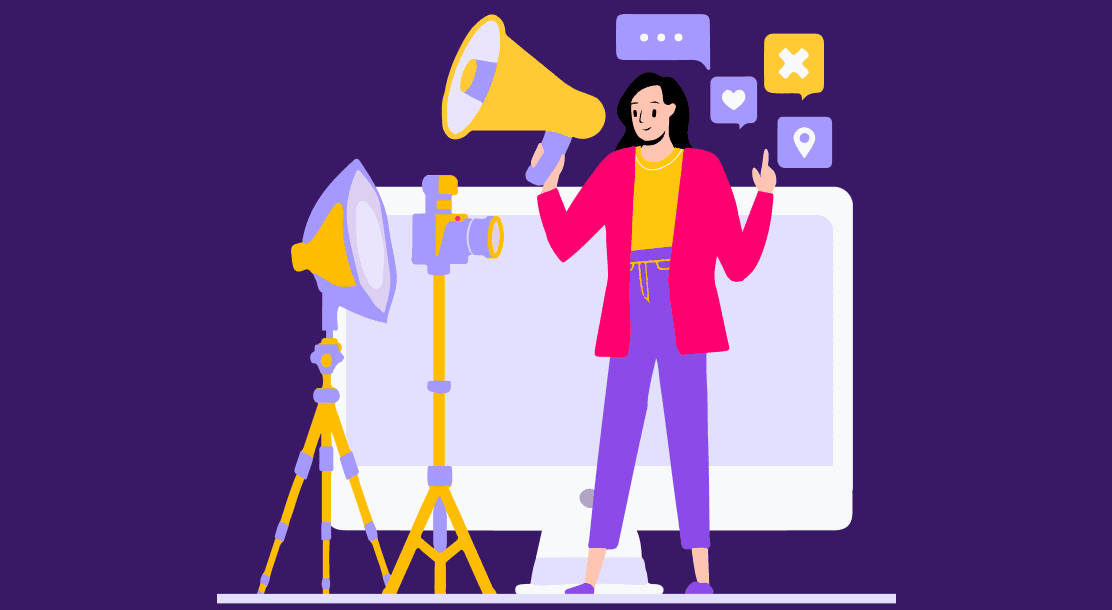 These trending social media graphic design ideas can help you create excellent posts that will grab customer attention and help you stand out from the crowd.
We know that visual content is more engaging — processed 60,000 times faster than text. So, creating the right marketing assets every day is demanding. For as much time as you spend on social media, it feels like there are not enough hours in the day to create compelling content.
You are always looking for new ideas and inspiration for social media graphic designs. You want to make a great impression on your clients and be the best. But sometimes, it is hard to find the best social media graphic design ideas – especially when you are in a rut.
Fortunately, we have fifteen incredible social media graphic design tips for you, which will help you improve your business and wow your clients.
15 Social Media Graphic Design Ideas
Let us find the best ideas for social media graphic design.
Match trends with your brand
Good graphic design is a fundamental element of a successful brand. If you want to be on the cutting edge of design, it never hurts to follow the trends. With that said, it's imperative to ensure your social media graphic design ideas align with your brand. Some trends may not align with your business. Maintaining consistency with your brand colors, font style, and logo will help your customers recognize you at a glance.
For example, one of the most popular social media graphic design tips nowadays is to use bold and bright colors that stand out. Take a look at some top brands on Instagram, and you will notice a trend toward bright pinks and oranges, along with bold blues. If this kind of color palette fits with your brand identity, consider embracing it for a modern look.
Play with maxi and bold typography
Bold, oversized, thick, thin, and display typefaces can help you create eye-catching designs. Typography conveys the mood of the content. The best social media graphic designs do not just use text to get their point across. They use it to add depth, emotion, and drama to their social media graphic design. There are numerous ways to experiment and bring it to life, whether through font selection, size, angle, or text positioning.
For example, a fun or lighthearted message would benefit from quirky or script fonts. You can combine several fonts in one image or use different colors to make one word stand out.
Play with an overlay
Overlays are a simple way to add color or texture to a graphic while keeping it clean. You can use an overlay on just about any type of graphic, whether it is an infographic or a quote graphic. They can also be effective if you have an image that needs some balance (like a landscape) and wants to add something else to one side of the photo.
To create an overlay, add a colored shape over your background photo or image and adjust the transparency until it looks right.
For instance, place a heart-shaped overlay over a picture of someone eating ice cream for Valentine's Day. It is as simple as that.
Templates save time
Social media graphic design takes time – especially if you want high-quality materials for your business. One way to save time is by using templates — this could be for infographics, social media posts, business cards, or any other type of graphic. Canva offers multichannel social media graphic design with hundreds of free customizable templates — perfect for when you are short on time.
Furthermore, if you are not a professional designer, creating your designs from scratch can be extremely difficult and time-consuming. Instead, look for ready-made templates which you can customize and make your own.
Consider different types of graphics
There is no limit to creativity as long as you maintain consistency with your brand. Consider using an animated GIF or video for your social media graphic design. While these files tend to be larger than a static image and may take longer to load, they catch viewers' attention instantly.
Incorporate the hand-drawn trend into your design
Hand-drawn elements have become popular in recent social media graphic design trends. Whether you use illustrations from designers on Creative Market or draw design elements yourself, a doodle-like aesthetic will help your social media graphics stand out from the crowd. Hand-drawn elements can add a human touch to your designs and add interest to your posts.
Try an asymmetrical layout
Asymmetry is another popular trend in graphic design right now. While balance is required in any design (and going too far with asymmetry can be jarring), mixing things up by putting text or images on one side of the frame can help your social media graphics stand out from the crowd.
Asymmetry breaks up the repetition of rows, columns, and grids – regular design features – which are great at forming space and structure but sometimes fail to create excitement or creativity in designs. Using an asymmetrical layout adds visual interest and highlights the focal point of your graphic.
Embrace white space
The background of your graphic can be a subtle but powerful design element. It keeps your eyes glued to the page.
You may have seen minimalist designs all over Pinterest and Instagram because they are great for any social network where people are looking at images quickly. Think of them as a visual way to share a quote or stat that would otherwise be text. Moreover, it supports you to carry the audience's attention to specific areas of your social media graphic design.
If there is room at the top or bottom of your graphic, it does not mean it needs to be loaded. White space makes your post look organized and also helps to emphasize your brand colors and imagery. If your graphic includes a lot of text, leave some breathing room, so people can easily read it.
Fly with complex gradients and duotones
One of the most exciting trends in social media graphic design today is the use of bold, multi-color gradients. A gradient is an effect used to create a smooth transition between two or more colors. It is typically applied to images, vector shapes, or backgrounds—a gradient forms when the color fades from one hue to another.
Two-tone gradients are known as "duotones" because they contain just two colors. They are generally printed in black and white with a hint of color, but you can also take this idea further and create duotones with more than two colors. Duotones offers a simple yet effective way to make your social media graphic design pop, giving them that extra kick to stand out from the crowd.
Explore negative space
It is the space around an image or words on a page — this space between the elements on a page gives those elements meaning. Negative space directs the eye movement of the viewer, allowing them to focus on key ingredients of the design and comprehend its intent or purpose.
In other words, negative space is just as important as the positive space (the actual images) in a social media graphic design idea. It allows you to highlight the point of focus on a page while making text easier to read by breaking up large blocks of copy.
Use simple monotones
If using bright colors and busy patterns is not your thing, try using simple monotones in your next graphic design project. Simple black, white, and gray are influential colors used in many ways to create stunning graphics for your business. Besides, you can use pastel colors in tints and shades for creating simple social media graphic design.
Embrace the power of images
Pictures are powerful communication tools, and there are so many free image libraries to support your social media graphic design projects. Images catch attention, and they are more memorable than text alone. Using them can be a great way to boost the impact of your message.
Explore different line styles
Different types of lines can give your social media graphic design a completely new look and feel. Thin lines are perfect for infographics, while thick lines work well if you want your words to be the focal point of your graphic.
Whatever type of line you choose, make sure it works well with the font. Try using lines to add a background pattern to your photos or break up blocks of text in your designs.
Think outside the box with geometric shapes
There are many ways to use geometric shapes, such as background or foreground elements, or you can integrate them into your logo or product images. These shapes include triangles, rectangles, hexagons, diamonds, and more.
Geometric patterns are perfect if you want to add some structure and stability to your social media graphic design while maintaining a sleek and modern look. Geometric shapes have recently become extremely popular in social media graphic design, particularly triangles. They come across as strong, bold, dynamic, and energetic in their appearance and message.
Mix it up with pattern and texture (but do not get too crazy)
When it comes to patterns, keep them simple. The more complex the pattern design will be, the more difficult it will be to decipher on a small screen. The goal is to use a pattern that can be easily read on mobile devices. It adds depth and dimension to your image.
You can use this to draw attention to different parts of the graphic. Adding pattern or texture to your social media graphic design can also help you break from the grid, especially if you are working with a template or pre-designed graphic.
The world is full of stunning textures that you can use in your social media graphic design — matte textures, metallic textures, paper textures, cotton textures, wood textures, and many more. You can even create your own with some time and effort.
If you are just getting started, try playing around with different textures until you find one that feels like it is just speaking to you (or maybe screaming at you).
Key Takeaways
Play with maxi display typography to add some drama.
Experiment with bold colors, patterns, and texture overlays for novelty in your style within the boundaries of your brand tone.
Mix up your design elements with abstract graphics.
Explore different line styles with gradients and duotones to add depth, dimension, and a unique style to your designs.
Incorporate the doodle trend into your social media graphic designs.
Conclusion
Graphic design is everywhere — in the signs you see on buildings, the ads you scroll past on social media, and the prints on your favorite products. There is a constant need to create trendy and visually engaging social media posts to connect to your customers and remain relevant in the long term.
With so many social media graphic design ideas in circulation, it can be hard to know which ones are worth pursuing. Use these fifteen ideas to outshine your social media content.
FAQs
1. What are the different types of graphics you can use on social media?
You can use the following graphics on social media to engage your followers:
1. Images
2. Charts and infographics
3. GIFs
4. Illustrations and doodles
5. Videos
2. What are the different categories of graphic design?
The two main categories for graphic design are print and web design. There are several subcategories, and each type of graphic design requires specific skills.

3. Where can you find free templates for social media graphic design?
You can find them on graphic design platforms like Canva, Over, Adobe spark, etc.

4. How does typography influence graphic design?
Typography can add countless dimensions that you can use to add drama, depth, and emotion to your designs. You can play with multicolor, neon, highlighted, 3D, shadow, animated, and handwritten typography to bring life to your graphics.

5. What is trending in graphic design 2022?
Flat illustrations, expressive lettering, doodles, bold typography, inclusive imagery, and maximalist designs are trending in 2022.