Marketing
Wondering How To Make Your Social Media Content Rock? Read This!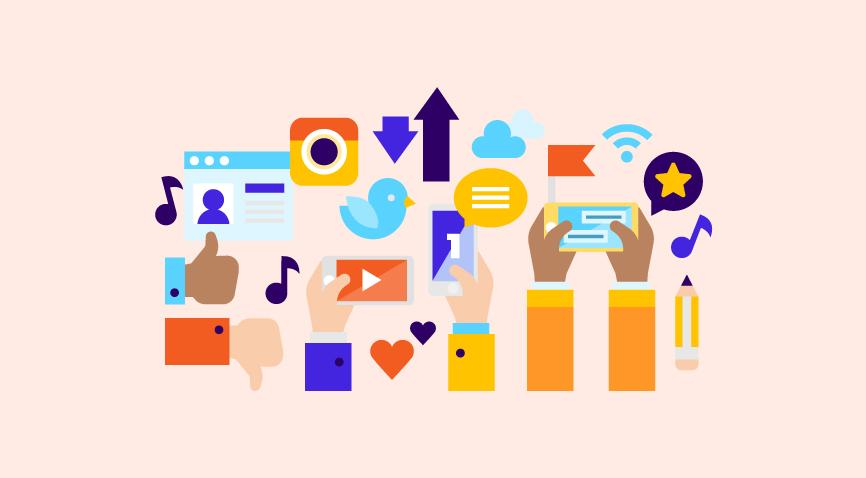 Table Of Contents
Introduction
What is Social Media Presence?
Do All Businesses Need Social Media Presence?
How Do Businesses Use Social Media?
How to Make Your Social Media Content Rock?
Key Takeaways
FAQs
In the early 2000s, when social media was yet to become the buzzword, 2004 saw MySpace, an early Facebook competitor, reaching the first million active users-mark in a month. And, social media has been unstoppable since then, with present-day businesses reaching, breaching, creating, and re-creating such benchmarks almost daily.
This all sure sounds pretty overwhelming. So, let's look into some statistical backups to understand how social media has penetrated the real world to create a virtual one of its own. No wonder, following some social media best practices, industry leaders have gained a foothold that's not easy to shake.
As per Backlinko, approximately 4.48 billion people use social media today. That is somewhere around 57% of the total world population. As against the 2019 numbers, which was 2.27 billion, this is a huge outreach addition.
This is just the total number, and the way these virtual platforms are being embraced in real life, we can safely say that barely any aspect of living remains untouched. From a marketing perspective, this is nothing short of a powerhouse potential one can explore and utilize for personal or business brand upliftment.
But, if you are hoping for some overnight hits, you might be at the wrong place. It is always consistency and adaptability over time that pays off, especially on a platform as fickle as social media.
For the rest, read on to learn what a social media presence would mean, its importance and use for all businesses, and how to get your readers' nerves just right with rocking content.
What is Social Media Presence?
Undoubtedly, social media has penetrated people's lives across all ages, from schoolgoers to octogenarians and nonagenarians. Every successful business and the individual brand has thus tried to reach out to their targeted audience base to increase the overall reach. Without exception, people in the digital age rely more on social media than any other real or virtual platform to tap into information, connect with friends and family, and even create.
In such a scenario, all brands need to stay updated with their offerings and stay connected with their target audience. Accordingly, social media presence can be roughly summed up as a collection of activities and events that any business or entity undertakes on various platforms to stay connected and engaged with their target audience.
How well the audience receives this presence is what defines the social media marketing best practices. But, we also need to see that it is not just the frequency of posts and engagements but also the quality of posted content that defines the success and an overall reach.
Do All Businesses Need Social Media Presence?
With your social media presence well-defined, the next important question that seeks your attention is — does every business and brand need social media presence? A 2020 research suggests as much as 42% of people use social media and rely on it to understand a brand, product, or service before deciding on the final purchase.
Social media is a go-to platform for almost half of the users willing to connect with a brand they like and purchase from. Users also often follow businesses and brands to stay updated on what's new in the market.
With social media use on such a wide metric, we might as well risk asking if your business isn't on social media, does it even exist?
So, the answer to if all businesses need social media presence today is a big 'YES'. Your brand/business's social media profile and presence can prove to be quite the key when it comes to creating a connection based on trust and reliability with your audience.
Today, a business with the most reliable social media presence is often the one that is revered as an industry leader and a frontrunner for most social media best practices 2021.
If you are planning to start a business, it might as well pay off if you plan on your social media accounts and presence well before introducing your products or services to the target audience. Or else you might lose out completely on a chunk of the ideal audience base.
How Do Businesses Use Social Media?
There is no one best answer to the 'How' of a business's social media use. Each business is different, operating in its own capacity with its defined resources.
Nevertheless, the parallel we can look out for when understanding a business's social media uses, knowing the industry they operate in and the niche they serve, can provide huge insight.
First, businesses keep a tab on the available social media tools they can utilize and what runs the best in their niche. Some examples include:
Social networking sites like Facebook, Instagram, and Twitter
Microblogging
Social communities
Location-wise services
Private networks and groups
Podcasts
Video sharing platforms
Job networking
These are just a few, and the list remains inclusive. A Smart Insights-Clutch partnered study suggests 52% of businesses surveyed agree to a positive impact of social media on their sales and revenue.
Then, of course, engaging content has been prominent among industry leaders and authorities when propagating brand expansion and growth in social media. Some other content qualities paying off in the short and long-run that top brands can swear by include:
Content originality
Adaptability
Improvisation
Rebranding
Use of engagement metrics
To gain a better perspective on how you can make your social media content rock for business success, below is a detailed guide, reflecting on all crucial aspects to ponder and plan on with some social media best practices in place.
How to Make Your Social Media Content Rock?
Hope you know we are getting into deep waters here. So, you may well brace yourself to indulge in this 5-minute read that helps hold on to the most crucial aspects of this new-age platform that is both dynamic and volatile. But before that, here's a sneak peek at the keystrokes you would be hitting.
Commitment
Personality
Channel
Connection
Experiments
Promotion
Entertainment
Engagement
Reviews
Improvement
Authority
Back to commitment
Now, let's check out some social media best practices to create and share high-quality and valuable content.
1. Narrow down your audience base
Hitting the bull's eye starts right with knowing where you need to aim and target. It is thus crucial to know who you want to connect with on a platform that hosts people from all walks of life looking for all types of engagements, interactions, products, and services.
Knowing who you aim to connect with allows you to tailor your engagements around their needs, demands, desires, and future expectations. Narrow down on the following factors to identify your target audience base.
Age and location
Language spoken
Ethnic and cultural background
Income and spending range
Product choices
Preferred services
Activities they involve in when free
Profession/career inclination
To better identify and reach out to your desired target audience, you can take the help of social media analytics. Google Analytics is a great example of such metrics. You also need to define your product/service's value and work on a target statement that clearly reflects such value. Follow tests based on various marketing tools like ads to better understand who or which segment of users is worth including in your target audience base.
Remember, unless you set a value for yourself and the business that defines what you want and who you want it from, even the best quality content might take a hit when garnering user attention. But just be cautious of overvaluation, too, so you hit the right balance between your goals and what users want.
2. Keep concise goals
Setting definite goals is a crucial step in ensuring your social media content rings right with your audience. It helps you identify what aims you precisely want to achieve for your business and also lays the groundwork for which the rest of the content strategy can be built on.
Start with clear goals you want to meet in set time frames, spanning across varied aspects of inclusive social media growth for your business. Some desirable goals to set for social media accomplishment can revolve around:
Growth of your audience
Strengthened customer relationship
Inclusive reader growth
Lead generation to drive sales
Offering innovative insights on existing ideas, products, and services
Addressing pain points of audience base
Improving social media reach
3. Strategize on your content calendar
A well-thought-out content calendar guides you throughout a set duration on the types of content you need to post, goals you need to achieve, frequency of posts, and such other growth metrics. You can make a defining and result-oriented social media strategy with the help of the following aesthetics:
Know the content consumption pattern of your target audience. These patterns can differ based on the ease of device use, the popularity of social media channels for the niche, and similar factors.
Ditch conventions when choosing a social media channel. While initially channels like Facebook were considered suitable for generic posts, platforms like LinkedIn were taken up more for conveying B2B messages. However, this divide is blurring fast, giving in to a new strategy that focuses on the number of users each channel garners. For instance, although unconventional, Pinterest is one of the most commonly used social media channels with huge popularity among creators and users. The channel also boasts of some social media image best practices that keep readers visually entertained and engaged.
Include topics and ideas in line with search trends that are popular in your industry. Your timing can be crucial when aiming to nail audience attention with trendy topics.
Create a periodic publishing plan spanning around a week, a month, a quarter, or even larger durations. This would ensure your audience knows at what frequency to receive your content. This also establishes a sense of brand consistency among them.
Use automation in posting content, so you or the team does not miss out on any strategy execution.
Lastly, make sure that you track results from time to time so you can restrategize a rectification or fill any gap.
Strategizing right on your content calendar can help use social media best practices to their maximum potential. For instance, if users in your industry niche are more interested in video content, you can leverage social media video best practices on platforms like YouTube to reach out to your target audience.
4. Engage meaningfully
Irrespective of how valuable your content is, it might miss out on securing a place in your audience's heart and mind if it lacks the necessary engagement. So, meaningful ENGAGEMENT is how you enrich the audience with a sense of inclusion that the human mind seeks to sense a belonging.
Getting into a relatable conversation with your audience and following through to the end can be a great way to do so. Other ways to improve value-based engagement include introducing posts of readers' interest, interacting with your community, addressing pain points, conducting polls, sending prompt responses and feedback, appreciating customer actions, etc.
5. Work on brand personality
Creating your brand's personality can be quite crucial to establishing your identity among your audience base. You can do it through posts that resonate with your brand's voice and identity.
Along with the business's name and logo, some aspects that help create brand personality include consistent visuals, color combinations, addressing perspectives, and image quality and size. It is also crucial that your team is thorough with this personality and interacts on social media in line with these ingrains.
Well, creating a brand personality and consistently adhering to it is one of the top social media best practices to nail your audience's interest and reciprocity.
6. Use influencer partnership
Social media's widespread use globally has led to the rise of influencers in almost all fields of user interest. The name is self-explanatory, and these personalities command a massive following across platforms, which can be tapped into for keeping your business's social media game on point.
Tying up and partnering with influencers in your niche can be an authentic source of social proof that users seek to validate brand value and reliability. Plus, the vast network of new users it exposes your business to help expand your social media reach as well.
7. Use thought leadership for authority and reliability
Social media exposes you to a clean slate where you can create your brand's value and garner trust among users through dedicated efforts. One of the sure-shot ways to earn the reliability of your target audience is to practice thought leadership.
You can choose any area of expertise that your brand can hold on to, upgrade with time, and align content with its theme. Make sure such expertise relates to your business niche and addresses your audience's interests and pain points. Posting content with innovative, groundbreaking ideas and solutions is among one of the proven ways to propagate thought leadership and earn authority.
Key Takeaways
The total global social media users add up to 4.48 billion presently, which is almost half of the total world population.
The growth of social media content is a slow, time-taking process and needs consistency.
The frequency and quality of activities and events were undertaken to connect and engage with the audience are known as social media presence.
The industry-wide penetration of social media usage means businesses absolutely need to include it in their content strategies.
A combination of social media tools, networks, and content qualities defines how a business uses social media for its niche.
Audience identification is the key to connecting right on social media.
Creating goals and content strategies contributes to timely and disciplined success.
Meaningful engagement helps imbibe inclusivity among the audience base.
Business identity and voice define the brand's personality.
Social media best practices like influencer partnership and thought leadership could help reach users far and deep digitally.
In keeping up with all these social media best practices, you might as well be tempted to push promotions through nudges like ads and pitches. But, it is essential to keep your strategies value-oriented, aesthetically rich, and aimed at serving the audience base instead of improving sales for your brand to gain the desired digital and real-world hold. And, of course, measuring your strategy with the right social media metrics can lend insight into whether using these practices has been fruitful enough and if you need corrections for a better outlook.
FAQs
1.

What should be the ideal frequency of posts on social media?
The ideal frequency of social media posts depends on your audience's consumption habits and the channel you use. With a shortening attention span of users, daily and weekly posting targets can be great.
2.

What are the common tools used for marketing on social media?
Tools like Google Docs, Photoshop, and Adobe Spark can be great resources as tools for social media marketing.
3.

How are ad targets and post targets different on social media?
Ads are paid and aimed at user segments targeted outside your follower base, while a regular social media post aims to reach your follower base organically.
4.

Should you include YouTube in your social media channels for periodic posting?
YouTube has the second largest popularity for information search today after Google. It exposes you to a specific user range, making it a must-have in your periodic posting channels.
5.

What are the top social media metrics to measure performance?
The top metrics you can use to measure social media performance are follower base, engagement, organic traffic, referral traffic, and overall brand impression.