Marketing
The Small Business Owner's Guide to Mastering Social Media Advertising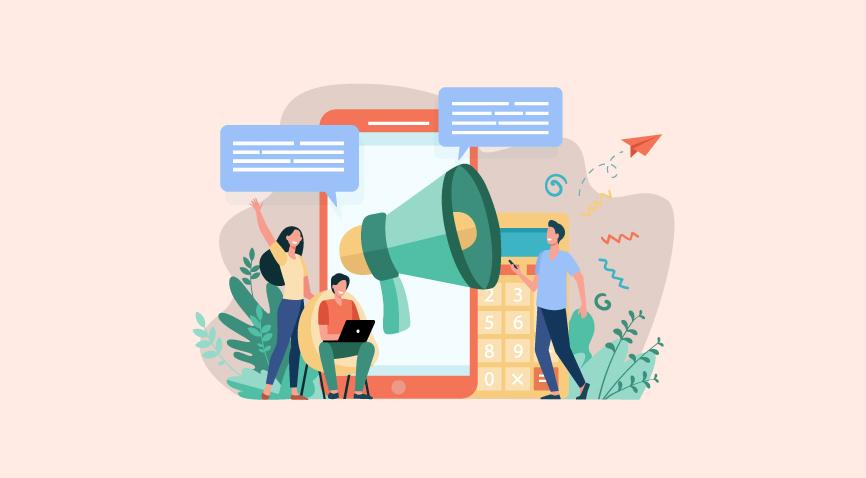 Table of Contents
Why is Social Media Marketing Important for Your business?
What Is the Best Platform for You?
Tips and Tricks with Examples

Planning
Research on your target audience
Choose the best platform
Expand the target audience
Follow the trends
Social media tools

Conclusion
Key Takeaways
FAQs
Social media is the new one-stop-shop for consumers today. Modern-day customers spend more time browsing social media than watching television.
Even a small business needs to work on having a strong social media presence to engage with its customers and grow in terms of sales.
Every business needs to devise good marketing strategies and master social media advertising. Try to build brand awareness, connect and engage with customers, and directly sell your items or services through social media platforms to a targeted audience.
This article will detail everything you need to know about mastering social media for small businesses.
Why is Social Media Marketing Important for Your business?
Advertising via social media is a very powerful marketing strategy in 2021 as with modern-day tools, you can easily target specific audiences based on their needs and requirements. This helps you get a much higher conversion rate than you'd normally get.
Seeing the dependency and presence of almost every consumer on social media platforms makes it easy for businesses to reach out to them, and showcase their products.
Moreover, it also reduces the time and investment a small business needs to make in conventional advertising with hoardings or pamphlets.
Until now, mostly large businesses ensured that they have a strong social game. However, at present, even small businesses have stepped their game up and started following the path to social advertising.
If you want your business to survive, you will surely need a strong social media marketing strategy in place.
There are many social media platforms out there, but not every platform can deliver the desired results. This guide will help you get started with social media advertising for small businesses.
What is the Best Platform for You?
Numerous social media platforms are floating around, but it can be overwhelming to choose the ideal one for your business.
But before anything, you must consider the platforms where your target audience is spending their maximum time, and thereafter, get started with devising effective social media marketing for small businesses.
You must consider checking the statistics of each platform and analyze how customers interact with the platform. Only then, you can make a thorough plan, and work towards your social media advertising goals.
But, remember that content shared on each social media platform may be different from the other. So, it's possible that the more platforms you're active on, the more work your marketing team has cut out for itself. Therefore, pick the top 2-3 platforms initially and be active on them.
Tips and Tricks with Examples
To be honest, it is not a very straightforward process. You will have to go through a lot of trial and error before mastering your social media advertising game.
Your social media strategies can have a huge impact on your brand's reputation. Facebook and Instagram work great for all types of businesses and are some of the most popular social media platforms on which many businesses depend.
Here are some essential tips and tricks that you must follow for a positive social media presence on any platform.
1. Planning
Planning is the first and foremost step in any business as it gives a vision and shows the right path to achieve your goals.
Take time out to create a good social media plan so that all your efforts give you a high ROI.
Starting a Facebook or an Instagram page isn't rocket science, but only correct planning and strategy can help you achieve your goals after launching the page.
The goals you set must be tangible, achievable, appropriate, and convenient. For example, there is no point in achieving millions of likes on your post when you are not able to get good enough conversions or a customer base.
Do a thorough competitive analysis of your competitors in the market to reduce your learning curve. Learn what needs to be done and what needs to be avoided. For instance, if you are a clothing brand, look for other competitive clothing brands on social media and see how they interact and advertise.
Get some inspiration from other brands by reading their success stories and case studies.
Set up a social media calendar so that you know when to post the relevant content on the appropriate social media channels.
The content you write must contain 80% information to inform and entertain the audience, and 20% promotional stuff for your brand.
2. Research about your target audience
To effectively make a social media presence, do thorough research about your audience. You must know how your audience is and from whom they are buying and interacting.
Look for the trending hashtags, referral sites, etc. Make use of social listening tools to analyze conversations happening in your industry.
For example, if you find your target audience is more interested in a particular brand or item, focus your research on it and see if you can do something similar or better to grab their eyeballs.
Pro Tip: You can always go the extra mile by conducting first-hand consumer surveys online or offline to understand the preferences of your audience. It makes people feel cared for and will also help you craft their entire social media experience.
3. Choose the best platform
There is no guesswork when it comes to social media marketing. Be very sure before you invest your time and money.
You might target TikTok and shift your focus there, but as per actual data, Instagram and Facebook are doing better.
If your brand deals with items that will lure the 60+ year population, then Facebook must be the target because Facebook is seeing increasing sign-ups from people above the age of 60 years.
Check how specific audiences spend their time on social media and which platforms are being preferred by them. For instance, Twitter can be good for customer service whereas Facebook can be ideal for generating leads.
4. Expand the target audience
Once you have decided on a platform and determined your target audience, recheck your social media marketing plan and determine the ways to connect with them.
You can now expand the audience for your small business by using some tools wherein you will get to know if your business names crop up in a conversation or not. It will help you get more consumers in your geographical area. More on listening tools are below.
5. Follow the trends
It is very critical to be aware of the social media trends as they keep changing from time to time. For instance, if you are an insurance brand, then the trends in the sector must have undergone a sea change during the pandemic.
Due to COVID-19, there has been a huge change in insurance policies for life and health and it also became a hot topic of research.
So, keep up with the trends about your business on social media platforms.
6. Quality over quantity
Even if your business is small, quality will always win over quantity.
It is essential to create good quality content on the main social platforms rather than working on making a digital presence on every social media platform available.
Do not overstretch, just focus on a few to generate quality content.
7. Social media tools
There are several social media management tools that small businesses can use to keep everything on one dashboard.
This will also ensure fast and easy monitoring and reporting. Make use of graphics, analytics, and content curation to provide value to your consumers and keep them engaged.
Here's a list of useful social media management tools that will help you stay ahead of your game:
Sprout Social – It helps you manage all your social media platforms in one place. You can create, schedule, and post updates on all platforms along with strong analytics support.
Canva: It's one of the best free design tools for amateur social media managers. With thousands of free design templates, you can easily create posts, stories, and even videos for your social media handles.
Mention: It's a powerful social media listening tool that tracks all the conversations happening around your brand on social media. Listen in and respond accordingly!
Conclusion
In this article, we have discussed everything related to social media for small businesses and what you need to kickstart your social journey.
Follow these steps to stay ahead of the competition and to make a mark in the digital world. Start with small and do not target every platform out there!
Everything depends on your budget and business requirements. Look for a platform that serves the purpose and invest there.
Be choosy about where and how you invest. Small businesses have small budgets, so do not go overboard just to be seen online. Also, learn how social media functions.
Your aim should be to get maximum conversions, and not maximum likes.
Key Takeaways
Social media for small businesses is becoming a non-negotiable part of their marketing strategy.
Planning is the key to success in social media marketing. This includes setting meaningful and achievable goals, researching other brands and competitors, and chalking out your social media plan.
Research on your target audience, their interests, demographics, and online activity to tailor your marketing efforts.
Select an appropriate platform and look for ways to further expand your target market online.
Always pick quality over quantity when it comes to social media marketing for small businesses.
Leverage the best social media tools for beginners to aid your marketing efforts online.
FAQs
1. How does social media help small businesses?
Social media can give the initial push to small businesses by providing you with an easily accessible and expanded target market. It also helps in enhancing the credibility of your business, as people nowadays trust social media presence over mere brick-and-mortar stores. Moreover, social media marketing is much more cost-effective when compared to traditional marketing channels.
2. How can I promote my business on social media for free?
The two major success factors on social media are content and consistency. Create meaningful content, keeping the right target audience in mind with the sole intention to help. More importantly, be consistent on social media and be active with regard to your response to followers. The more frequently your followers see you online, the higher will be the visibility and recall of your brand.
3. Which social media platform should a small business use?
It largely depends on your business offering. For B2C businesses, Instagram and Facebook can be good platforms, to begin with. On the other hand, B2B businesses see the best social media engagement on platforms like LinkedIn and Twitter.
4. How can you do social media marketing for local businesses?
First, chalk out a comprehensive social media plan that fits well with your overall business goals. Specify your budget for social media and invest in social media management tools that will save your time and effort. Next, study every platform well, research content best practices, and do competitor analysis. Now create your first few campaigns, post them, and analyze what works best. Improvise as you move on.
5. What are the best practices of social media management for small businesses?
Initially, you should always aim for organic reach instead of hacks/backdoor tactics. As you create more and more content, focus on cross-platform promotion and get traffic from your website/personal channels. You can give an early boost to your posts by having your team engage with the content you post. Finally, be consistent and show up regularly – this always works, we promise!
6. How much time do you need to spend on social media marketing for small businesses?
There's no hard and fast rule to determine the frequency of social media updates or the time spent. But as a common best practice, try to post at least 2-3 times a week to begin with. Apart from that, spend an hour or two every day, monitoring the conversations happening around your brand. This will help you create better engagement at the initial stage of your social media journey.
7. How can you start learning more about social media marketing?
You can begin by enrolling in free courses on online learning platforms like Coursera and EdX. Follow blogs like HubSpot, Social Media Explore, Small Business Trends, and so on, to keep abreast of the new developments in the field. You can also analyze the social media handles of your competitors or popular brands to pick ideas. Finally, you'll only learn the best by actually doing it.