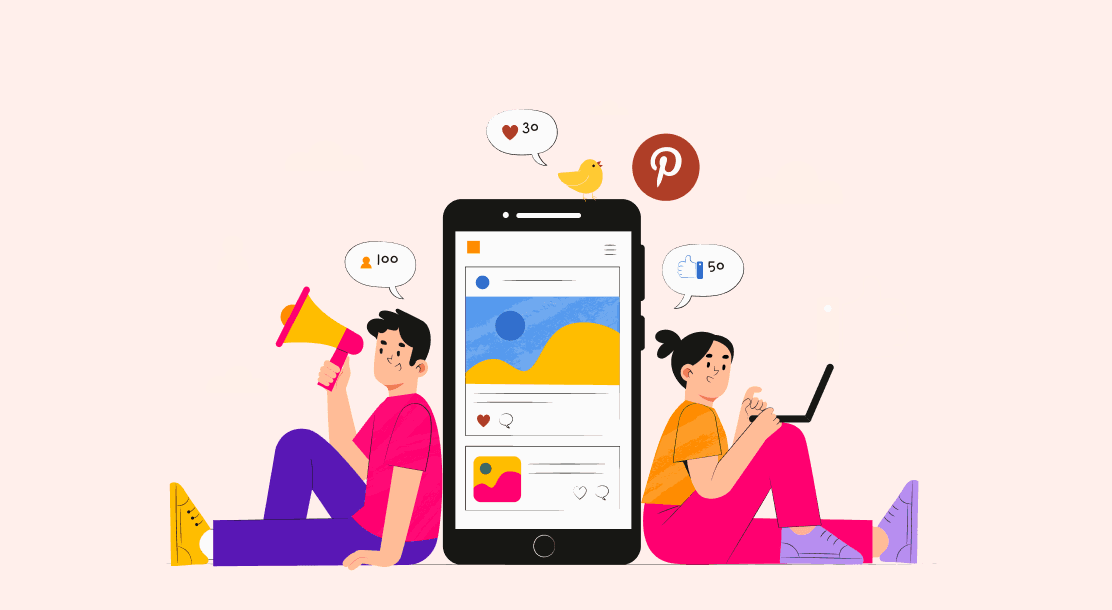 Looking for interesting Pinterest statistics? Check out this article where we have published 20 of the best Pinterest statistics for 2022.
​​
Pinterest is a valuable marketing tool even though it lacks Instagram's excitement and large user base. A unique demographic and high spending user base makes Pinterest stand out in the online marketplace.
While Pinterest isn't the most popular social media platform globally, its potential for marketers is undeniable. You can find thousands of images and videos on the so-called visual discovery engine, which attracts users from all over the globe looking for inspiration. This makes Pinterest an ideal platform for showcasing your products.
Knowing as much as you can about Pinterest and its users is essential to get the most out of it. Understanding Pinterest statistics for marketing your brand is a great way to show off what you have to offer. Provide your audience with answers or inspiration with this platform.
Insights from most recent Pinterest statistics show how customers and marketers are using the social media platform, and they may influence your marketing approach.
The Latest Pinterest Statistics for Marketing
1. Pinterest user statistics
According to the latest Pinterest stats and facts, Pinterest is the 14th most popular social networking site worldwide.
According to the company's recent investor earnings report in January 2022, Pinterest had 431 million monthly active users globally. And as per these statistics, 7% of all users aged 13 and older worldwide now use Pinterest.
According to the Pinterest user stats, with 459 million monthly active users in February 2021, Pinterest had its most significant year growth (up 37% year over year). But as per the latest Pinterest stats, there was a 6% drop in February 2022.
2. The annual growth rate of Pinterest's user base fell to 3.1%
In 2021, Pinterest's yearly user base growth rate fell to 3.1%. (down from 7.8 % in 2020). The last two years aren't the most significant indicator of "normal" social media growth. In terms of growth, Pinterest's 3.1% rate is in line with comparable networks such as Instagram's 3.7% growth.
3. Pinterest's monthly US user base fell 12% in 2021
Monthly active users dropped from 98 million to 86 million during Pinterest's Q4 2021, with most reduction occurring in the United States. There was a decline in global monthly numbers, with just 346 million active users worldwide—a decrease from 361 million users in 2020. That's a 4% drop in the bucket.
4. Pinterest has the highest user overlapping with Instagram
A whopping 86.2% of Pinterest users also use the photo-sharing app Instagram. Thus, Instagram is the social media network where Pinterest and its users have the most in common. Facebook follows closely behind at 82.7 %, followed by Youtube at 79.8 %.
5. 82% of Pinterest users access the site through mobile
Since at least 2018, the percentage of mobile users on the platform has been over 80%.
6. Pinterest audience demographics
Gender demographics are a critical Pinterest fact to keep in mind. As of January 2022, according to Pinterest's advertising audience statistics:
More than 76% of Pinterest's worldwide users are female
Males make up 15.3% of Pinterest's worldwide users
8.0 % of Pinterest's worldwide users are of 'unspecified' gender
In addition to being the majority of Pinterest users, female users are also the most active, with just 7% of all pins coming from men.
7. Pinterest geography demographics
Pinterest users in the United States outnumber those in any other country. 42.81 % of Pinterest users in the US use Pinterest, compared to 8.35 % in Brazil, 3.82 % in India, 2.57 % in China, and 2.07 % in Argentina.
8. Age bracket Pinterest users
Pinterest statistics from January 2022 showed that advertisers could target the following global audiences with advertisements:
About 18.6% of Pinterest's overall advertising audience or 42 million users are 18 to 24.
36.5% of Pinterest's ad audience users are between 25 and 34.
Approximately 15.8% of Pinterest's entire ad audience users are aged 35 to 44.
Pinterest has 19.2 million users in the age group between 45 and-54-year-old (8.5% of the overall ad audience).
9. Reasons why people use Pinterest
Pinterest's popularity stems from various factors, including what users use it for. Statistically:
49% of Pinterest users are there to be entertained.
85% of Pinners say they use the site to plan new projects.
Many Pinners are planners who utilize the social networking platform to start a project.
Other reasons why users use Pinterest:
Building more robust professional networks.
Sharing information with friends and family.
Most individuals who use Pinterest do so to make purchases.
10. Pinterest's impact on purchasing
Unquestionably, Pinterest has a significant impact on consumers' purchase choices. A compelling Pinterest buying statistic may help persuade your decision.
Most Pinners seek inspiration and fresh ideas, as seen by the large volume of unbranded searches.
Pinterest users are 55% more likely to buy a product after seeing a picture or video.
90% of Pinners have tried new items they found on Pinterest.
Pinterest has a specific page for companies wishing to promote on the site, where they give advice and ideas.
11. Pinterest business stats
With Pinterest, 90% of users are more likely to say they shop, and 30% are more likely to say they love shopping than other social media users.
Even if shoppers don't directly purchase from Pinterest, the platform is now vital in the buyer's journey. Unknown consumers might be won over by a tailored digital store window and a personalized experience.
12. Pinterest traffic stats
Advertisers on Pinterest may reach over 200 million people. Pinterest's advertising reached 169 million in January 2020 to 226 million in January 2022. It has expanded its ad targeting portfolio to new nations, contributing to the growth.
13. Almost one billion videos are seen on Pinterest every day
Many people equate Pinterest with images, but videos are a fast-growing area too. Pinterest Premiere ad packages were developed to assist the company's growth and designed to increase the targeting and reach of video ads.
14. Pinterest traffic sources
Pinterest generates 32.52% organic search traffic. It received 1.48% of its traffic from Amazon and Etsy. Most Pinterest users come directly to the site for inspiration or to purchase things.
15. 97% Of top Pinterest searches are unbranded
Pinners are receptive to new items and ideas. Between October 2021 and January 2022, Pinterest ads reached 226 million users.
16. Pinterest business stats
52% of US companies and 35% of UK firms use Pinterest. Corporates have adopted Pinterest as a terrific way to reach specific consumers. Brands get more referral traffic from this platform than any other social media channel.
17. Pinterest's online baskets are huge
Pinterest users buy 85% more than average consumers and spend twice as much each month. 'Slideshow for Collections' created by Pinterest helps and instantly makes an eye-catching collection ad.
18. 38% of pinners possess a college degree
While 28% of US people use Pinterest, 38% have a college degree or have completed some college education. This compares to just 20% on Snapchat, 32% on Twitter, and 15% on Reddit.
19. Pinterest pin stats
Pinterest has nearly 200 billion saved pins, and two-thirds of these pins are brand or product-related, with 1.7 billion recipe-related. 99% of pins are images, just 0.3% are videos, and over 14 million articles get posted daily.
20. Purchases from try-on enabled pins are 5x more probable
Try-On for Home Decor and Lipstick are some of Pinterest's augmented reality applications. A user is five times more likely to buy anything if they can test it in AR.
Benefits of Using Pinterest in Your Marketing Strategy
Engage your audience
Any social media marketing plan should include ways to connect with consumers. Find and communicate with prospective consumers on Pinterest. You may remark on their pins or establish boards to republish other users' pins. Customer loyalty may arise as a result of this involvement.
Boost content
Consider posting your information on Pinterest as an easy and efficient method to distribute it on social media. The social network is fantastic for generating readership and marketing business blogs.
Generate traffic
Pinterest is an excellent method to generate visitors to your website, mainly if you sell actual goods. You may use pins to send readers to a particular landing page on your website to advertise your goods and services.
Make your brand more human
Your consumers can see the genuine you when you use Pinterest to sell yourself. You may have fun with Pinterest by showcasing customer pins and sharing blog material. The use of social media platforms like Pinterest to advertise your business can help you attract more customers.
Convert clients
Many Pinterest users use the site to find and bookmark things they like. They may pin products they want to buy on their boards. Pinterest is, therefore, a valuable social media marketing tool.
Conclusion
Pinterest's statistics show that it's here to stay regarding social purchasing. It is still a desirable social media platform for marketers because of its enormous, engaged, and constantly expanding user base of consumers eager to learn about new items.
To increase your brand's online social media presence, you must take advantage of Pinterest. This is a great way to get the right audience interested in your products by showcasing them to the appropriate people.
FAQs
1. What is Pinterest mostly used for?
About two-thirds of Pinterest's active users use the platform to find ideas, services, and products they can trust. Unlike other social media platforms that are used for entertainment, most users use Pinterest to look for something.

2. Where in the world is Pinterest most popular?
Pinterest is most popular in the United States.