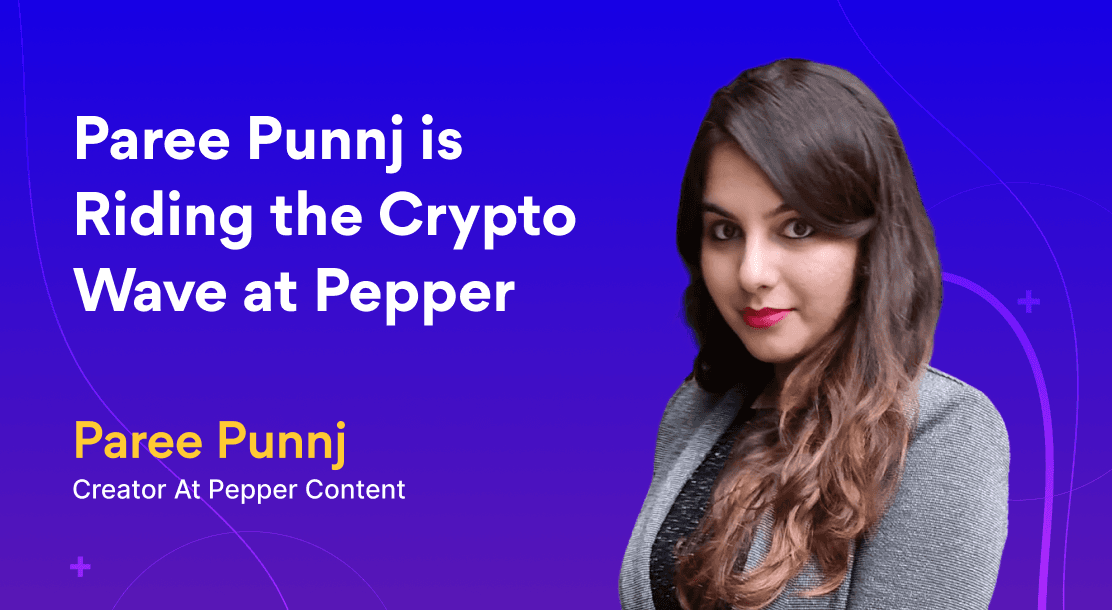 At a time when there is much ambiguity around how cryptocurrencies work, Paree Punnj, CA and crypto expert, creates winning content in the niche for Pepper.
A qualified chartered accountant, Paree first moonlighted as a finance writer while working in an auditing firm. Soon, she started exploring other fields of writing, such as BFSI and cryptocurrencies. Fast-forward to now, she is one of the A-level crypto writers at Pepper.
"I'm an avid reader, and I used to write a lot of poetry and short stories earlier. I delved into the content writing space when I started reading nonfiction,"
Leaping Into the World of Crypto
When she was writing about finance, Paree noticed the impact of cryptocurrencies on the finance ecosystem. "I first explored crypto with the intention of investing. I also wanted to understand what was causing the hype around this industry," Paree adds.
Paree's strong grip on financial concepts made it slightly easier for her to get accustomed to the decentralized system. She spent a lot of time reading about its evolution and the current developments in the field.
"I was able to pick up and comprehend complex concepts, such as blockchain, cryptocurrencies, and investments easily,"
Only a few months into her newfound interest, she also landed a few writing gigs in the crypto space. Writing on cryptocurrencies deepened her knowledge of the field.
Developments in the Space
According to Paree, the crypto market has been growing by leaps and bounds. New products are hitting the market almost every day. Concepts such as decentralized apps and non-fungible tokens (NFT) are still fairly new.
"Since the space isn't regulated, it has also caught the eye of the government. Taxes on crypto gains were a major highlight of budget 2022. It still hasn't been legalized, but such acknowledgment is a major step."
Reflecting on the future of cryptocurrencies, Paree believes it is here to stay. She thinks we have barely scratched the surface of what can be done in that space. "The recent crash in the crypto market might dissuade investors. But it is characteristic of any financial instrument," she explains.
Content as a Pillar for the Crypto Industry
Paree discusses how content has helped spread awareness about the crypto space. Good content has proven to be vital for educating people about the benefits and dangers of crypto as a financial instrument. Content helps in bridging the existing knowledge gap prevalent around concepts like Web 3.0 and the metaverse.
Paree is optimistic about the future of crypto. She highlights that even though the market enthusiasm is low right now, people shouldn't give up on this space. Just like any other financial instrument, it will undergo highs and lows to eventually stabilize itself.
"Crypto should no longer be considered a trend that will pass. It is here to stay. The earlier the brands, as well as creators, adapt to new technologies, the more relevant they will be in the coming times," Paree ponders over the relevance of crypto.
Working With Pepper
Paree has been working with Pepper for several months now. In her short stint as a crypto expert writer, she has worked with some of the largest Bitcoin investment apps and toolkits.
She likes the thorough briefs given to creators, as well as the well-documented answers to every question writers may ask the client. "Pepper manages the grunt work, so writers can focus on what they do best, i.e., create content," says Paree.
Her Writing Process
Paree devotes a large amount of time to research. She goes through at least two search pages on Google to get a good understanding of the topic. She has joined several discord servers, such as Ethereum Group and Polygon Blockchain, to get the pulse of the crypto market.
"If you're writing about crypto, you may often find ten other things you don't currently understand. So, you have to refer to multiple sources and structure all the research in your mind before writing," Paree explains.
She pays special attention to SEO and readability. In her work, she elaborates on complex terms and makes it a point to link to trusted sources while writing explainers. This practice helps drive website traffic and helps readers trust the client.
Message to Fellow Writers
Paree believes that content has a lot of scope in the crypto market. Most information about the technology is highly scattered and unstructured. So, engaging and informative content is the only thing that can bridge the gap. Paree suggests resources like Binance Academy, The Motley Fool, CoinDesk, and CoinMarketCap for newbies to start learning crypto from scratch.
We help creators like Paree explore their growing interests in emerging technologies. Pepper is bringing together a talented bunch of creators in the crypto space to make a huge impact. If you are a crypto nerd who enjoys writing, Pepper might be your next destination!