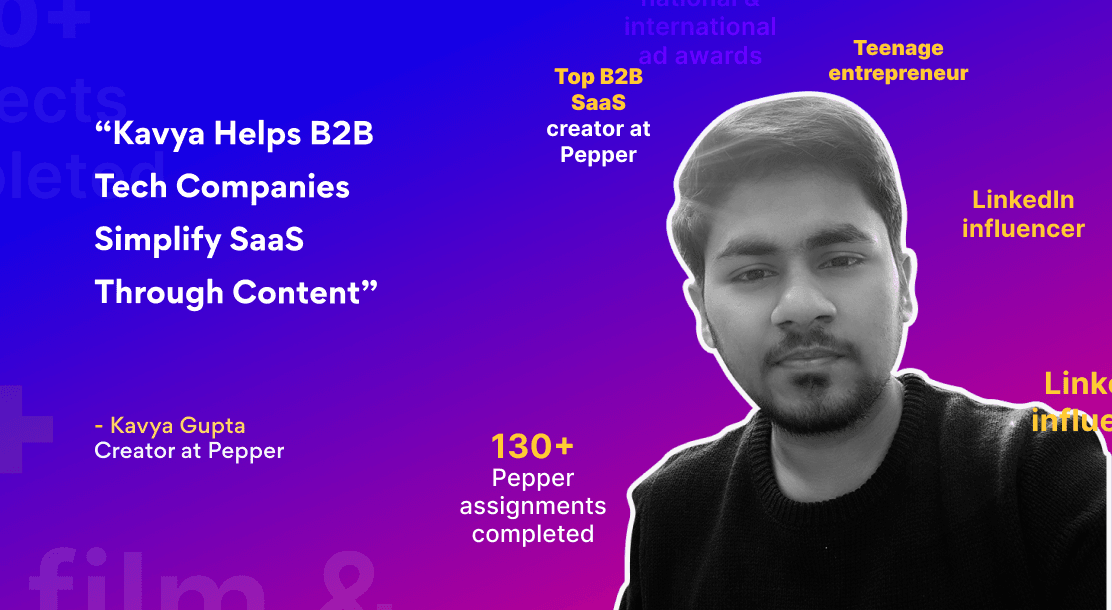 We shed light on Kavya Gupta's story, a SaaS content writer skilled in product and marketing content for B2B brands.
Kavya is an adept B2B technology writer for fast-growing SaaS clients at Pepper Content. He also worked as a growth marketer with a tech startup in the revenue optimization space. His avid interest in product and marketing led him to pursue an MBA. However, his passion for writing resurfaced when he saw people sharing impactful content on LinkedIn.
"I observed that content shared on such platforms was valuable for the readers. That's when I decided to give writing a shot. I have been working in this space for over 1.5 years now. I wanted to write for the industry I am keen on working in later. So, I niched down to the B2B tech field."
Learning and Growing as a Freelancer
Kavya plans to further his B2B content writing career and explore new industries such as Fintech and Edtech. According to Kavya, you must keep learning new things and pick up essential skills to succeed as a freelancer.
SaaS content writing was relatively new to Kavya when he started freelancing.
"In a company, you may get content support from others. But when you're freelancing, you have to own up to every facet of the process–from research, writing, and even editing. Client briefs help a lot because experienced marketers often write them. I always analyze content briefs keenly to get insights."
Kavya follows industry experts to keep himself in the loop with everything happening in the SaaS space. Aswin Arya, Ankur Warikoo, Kunal Shah, and Vaibhav Sisinty are some thought leaders he admires.
"For marketing enthusiasts, there's enough content in every format online, like videos and articles, to learn from. You can also take inspiration from popular brands marketing their services and products."
Kavya's Journey With Pepper Content
He has worked with several well-known startups and MNCs in the Indian B2B SaaS space on content projects. His assignments have always been of top-notch quality, and he received good feedback consistently from his clients.
Fueling His Passion for the Startup Scenario
Owing to his formal education in Business Management, Kavya has always been long on the Indian startup scene. During his BBA, he founded a startup, 'T2Innovator', to help small business owners in bridging the gap between small business and technology.
"I hail from a small town in Uttar Pradesh, so I connected with the problem statement a lot."
ISBLabs later incubated his startup after his team won a business case competition. Some time down the line, Kavya also started his LinkedIn page called JobsHunt. The idea was to connect high-potential job seekers with HRs in high-growth companies. "We also helped people optimize their profile and find better roles for themselves through LinkedIn", Kavya adds.
How Content Helps SaaS Businesses
According to Kavya,  Content has the power to Bring personality to your brand, build trust, and boost revenue. It is easier to grasp the goal of your brand if your content is written by a thought leader who deeply understands the issues your customers face, educates your audience, understand the data points in your industry, and foresees future trends. It will help you build credibility in your industry, engage and win over your audience's trust, and provide a ton of value and greater ROI
The Know-Hows of Writing Good SAAS Content
Before starting any content project, Kavya likes to meditate upon the pain points and the reader's perspective. He relies on extensive research, including company and competitor analysis, to gather data on any topic.
Next, Kavya focuses on the overall format and structure of the content piece. He outlines the entire article to cover all the information and data he wants to mention.
"I spend the longest on the first paragraph of the article. If that doesn't leave a mark, readers won't move ahead."
Going above and beyond, Kavya also optimizes his content with visual elements. He strongly advocates using infographics, charts, images, etc., in content to make it more readable.
Future and Scope of SaaS Content Writing
Kavya feels content is moving up fast among other business priorities. Content is becoming indispensable for every industry. He believes that a major chunk of the revenue for B2B companies goes to content marketing across various channels.
Kavya reflects that the digital boom will accelerate the growth of the SaaS content writing field. He emphasizes that content distribution is now free and accessible to all, irrespective of social and financial bounds.
"Over 700 million people in India have smartphones today, and they are consuming content every day."
His Message to Aspiring SaaS Writers
Kavya advises newbie SaaS writers to start writing on social channels like LinkedIn and freelance platforms like Pepper Content. He believes writers should aim at conveying unique and original thoughts instead of opting for shortcuts.
"It's alright not to have a niche when starting. Focus on exploring diverse fields and finding out what works the best for you. Don't wait for heavy setups and investments. Just start."
Creators like Kavya are making SaaS knowledge more accessible through mold-breaking content. We have a skilled community of B2B technology writers who help tech companies communicate effectively with their audience. If you're a tech junky-cum-writer, join us as a tech content creator today and work with emerging brands!