Content Creators
Gayathri Jayan Helps Create Meaningful Brand Experiences in Malayalam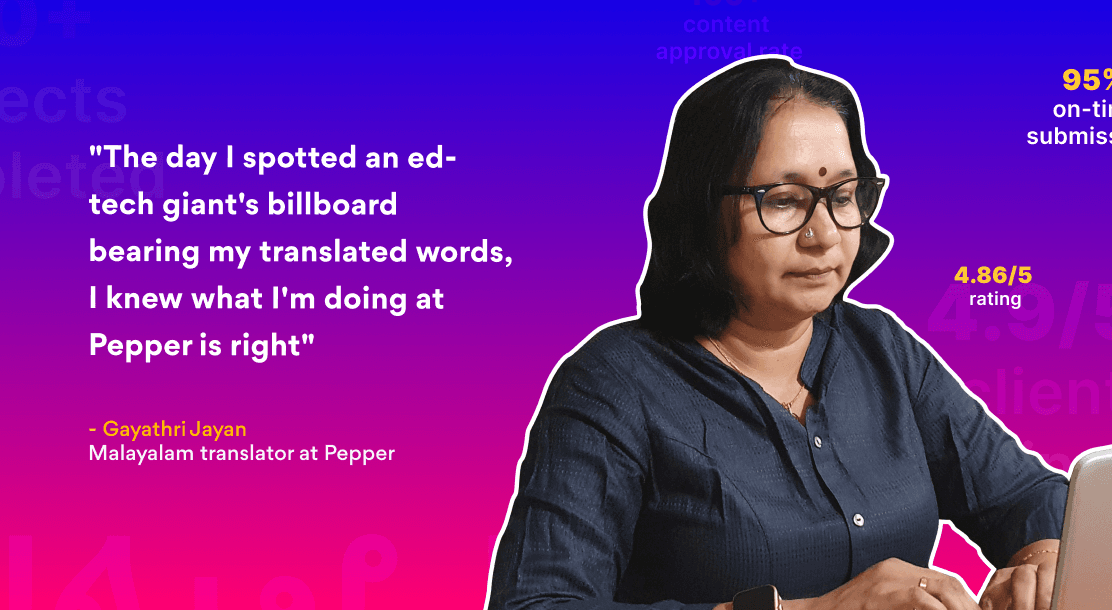 Gayathri Jayan brings years of expertise in English-to-Malayalam translation to help brands localize their marketing efforts with Pepper.
Gayathri is a Malayalam translator, with over five years of experience in the field. She completed her BA honors in Malayalam, which helps her understand the language well.
I also studied law, but couldn't continue due to household responsibilities. Freelancing gave me an opportunity to kickstart my career. The demand for vernacular translators in India is increasing rapidly. So, I got a steady stream of work as well as a regular income."
Nurturing Her Interest in Translation
After marriage, Gayathri got busy managing the household. But she spent whatever little time she found doing things she loved, such as reading and writing.
"One day, I saw a job post on Facebook by a pregnancy and parenting magazine. The work seemed interesting and manageable, so I applied. I started my career with the magazine as a Malayalam writer and translator. I got enough time to work as well as look after my little son."
Following this, she started looking for other translation opportunities. "The more I explored the field, the more I realized it was the right career path for me," she adds.
Crossing Initial Hurdles as a Budding Translator
Although the translation industry is thriving, Gayathri feels that freelance translators face several challenges when starting out.
"It was difficult to find a trustworthy client or agency for translation work initially. Getting paid on time was another challenge,"
Gayathri sailed through these challenges and also picked up some important learnings along the way. She has developed a strict vetting process for all the clients and agencies she works with.
"Now, I check LinkedIn and review sites before collaborating with new clients. I also speak to other translators to get more reliable information."
The Need for Content Localization
Gayathri feels that literal translation alone is insufficient to connect with native Malayalam speakers. Retaining its context, tone, and essence is crucial, which makes localization a necessity. Not to mention, AI translation distorts the colloquial meaning of certain words.
She was born and brought up in a culturally rich village. This enabled her to dive deeper into the language and how it impacted the community. "I try to write in a manner that common Malayalam speakers easily understand," she comments on her approach to translation.
Gayathri discusses how her translation style differs according to the client she's working for. Some industries may require you to do a literal translation, but marketing communication is usually simple, concise, and easy to understand.
Gayathri has several clients in the food-tech and ed-tech spaces. "One project required me to mention the word "khichdi," a dish popular in North India. But Malayalis are not too familiar with this word. So, I had to find a similar word that conveyed the meaning effectively," Gayathri says, explaining how cultural differences come into play in translation.
Why Translation Is Integral to Marketing
According to Gayathri, the market for Malayalam translation is vast, especially in Kerala. In urban cities, people may consume content in English. But Malayalis in local regions have a strong preference for content in their own language.
"It's pretty instinctive for native people to read content in Malayalam first,"
It means there is great scope for marketers to tune into this demographic's needs by creating localized content in Malayalam. 
Translating for Pepper
Gayathri's journey with Pepper began in November 2020.
Gayathri once translated content for an ed-tech giant with us.
The Intricacies of Malayalam Translation
According to Gayathri, translating content from English to Malayalam can be a challenge.
"There are not many specific words in Malayalam. In other native languages like Tamil, there are words for everything, such as mobile phones, newspapers, etc. As a result, Malayalam writers have to use English words to describe certain things."
With years of experience under her belt, Gayathri has nearly perfected the art of English-to-Malayalam translation. She understands the complexities embedded in the language, and knows how to work her way around them.
"I always fall back on research. I check similar languages like Tamil, and some authentic Malayalam sources to ensure I'm translating correctly,"
Her Message to New Translators
Gayathri feels it's important to imbibe the habit of reading and writing to excel in this field. Reading helps you get familiar with the intricacies of any vernacular language. She thinks it's a good way to produce quality work and avoid literal translation.
"If you like to read, write, and learn new things, you will thrive in this field. Always strive to understand the business you're writing for and its target audience. This will help you create better experiences,"
Creators like Gayathri help us amplify our efforts to introduce the next wave of content localization into the industry. Our clients have utilized their expertise in native languages to connect with their customers better. If you're someone with a deep interest in writing and a good hold on any native language, join our creator community today.