Marketing
5 Paid Content Distribution Strategies to Explore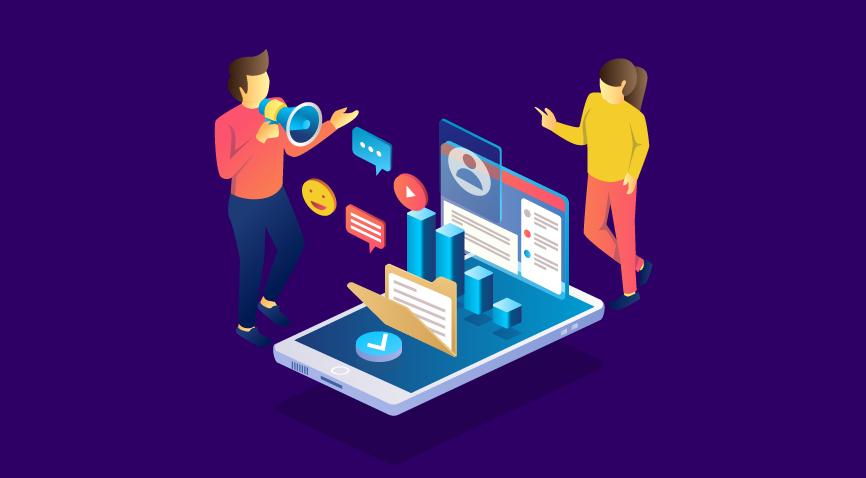 Get your content distribution on point with these paid content distribution strategies.
Once you create a blog, a video, or any other form of content, what comes next is distributing it to interested audiences. Now, to distribute content, you need a distribution strategy. A content distribution strategy is the means through which you circulate your content to internet audiences. It is primarily divided into paid, owned, and earned strategies.
Defining Content Distribution
Content distribution is a vital component of any digital marketing plan, since it attracts and nurtures followers, and motivates your target audience to purchase your products or services. Properly distributing your information may result in more social shares, increased traffic to your website, and more engagement throughout your social networks.
It's not enough to develop outstanding content. You need to make sure it reaches the right people. And one of the most effective ways to do so is through paid content distribution.
Paid Content Distribution
Paid distribution refers to any third-party channel you pay to display your material to viewers. Simply put, paid content distribution is the distribution and exposure you have paid for. Paid search, social media campaigns, display adverts, sponsored content, and content discovery systems such as Outbrain are examples of this.
Owned media is material you produce and control, such as your Facebook page or website; earned media is content created about you by others, such as reviews or Instagram posts. Paid content distribution is classified into three types:
Sponsored or branded posts that display alongside the publisher's content are referred to as native advertising.
Social media and search advertisements: these are ads in which the social media platform or search engine is in charge of delivering material to a specific audience.
Online display ads, in which a third party oversees distribution to proprietary audiences on a website
Paid distribution buttons are frequently seen at the bottom of publisher websites. These links can range from clickbait pieces like "The Secret Food That Makes This 80-Yr-Old Look 20" to specialist white papers and reports from trustworthy sources. Because these paid advertising channels require advertisers to compete through ad auctions, they are often best suited for well-targeted campaigns.
Even the most effective earned and owned content distribution growth plans will ultimately reach a stalemate. Paid distribution allows you to reach audiences you haven't previously been able to reach. Once you've found that untapped audience, you may include them in your existing owned content activities.
Paid distribution is the media distribution's equivalent of cold calling. The audience you reach through paid content distribution is ice cold, so work on warming them up before launching into a full-blown sales pitch. The audience you reach through sponsored distribution is ice-cold, so work on warming them up before launching into the heated sales pitch.
5 Key Paid Content Distribution Strategies
Here are some of the most effective paid content distribution strategies you can use.
1. Quora Ads
Quora can be a grout source of traffic for businesses. It has evolved as a go-to resource for individuals seeking help while they assess solutions, courtesy of the sea of expert opinions they can find here. Plus, it helps that all the posts are in an easily digestible Q&A format.
With millions of questions and answers added to Quora every month, the platform can produce highly engaged and high-quality audiences. To get started, you must decide on a goal—it could be anything from lead generation to conversions. Post that, create a budget and figure out who your target audience is. Once this is done, you are all set to create your ad. Make sure to keep the ad copy as crisp and concise as possible.
2. Instagram paid ads
Instagram is the second most downloaded free app in the Apple app store (Source: Apple)
With a billion monthly active users and 500 million daily active users, Instagram is the world's third most popular social media site.
So, if done wisely, your paid advertising strategy for Instagram won't go in vain. But how does paid advertising on Instagram work? Instagram lets you decide on your target audience and a budget, and convert your posts into ads. If you plan on launching a bigger, more advanced ad campaign, you can use the Ads Manager. Instagram also provides you with some of the best ad formats to choose from.
3. LinkedIn's InMail
InMail messages are a paid service that allows you to message another LinkedIn user with whom you are not connected. If you simply have a Basic (free) account, you can only message LinkedIn people to whom you are linked. To utilize InMail messages, you must upgrade to a Premium account.
InMail helps greatly in lead generation, as it helps you reach out to prospects. Sponsored InMail allows for personalization—such as "Hi *first name*,"—which enhances the end user's experience, making them feel like they're getting an email rather than viewing an ad. Here are some tips to use InMail effectively.
When crafting the topic of your InMail, use email-like subject lines.
Maintain a warm and interactive tone to lure the receiver.
Your message should be comprehensible and have a strong CTA.
4. Facebook Messenger Ads
As reported by Hootsuite, more than a billion people use Messenger every month. So it makes absolute sense for you to try a paid advertising strategy on Facebook Messenger. A Messenger ad is essentially one that directs users to a chat with your business over Messenger. You can not only reach individuals at scale through Messenger ads, but also foster a more intimate connection with them.
Now, there are a few types of Messenger ads to choose from. The first one is an online display ad, which directs the user to a Messenger chat with your business.
Another type is an ad that is embedded within the Messenger chat. This is a great option if you want to send your ads to people who're already in the funnel.
You can also target customers or prospects by launching a Messenger ad on Stories. If users click on them, they are directed to a Messenger chat window with your business.
5. Influencer marketing
Influencers command exponential clout in today's content landscape, making influencer marketing an increasingly desirable paid content distribution idea for brands. You can partner with an influencer on any social media platform, wherein you pay them a certain amount to promote your products or services. You can reach out to influencers by yourself (by emailing them or connecting on social media), or you can approach influencer networks.
Influencer networks are marketplaces where companies may interact with pre-vetted influencers. Influencers sign up to work with a network, and marketers who deal with that network get access to data for campaigns executed among that network's influencers. Some networks insist that influencers exclusively work with them, while others are more liberal.
These content creators essentially produce branded content, thereby endorsing your products on their pages. The reason why this approach is so effective is that influencers engage users in a more personal manner.
With ad fatigue and content saturation becoming the norm of the day, finding new avenues for sharing information is critical to standing out. You can't rely just on organic content promotion. Plus, the finest paid content distribution channels that worked three years ago might be irrelevant today. Instead, try new methods to drive your content promotion efforts.
Key Takeaways
Paid content distribution is a vital component of any digital marketing plan since it raises brand recognition, attracts and nurtures followers, and motivates your target audience to purchase your products or services.
Paid distribution refers to any third-party channel where you pay to display your material to viewers.
Paid advertising comes in various forms, such as sponsored posts on social media, influencer content, and more.
FAQs
1. What are the most effective methods of content distribution?
1. Motivate your subscribers
2. Syndicate on content sites
3. Respond to a Quora question 
4. Publish on Medium 
5. Post on LinkedIn Pulse
6. SEO-optimize your content 
7. Go live on social media 
8. Create a slideshow
2. Who exactly are content distributors?
Third parties that circulate your material or content through press coverage, guest article contributions, Retweets or shares, product reviews, and more are called content distributors.

3. What are the three types of content distribution channels?
Earned, paid, and shared media are the three broad content distribution channels. 


4. How can I distribute content for free?
Use the following channels for free content distribution.
1. Social media
2. Blog syndication
3. Email newsletter
4. Link outreach
5. Email signature