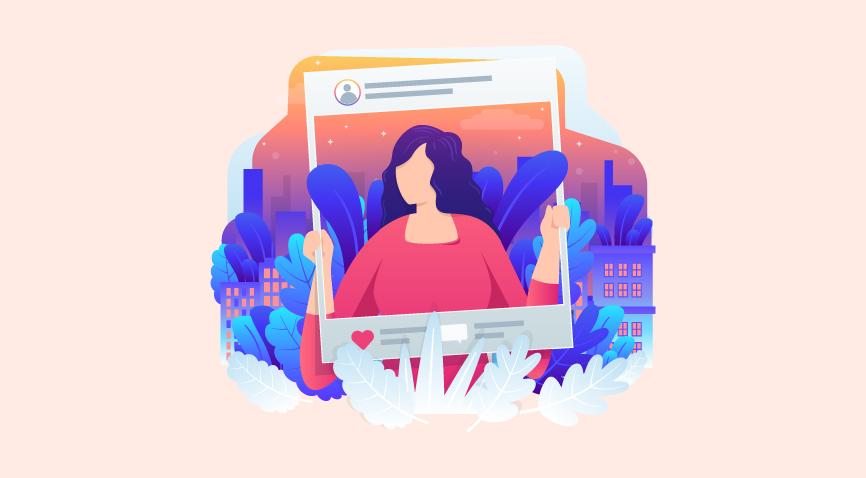 Table of Contents
Can You Make Money on Instagram?
How Much Can You Make on Instagram?
How Do You Make Money on Instagram?
Key Takeaways
Conclusion
FAQs
Instagram is a tool that lets you connect to people. No matter what business you own, where you live, or who your audience is, Instagram is a platform for every need. From connecting with friends to following your favorite celebrities, you can do it all using Instagram.
However, when you see how Instagram influencers are investing so much time and money in making Instagram Reels, videos, and pictures, you can't help but think, "Can you make money on Instagram?" This question may have come across almost everyone's mind once. So we have written this blog to help you find the answer to this very question. Read on, because we are about to reveal how to make money from Instagram.
Can You Make Money on Instagram?
Yes, it is possible to earn from Instagram. Instagram does not charge you anything to run your online business on the platform. So that means, if you have an inventory of items, you can simply create a business page on Instagram, and post promotional videos, pictures, Reels, and other creatives to attract customers.
You can even use the Live option to go live and advertise your new products to your customers. This way, you can make a sale online. You should know that Instagram does not pay you for having views and likes, like Youtube. However, they do pay a bonus of up to $10,000 for making viral Reels.
There are several other ways you can earn from Instagram. Hundreds of thousands of people are running their online businesses on social media platforms like Instagram to make money. We will discuss all other methods in the next section of this blog.
How Much Can You Make on Instagram?
When you first start to earn on Instagram, you might find yourself wondering how much you can make on the platform. To make it simple, the sky is the limit for Instagram earning. There is no limit to what you can earn on the platform.
There are millions of people who are making money with Instagram. Their earnings depend on the work and wit they put in. The pay can start with a few dollars to millions of dollars. To give you an idea, Cristiano Ronaldo, the most famous footballer in the world, with over 400 million followers, charges $1,604,000 per post. Similarly, Dwayne Johnson, the beloved ex-WWE wrestler, with a bit fewer followers (297 million) than Rolando, charges $1,523,000 per post. If you put in hard work, build your network, and choose the right content strategy, you can also reach this height (or even surpass it!)
How Do You Make Money on Instagram?
There are many ways to make money on Instagram. Most of these ways need you to be an excellent salesman, and you need to know how to convince people to buy your products or services or click on your links. This is something that takes time to develop, and does not guarantee success. However, if you are looking for ways to start earning from Instagram, we have listed three proven ways to start earning easily.
1. Paid partnerships
Many youngsters who are looking for ways to earn from Instagram can do it by doing brand partnerships. To do that, you need to have a decent number of followers on Instagram. Let's suppose you have a good following. The next step is to find a brand that is looking for promotion on Instagram. Generally, Instagram charges a lot of money to run ads, and brands are always looking for ways to get a cheaper alternative.
If you promote their products on your page at a lower rate than on Instagram, you will be able to get yourself a deal. However, it would be best if you kept in mind that they are looking for a price that is a fraction of what Instagram is charging. That is why it is essential that you quote a reasonable price, or else you will not be selected.
You should conduct your own research before you quote a price for brand sponsorship. Once you get sponsored by a brand, you will have to post in accordance with them, and they will pay you for your promotional activity on Instagram. Once you set the ball rolling, you may even get more paid sponsorships down the line.
2. Affiliate marketing
When you think of earning online, you must be wondering, "How do you make money on Instagram that is consistent?" The answer to all of these questions is affiliate marketing. It is a type of marketing where you get paid for directing people to specific websites. In affiliate marketing, you have to get an affiliate link from a website, which provides affiliate programs.
On Instagram, however, it works slightly differently. You can promote a brand on both your Stories and posts. While links can be used for Stories, you need to tag the brand in your post captions. You need to create promotional videos and compel people to go to the affiliate website through your post. It is more or less like a referral system. You get paid for each click your followers make on your affiliate link. The commission you can earn through affiliate linking on Instagram depends on how much work you put into it.
For example, if you are promoting Amazon products on your Instagram, you need to show people how the product you are promoting can help your followers. You have to create visually attractive videos and images to make sure people find the product interesting. You can also give them offers, telling them if they click on the link, they will get a discount or gift. It would be best if you came up with new ideas for affiliate marketing.
3. Sponsored content
If you have an Instagram account with lots of followers and are wondering how to monetize Instagram, then sponsored content is the way to go. As an influencer/content creator, you have to create content, such as videos, Reels, and pictures, in exchange for compensation from the brand.
By engaging in sponsored content marketing on your Instagram account, you do not have to create completely brand-centered videos and pictures. You can simply do what you are good at, and insert a section in your deals or videos at the end or beginning to promote products or services. With this, you can get a hefty amount of money for your effort and time, while retaining your viewer base.
As we have mentioned before, famous personalities and brands are making a lot of money with Instagram accounts. One way to make it possible is sponsored content. They usually promote big brands in their videos, picture posts, and Reels and charge millions of dollars for it.
Key Takeaways
Instagram pays a bonus of $10,000 for making viral Reels.
Affiliate marketing on Instagram provides the best passive income.
There are many ways to make money on Instagram.
There is no limit to how much you can earn from Instagram.
Conclusion
If you are new to content creation, you must be wondering how to make money on Instagram. It all depends on the kind of content you make and how you leverage your following. There are many ways to make money on Instagram, some of which include affiliate marketing, sponsored posts, and paid partnerships.
FAQs
1. Can I make money on Instagram?
Yes, it is possible to make money on Instagram. You can even make a stable income from Instagram if you are able to create content that is loved by many.
2. How to monetize Instagram?
To monetize your Instagram, you need to have a business account. You can use that account to partner with brands and charge them money to promote their offerings. Or you can use your regular account to promote brands or products and charge them money.
3. How to get paid on Instagram?
When you have successfully created your account on Instagram, you need to post creative content to get more followers. Then you can try affiliate marketing, partner with brands, and sell their products to earn money from Instagram.
4. Do I have to pay to become an affiliate partner?
No. You can either make videos or pictures to promote a product and tag the company and get paid for your efforts.
5. Does Instagram pay you?
No, Instagram does not pay you directly for getting views and likes. However, Instagram does pay a bonus of up to $10,000 for making viral Reels. They did this to attract influencers to populate their Reels section and compete against companies like TikTok.