Design
Logo Design Tips: What Makes a Winning Logo?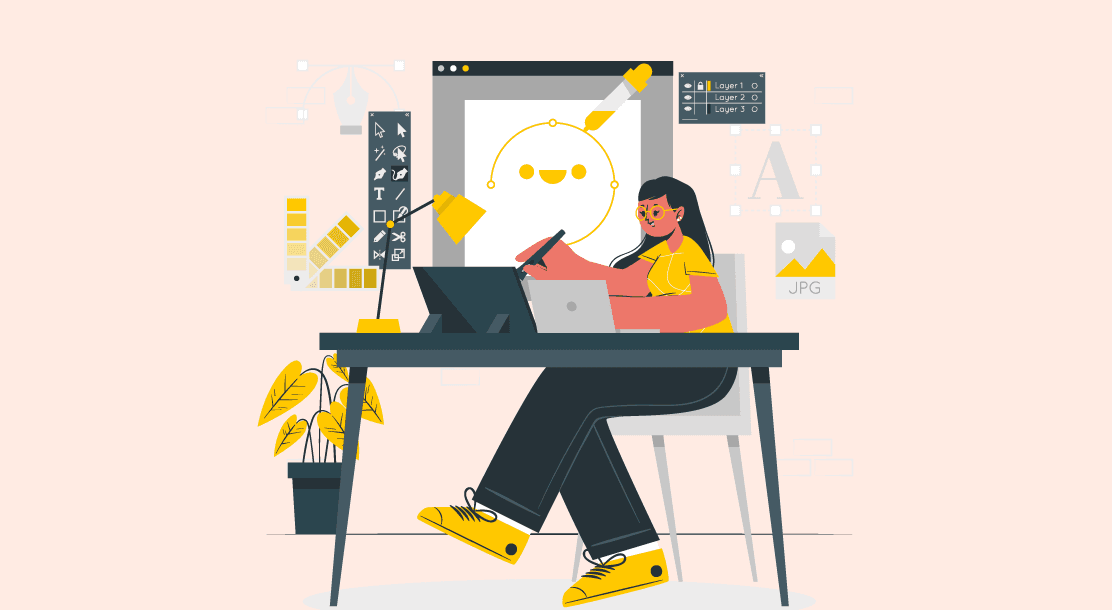 Table of Contents
What Is the Importance of a Logo?
6 Tips to Design Logos
Key Takeaways
Conclusion
FAQs
Brands have personalities. Customers' perceptions of a company are influenced by how it presents itself across myriad channels, including its own website, social media, email, as well as offline advertising. As the face of your company, your logo plays the key role of communicating your brand's personality to the audience. In this blog, we'll go through some important logo design tips.
What Is the Importance of a Logo?
A logo, in simple terms, is more than text or art; it communicates meaning and acts as a call to action for customers. You are more likely to recognize a brand by its logo than its name in everyday life. The logo may be found anywhere, whether at a grocery store or beauty salon. Every brand has a unique logo, which allows it to distinguish itself from thousands of other brands.
The importance of logos cannot be understated. Logos are often used in branding; it should always convey your key message. These visuals will appear on visiting cards, social media feeds, and other marketing and branding material. Here are a few reasons why a logo is important to your business.
1. It makes your brand marketable
Your company's logo should be unique enough to be used on various platforms and for a variety of reasons. When customers come to you to make a purchase, your company's logo should be the first thing that grabs their attention. In truth, many customers won't remember your company's name. Therefore, the logo should be memorable, irrespective of its format.
2. It's the core of your business' identity
Successful branding is all about conveying a story, and logo design is the foundation of the brand's entire story. The story you're trying to tell will also determine the colors, tones, and typefaces you use for your logo.
These aspects will be taken over from your logo to all of your branding products, including letterheads, business cards, landing pages, and so on, to create a concrete, marketable brand identity.
3. It attracts target industries
The look and feel of your company and its products should be considered while creating a logo. Logo design must consider the company and what the target markets expect from a logo. Only a professional logo design firm will have the experience to ensure that your market's key points are covered, and more importantly, what your target audience will respond to.
4. It encourages brand loyalty
Consumers want consistency. Your logo will become more familiar to a larger range of consumers as your brand grows, and this familiarity will position your brand as a trustworthy one.
Consider this: when you're out shopping for fitness clothes and you come across track trousers with the Nike swoosh, you're ready to buy them instantly. Why? Because you know you're in good hands when you wear Nike gear, and Nike is a label you can trust. A well-designed logo promotes brand loyalty and trust. If customers like you, they'll seek you out repeatedly, and one of the first things they'll search for is your logo.
6 Tips to Design Logos
Logos play a crucial role in narrating your brand's story and ideology. Below, we list six key tips to design logos.
When creating a new logo design, the most crucial thing is to have a clear understanding of the brand and gather the correct amount of details and. This is one of the best logo design tips. To create a design brief, prepare a questionnaire or interview with the client in which you explore all of the "whats" about the brand and organisation. In other words, gather information about what the brand stands for and its history, vision, clientele, etc. This will help you and your clients communicate more effectively.
2. Don't skimp on research
Research is often the foremost step in creating a winning logo. Not only does it help gauge important performance metrics, it also helps you closely understand the brand and the industry within which it operates. Examine emerging industry trends, as well as the logos of competitors.
3. Choose colors wisely
This is another important logo design tip. Many individuals underestimate the importance of color in a person's perception of visual input. Color has been shown to influence consumers' moods, making it critical to their purchasing choice.
Your logo may be devoid of text, and hence, its key operative element is color. Plus, large parts of your graphic design, such as your web copy, signs, and other branded goods, will also need good color judgement. Even if you're not using color in the logo itself, it's crucial to consider the typefaces your brand plans to use while designing your logo, for consistency's sake.
4.Take a break
Sometimes it is important to take a break from work and return to it later, perhaps the following day. It's easy to become dissatisfied with a project, which is why logo designers often take breaks.
Resting allows your thoughts to mature and develop in the back of your mind. You have renewed enthusiasm, insight, and opportunity when you return to your project.
Now is an excellent time to get feedback from teammates and other designers, as well as your customer.
5. Digitize the process
After you've finished the sketching process, pick five to seven of your most exemplary ideas and build some basic designs on vector-based software, such as Illustrator. Using digital tools for logos helps make them more scalable, and builds a high level of consistency and uniformity into the whole process.
6. Be open to client feedback
After you are done digitizing a few designs, it's time to give your customer a formal presentation. Hopefully, they will like the logo concepts you offer them, but it is up to you, as a professional, to consider any feedback they may have and, if necessary, resolve any flaws through a design revision process.
Key Takeaways
A logo is a visual representation of your organisation, which appears on company signboards, publications, and commercials.
Logos are often used in branding. The best logos do more than just make your company identifiable; they also express its personality and ideals to customers. Your logo should always communicate your brand identity, and the reasons and methods through which you do what you do.
Your company's logo should be unique enough to be recognized by large sets of customers.
The most crucial logo design tip is to gather adequate data and have a clear understanding of the brand.
Conclusion
If you don't have a properly designed logo, you may not attract the right customers or make as many sales. Whether your company is new or established, the only way to survive in this rat race is to have a strong and distinguishable identity.
In today's competitive environment, having an edge over others is the only way to succeed. A professional logo design, along with a strong brand strategy, will ensure that your customers recognize and remember your company. Consider it a long-term investment; and follow the above-listed logo design tips for enhanced results.
FAQs
1. What are some logo design tips?
Some tips for designing a logo are as follows:
1. Simplicity is key.
2. Before designing a logo, consider how it will be perceived. 
3. Revise the design over time.
2. What are the best logo design tips for beginners?
Here are some best logo design tips for beginners. 
1. Limit yourself to one or two colors, and never use more than three.
2. Use only one or two typefaces.
3. Research adequately. 
3. What are some points to keep in mind when designing a logo? 
A few factors you should consider are as follows:
1. A picture is worth a thousand words.
2. To keep your logo design clean, use space.
3. To think outside the box, use shapes.
4. How are logos useful?
Logos are quite useful, as they attract potential customers, serve as the cornerstone of your brand identity, distance you from the competition, and stimulate brand loyalty