Content
7 Inspirational Movies For Writers: Overcome Writer's Block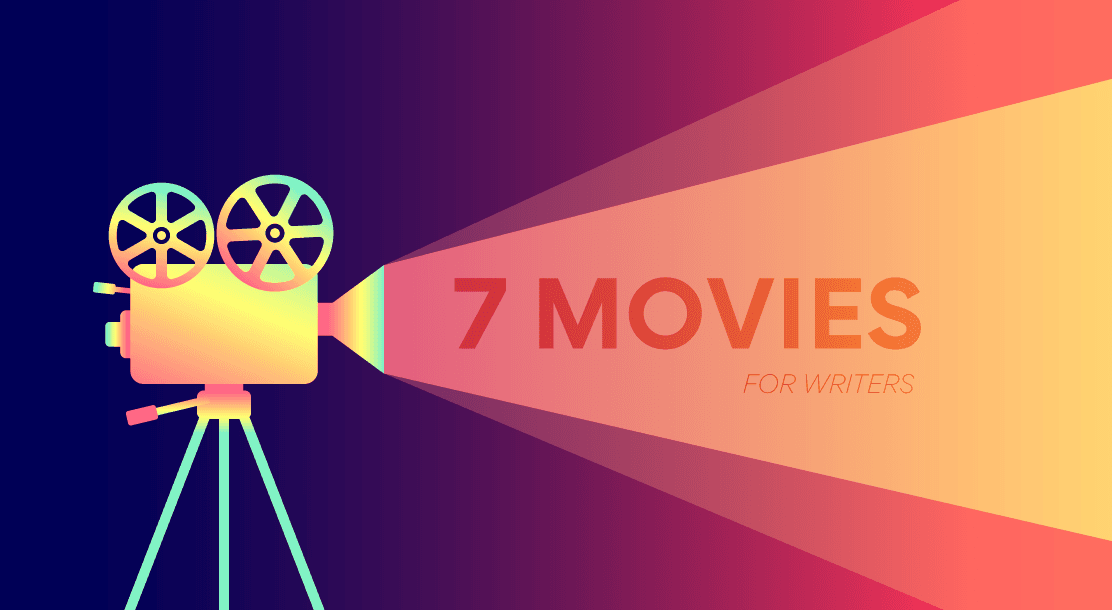 Table of Contents
7 Inspirational Movies for Writers
Key Takeaways
Conclusion
FAQs
Humans create, not out of an external motivation but out of an intrinsic desire to express. Self-expression has been an integral part of humanity since the beginning of time when early man drew in caves. Today, we write, draw, paint, sing, and dance to express ourselves in a much similar way. In some people, the need to create is more acute than in others. In doing so, at times, they face blocks. And writers are no strangers to this.
The idea of "writer's block" is a complex one. A block might be defined as a failed attempt to channel one's unconscious, hampered by psychological or emotional obstacles from a psychoanalytic standpoint. Every creative person, it's safe to assume, has had a creative block at some point. So, which authors have faced such adversity in their work and changed in a new path as a result? The list is long.
Movies are a great way to break writer's block. Most writers find that if they cannot express themselves, they can, at the very least, watch someone else's creation and open up to the new perspectives and pick up on vast topics to write on. Essentially, movies can motivate and inspire writers when they are unmotivated.
Let's look at 7 inspirational movies for writers to get out of their writer's block.
7 Inspirational Movies for Writers
1. Almost Famous (2000)
Almost Famous is an American comedy-drama film written and directed by Cameron Crowe. It's a story of a teenage journalist, William Miller (Patrick Fugit), writing for Rolling Stone magazine in the early 1970s, and his struggles to get his first story published. Interestingly, the film is semi-autobiographical, as Cameron Crowe himself was the writer for Rolling Stone.
When Miller was 15 years old (in 1973), he was influenced by Anita's hidden collection of rock albums and became a rock journalist. He began working on various independent projects, and during one of them, Lester Bangs, a rock writer, was fascinated with Miller's articles and offered him $35 for an assignment. Miller was tenacious and motivated, and he worked tirelessly to realize his aim of having his tale published in Rock Stone.
I respect William Miller's persistent desire to tell his narrative and have it published in Rolling Stone at any cost. He doesn't let his youth make him doubt his capabilities as a writer or convince him that pursuing his dreams of being a writer should be postponed until he has more experience. We authors must maintain our youthful passion and never limit our aspirations.
2. Julie & Julia (2009)
"I was a twenty-nine-year-old secretary two years ago. I am now a thirty-one-year-old author. Unless I'd rather take a nap, I get paid nicely to laze about in my PJs and type on my extremely beautiful iMac. Feel free to hate me; I certainly would."
Julie Powell, Author of Julie and Julia
This is one of the finest movies for writers who want to become bloggers. Julie Powell (Amy Adams) and Julia Child (Meryl Streep) are the central characters in this film. Julia Child is a world-renowned chef, author, and teacher, while Julie Powell is Julia Child's fan and a struggling writer. Julie Powell's tale would be more fascinating and encouraging to you as a writer because she began a blog but didn't receive any views. Her mother was the only one who read her blog. She didn't give up, though. She recognized the value of consistency and never stopped writing blogs.
Soon her blog began to attract visitors, who then became loyal readers. All of this happened because she was persistent and never gave up. Here's something I'd want to advise you: whether you're a seasoned or aspiring writer, or if you wish to pursue a different career path, have conviction in your work.
3. Adaptation (2002)
You can declare this movie as one of the best movies about creative writing. This is a movie in which a writer shares the story of his own writer's block. Kaufman worked on Adaptation when facing writer's block while trying to adapt Orlean's 1998 nonfiction book The Orchid Thief into a movie. The movie includes components adapted from the book, in addition to imaginary parts, including Kaufman's twin sibling (likewise credited as an author for the film) and sentiment among Orlean and Laroche. It finishes in totally developed components, including adaptations of Orlean and Laroche three years after the occasions of The Orchid Thief.
Adaptation was commended for its screenplay, humor, and acting by Nicolas Cage and Meryl Streep. This teaches us the power of determination and a lesson into how creative a writer can be.
4. Midnight in Paris (2011)
In the film, Gil Pender (Owen Wilson), a Hollywood writer trying to write his first novel, takes his fiancée and her family on holiday to Paris. He falls in love with the city and decides to make his home here after marrying his fiancée, Inez. His fiancée, on the other hand, seems unconcerned with his passion for the city.
He travels back in time to the 1920s, roaming through the streets of Paris at midnight, where he encounters his favorite writers, painters, and musicians. This is a once-in-a-lifetime experience for him as he meets and learns from some of the finest authors and artists in the world. This movie teaches writers to surround themselves with other like-minded, creative people – those who honestly and purely contribute to each other's progress.
5. Misery (1990)
This movie is narrated by best-selling novelist Paul Sheldon (James Cann). When Paul is on his way home after completing his latest book, he has a major accident. He is severely injured and is found by a fan Annie Wilkes (Kathy Bates), who brings him to her remote house in the mountains and takes care of him.
Before the accident, Paul had decided to move from being a romance novelist and focus only on serious novels. But when Annie gets to know about this while taking care of him at her house, she becomes enraged and tries to kill him.
No, the lesson here is not that your fans will kill you if you decide to change your career. We learn that our words and stories can impact someone so profoundly. As a writer, explore your creativity but be very aware of what you are writing. It's your moral responsibility.
Another takeaway is that writing under duress is always challenging. While Annie Wilkes pressures Paul Sheldon by threatening to break his ankles if he doesn't write a romantic novel, you could have a regular, demanding customer. According to psychologists, planning is the key to writing well under duress. According to Princeton Professor and Author John McPhee, putting a structure in place for your writing process will reduce stress and allow you to be more creative.
6. The Motorcycle Diaries (2004)
The Motorcycle Diaries is a journal-turned-movie written by Ernesto "Che" Guevera de la Serna. When he was 23 years old, he went on vacation to Latin America with a friend Alberto Granado. They were curious to see things about the continent in which they lived. They wanted to finish the tour on Alberto's birthday, and it was no less than an adventure for them. But, their fun and enjoyable quest turned into an eye-opening experience when they saw people's poverty and struggles.
And, this event turned Ernesto Guevera from a wild and fun-loving youth to someone who wanted to change the world and make it a better place. In both senses of the term, The Motorcycle Diaries is a voyage. It's a long, event-packed journey that takes you from Argentina to Miami via South America. It's one of those inspirational movies for writers and teaches you how to dig deeper into any topic and bring a change with your creativity.
7. The Wonder Boys (2002)
This movie will teach you that your blocks will break you if you do not break your writer's block. It focuses on English Professor and author Grady Tripp (Michael Douglas) who teaches creative writing at an unnamed Pittsburgh university. He has been writing his first novel for seven years now and is still unable to finish it. At the same time, he's also trying to save his marriage while having an affair with the chancellor's wife, Sara Gaskell (Frances McDormand). His students, James Leer (Tobey Maguire) and Hannah Green (Katie Holmes) are excellent aspiring writers who have nothing to publish until now.
The movie teaches you that you should get out of your writer's block no matter what. Because terrible writers end up with published work while good and talented writers have nothing to show, like Professor Grady, and miss out on success due to writer block.
Key Takeaways
As a writer, it's very common for us to face blocks with our creativity. Oftentimes we really want to express our thoughts but our block kills the creativity that doesn't allow us to do that.
We need to understand that it's normal to feel exhausted and if you are facing these issues then you are not alone. There are hundreds of writers out there just like you who are going through these difficulties.
Hard work and consistency are the secret sauces of success.
Our work is not just limited to writing; we need to regularly upskill ourselves through dozens of available resources, especially books.
Be it in writing or saying, professionally or personally, we should be careful with our words because they can significantly impact someone's life.
Conclusion
Next time you face a writer's block, check out these movies and let yourself get inspired. There are several lessons to take from these movies, not just as a writer but also as a creative individual. Inspiration is a tool that many creatives use in order to create better art.
FAQs
1. What is writer's block?
It's a condition primarily associated with writing, in which a writer is unable to think what to write next and faces a creative slowdown.
2. How do authors get over writer's block?
This article has shared the most interesting ways of getting out of writer's block – watching movies that will inspire. But apart from that, you can also try other methods such as going for a walk, spending and enjoying some good time, having a discussion on the topic that you have to write about with other people or writers or reading a book.

3. What is the best way to improve my writing skills?
The question is itself the complete answer. What do you want to become good at? Writing, correct? So, just write. Write every day.

4. How does writer's block feel?
Well, the symptoms differ from person to person but some common symptoms may include lack of inspiration, low focus, a stressed or frustrated mind, and feeling mentally foggy.
But, it's absolutely not a permanent condition, it just happens on a temporary basis that can easily break down if you keep yourself aware.

5. Why do writers get writer's block?
This also changes from person to person. Some may face it because of the lack of focus and creativity, the unwillingness to write on that particular topic, the external pressures of relationships, or mental, physical, or financial issues.