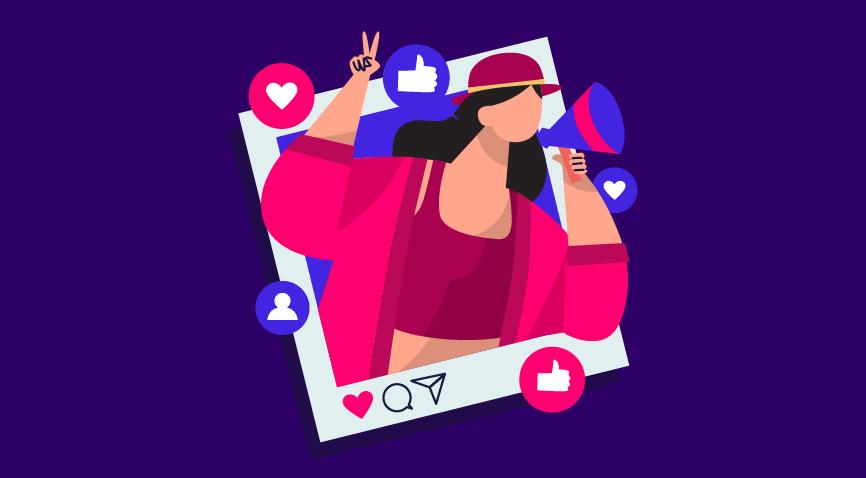 We have shortlisted the top 20 influencer marketing trends that can help your business boom in 2022.
Influencer marketing has changed the marketing and advertising space for the better! Akin to a café without a skilled chef, brands are bland without influencer marketing.
While the truth is that the influencers have been there forever, they started shining brighter when the pandemic hit the world. Even marketing gurus agree that these social media stars are now helping brands thrive and attract a large audience.
Influencers are categorized as nano, micro, mega, and celebs. You have to pick influencers that match your budget and your brand voice. After all, it matters the most! While selecting influencers that are a perfect match for your brand is a challenging task in itself, there are some other hurdles that you will have to cross! One of them is staying up to date with influencer marketing trends!
Aligning the current trends with your influencer marketing campaigns can be overwhelming; However, before deep diving into these influencer marketing trends, let's briefly understand the meaning of influencer marketing.
What is Influencer Marketing?
Influencer marketing is a form of marketing where brands collaborate with influencers to promote their products or services. Brands work with influencers for different objectives like brand awareness, leads, reputation improvement, etc. Remember, you have to find influencers in your niche, study their profile in-depth, and select the one who perfectly fits all your criteria.
We agree that perfectionism is a myth, but the proper screening process will help you get the best influencers on board. And to aid you in the same, here are the top influencer marketing trends in 2022 that can help keep your brand in the spotlight.
And who doesn't love staying in the spotlight? We know everyone does because here the lux is proportional to sales! In layman's terms, the more consumers are familiar with your brand, the more would be your profit!
Now that you are aware of some basics of influencer marketing and the possible benefits let us help you steal the spotlight.
20 Influencer Marketing Trends in 2022
In 2019, 55.4% of marketers capitalized on influencer marketing. And the growth is predicted to be 17.1% in 2022. These stats prove the importance of learning about influencer marketing trends in 2022 and leveraging them appropriately.
1. Micro and nano influencers are the new celebs!
The audience connection goes a long way. It looks like nano and micro-influencers have mastered this skill. Compared to real celebs, like movie stars, they may not have a massive following; however, their engagement rate is significantly high!
Well, this is the result of their authentic and engaging content. Thus, don't fall into the trap of a large following. These influencer categories understand your brand values well and can help you win audience loyalty. So make sure to collaborate with the right micro and nano influencers in your niche.
2. Live shopping is a new phenomenon!
This newest trend is going to change the shopping experience forever. Brands like Myntra have entirely changed the notion of shopping by introducing live features, like Myntra Studio. Knowing that consumer behavior and preferences are changing, bringing social commerce and fashion and lifestyle influencers together is a good way of creating personalized content for consumers.
3. The rise of video content
Video content has become the pillar of the overall marketing space. Leveraging it effectively with influencer marketing can help transform your brand. Brands with influencers can monetize long-form content with the help of Instagram videos.
4. The emergence of new social media tools
Social media is a dynamic space. If you cannot entirely focus on social media platforms, you might have to bear a loss. Platforms like Instagram, Facebook, etc., are upgrading only for the better.
Tools like Social Commerce, Lives, Reels, etc., are only helping brands bring more revenue. There is no surprise that influencer marketing has become essential to optimize these features appropriately.
5. Influencer collaboration on multiple platforms
Any digital marketing expert worth their salt would advise that you should not be dependent on a single platform or influencers. Never! Reach out to influencers on multiple platforms and collaborate with them to widen your reach.
6. Collaborate with influencers in your niche
Of all the influencer marketing trends, influencer partnerships in the desired niche have existed for a long time now. However, since the influencer market is increasing, the demand for niche influencers is growing. The reason is simple!
After all, no one can understand your brand values and goals as much as influencers already active in your domain. They carry the required skills and expertise your business requires for promotional purposes.
7. Storytelling via influencer marketing!
Today's audience is smart and emotional. Hence, your influencer marketing campaigns must tell a story! Remember the launch of Apple products by Steve Jobs, the marketing genius!
According to him, everyone loves a story! A straightforward product promotion works no more. There has to be a story and an emotion that your audience can relate to. After all, your brand needs to capture the mind and hearts of consumers before it can dig a hole in their wallets!
8. Campaigns are empty without influencer marketing
While talking about influencer trends in 2022, it's unarguably true that brands need to align influencer marketing with their overall campaign to gain more traction. As the social media space is booming, so is the influencer community. The golden era of influencer marketing has already begun, and you must be on the right track with your brand to reap the benefits!
9. Podcasts are the new engaging format
Do you think the demand for audio content has become old-fashioned? If yes, then our friend, you are missing out on one of the prominent influencer trends in 2022.
Be it Spotify or Amazon, podcasts are everywhere. With its tremendous growth, it has been predicted that podcast listeners will exceed 160 million by 2023. Thus, podcasts should be a part of your robust influencer marketing strategy because they will make your campaigns more personalized.
10. Employees are the new influencers
Employee influencers result in authentic content and drive audience loyalty. The benefit of collaborating with employee influencers is that they understand your brand and product like no one else. Moreover, your audience is more likely to trust your employee's recommendations over someone who lacks expertise in the same.
11. Leverage marketing activities using apt tools
Many influencer marketing platforms have emerged recently as the influencer marketing industry is flooded with diverse influencers. These tools and platforms are now helping brands to organize, manage, and report all the data of influencer campaigns.
Thus, leverage these tools if you want to evaluate your influencer marketing campaigns and optimize them.
12. Long-term Influencer partnerships
Today, brand-influencer collaborations are not limited to short-term contracts. Instead, these partnerships are now based on a long-term basis. Like the influencer marketing trend, influencer-brand partnerships will remain for a long time now. Remember, these collaborations stay on trust, honesty, and loyalty.
13. Advertisements are a way to reach a large audience
There is no surprise that influencers help widen your reach, but to benefit from a large audience, align the influencer's content with paid ads. You don't have to worry about changing algorithms or low engagement here. High-quality content deserves more attention. So go ahead, and amplify your ads.
14. The continuous rise of influencer investments
You just can't miss out on investing in influencer marketing while crafting your brand's overall campaign. Missing influencer marketing is like stopping your brand from creating an aura! You simply can't take this chance in the advertising and marketing space.
Thus, influencer investments are on the rise! To put it more simply, brands today make sure to keep a separate budget for these campaigns, and you should, too!
15. The purpose-driven campaign hype
As much as the audience is driving their attention towards storytelling, emotional, and creative campaigns, they also showcase their interest in brands and influencers who genuinely support a particular purpose.
However, you should be careful! Purpose-driven campaigns don't necessarily mean promoting every cause. Support a cause you genuinely believe in. At the least, your efforts would seem more genuine!
16. Reach out to highly targeted influencers in your niche!
Don't confuse highly targeted influencers with mega influencers. Be more specific about the kind of influencers you want to work with. It will help your brand niche down better and optimize your campaign better.
17. The emergence of the metaverse and virtual reality
As we are heading towards booming technology, we all know metaverse and virtual reality are the future! Brands can leverage these features with influencer marketing to showcase their products or services in the best way possible.
18. Authenticity is the new buzzword!
The audience looks forward to building a personal connection with their favorite influencers. Well, that comes with authentic, relevant, and engaging content. So before you choose the right influencer for your brand, make sure they have all the traits in their context. Want to get your audience all excited? Remember, authenticity is the key!
19. More performance-based contracts
The competition in the influencer industry is increasing on a massive scale. Considering this, these partnerships are now formed on a long-term basis. Hence, there is no surprise that there will be an increase in performance-based contracts.
Thus, if you are looking out for influencers willing to sign such contracts, make sure you decide all the terms beforehand and ultimately form the desired partnerships.
20. The constant rise of influencer marketing companies
One of the influencer marketing trends you need to opt for is signing a deal with influencer agencies. Managing influencer campaigns can sometimes overwhelm you. That's when these agencies can help manage and organize your campaigns.
Moreover, they will provide you with comprehensive reports periodically. Please feel free to confirm with your business mentors; that these agencies are worth your investment!
In Conclusion
It looks like the influencer marketing trend is here to stay even in 2022. Tools and technologies are updated every day. Leveraging them to execute your influencer marketing campaigns is the only path to success!
Brace yourself up and get ready to take your brand to greater heights with effective influencer marketing.
Key Takeaways
Target influencers in your niche. For example, if you are a clothing company, you can establish ideal partnerships with fashion and lifestyle influencers.
Nano and micro-influencers are more relevant to your brand and can get you more engagement.
Tie up with influencer marketing agencies to better manage your influencer marketing campaigns.
Aligning influencer marketing campaigns with your overall campaign is a necessity.
Skipping influencer trends in 2022 is a big no!
FAQs
1. Should you implement all the influencer marketing trends? 
No. While trends are coming in every day, implement those that best fit your brand campaigns. 

2. Is influencer marketing effective for brands? 
The answer is a clear yes! Influencer marketing can increase your brand awareness and help you get more traction. The trick is to use these influencer marketing trends of 2022 to get the most out of your influencer marketing campaign. 

3. Which influencer marketing trends are most viable to use? 
While executing storytelling, video content, and partnerships with nano influencers are the most common influencer marketing trends employed by successful brands, you can always test and try the ones that will help your brand reach greater heights. 

4. Can you only collaborate with mega and celebrity influencers? 
It is wise to work more closely with nano and micro-influencers because these influencers create authentic content. Moreover, their personal connection with their followers can get you more brand awareness and loyalty. 

5. Can you register with influencer marketing agencies for free? 
It highly depends on the influencer marketing agencies. While some agencies do charge hefty fees, some have reasonable rates.