Marketing
7 Tips on How YouTube Influencers Make Money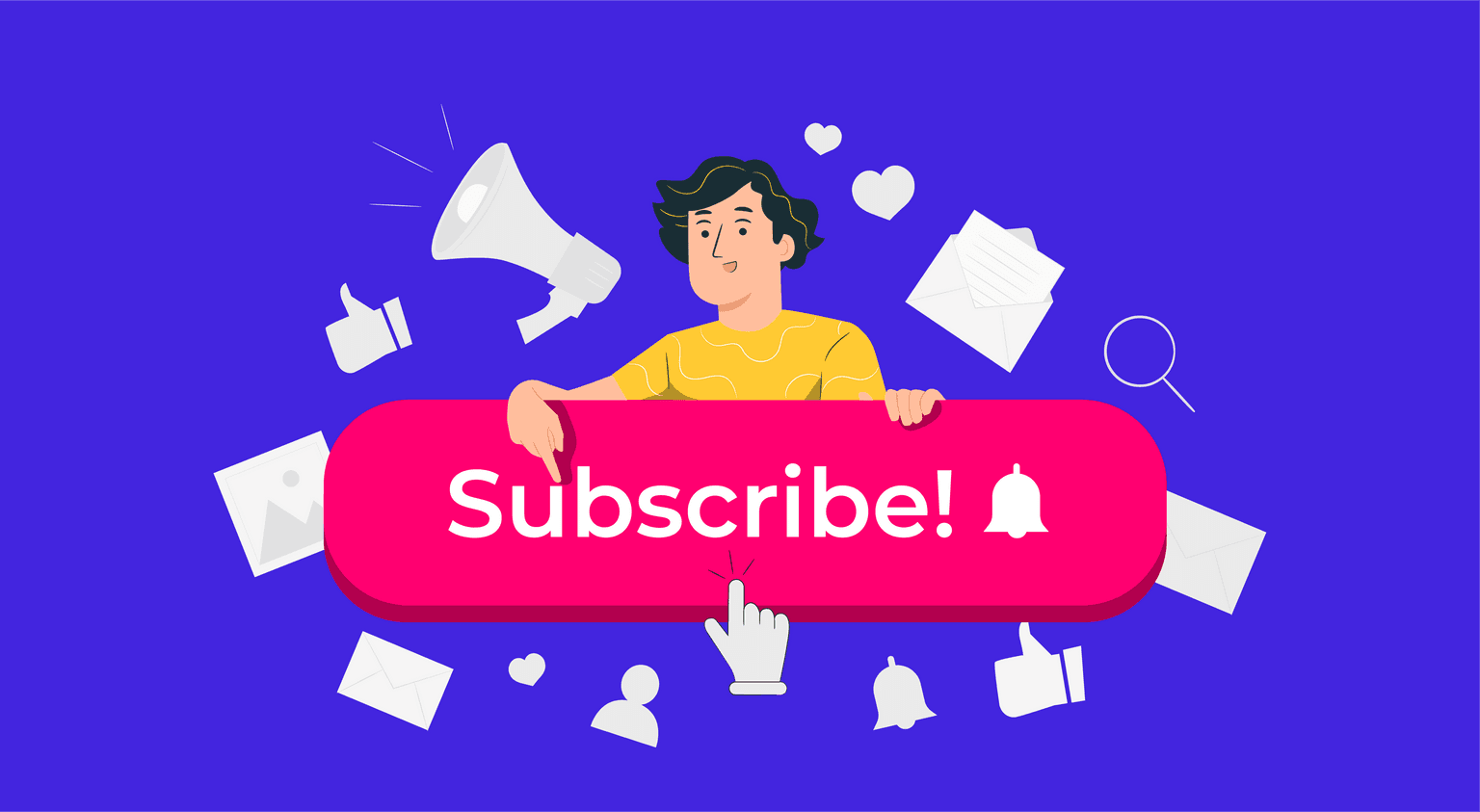 Table of Contents
The Power of YouTube Influencer Marketing
How YouTube Influencers Make Money
Key Takeaways
Conclusion
FAQs
We all have at least one or two favorite YouTubers who influence our decisions, especially when purchasing something. For example, before buying a new mobile phone or TV, or laptop, we go to our favorite tech YouTuber's channel and watch their product review. Then, we decide.
In the marketing world, these YouTubers are known as YouTube influencers as they possess the power to influence someone's decision. Simply put, influencers are people having a massive following on digital platforms like YouTube, TikTok, or Twitter. And their power of influencing people is their bread and butter. If you are even a little interested in how YouTube influencers make money and how you too can make a living with YouTube influencer marketing, keep reading.
The Power of YouTube Influencer Marketing
If we go by stats, people watch more than 5 billion videos a day on YouTube, mounting over 1 billion hours of content, which is more than Netflix and Facebook put together. Brands are no longer ignoring this phenomenon and are actively turning towards digital influencers to market their products. And it is no surprise that almost all of YouTube makes a massive chunk of money from influencer marketing. According to Influencer Marketing Hub, the influencer marketing industry is worth more than $13.8 billion.
Well, let us jump to the main topic at hand – how YouTube influencers make money and how you, too, can join this bandwagon. Becoming an influencer is not as tough as it used to be. What is tricky is making money out of it. Let's see why.
How YouTube Influencers Make Money
Well, no YouTuber is making content to pass their time or for philanthropic reasons. At the end of the day, they all want to make money. Giving free access to their content helps them build genuine authority among their audience.
Here are the top 7 ways how YouTube influencers make money.
1. Google Adsense and YouTube Partner Program
The easiest way to earn money from YouTube is by joining their partner program. In simple words, you agree with them to show ads on your videos. YouTube Partner Program gives you access to Google Adsense to monetize your videos. But there is a set of benchmarks you must qualify for. One should have at least 1,000 subscribers with 4,000 hours of watch time over the prior one-year period.
Out of YouTube's revenue from these ads, they give 55% of this to content creators. And not only that, YouTube Partners get access to multiple income streams like YouTube Premium subscription fees and features that tap your loyal fans' wallets directly like Super Chat, channel memberships, and the merchandise shelf.
2. Brand sponsorship
The second most lucrative income stream for YouTube influencers is brand sponsorships. Brand sponsorships are what you call real influencer marketing. Various brands are ready to pay you to promote their brand or products through your content. For example, you must have seen famous Indian YouTuber Bhuvan Bam promoting MIVI in his videos.
Once you have a good number of subscribers, brands in your niche will start contacting you to promote their products. It's one of the most popular ways to make money as a YouTuber influencer. However, this need not happen every time. Sometimes, you will also have to get in touch with brands for collaborations.
Now you must be wondering how much sponsors pay YouTubers? It all depends on your number of subscribers, engagement rate, the brand you are collaborating with, and obviously, your negotiation skills. Generally, YouTube influencers with fewer subscribers get paid less than ones with a good number of subscribers.
Another factor that dictates how much YouTubers get paid for sponsored videos is their niche. According to Hubspot, YouTubers in the tech, finance, and fashion/beauty industry get paid the highest for sponsorships.
3. Merchandising
Merchandising refers to selling your own products like t-shirts, mugs, sneakers, etc., with your branding. Once you have a decent following on the platform and people genuinely connect with your content, they will happily purchase your merchandise.
And without a doubt, it is an excellent way for YouTube influencers to make money. And the primary reason why people spend money on buying your merchandise is that it makes them feel part of your tribe. But always remember that not everybody is going to buy your merchandise. Only your loyal fans will go for it, so before starting your own merchandise, make sure that people really connect with you.
And it's no surprise that a lot of YouTubers make more money from merchandising than they make from advertising or sponsorships. Some of the most prominent examples are Bhuvan Bam and MrBeast. Merchandising also helps to increase your exposure in the offline world and deepens your relationships with your fans.
4. Become an affiliate
Have you ever wondered why MKBHD, Technical Guruji, or other YouTubers ask you to check out the products from the links given in their description? That's because the links provided in their description are affiliate links, and they get a significant commission when you make a purchase after clicking on that link and purchasing the product.
In simple terms, you partner up with a brand and get a percentage of each sale that they make from your audience. You could sign up with Amazon, Reseller Club, ClickBank, Flipkart, or any other company's affiliate program and start making money right away.
The best thing about affiliate marketing is that you don't need to fulfill any conditions or criteria to make money. You just partner up with a company, start driving traffic to their website through your affiliate links, and boom, you get the money.
But affiliation should always be honest and transparent; you should not hide it from your viewers. And if you ask us how much money you can make from affiliate marketing, the answers lie in the engagement rate of your videos; the more people watch your video, the more money you would make.
However, to successfully make money from affiliates, you need to keep your trust with your viewers and should always affiliate the products that provide real value to your viewers.
5. Ancillary products
Many YouTubers start another business after they have got a decent fanbase. Your subscribers are like a ready-made audience to promote your products and other activities. For example, you could launch a book, invent a new product, or provide some sort of service or anything else.
Almost all of the influential YouTubers, specially PewDiePie and MrBeast, leveraged their YouTube audience to launch new products in the market. For instance, MrBeast launched his own fast-food company named MrBeast Burger. PewDiePie collaborated with Canadian developer Outerminds Inc to create his own 2D side-scrolling video game called "PewDiePie: Legend of the Brofist." This game made him over $100,000 on the first day of its release in the United States. According to MoneyNation, he made close to $8.9 million from ancillary products in the 2016 financial year.
In these cases, YouTubers use their YouTube channel as a marketing channel to promote their ancillary product. Once you get famous, you may also get paid to speak at conferences and make a special appearance at events.
6. Crowdfunding support
Crowdfunding has become a pretty common business model in recent years, and many YouTubers are taking the help of their fans and subscriber base to take financial aid. In simple words, Crowdfunding refers to when your fans go to a specific website, such as Patreon, or buy me a coffee and donate some money. Needless to say, for this to happen, you first need to build a faithful audience by creating regular quality content.
These crowdfunding platforms are explicitly designed as a place where fans can voluntarily pay creators who inspire them. One famous example is MaSTAR Media; they create multiple animated series from various comics. They set a crowdfunding goal to expand their animation work and buy new equipment with each series. And as an incentive to the people who fund them, they make special videos restricted to only being viewable by crowd funders.
7. License your viral content to the media
Licensing your viral content to news outlets is just another terrific way to make money from YouTube. News outlets are always on the hunt to get their hands on viral videos of known personalities that they can replay on their channels.
All you have to do is give them the right to use your videos, and bingo, you've got yet another stream of income from your YouTube content.
So, let us say you have got some content that media outlets might want to use; you need to make sure that your contact details are easy to find. Make sure to include a business email on your channel profile, as well as in video descriptions. Hence, it will be easy for media companies that want your content to contact you.
Furthermore, if you don't want to wait for companies to reach out, you can submit your videos to sites like Jukin Media. Submitting your videos on sites like these will help you get tons of opportunities for licensing your content to the media and build another source of income from YouTube.
Key Takeaways
Take YouTube as a serious business and focus on posting quality content.
Use Google Adsense as a primary method to monetize your videos.
Use affiliate marketing to make money irrespective of the number of subscribers.
Always focus on building a loyal fanbase and authority in the industry.
As you grow your YouTube channel, start reaching out to brands for sponsorships and collaboration.
After a certain period, when you are sure people have started connecting with you, launch your own merchandise, which will do two things — first, it will be your new source of income. Secondly, it will help you market your name.
And eventually, you can implement everything we have discussed to turn your YouTube channel into a full-fledged business.
Conclusion
YouTube has emerged as a highly lucrative career option nowadays, and making money from YouTube can be tricky if you don't play your cards right. Though, it all boils down to having a loyal fanbase that connects with you; otherwise, no matter what you do, you won't be able to make money from YouTube.
Your first goal from your YouTube channel should be building a loyal fanbase, not making money. So, take your sweet time, focus on quality content and build a loyal fanbase. Once you have 1000+ subscribers and 4000+ of watch time, apply for YouTube on platform monetization and gradually implement all the ways we have talked about to build a fortune for yourself from YouTube.
FAQs
1. How do YouTube influencers get paid?
YouTube influencers get paid based on their influence and niche. Prominent YouTubers charge close to lakhs while the small YouTubers get somewhere from Rs. 10,000 to Rs. 50,000.
2. How many followers do you need to get paid on YouTube?
Creators must have at least 1,000 subscribers and 4,000 hours of watch time to earn from YouTube monetization. However, there are other ways to make money from YouTube, irrespective of how many subscribers you have.
3. How can I make money on YouTube easily?
– Apply for Google Adsense and YouTube Partner Program
– Start selling your own merchandise
– Sell others' products as an affiliate
– Reach out to brands for sponsorship opportunities
– License viral content to the media
4. How much do sponsors pay YouTubers?
Sponsors can pay YouTubers in two ways—firstly, they can pay a flat amount for sponsorship. Secondly, they can pay based on the conversions. Generally, the trend is to charge a flat amount.
5. How much should I ask for sponsorship?
It depends on the number of subscribers you have and the views you get on your videos, and the brand you're dealing with. If you have a good number of subscribers and reach millions of views on each video, then you can charge at least $2000.