Marketing
Getting Started On Twitter? Here's What To Tweet As Your First Tweet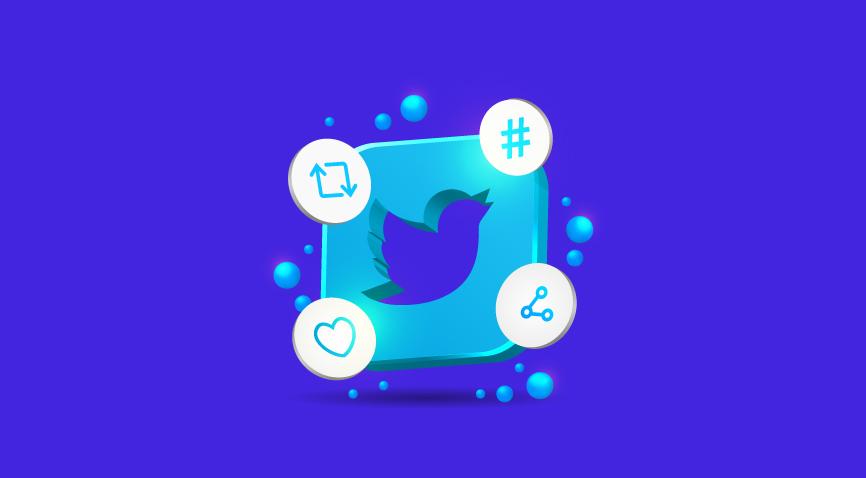 Table Of Contents
Things To Do Before your First Tweet
First Tweet Ideas
First Tweet Ideas with Examples
Key Takeaways
Conclusion
FAQs
Twitter is a social media platform for people interested in knowing what is happening around the world. It was once a forum for people to share their thoughts but has now become a great place for businesses to make announcements, launch products and have a real-time connection with potential customers. It is a great channel for savvy marketers who use the platform to build and broaden their business presence. The big question of what to tweet first arises. Fret not! If you are looking to get started on Twitter and wondering how to find your first tweet, here's how to go about it:
Things to do Before your First Tweet
1. Signup to create a business account
Before deciding on themes and polls for your first tweet ideas, the foremost thing is to create an account with a unique username or, in Twitter terminology, 'handle'. Since the public identifies your business with it, it has to be unique yet make sense to the followers. A business account can choose the brand's name as the handle or use keywords relevant to the business. Also, ensure that it is short, easy to read, and relatable to your customers.
Below is an example of a username that indicates the name of the brand as well as the keyword:
The handle has pet supplies as the keyword and the name Quinneys which is the business's name. So it is not only unique but also indicates the type of business.
2. Create a bio
Once you have a good handle/username for your Twitter account, the next step is to create a compelling profile with a good bio and photos that can attract more followers. Ensure that the photos are clear and of high quality. Remember that people who will potentially follow your business may not know much about your brand and create a bio keeping that in mind. If you are engaged with any humanitarian cause, it could be an excellent first tweet idea. The aim behind curating an unique bio and first tweet idea is to foster a connection.
Here is an example of a bio and a profile photo that explains the business:
The bio here explains what they do and why you should follow the brand. It also has a link to the brand's website and actual physical location, which helps connect to the locals. This is a good option if you have an offline store as well. Make sure to list the business timings so that customers can drop in accordingly. Also, provide a link to your portfolio so that visitors get a glimpse of your business.
3. Follow and get followed by peers
The quality and type of content your Twitter business account will have access to is based on who you follow. Your Twitter following is important as:
You are what you are because of who you follow. It gives a glimpse of what you care about and believe to your followers.
Who you follow gives your followers a list of accounts that you follow and determines what you see.
When you follow someone, you are more than likely to be followed back, which is the best way to take your business forward.
Keeping the above in mind, here are some tips to follow on who your business account on Twitter should follow:
Leaders, businesses, organizations, and people whom your business and domain trust and respect the most.
Bloggers, influencers, writers, or media houses who are experts in your domain. Work of authors that you respect or writers whom you want articles from.
Business associates or peers
Local organizations, schools, universities, etc.
Social media stars who show up on keyword searches.
Here is an example of Nike's handle and who the company follows. It ranges from sports stars, sports clubs, bloggers, activists, etc. You can go through your niche's biggest players' profiles for first tweet ideas as well.
4. Pin your biggest news to your profile
You should pin your latest or biggest news to your profile. This is what your followers should focus on when they look at your profile. This tweet can be kept pinned for many months until you find something bigger to pin on your profile. Your product launches, brand campaigns, collaborations, and many more could also be excellent first tweet ideas. The pinned tweet can be:
The latest product launch
Sales or promotional activities currently in place or as a teaser for the upcoming holiday season, etc.
It can also be a public cause that you are supporting. For example, the ongoing COVID vaccination drive which showcases you are making humanitarian efforts that benefit the community. If you are wondering what should my first tweet be, your social cause could very well be it.
Above is an example of a Tweet with an important message pinned to the brand's profile.
5. Inform your network that you are on Twitter
When you are starting from scratch, growing your following takes a lot of time and effort. However, if you already have other marketing channels in place and have a following on them, this can work to your advantage on Twitter. For instance, if you have email marketing in place, invite the people in your email list to follow you.
After creating your account and setting up the profile, there comes the nagging question: what to tweet first? There are many ways to do this. There might not be many followers yet, but it gives an idea to the users that the account is real and not spam. Your first tweet is an introduction to the Twitter world, so we need not emphasize its importance.
One of the greatest first tweet ideas is to introduce your business via images since they are the most engaging marketing mediums. They catch the followers' attention and make for a great link between the business and your Twitter account.
If you are wondering: how to find your first tweet, we are here to help. You could share a photo of your product, your store, etc. The intention should be information and advertising. Even a simple text message works as you introduce your business, but make sure that you express excitement.
First Tweet Ideas with Examples
If you are new to Twitter or at the beginning stage of your business, coming up with tweet ideas will not be easy. Here are some first tweet ideas;
1. Keep it short
Tweets can be made up of a maximum of 280 characters, but that does not mean you have to use the whole word count for your first tweet. Keeping it short is important, especially on Twitter, since this platform is defined as a microblogging site. Your first tweet idea must be short and relevant. It should focus on one message rather than many ideas. Some of the famous companies like Pepsi, Washington Post, and Myspace have done just that!
2. Market your product
There is no better way to start your Twitter journey than posting an image of your product photo as your first tweet. One of the most effective first tweet ideas could be to accompany that image with product features, problems it can resolve, and promotions or offers.
Here, the first tweet by Uuanted is a photo of the product with a brief description of their new product.
3. Put the spotlight on your employee
An amazing first tweet idea could be to show your staff instead of showing stock images of people. People like to get an insider view of the company and see videos or pictures of its employees. It also shows that you value your employees, who are the backbone of any business.
Though this may not be the first tweet from TechStars, your business, too, can follow something like this by highlighting your star employee. You can choose the most impactful employee, star performer, who has worked with you since inception as your first tweet, etc.
4. Add relevant hashtags
Make sure to experiment with hashtags in your first tweet examples. Hashtags are a combination of phrases and keywords starting with a #. Using them in your first tweet helps focus on the right keywords that are relevant to the business. It also helps to group conversations around the same topic so that people can follow what they like. There are various ways to know what hashtag is trending, but one of the ways is using the Explore tab on Twitter. Use it to connect your brand with popular topics.
Here is an example of using the trending topic #YogaDay2021 to post a tweet:
Here an aerospace and defense technology company has tweeted about International Yoga Day.
5. Engage the Audience with a Twitter Poll
What should your first tweet be? Why don't you zero in on the platform? The main focus of using Twitter is having conversations. One of the best ways to interact with the audience is to ask questions, get feedback, and conduct polls. It is also a good way to understand what the customer wants. So why not make this your first tweet? For instance, Eventbrite, a platform to find, share, attend, or create events, recently conducted polls to understand its audience. You can also have something like this as your first tweet.
It can also be something fun like the one conducted by the Cheesecake factory:
6. Recognize holidays and events
Holidays and events are great content for your first tweet. Send thoughtful wishes on holidays, or show gratitude for a memorable event. It shows the human side of your brand. If you are still unsure what to tweet, use a video of your office celebration or a relevant picture of that particular day.
Another example is the memorial day tweet by CobbM, a web design service that helps businesses build websites.
There it is, now you not only know how to set up your Twitter business account, but you also have some first tweet ideas. It is essential to have a strategy and plan in place by considering the goal you want to accomplish. The first tweet can help increase brand awareness, boost business, or establish brand authority. The launch of your first tweet is only the beginning but a major stepping stone for the future success of your business on Twitter.
Key Takeaways
Make sure that your company username and bio reveals something about your company. Your first tweet idea must be related and relevant.
Twitter is an excellent platform to market your product, show the behind-the-scenes, and build rapport with your audience.
For your first tweet, you could post images of your actual workers in the office space. It creates connection and fosters engagement with your customers.
Post on holidays and special occasions.
Organize Twitter polls, use relevant hashtags, and steer the conversation towards your product.
Conclusion
Your Twitter is an effective way to give your customers an inside view of behind-the-scenes, product launches, and upcoming events. So, what should my first tweet be? You do not have to include philosophical messages or guides. Be genuine and make sure that your tweets match your brand personality. The Sprout Social Index reports that almost 72% of the users want their brands to be funny. Who doesn't love to beat the Monday blues with some humor? However, take care so as not to insult any community or race, while trying to be funny.
FAQs
1. What to post on Twitter?
If you are wondering, what should my first tweet be, read on: 
– Share an experience and ask for thoughts/opinions 
– Share a link or advice 
– Post a quote or musing 
– Retweet or share a screenshot of your favorite messages 
– Post a story or opinion 
– Ask questions 
– Promote directly 
– Visit Peppertype.ai and generate unique tweets
2. What is a good Twitter bio?
Only a word: Original. Keep it real. Express and experiment with your thoughts, opinions, and philosophies. See what is working for you and not for others. For your first tweet ideas, do not expect instantaneous results. It can seem intimidating at first, but it is vital to keep trying.
3. What is the best way to market Twitter?
An excellent first tweet example is to talk about your product. Use that space wisely. You must hook your audience. 
– Find your niche 
– Stick to your niche 
– Leverage Twitter ads and hashtags
– Create a timely schedule 
– Engage with your audience 
– Set goals and keep track 
4. What is the best first tweet?
Make it simple and relatable. Relatability is the key to connecting with your audience. Suppose there has been a recent event around your niche. You could talk about it in your first tweet. Some first tweet ideas could be writing a simple introduction about your brand, moving on to your products, and talking about your employees. Tease about your upcoming launches. Interact with other professionals from your field. Do not underestimate the power of hashtags.
5. How to increase Twitter followers?
It is not as difficult as it sounds. To grow your Twitter following organically will take some time. However, if you are clear about your brand messaging, can identify your target audience, know the kind of content they usually like, half of your job is done. Experiment with your first tweet ideas. Be relatable and relevant. People take part in conversations that they are interested in. Leave a CTA, or question for them to engage with on Twitter. Tag people you know, or customers from your existing customer base. Use relevant hashtags and promote your @ everywhere. If your brand is new, you need to put your name out more to familiarize your customers with it. Always remember that your tweets should resonate with your brand.