Design
How to Get Clients as a Graphic Designer: 8 Useful Tips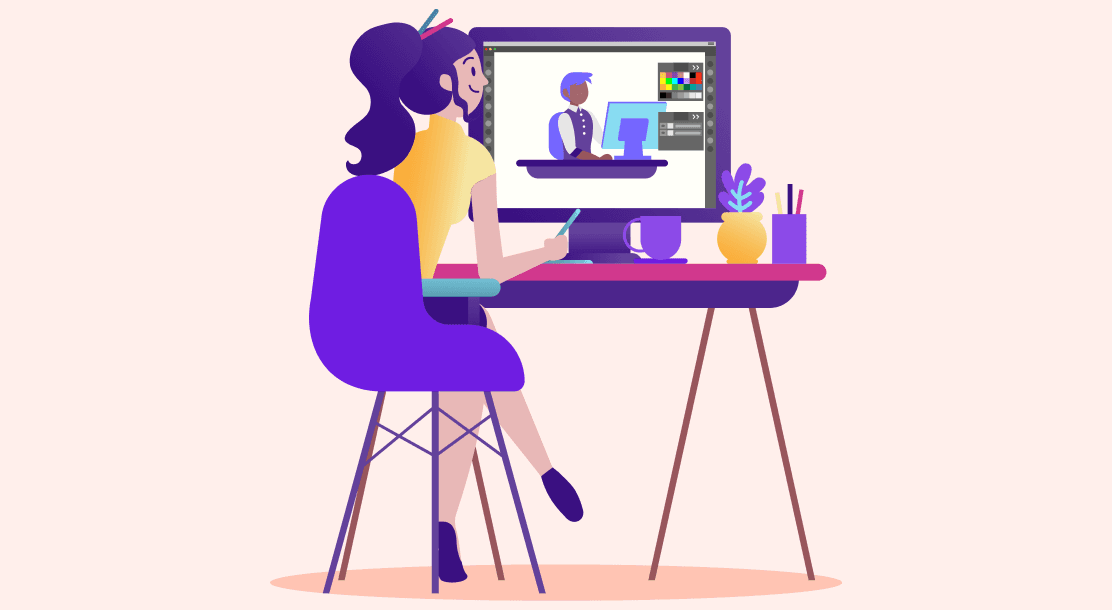 Table of Contents
8 Tips on How to Get Clients as a Graphic Designer
Key Takeaways
Conclusion
FAQs
Graphic designing, as a career option, has taken off and is in great demand these days. Especially for someone who wants to work as a freelance graphic designer, the opportunities are innumerable. Apart from having creative freedom, graphic designers enjoy the flexibility of working hours. The pay is also great once you establish yourself as an experienced designer with years of experience under your belt.
However, one downside to this profession is the never-ending hunt for clients. Whether a fresher just at the start of their career or a designing maestro, one question all designers struggle with is, "How to get clients?" Once a project is over, designers may have to look for more clients.
The process is not only time-consuming, but it may also be mentally draining. If you are a graphic designer and are thinking of making it big immediately after onboarding the first client, we're afraid that won't be the case. Clients are moody, and at times, can move to your competitors for work. In this blog, we give you handy tips on how to get graphic design clients.
8 Tips on How to Get Clients as a Graphic Designer
Listed below are eight useful tips on how to get graphic design clients.
1. Communicate your value clearly
Before communicating with potential clients, it is important that you are clear on your value to make your clients understand it too. It is essential that you clearly communicate the value you provide to your potential clients because this is what sets you apart from your competitors. Once it is well-defined, you can have better chances of winning more clients as a graphic designer.
You can communicate your value by displaying highlighting your awards or certifications, specific achievements on your portfolio, and accomplishments from past projects. You can even include your experience in your pitches or proposals, and the specific industries (for example, finance, fashion, lifestyle, healthcare, and more) you have work experience in. This will offer clarity to the clients, and help avoid confusion.
2. Bank on recommendations
Ask your past mentors or coworkers for referrals or recommendations when you're on the lookout for new clients. Clients really appreciate when constructive feedback is taken into consideration, and shortcomings in services are addressed.
Studies show that clients trust a person more with their business if they are referred. That makes recommendations a great tool for a graphic designer who is just starting out.
Most businesses have partnerships with all kinds of vendors in different organizations. A pro-tip on how to get clients: if you try to keep your clients happy, they will most likely refer you to the contacts in their circle.
3. Treat your portfolio as the Bible
Your graphic design portfolio can act like your Bible; it can either make or break your reputation and chances for attracting new clients. If you want to be a professional in the creative field, your most valuable asset is your portfolio, through which you can showcase your work experience and ensure credibility; in short, it stands for everything you are capable of doing.
Spend enough time on curating a strong portfolio, which includes your qualifications, information about certifications (if you have done any), your best work, recommendations from clients and the various projects you have worked on, to amp up your chances of being hired. Make sure to highlight any crisis you managed to solve and upload the portfolio to all job websites to attract and retain clients. Also, keep updating it from time to time and try getting it reviewed by a senior designer.
4. Produce content that is meaningful
Ask yourself why you must be hired. This is an important tip on how to get clients as a graphic designer. It will help you clearly outline your unique selling proposition (USP). One of the best ways to get new clients is by telling them what unique product offerings you can provide them with, which your competitors won't. Content is the king in any business. Post relevant and engaging content on topics related to graphic design topics, or create templates or user interface (UI) assets to build your reputation as a professional and help more clients find you.
5. Always keep updating
To avoid missing out on opportunities, get rid of anything redundant on your profile. Ensure your design portfolio, social media handles, and blogs are updated with all your recent projects. For example, if a potential client visits your Instagram but does not find your latest projects highlighted on your profile, they might assume you're no longer working as a designer and may get in touch with some other designer for business.
Even if you are on a brief hiatus, keep your clients informed. The same goes for your contact information. Be easily reachable and do not make it difficult for clients to communicate with you.
6. Don't just network; build long-lasting relations
The start is always a little difficult, and it can be quite intimidating for a few designers, especially when they hear the term "networking". Well, the best thing to do when you are starting out as a designer is to invest time in getting to know the potential clients, engaging them in casual conversations, and showing interest in their business without expecting work in return immediately.
Reach out to colleagues and professionals with the aim of building mutually favorable relationships. Also, be consistent with your follow-ups. Keep in touch with them on a regular basis and be your authentic self when you are checking up on their health and well-being. This way, there is a high possibility that you end up working on projects with these people or even get referred to by them.
7. Market yourself on social media
Social media is the way forward. Market players have started leveraging the power of social media. It helps you stay abreast of the latest trends, increases brand visibility, and even boosts your search engine rankings. Hence, another tip on how to get clients as a freelancer is to stay active on social media.
Highlight your work and offerings clearly so that potential clients are aware of what they can expect from you. Apart from that, request past colleagues for feedback and present those testimonials on your website or social media handles. This is important because potential customers are curious to know about your work experience. Also, creating an impressive LinkedIn profile and being an active member of the community helps. Remember to link your portfolio to your LinkedIn profile.
8. Believe in the magic of a follow-up
Whether it is the first time you are sending a design proposal to a potential client or a revised copy of some design, follow-up mails are a must. There is a high possibility they didn't receive your mail, as it must have landed in their spam folder or got buried under other emails.
Play safe and avoid missing out on your chance by sending a follow-up mail. It is best not to keep waiting for a response, assuming the client will get back when they have time.
A single follow-up mail also shows that you are interested in working with them and encourages their confidence in you. Also, do not forget to send a follow-up email that reiterates any business proposals you might have discussed with a potential client at a networking or professional event. This ensures top-of-mind recall.
Key Takeaways
Graphic designers enjoy creative freedom, have the flexibility of working hours, and the pay is also great once they garner some amount of experience.
As a graphic designer, you cannot earn big bucks immediately. It takes time to establish your name in the market.
To avoid missing out on your chance of being hired, send follow-up mails a few days after sending a business proposal. This shows the client that you value them.
The whole world is on social media. In order to put yourself on the map as a graphic designer and create your visibility, you must have a strong social media presence. This is one of the greatest tips on how to get clients as a graphic designer.
Don't just network. Build mutually advantageous relationships with clients and professionals from your field.
Be consistent with your communication with the clients.
Keep yourself updated on the latest industry trends.
At the same time, update your portfolio, website, and social media handles regularly, so that clients are aware of your latest work.
Client recommendations bring in new business opportunities, so keep the existing clients happy.
Clearly state your offerings and USP, and pay special attention to creating valuable content.
Your portfolio should include your qualifications, information about certifications courses, notable work till date, recommendations from coworkers, and the gamut of services you provide.
Before communicating with potential clients, it is imperative that you are clear on the value you bring to the table.
Upload your updated portfolio to different job sites, in order to garner maximum client attention.
Conclusion
The initial days can be challenging when one starts out as a graphic designer. Getting new clients on board and retaining old ones can be the hardest part of the business, leave alone the pressure of defining your USP. However, turning your passion into a career can be difficult but not impossible. You can take cues from the above tips on how to get clients.
If you are a new designer, you should have a robust portfolio to find potential clients. It is okay to start small and spread branches slowly. You should also create an online presence. Try to win the hearts of clients and not just bids. Patience and continuous hard work are key. Take baby steps initially, and soon, things will work in your favor.
FAQs
1. Why is it important to market yourself as a designer on social media?
Today, the world is on social media, and what is seen is sold! Putting your work out there on the internet increases visibility among potential clients, who can assess your work and make a decision.
2. What is the importance of a well-defined portfolio?
A portfolio is an asset that tells the clients about your experience and capabilities as a graphic designer and sets you apart from the competition.
3. Why should you get your portfolio reviewed by a senior designer?
A senior designer is more experienced, has better industry insights and knowledge. He can help point out mistakes because even small mistakes can bring you rejection. Get your portfolio proofread by another designer to make it client-friendly.
4. What are the three must-haves in a graphic designing portfolio?
Here are three must-haves in a graphic design portfolio. 
1. High-quality samples of your best work
2. Client recommendations
3. Additional elements like pop-up pages, interactive displays, and embedded textures
5. What are the five basic skills of a graphic designer?
A graphic designer should have the following five skills. 
1. Creativity
2. Eye for detail
3. Time-management skills
4. Tech-savviness 
5. Visual ideation abilities