Marketing
How To Use Instagram to Promote Your Brand?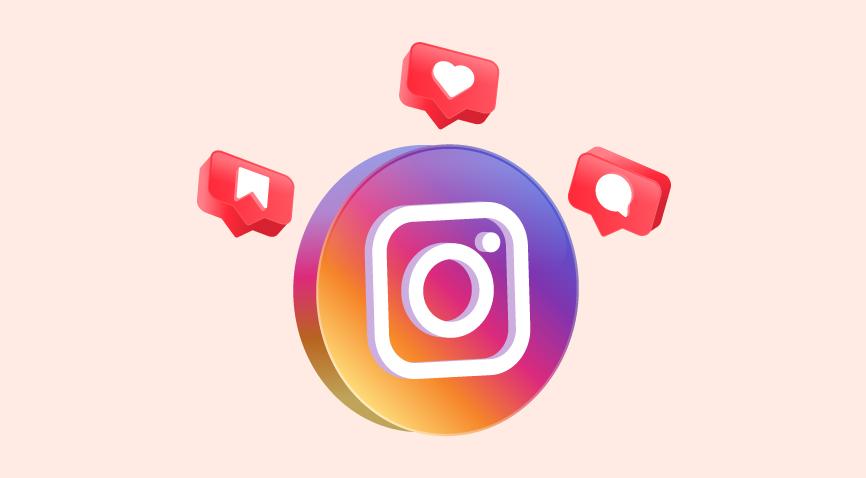 Table of Contents
Introduction
Why Should You Promote Your Brand on Instagram?
How to Do Business Promotion on Instagram: The Best Tips

Amp Up the Content Production
Switch to a Business Profile As Soon As You Can
Build a Community Around Actionable Instagram Hashtags
Cross-Promote the Instagram Across Other Networks
Post Teasers for Your Products to Urge People to Buy
Use People-Centric Content
Take Advantage of the Instagram Stories
Work with Influencers
Post at the Right Time
Run a Giveaway or a Contest
Create Sponsored Ads

Key Takeaways
FAQs
Instagram is one of the most popular social media platforms. More than one billion people are using Instagram every month. About 90% of the users follow at least one business on this platform. So, it comes as a no-brainer that it is one of the most powerful promotional platforms for any brand.
Instagram is not just for personal use anymore. It has become a global platform that lets brands humanize their content, showcase their product, or hire new talent. Brands are opening shops, running fundraisers, and organizing Instagram live broadcasts. However, to use it to its full potential, you have to keep track of many things.
The users of Instagram are not active; they are engaged. Around 59% of the platform's active users visit the site regularly. So, they spend 7 hours/week on average interacting with friends or browsing their preferred content. Every month 130 million users are engaging on Instagram's shopping content. Through Instagram, you will be able to promote your brand in an authentic and friendly way.
Even if you have the statistics, it can be difficult to understand how to do business promotions on Instagram. We know how confusing it can be. That is why we are here to help you out.
The platform might appear a little intimidating at first, but that is the reason we have come up with this guide.
But first, let's find out why you should market on Instagram.
Why Should You Promote Your Brand on Instagram?
Here are the real benefits of promoting your brand on Instagram:
There are over 700 million users on Instagram, and the number keeps increasing.
The ads on Instagram are non-intrusive, and thus, it is less likely to frustrate and annoy your potential audience.
Facebook and Instagram are connected. Hence, you can easily target your audience based on Facebook data. The scheduling and budgeting task and the creation and setup of ads will be done through Facebook. Hence, if you are new to Instagram, you don't have to learn from scratch.
Instagram has a higher engagement rate in comparison to other social media platforms. The HubSpot Instagram Engagement Report says that the platform generates 23% more engagement than Facebook, even though Facebook has 2x more monthly users.
The platform measures the campaign's success based on awareness, recall, and reach rather than follower counts, comments, or likes.
When it comes to the cost and ROI, Instagram promotion and marketing provide the best result. It is less time-consuming and effective in comparison to other marketing channels.
How to Do Business Promotion on Instagram: The Best Tips
In this section, we will list the effective tips that you can use to promote your brand on Instagram. So, let's get on with it.
1. Amp up the content production
There is no shortage of content to publish and fill up the brand feed when it comes to Instagram. You can use bite-sized videos, memes, or even customer photos.
You need to find out what works the best for your audience. But for that, you might have to use the trial-and-error method. So, you will have to ramp up the content production and post content more frequently.
To stay on the minds of your customers, you have to post at least once a day. Some major brands are known to post content at least thrice a day. As your handle rolls out more content, you can squeeze more engagement. However, you need to know the best time to post your content.
Other than taking advantage of your feed, you can use Instagram Stories. The best aspect about Stories is you can post one content after the other without spamming your followers.
When it comes to content, Instagram is moving much faster than it has in the last two years when it comes to content. You have to be active to keep up with it. Creating content that your viewers will love isn't easy. You need to have a comprehensive strategy for this. Use data to come up with successful and effective content.
2. Switch to a business profile as soon as you can
Before you formulate your marketing plan, you need to have an Instagram Business Account. You can switch your present profile to a business profile without any hassle. To get started, go to settings and tap on 'Switch to Business Profile'.
There are great benefits of having a business profile. For instance, followers can click on the contact button to get in touch with you directly from the Instagram page, just as they contact you directly from your website.
You can publish Instagram ads without using Facebook advertising tools when you have a business profile. Moreover, you can use Insights, the Instagram analytics tool. It provides stats about your post's reach and impression. Once you activate the free perks provided along with a business profile, you have to use them to track metrics and get to know your audience better. Using a business profile is one of the primary tricks of doing business promotion on Instagram.
3. Build a community around actionable Instagram hashtags
Usually, when you have to create a promotion on Instagram, the first thing that comes to your mind is hashtags. The best thing about this strategy is to leverage it across various social media platforms, such as Pinterest and Twitter. It works exceptionally well on Instagram, too. With this, you will be able to engage with your target audience and promote your brand effectively.
Many brands leverage hashtag campaigns. Also, hashtags are a crucial aspect of Instagram SEO. So, when you use it to promote your brand, you can improve your visibility on the search engine results and obtain more engagement.
Create an interactive hashtag to increase engagement on your social media platform. But make sure you use the hashtag the right way. One of the best strategies you can use is creating a hashtag that customers use to tag their photos with the products they just bought.
For instance, the hashtag you create that your company might search for re-posting the pictures of the customers with the product will accomplish two things:
Whenever someone is posting using your hashtag, they introduce their followers to your product or company. Hence, you can enjoy free advertising.
It will make more of your followers use the hashtag and post the images along with the product they would like to feature on your page.
4. Cross-promote Instagram account across other networks
Cross-platform promotion proves to be really useful for how to do business promotion on Instagram. Knowing how to create promotions on Instagram is not enough. You also have to promote it. When it comes to creating Instagram-worthy posts, you have to put in a lot of effort. Crafting an effective caption and capturing the perfect photo shouldn't go to waste.
So, what do you do? You cross-post the content on various social media platforms. This way, you can get more ROI from your presence on Instagram. For instance, if you promote Instagram across platforms, such as Twitter or Facebook, you can optimize your content's reach.
Cross-platform promotion is a smart move. But don't forget, every social media platform comes with its own best practices. For instance, Instagram is largely dependent on hashtags, while descriptions for images are a little different on Facebook.
You can use software and tools to store videos, images, and text in centralized locations for use on different social networks. Also, you can use scheduling and publishing tools.
5. Post teasers for your products to urge people to buy
Won't it be great if you could sell more products through Instagram?
Well, Instagram is an excellent platform to advertise all your products. Using the right tactic, you can easily urge your target audience to buy your products.
Remember, when you are pushy, your followers are going to drop. However, teasers are a subtle way to talk about your new launches. They help increase excitement among the customers, and it doesn't look like you are trying too hard.
Your ads should be laid back and not pushy. For instance, you can tease your followers with a discount and a product photo to download the app. It is effective for almost every industry.
If you tease people with images of the products they might be interested in, they are likely to pull the trigger and purchase something.
If they don't, they are at least going to engage with the post by commenting on it, liking it, or sharing it. Hence, you shouldn't shy away from showing off what you have to offer to your customers. Just make sure that you are doing it gently.
6. Use people-centric content
Sure, Instagram is a place to sell your product, but it is primarily a place for sharing experiences. The popularity of self-clicked photos is proof of that. People share photos of products in real-world settings. So, you will be able to reach out to more customers if you advertise and promote your brand and product more humanly. Don't bombard your followers with the message 'Buy Now.
This is why user-generated content, such as photos posted by customers, is a gold mine for businesses. Instagram users love it when brands feature them on their handles. Also, customer photos are marketing firepower, which shows that people are using your product.
However, if you have to come up with user-generated content for your handle, you need to think about the right hashtags that can promote your products easily.
7. Take advantage of the Instagram Stories
If you would like to generate leads, take advantage of Instagram Stories. These are different from the regular feeds as they are slideshows. The Stories you post are only going to be live for 24 hours. However, you can save the stories to one of your devices and use it again when required.
This feature is just like Snapchat's Stories. Instead of appearing on the feed, your content will appear in the small area at the top. As soon as the user clicks on the photo at the top panel, a window will pop up showing your Story.
Your brand can benefit significantly from Instagram Stories. The Stories appear at the top of the timeline, and users tend to check this regularly. You can use the Stories section to post your behind-the-scenes posts. You don't have to worry much about the content aligning with the brand's aesthetics when it comes to Stories.
Moreover, with Instagram, you will be able to experiment with various types of content through the Stories, such as short videos, photos, live videos, or rewind videos. Take the help of different tools to develop good videos and images. Tagging accounts is also a great option, especially when collaborating with some other brand.
Every image or video you post will be played in the same sequence as you add it. What's more, you will be able to add unlimited photos and videos to Stories at a given time. No matter what you sell, you can take advantage of this feature.
8. Work with influencers
Instagram is a platform where brands can publish their ads without pushing their followers to buy. To reach out to more and more customers, you can use influencer marketing. In simple words, influencer marketing includes paid partnership with some other Instagram account with significant followers. The influencer you are choosing should mirror your own or let you tap into a new section of users you have been trying to reach out to.
Influencers are just like ads. It means taking their help is going to cost you some money. Nevertheless, finding the right influencer for your business can sell your product or service and increase your followers. Thus, it can be highly cost-effective.
The easiest way to spot the right influencer for your brand is through hashtags. Another way is to use analytics tools provided by Instagram. Keep in mind that when you are identifying influencers, ensure they have a following that will engage with your content. This is an effective tactic to use if you are wondering how to do promotions on Instagram.
9. Post at the right time
If you over-post on Instagram, you are sure to turn off your followers. When they only see a feed from your brand on their newsfeed, they might just unfollow you out of frustration.
However, if you post too little, your audience might just forget about you. So, you have to post consistently to make sure that you stay on their newsfeed regularly.
Post on the peak hours and days when your followers are online. A study by SimplyMeasured showed that the worst day to post on this platform is Sundays and Wednesdays. Mondays and Thursdays can prove to be the best days to post your content.
CoSchedule performed a study that showed the ideal times to post are between 8-9 am, and 2 am. The time between 8-9 am correlated to that hour of the day when Instagram users are getting ready for their work to travel to the office. While 2 am is the hour where users scroll through the Instagram feed instead of sleeping. Thus, these are the most popular times to post your content on Instagram.
You can take the help of the tools available to find when your followers are most active on Instagram. The best time and day to post might be a little different based on your target audience.
Research has also shown that you need to post between 1 and 2 times every day. If you are tempted to post more images, use the carousel album feature the platform offers. It allows you to post content in a slideshow format. This will keep you from overwhelming your followers with too many posts.
After making the changes, check the metrics to work on the areas that need improvement.
10. Run a giveaway or a contest
According to Tailwind, brands running a contest can grow their followers 79% faster than those who don't. You might have already noticed that giveaway-related posts or brand costs receive a significant amount of engagement. This doesn't happen by fluke. If you are successful in doing it right away, it can result in more followers and fans.
You can run a one-time promotional contest on the platform to test the waters. After you receive the feedback, you can decide if you would like the run the contest once again or not.
11. Create sponsored ads
Instagram ads have become quite common. The best part about sponsored ads is you can control how much you would like to spend on them by deciding on a budget. You can display a single sponsored or multiple ones using the carousel feature. So, brands can target their potential audience in a new way.
Before using the sponsored ads, just your followers could see your photos and updates. But now, you will be able to promote your photos to anyone fitting the target audience for increasing your reach.
For your sponsored ads, use content that is attractive and engaging to the target audience. It is also possible to transform your existing posts into sponsored ads. Hence, you should keep track of the top posts.
Use the high-performing posts to potential customers as sponsored ads. You can run different posts to a different audience simultaneously to draw in more users and increase your followers. Remember, there are different types of sponsored ads:
Video
Photo
Stories
Carousel
Stories Canvas
Use the one that suits you the best.
Key Takeaways
Instagram has a higher engagement rate in comparison to other social media sites.
Use effective, engaging content for your Instagram posts.
Take advantage of Instagram features such as Stories, cross-platform promotion, and more.
Choose the right time to post your content.
Work with influencers and keep your content people-centric.
FAQs
1.

How to grow my brand followers on Instagram?
If you have to increase your followers on Instagram, you have to pay attention to quality instead of quantity. Make sure that you use relevant hashtags, run contests, schedule and post consistently, and share the posts on other social media platforms. 
2.

When is the best time to post on Instagram?
To learn the best time to post your content on Instagram, test the post timings when your post is generating the maximum audience engagement. 
3.

Does promotion on Instagram increase followers?
If you use ads to promote your blog post that your target audience would like to read and use the right tips, you can easily increase your Instagram followers.
4.

How to do business promotion on Instagram?
When it comes to how to promote your page on Instagram, you have to first get a business account, get to know your target customers, use the Instagram features, and post at the right time. 
5.

Do I have to pay to promote a post on Instagram?
Yes, it will cost you money, but the amount is negligible. Once you have decided on the Story or post you want to promote, you can decide on a budget.   
6. Is Instagram business account free?
Yes, you can switch to the Business Profile for free.