Marketing
Learn How to Distribute Your Video Content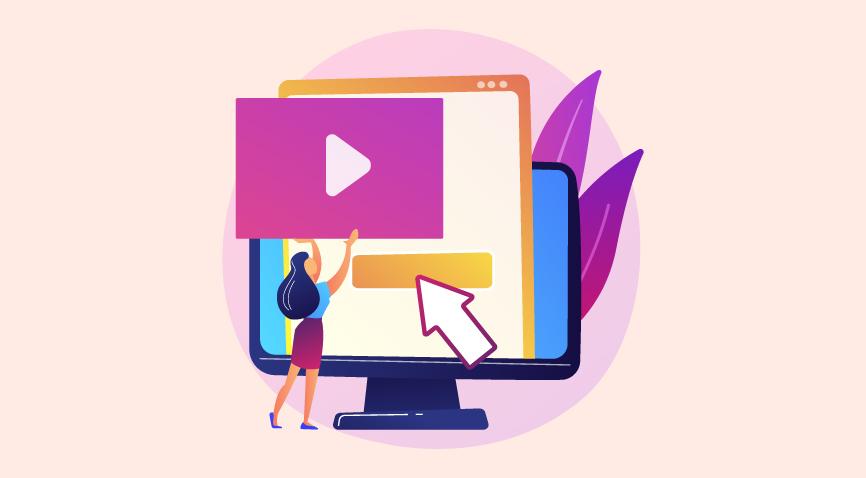 Table of Contents
Introduction
Why Video Distribution Matters
Everything About Online Video Distribution
Types of Online Video Distribution
Why Does Online Distribution Matter for Businesses?
Guide to Building a Strategy for Online Video Distribution
Which Platform is Perfect for You?
Key Takeaways
Conclusion
FAQs
A part of creating interesting video content is analyzing when, where, and how to distribute it. Between your personal blog, social media channels, and YouTube, there is stiff competition with each of them having its own benefits and limitations. It is therefore very important to understand how to distribute video content effectively.
Irrespective of the medium, your video content should reach its targeted audience, making it compelling and interesting. Once that is done, about 86% of your landing page conversions are taken care of.
To understand how to do the online video distribution, you first must understand what it is. Online Video content distribution is creating self-explanatory content using a carefully crafted strategy that converts as many viewers on your landing page into sales as possible.
Why does Online Distribution Matter to Businesses?
Given that around 80% of all web traffic today comes from the video content, the worth of top-notch video content for organizations is understandable. However, as significant as new video distribution seems to be, numerous organizations frequently neglect it.
Every social media channel has a group of people who consume its content. Previously, advertisers exclusively utilized online media as a driver of social traffic to their website or blog. Today, the most ideal method for ensuring that your video has a high impression rate is to make it accessible on the internet. Online social media channels offer a lot of advantages to businesses, with a portion of the key qualities being around the awareness, commitment, and promotion phases of the customer journey.
Online openness attracts more customers towards your market value and brings more potential to uncover new clients. Social media is the biggest network for your new video distribution tool, and it can assist individuals to perceive your image and product before they even show up on your website.
It essentially permits you to make top-notch content quickly and in large quantities, distribute and share it with your audience on channels like your own site, landing pages, and blogs, through email, or social media channels, such as YouTube, Facebook, Twitter, LinkedIn or Instagram.
It is estimated that around 80% of all customer traffic will be through video content, by 2021. Video content, therefore, is turning into a need rather than an option. Excellent video content can help your product get noticed. You need to ensure that it arrives on the right channels, for the right crowd, at the perfect time.
Everything About Online Video Distribution
What is a viral video? Any video that is shared and becomes well known among a gathering of individuals is a viral video. You may not get 1,000,000 likes in a single day but even if some of your target audience is sharing your video within their group, it is a viral achievement. Tools like share buttons, URLs urge viewers to share the content with their companions, assisting your video in reaching as many viewers as possible.
Viral videos don't happen by some coincidence or just overnight. It is a result of all your efforts or that of a marketing specialist, on your behalf. These geniuses are responsible for the accomplishment of many creative campaigns seen currently.
Your video must be fascinating, forthright, and engaging. You can accomplish this by concentrating on what your viewers are keen on. Interact with your outreach group, concentrate on social media networks, and take advantage of your support channels.
YouTube, Vimeo, Facebook, and Instagram are some of the best places to host your content, as they have a large number of viewers on a regular basis as well as quality measurements and research tools to analyze your audience. If you're a content creator or an influential personality with a million followers, you're already on one of these platforms. So, this makes it extraordinary already.
Types of Online Video Distribution
Here are probably the most popular types of videos you watch on the web:
Explainer Videos: Explainer videos are video content, typically around one to two minutes of length, in many forms, from customary content or whiteboard activity to 2D or 3D presentation. They can be displayed as YouTube advertisements or on landing pages, social media, and emails. You can use them in paid TV advertisements, career expo corners, as call to action (CTA), and more. They are basically a brief presentation of a business' goods or services, where only one play button can help you attract your probable clients,or financial investors.
Tutorials: An instructional video content is a complementary video to go with a parent video, generally used in the education industry. Video tutorials, regardless of whether recorded or live, are essential to students since they make learning more creative and make students' experience more powerful.
Vlog: A video blog is intended to share experiences, expressions, and thoughts with other people, visually. It is a type of correspondence that is used to connect with a crowd in an individual manner.
Product Review: As a product specialist, you can voice your viewpoint and make it count. Your analysis of a product could help a customer choose it because they trust your judgment. A video that highlights the outstanding features of a product is compelling.
Guide to Building a Strategy for Online Video Distribution
The following are a few significant ways to make your video distribution effective:
Decide the essential objective of your videos
Note that while videos can be enjoyable to make, they need to serve a purpose to help your business. Beginning with the end goal in sight is the best initial step you can take. This will also assist you with restricting your procedure down to which distribution channels will assist with accomplishing that essential objective. If it's creating awareness, for instance, online media channels ought to be the first concern. The clearer your essential objective is, the better you'll know precisely which channels to pick.
Equally distributed videos
It's great to have an essential objective as the main priority and attention on one distribution channel, yet don't set all your hopes in one place.
To make a balanced online video distribution system select five or six unique channels to host your videos on. This will allow you an opportunity to achieve your essential objective and in addition maybe hit extra objectives that can assist with fulfilling your overall strategy, in the long run.
Cross-populate channels
Repurposing videos is perhaps the best way to get more out of them with moderately less effort from you. Now and again, your best videos can be broken up into small video clips that can be uploaded separately.
Make quality pieces
You can invest a great deal of energy worrying over which stage will be a superior fit for your video. However, it is also significant to make quality content. Assuming you need an audience to be drawn in by your content, you need to make videos that appeal to them in terms of quality and content.
For a video to be convincing, you need to make it reflect your organization's tone of voice and that is possible only by watching out for the subtleties at each phase of the production.
Discover your main interest group
Discovering your main interest group is a pivotal step. If you make a video without a particular target in mind you are likely to fail. The individuals you want to watch your video won't and the people who watch it may not convert to your brand.

Which Platform Is Perfect For You?
Which of the channels is suited to your needs? All things considered, that depends upon what you need to accomplish and the audience you need to reach.
The examination is the essential device that will help you realize where to distribute your content. There are new video distribution platforms that can track your content across different platforms. Examining outcomes will help you concentrate on the best channels for drawing in your audience.
With the right tool, you can choose content that appeals to the vast majority and change the remainder of your methodology appropriately. Vimeo offers tools to assist you in identifying the right channel for your brand.
Key Takeaways
Here are our three takeaways for mastering the essentials of online video distribution :
Find out where your target crowd is, and pick the right channel early on. Online video distribution that starts with choosing the right video platform helps in generating valuable leads.
Make sure your facilitating channel assists you with dealing with your content and eases the process of popularizing it. To be more productive you need to work with a platform that permits you to convey your message creatively and accurately on one dashboard.
Earning income matters, so work with a platform that permits you the adaptability to make a distribution methodology that lines up with your objectives and the content you're creating.
Conclusion
Success doesn't happen all of a sudden! The best systems are open-ended ones that permit you the freedom to express yourself, analyze content, and stay innovative. Video distribution is an interaction that will require persistence, preliminary knowledge, and you may make some mistakes. Distinguish your brand's exceptional development elements and consistently track down ways of connecting with new audiences as effectively as possible.
Don't be disheartened if a channel isn't giving you the expected outcome. See that you routinely survey your methodology and investigate issues as they emerge, and you'll ultimately uncover the best distribution channel for your business.
FAQs
1. How can I make my video content better?
The key to extraordinary video content is advertising your product, instructing your audience, expanding brand commitment, and keeping your social media refreshed. Video content is not a choice anymore; it is THE way to make a content distribution system effective.
2. Is YouTube a decent choice for online content distribution?
YouTube can be a viable option. It is amazingly captivating and valuable for some organizations. Making a YouTube channel for your business offers an incorporated stage for your audience to be drawn in by your video content.
3. How can I make an expert video at home?
Creating an expert video depends on your procedure rather than your devices, so you don't need to drop a fortune on costly gear to make incredible videos. All you need is a lot of light, clear background, and experience of working on video editing software.
4. How to make a boring video fascinating?
It's basic! Pick a fascinating subject, be direct, adhere to your own video style, and continue to explore different ways of making your video stand out, for example adding good background music. In some cases, keeping your video from over-altering makes it really fascinating.
5. How can I make unique content?
Find out more about your target audience as much as you can so that your content doesn't resemble a sketch or feel like it is plagiarized.