Content
Business Blogging: 9 Tips on How to Create Successful Blogs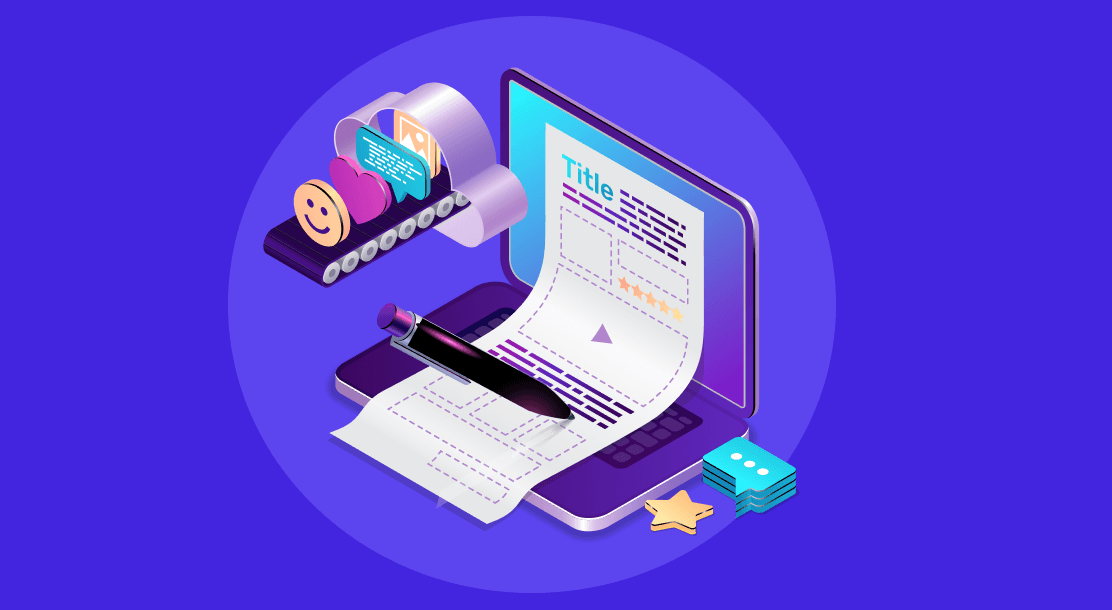 Table of Contents
What Is a Company Blog?
9 Tips on How to Start a Successful Blog for Your Business
Key Takeaways
Conclusion
FAQs
Your company website is not just another run-of-the-mill element that you have to keep and maintain as a business owner. It is, in fact, your most important resource. Your website or company blog is what converts readers into leads, and potential buyers into actual customers. So one of your primary focuses as a smart business owner should be on how to create successful blogs. Let's begin by understanding what company blogs are.
What Is a Company Blog?
A company blog is a digital property owned by a business. It is the platform that is home to informative material (long-form or short content) for the audience to read. Business blogs attract visitors to your site and also lead to more conversions. With your blog posts, you can speak to your customers in an engaging manner, and talk about their interests, needs, and pain points. Having a company blog offers several advantages, some of which are as follows:
It positions you as a thought leader.
It generates website traffic.
It increases sales.
With your blog posts, you can reach out to your clients at different stages of their buying journey.
It is a great promotion tactic.
It helps you build relationships with your customers and other businesses/bloggers as well.
9 Tips on How to Start a Successful Blog for Your Business
As a business owner, your effort should not be restricted to just building a company blog. It extends to other areas, such as pumping it up with new ideas, updating it with engaging content, and brainstorming ways in which you can promote it. Here are nine effective tips on how to start a successful blog for your business.
1. Publish an ebook
While traditional publishing requires you to invest a massive amount of money, with Kindle select, you can become an author in less than seven days. You can publish your ebook within minimum time duration and with the least effort using Kindle's services.
When you are publishing your book with Kindle, you can enroll it in the Kindle Direct Publishing Select Program. This service makes your book exclusively available for 90 days on the Kindle store. Kindle will then target readers that might be interested in reading your book.
How is this related to how to create a successful blog, you ask? You can use your Kindle ebook to get more visitors to your blog, by linking the two. It is also a good idea to offer free Kindle copies of your book to readers in exchange for honest reviews. You can post these reviews on your company blog.
Another important step in utilizing your Kindle book to make your company blog effective is linking back sections from your book to your blog. Even if someone just previews your book, they will be compelled to tap on the link, leading them to the blog.
2. Create viral content
The second tip on how to create a successful company blog is creating viral content. Viral content is called so for a reason. Any piece of content that elicits strong sets of emotions among your audience and is spread far and wide on the internet is referred to as viral content.
Write your content in a way that people would want to consume it, interact with it, and share it. Let's look at the ingredients that make a piece of content go viral.
Effective headlines
For any business blog, the headline is the most essential part of its content. If your headline has a catch, grabs the attention of the reader, or draws them in to read more, you are on the right path.
Shareable posts
Generating brilliant company blog ideas is not enough unless you get the length of your blogs right. Shareable posts are usually around 1,000 words. We say this because long-form content is known to have higher search engine rankings.
Creative ideas
Another important ingredient to create a viral content piece is a killer idea. To find an idea that has the potential to go viral, start off by understanding your audience. You can use a topic generator to brainstorm ideas. Reviews and customer comments are also an undiscovered mine of brilliant ideas.
Repurposed content
The principle of "work smart" highly applies to creating viral content. Repurposing content is the process by which you sort through your web content and tweak it, mold it, or rearrange it and present it in a more current and meaningful way to your audience.
Clear messaging
Clarity is intrinsic to a well-performing piece of content.
Polarization
Making your readers choose a side or take a stand when reading your content piece undoubtedly makes them engage with it.
Outcome-oriented process
Another crucial element that makes company blog ideas perform well is a focus on the results. Do not just sell your product via your company blogs; sell the end result and the whole experience to your audience.
3. Write evergreen listicles
List posts or listicles tend to perform better, attracting more visitors to a blog page. Therefore, it is essential to master the art of creating evergreen list posts, in order to create a successful company blog. Evergreen posts are pieces of content that show continued and sustained success. In other words, they are timeless pieces of content.
Evergreen listicles enhance your brand value and maintain a constant flow of visitors to your company blog. Even after months and years of their creation and publication, they manage to attract traffic to the site. But before you create a list post, you need to understand what company blog ideas have the potential of becoming evergreen. There are two ways to check your idea:
Check if a magazine or an online publication has already covered that topic or if there exists a dedicated publication on that subject. This will help you ensure whether your idea is popular.
Find out existing posts on the internet on the same subject and assess their performance and engagement.
Evergreen lists that have a number in their titles tend to get more traffic to the parent blog. Once you have decided what idea you want to expand into an evergreen blog post, you will need an inviting, crisp, and promising headline for it. Brainstorming ideas, paying attention to the queries, issues, and suggestions of your customers, and conducting thorough research will help you generate timeless company blog ideas.
You can also use these formulas for copywriting:
Problem-Agitate-Solve
One of the popular formulas in copywriting is Problem-Agitate-Solve (PAS). You make your audience believe that without the solution you are offering, there is something missing from their lives.
Attention, Interest, Desire, Action
Attention, Interest, Desire, Action (AIDA) is a formula that always works. After grabbing the reader's attention, you engage them and appeal to their desire. This will compel them to take an action, thus converting them into a buyer.
Features, Advantages, and Benefits
Use the Features, Advantages, and Benefits (FAB) formula to tell your audience about the features, advantages, and benefits of using your product or service.
4. Use long-tail keywords
Long-tail keywords are useful for buyers who have already entered the funnel and are either in the middle or bottom of it. Long-tail keywords are three or more words in length (more like phrases). They are extremely specific and target a specific audience that is closer to the conversion stage.
They play a major role in creating a successful company blog. Once you optimize your blog with long-tail phrases, you will organically get more traffic to your site. For utilizing long-tail keywords, you need to create well-researched blog posts of shareable lengths and embed select keywords into the content. By using long-tail keywords, you are focusing your energy on a targeted section of your potential customers that are more likely to purchase your product or service. In other words, you are meeting a specific need. Google autocomplete and Google Keyword Planner are tools that will assist you in finding and finalizing your long-tail keywords.
5. Leverage email marketing
Emails are no more just a means of communication; they are an important part of the marketing mix too. Businesses have dedicated individuals to structure their email marketing strategies. And the reason behind investing resources, time, and energy to make emails better is the massive traffic they can generate for your business. Although, when done poorly, emails yield no search traffic results. The secret to making your emails effective is building a specialized email list and nurturing it constantly. You need to include only people of potential interest on this list. Here are some reasons why you must create an elite list.
By building an email list, you are collecting only targeted leads that are bound to convert.
When attaching newsletters or embedding blog links, your email's open rate will be higher.
A dedicated group of subscribers leads to a profitable business.
You can be assured of a good click-through rate (CTR).
After you have structured your main goal, your next step is to build a special landing page. Make sure your landing page addresses the problem of your readers and loads fast, without leaving them angry and out of patience. Also, pay attention to the design of the page. A minimalistic, clean design is always more appealing to look at. Now build a targeted list to send emails to.
6. Try guest blogging
The next tip for how to create successful blogs is guest blogging. This tactic requires primary research. Research blogs that have a high social following. Focus your guest blogging strategies on these sites. When you shortlist blog pages to send your guest post pitches to, make sure they have a high social influence, reader engagement, and authority. After accepting your guest post idea, if the blog features your post on one of its social media accounts, it will automatically direct a lot of viewers to your company blog.
Of course, no A-list blog openly displays its statistics and performance details. You can find out about them by exploring their "About" and social media pages. Look for the following factors.
How many followers do they have on social media?
Do they actively post on social media?
Are other guest posts featured by them on their socials?
Do they have a good audience engagement in the form of comments, likes, shares, and reposts?
This is a sure-shot way of getting more organic traffic to your blog.
7. Restructure your posts
The easiest answer to "How to create a successful company blog?" lies in the art of restructuring your existing content. This secret tip will not only bring more traffic to your company blog, but it will also help you save on time and resources. Make use of analytics tools and check the number of shares, comments, and views you're getting. You will figure out if your post has been unattended to or went unread. This is not a moment of being disheartened. Pick that post and start restructuring it.
Try to understand your audience better. Look back at a post that performed excellently; what was unique about it? Is there a visible pattern that might have led to its success? Find out what your current engagement level is. Out of the multiple metrics it displays, you need to focus on the bounce rate. The bounce rate shows the percentage of web visitors who viewed a page once and then left the website.
Now, your target is to decrease this bounce rate. A few factors that lead to a higher bounce rate, apart from boring content are, complex, unresponsive website layouts that are not compatible with all devices, low readability of text, and a website that takes a lot of time to load. There are other metrics, such as daily page views per visitor, daily time on site, etc., that you might find useful in understanding your audience engagement.
8. Adopt an interactive tone
The ultimate secret to amazing blog content is to write like you are talking to the reader. Whether it is the blog posts on your company blog, your emails, or your site's landing page, make a conversation through the written word. Conversational writing is easy to understand, jargon-free, and quicker to connect with. It makes your audience feel important. When you empathize with them, they trust your brand. Conversations are always more engaging than directions or instructions, as they contain emotion. Make your content conversational by using these tips.
Keep your sentences short and crisp.
Do not stretch paragraphs.
Avoid difficult words and acronyms.
Avoid technical jargon.
Add questions and exclamation marks (but don't overdo it).
Include personal anecdotes.
Use an active voice.
Write in the second person.
Use direct sentences with a call to action (CTA).
Focus on the reader.
Format text so that it is easier to read (this includes using bulleted lists, pull quotes, subheadings, and a clear font).
9. Address each stage of the buyer's journey
The most productive company blog ideas are ones that address the different stages of your buyer's journey. It is just like writing for different buyer personas. Not all visitors who come to your site are at the same stage of their customer journeys. Some might be searching for a solution to their concerns, while others might be simply exploring or about to purchase one of your products. At each stage, it is a different person you are talking to. Hence, content for different stages needs to be tailor-made. By catering separately to each stage, you have higher chance of being found on the internet.
At the awareness stage, the customer is looking for a solution to their problem. Your content for this stage should:
Focus on the problem.
Inspire the customer to engage.
Educate the customer about possible solutions without sounding overly authoritative.
At the consideration stage, your buyer comes with the knowledge of possible solutions to their problem. Create content that does the following.
Offers them a guideline
Emphasizes the benefits of your product
Subtly compares your product with its competitors and proves why and how your product is better
Once the customer has arrived at the decision stage, they have made a call on what they want to buy. Make sure your content for this stage fulfills the following criteria:
It should be brand-specific.
It should make your product or service appear irresistible
It should include a clear CTA.
It should give ample information about the benefits and features of your product or service.
It should include a few testimonials or client stories.
Catering to the specific needs of your customer at each stage of their burying journey will make your company blog not only appealing but also more relevant.
Key Takeaways
A company blog is a blog that publishes informative, engaging, and entertaining content about a specific niche, for the audience to read. It is a great means of promoting your products or services.
Use your Kindle book to get more visitors to your blog.
Do not just sell the product via your company blogs; sell the final outcome and the overall experience.
Evergreen posts are timeless pieces of content that show continued and sustained success, driving traffic to your site months or years after they have been published.
You can make your emails effective by building a specialized list and nurturing it.
Make your content conversational. Write like you are talking to the reader.
Conclusion
When learning how to create successful blogs, you can employ a combination of these tips or all of them. While they might not yield results overnight, with time and consistent efforts, your blog posts are sure to eventually draw more traffic, boosting your conversion rates.
FAQs
1. What resources are needed to create a company blog?
When starting a company blog, you will require a host, blogging platform, and a sound content creation strategy.
2. What should my first blog post be about?
As part of a company blog, your first post should introduce you and your business to the readers. It should inform them about the purpose of the blog and give them an idea of what they can expect to read.
3. What are the four common types of blogs?
Personal blogs, niche blogs, affiliate blogs, and business blogs are the most common types of blogs.
4. What is the most profitable blog niche?
Some of the most profitable blog niches are personal finance, travel, business, marketing, education, health and wellness, and thought leadership.