Video
How To Create Content Across Spectrums And Stick To a Schedule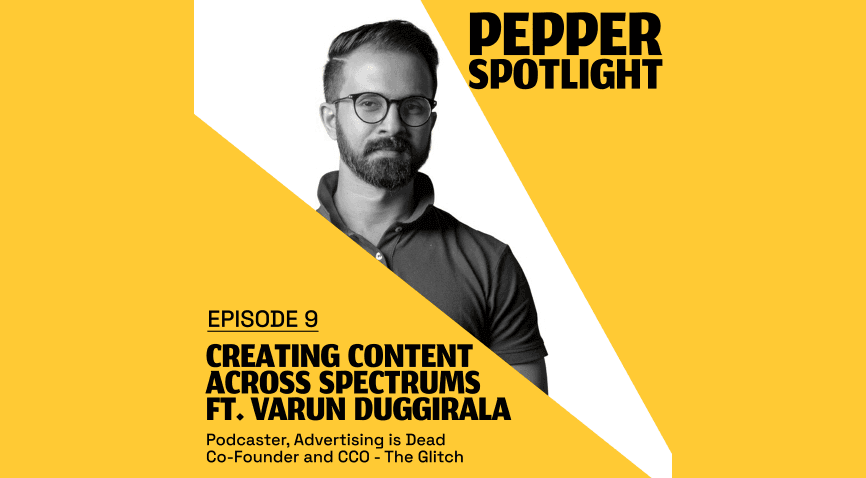 In our conversation with Varun on Pepper Spotlight, we learned some fascinating facts about content and the process of keeping up to speed with trends.
An independent creator is a one-person army that takes care of everything from finding new ideas to selling them. Creators are brands by themself; ones that must draw a plan to stay relevant, interesting and regular. And in the words of podcast host and Content Chief of creative agency The Glitch Varun Duggirala, "The only way to be consistent is when you do something that you love."
This week on Pepper Spotlight, the weekly podcast by Pepper Content, we had Varun give us an hour of gyan, stories, and mind-blowing realizations about the content market. Apart from having co-founded a new-age creative agency, Varun also runs a podcast called 'Advertising is dead' that has made one of the biggest splashes among Indian creators.
In our conversation with Varun on Pepper Spotlight, we learned some fascinating facts about content and the process of keeping up to speed with trends. Here we have cherry-picked the most incredible moments from this podcast.
Keeping Your Podcast Consistent
Varun's most famous project — Advertising is dead — reached a hundred episodes without missing a single week. It is this consistency that makes the podcast the talk-of-the-town. It adds value to the loyal fanbase; you refresh your feed each week and you see a new episode!
Varun believes the mantra to be consistent with podcasting is to believe in the product and create for the love of it. "If you are doing something merely to be consistent, you give up easily because numbers will let you down," said Varun on Pepper Spotlight.
Before the lockdown, he spent an hour (or more) battling Mumbai traffic each week to record his podcasts. Varun was exploring the idea of a show when he experimented with podcasts. But over time, podcasting became a part of this life. Now, for him, being inconsistent means doing a disservice to the show and the stakeholders.
Varun also believes that every creation can start as an experiment and when these ideas pick up the pace, you back it with everything you got. For his next project, 'Varun Dugi Show', he has a team to help him master and edit the podcast. When you do not feel like doing it all, distributing work is the best.
"A lot of the podcasts I listen to are consistent," said Varun, "and that proves that people care for shows that put in the effort."
Learnings From the Newsletter
Another project that Pawan Rochwani, Pepper Spotlight host, found an exciting add-on to Varun's personal brand was his newsletter on SubStack. The newsletter titled 'Unschooled' is all about Varun's 'insights and mind musings.
After spending many months behind his desk trying to write a book, he started this newsletter to develop a consistent writing habit.
He believes that compared to a blog, a newsletter provides a minimum set of users that you can cater towards. On a blog, the content remains static till someone discovers it. He also chose SubStack for its audio feature. "It's like sending a mini-podcast to subscribers each week," he said while describing the platform.
Interestingly, not one of these projects were planned. This streak was just another result of Varun's formula of experimentation. He likes to scribble down thoughts and ideas on his iPad (simply because Apple Pencil lets him) and spend a few hours every night working on his personal projects.
Juggling Agency Life And Personal Content Creation
When we asked Varun how he manages his time running all these ships, his first thought was, "Working from home lets you organize your time better." However, Varun has been mastering this balancing act for a while before the lockdown began.
At Glitch, he has created a system that keeps the teams independent. According to him, as the leadership team grew, his role became a lot easier, which involves managing just a handful of people.
Varun says, "As a founder, your job is like the janitor's; you clean up after others." And to run a tight ship means not letting problems accumulate. "I miss hearing the words 'washroom main paani nahi aa raha'," he says jokingly.
Varun's journey with his podcast has also made it easier to spark conversations with other creators. This inevitably adds value to his agency. He says, "The advertising world is not a pond; there is more happening outside of this." Maybe this is why Varun keeps on trying and testing new trends in content every year.
Tracking Progress When You Do Many Things
When you get your foot in as many doors as Varun has, it's easy to lose track. With so many things to manage, is tracking progress easy? Is it data-driven?
You must listen to the episode to get a wholesome idea, but the short answer is — No! Varun says his ideas of creating content do not come from a 'creative' route. He says his ability to make stuff comes from having references. He spends a lot of his time bookmarking and creating banks.
Which is one of the takeaways for creators — create a bank of content. Also, work many weeks ahead of the publishing date to keep the process smooth.
Varun does not consistently closely track his content. He believes that despite having a job, everyone should find an avenue for output. Creation is not limited to creators; it should be a habit, he says.
The Takeaways For Creators
Towards the end of the chat, Pawan asks for Varun's pearls of wisdom. These are from the three stages of his life:
To Engineers:
"Engineers are the most creative people on the planet, and they don't own that enough."
To Entrepreneurs:
"Being an entrepreneur is not about being the smartest person in the room; it's about being able to put people together," Varun says. The ability to get a group of people to create magic is what the leader's job is.
To Creators:
"We can all be creators; it's not a job; you don't have to create to get fame; you have to do it because you like doing it!"
Click here to check out the full episode