Content
How to Create A Perfect Outline For the Content You Deserve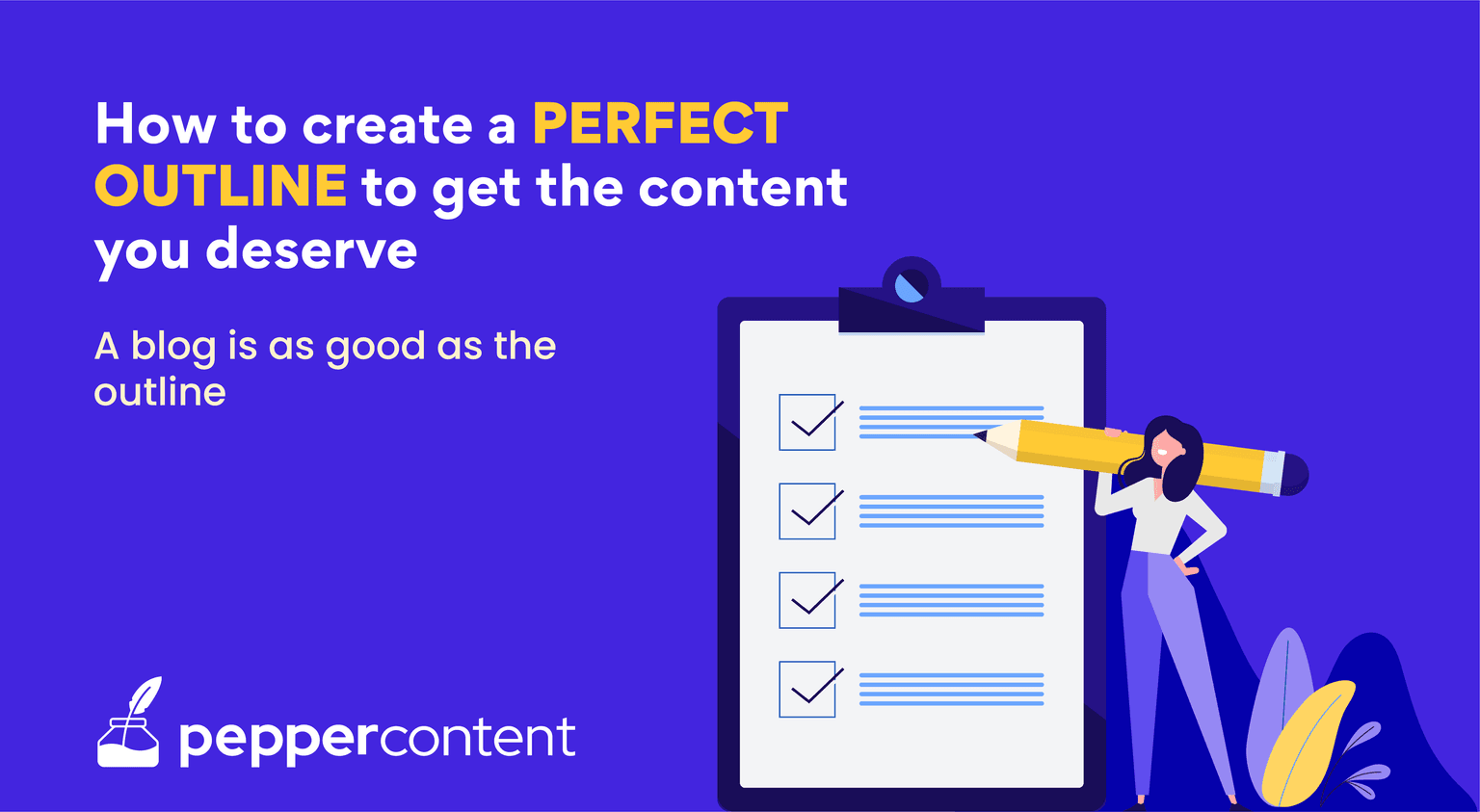 Getting the best content from a freelancer isn't easy. In fact, even writers struggle to communicate effectively at times. A content outline is great way to add story and structure to your writing. Explore more.
Table of Contents
What is an outline and why do you need it?
What is a content outline?
Benefits of using an outline
How to create a perfect outline?
Conclusion
FAQs
The art of capturing your readers' attention with unique and creative content can be challenging. Most readers will spend only a couple of seconds on an article before choosing what to do straight away. If they have an excellent first impression of the content, they will stay and follow you. If not, they will bounce to the next website. Therefore, it is imperative to understand content marketing's meaning and how a perfect outline can improve your content.
Perfectly outlined content can captivate your reader at the very first glance. It can also help your article rank higher on Google.
We will, therefore, look at some fantastic tips on how to achieve a perfect outline that can help you attain your content marketing goals.
What is an Outline and Why Do You Need It?
No matter whether you are new to content writing or an established professional, whenever you start writing an article, you need to work on the outline. Without a good outline, your article may not have the right direction and you may end up losing your reader.
What is a content outline?
Simply put, a content outline is the skeleton of your article or blog. It is an intelligent and systematic way to organize your thoughts and all your research in a manner that gives the article a flow or a story, answering the reader's questions, before they can ask them.
The outline of an article will help you build a deeply logical, creative design for your blog, making it more straightforward for a reader to interpret your words. When your outline is finished, you'll have a clear idea of how you need to write your article and how it would look once it is completed. Content outline is the first step towards content writing best practices.
To make it simple, an outline is like a map that will guide you to your destination quickly and without many hurdles.
Benefits of using an outline
How To Create A Perfect Outline
1. Know your audience
It sounds easy. However, many people start writing before understanding who they're attempting to reach out to. It would be better if you ask yourself these questions before drafting your article:
Who are my target readers?
Will any secondary readers influence my primary audience?
How might they discover my blog on the web?
Let's say you're writing an article for a law office. Your primary crowd may be potential clients and existing customers. But your secondary crowd can be a lot more extensive and can incorporate law journalists, lawyers, or any individual or business that may require your services later on.
It is crucial to understand your audience to know what they will be looking for on the internet. You can then use that to structure your article with specific keywords and optimize it for SEO.
2. Brainstorm on a good topic and do heavy research
"The greatest part of a writer's time is spent in reading, to write: a man will turn over half a library to make one book."
― Samuel Johnson
Coming up with an interesting or relevant topic is one of the most essential parts of drawing a perfect outline. The objective here is to brainstorm on finding the right topic to attract a large number of readers to your blog. The best way to get good ideas is to look at some of the comments posted on your previous blogs. You can create a blog that can answer their queries in a structured way. You could also use idea generators like Peppertype.ai.
Once you are done selecting the topic, the next step is to heavily research the topic. Make sure you go through multiple articles related to the topic, conduct some interviews with industry experts or watch some informative videos. This will help you to create a perfect article for your blog.
3. Writing your content: Start with the headlines
The next step in creating a perfect outline is knowing how to structure and write your content. Begin with your main headlines. Using heading tags like H1, H2, H3, help give clarity and further structure your points. At this stage, you don't have to go fancy. The idea is to put down the key 4 to 5 ideas up top for the world to see and then let the sub-points flow from there.
Blog creation is a long process – especially if you want to create one that is authoritative and might actually rank on Google. Don't rush through the outline phase – creating the perfect structure will make all the difference.
4. Show, don't tell
When it comes to content marketing, it is crucial to understand that your article will not be all words and sentences. There are a lot of other things that give life to your article. Some of these are:
Real-life examples
Quotes
Statistics and survey findings
Relevant visuals
Bullet points
Not only do these elements boost your SEO, but they also make the blog feel and read more wholesome and complete. These also help break the monotony of continuous, rambling text and draw the readers' eye to specific parts of the article. When creating your outline, fill these elements into your blog beforehand and let it guide you!
5. Introduce and conclude your article
Introduction and conclusion are like the two buns of a burger that hold the entire dish together. While writing the introduction, tell your readers about the topic, validate your topic with facts or statistics, give the gist of the entire article so that the reader can decide if this content can help them or not. In the concluding paragraph, effectively summarise the article addressing the key takeaways.
6. Take inspiration but keep it original
Original material is crucial because it enhances your online image. If you try to 'cheat' your way to higher rankings by writing hasty or keyword-stuffed content, your readers will notice. Search engines are increasingly removing inaccurate information from their top results. The only way to beat these algorithms is to create shareable material that is intelligent, amazing, and creative. Original material is also taken into account by Google, the world's largest search engine, as a factor in determining a website's reputation, which boosts its chances of ranking higher in search engine results for the keyword used in the text. Original, relevant content is required if you want to be noticed. A strong content marketing strategy is built based on original content. Original content can be of many types – it can be an original never-read-before idea or opinion, putting a different perspective to already written content, and using original photos and videos.
7. Give credit where it's due
Make a list of statistics, facts, quotes, and other specific information you've taken from other authors. Cite them specifically in your article. It properly acknowledges the authors of the words or ideas that you used in your paper. It enables individuals who are reading your work to find your references and learn more about the concepts you discuss in your article. Avoiding plagiarism in your writing is as simple as citing your sources regularly and precisely.
8. Polish the content: editing & proofreading
Content polishing is like decorating a cake, putting on the final sprinkles, adding icing details, etc. It doesn't just make your content read better but also gives it a professional touch. Spelling mistakes, errors, sentence inconsistencies may seem like minor mistakes but the reader would take the content casually, hence not reading the whole content. You must plan some time out before the deadline for proofreading and editing the content, as revising content is also a part of writing it.
9. Quality over quantity
Any content piece written with quality in mind will always stand out for the readers. If you're just using the particular format to jot down words just to meet a word count, it won't deliver a good article or a blog. Without quality writing, your content won't rank on google search engines as it will lose originality and its unique selling point. To ensure quality is top-notch for all your written pieces, do in-depth research of your topic, see what people are talking about that topic, do a full social media sweep to understand your audience's insight. When you have so many talking points about a particular topic, the quantity will take care of itself. With quality writing, comes organic rankings which mean people who like your content will bookmark it, keep coming back to it, and will spend a lot of time on the website. This will boost your content marketing strategy to another level.
10. SEO is important too
To reach your audience you must include SEO best practices in your content piece. When mapping the content outline research on topic-relevant keywords, meta title, and meta description to rank higher on Google search engine to reach your relevant followers. For a strong content marketing strategy, SEO is compulsory. Google also ranks your content piece based on 'Search Task Accomplishment' which means your content piece solves the searcher's problem. If yes, then your content ranks the highest and might just be the first that people read when they search for a topic relevant to your article.
Conclusion
Many people skip the process of creating an outline because it takes a lot of time and effort.
They don't see that in the long run, it can help them become more creative and save a lot of time and energy. Once you have fully outlined your content, all you need to do is write and market it.
Composing marvelous content is challenging. However, it becomes simpler when you create something that you're enthusiastic and passionate about. The best part about posting your content online is that it stays on! You can create something today, and three years from now, it will, in any case, be out there being seen and shared. So, start writing and enjoy the whole process.
Key Takeaways
Content outline is the skeleton of any content piece. A good content outline can boost content marketing efforts.
Content outline is basic for any content, without it you don't have a well executed content piece.
Content outline benefits you in many ways like making a strong content marketing strategy, giving your content piece a proper flow, structuring your content piece, saves you time and effort, crushes writer's block, and helps you stand out from the clutter.
A perfect content outline starts with knowing your audience, brainstorming and researching, writing the headlines, adding aesthetics, writing introduction and conclusion, keeping it original, adding important citations, editing, and proofreading, putting quality over quantity, and considering SEO best practices.
People may tend to skip over mapping a content outline but it is a foundation step and every writer must consider taking this as an important task towards writing the whole content piece.
FAQs
1. How to make a content outline?
Here are 7 basic steps to make a content outline:
1. Choose your topic
2. Identify your target audience
3. Research
4. Create a list of ideas
5. Put all content together
6. Edit content
7. Review, spell check and adjust
2. How to organize an idea in an outline?
Start by writing the title, explain the idea in a gist, then elaborate the idea with important bullet points, and conclude the benefits of the idea. 
3. Why should you add visuals to a content piece?
Giving visual reference to the written content makes the content more memorable and increases shareability. 
4. What is the standard outline format?
The most common outline format for any content piece is introduction, body, and conclusion.
5. What is a content outline template?
Here is a sample of a blog article content outline:
Source
6. What is a content outline for a website?
A website content outline is a raw version of how your website will look. It will contain the page name, where the page is located within the sitemap, SEO metadata, copy, and content description for each page. For each content section, you will have to specify heading, sub-head, and body copy, as well as visual descriptions of the image you want there. Web content outline allows you to develop a copy in a format the end-user will see and structure it in a way that is easy for your developers to use. With a web content outline, your team can put together copies and visualizations of your website while your site is still being designed and developed. So, once the engineering work is done, all you have to do is switch from a document to your CMS.

Source
7. How will content outline help in the writing process?
Content outlining will aid in the construction and organization of ideas in a sequential and thoughtful flow. This allows you to choose relevant information or quotes from sources early on, providing writers with a solid foundation and groundwork when they begin the writing process.
8. What are the six content outlining rules?
Here are the six content outlining rules:
1. Arrangement
2. Coordination
3. Delete overlapping content
4. Consistency
5. Punctuation
6. Indentation 
9. How do you outline a story?
Here is how you can outline your story:
– Craft your premise
– Determine the settings
– Sketch out your character profiles
– Construct your plot
– Write your scenes
10. How to outline a script?
Here is how you can outline your script:
– Start with a beat sheet
– Move on to index cards
– Start writing a document scene-by-scene
– Describe actions and revelations
– Insert dialogue as it comes to you
– Use your outline as a tool