Marketing
How to Create a Lean, Mean, Content Marketing Machine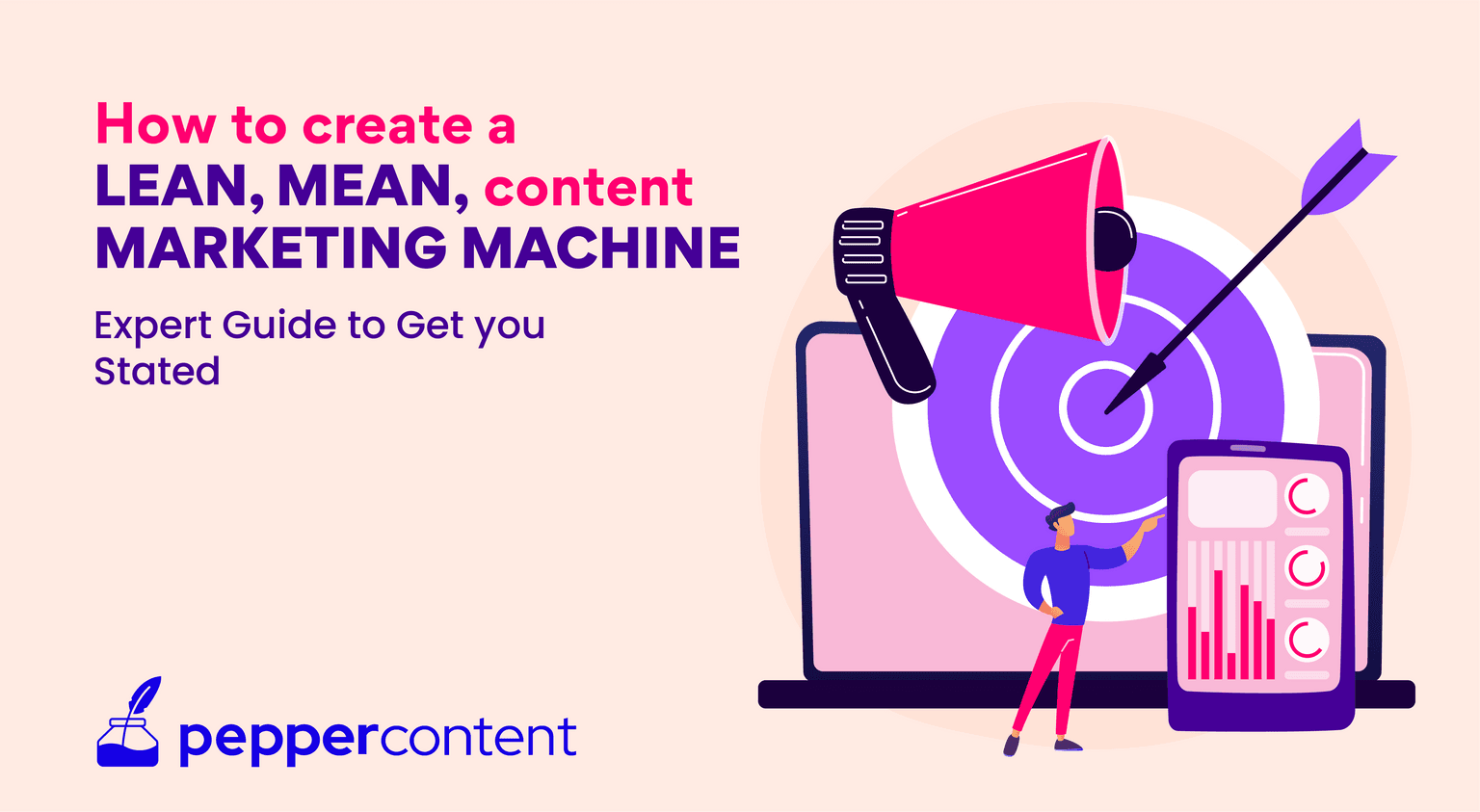 Did you know that almost 91% of B2B businesses use content marketing, and 51% can prove how content marketing has improved sales? This goes to show that if done well, content marketing can impact the bottom line.
Did you know that almost 91% of B2B businesses use content marketing, and 51% can prove how content marketing has improved sales? This goes to show that if done well, content marketing can impact the bottom line.
You do foolproof research for the blog. You have used the keywords strategically. Your blog posts aren't too lengthy, and your title is super catchy. In fact, your meta title and description are also in order. Then why isn't your website flooded with organic traffic? Because when it comes to how to do content marketing, everything is not as simple as it seems. There are many ingredients that go in, which make sure you end up with the best results.
Additionally, the rules of the content marketing game are constantly evolving. Take Google, for instance. Google's SEO guidelines are always changing. Publishing unique content with the right set of keywords doesn't necessarily mean your blog will rank on page one. Google must think of you as an authority on that particular subject, so the way you structure your article is also essential. This is precisely why you need a content strategy and a content marketing plan that ticks all the boxes. So let's start with the basics:
What Is Content Marketing?
Before we jump into the best content marketing practices, let's first understand what content marketing is all about. According to the Content Marketing Institute, content marketing is a strategic marketing approach focused on creating and distributing valuable, relevant, and consistent content to attract and retain a clearly defined audience — and, ultimately, to drive profitable customer action. The main objective of content marketing is to drive profitable customer action using content.
Did you know that almost 91% (demandmetric.com) of B2B businesses use content marketing, and 51% can prove how content marketing has improved sales? This goes to show that if done well, content marketing can impact the bottom line. Let's take a look at some additional benefits and why more and more people use content marketing:
It is one of the best ways to attract your target audience towards you with quality content instead of constantly trying to get their attention through traditional methods like ads.
Content plays a role at every stage of the sales cycle, helping you attract, engage, retain and nurture customers through different forms of content.
It will help you get discovered by your core market through search engine optimization (SEO).
Source
What Are the Types of Content Marketing?
how
Source
We have covered what content marketing is and its primary benefits. Now, let's move on to the types of content marketing.
– Blogs
Blogs are the underrated performers in a business's content marketing ecosystem. There are over 500 million blogs out of 1.7 billion websites out there. So it obviously isn't easy to cut through all the digital clutter. However, businesses that use blogs get 97% more clicks to their website.
Now, you must be wondering how many blogs can you possibly write about your product or service? The key is to write about topics related to your product or service. For example, if you are a mattress retailer, you can write about how sleep improves productivity or how beauty sleep can help remove wrinkles. Two different tangents but yet, your product can make a difference.
– Video Content
Source
As you can see from the graph, video content seems to be the most consumed form of content compared to any other medium. Many businesses invest in informational videos regarding their product and unique ways to reach their audience. How to do video content marketing is key to your overall marketing strategy today. This could be from amazingly shot videos to using humor to capture their customer's attention. With a platform like YouTube that is accessed by over 2.3 billion worldwide users every month, the possibilities are limitless. What's more? 68% of people said that their purchase decision came from watching videos on YouTube. That's an incredible business opportunity right there!
– Social Media Posts
Social media is often spread across several platforms and is one medium that has completely transformed marketing and business communication. It has given companies, which did not have the resources to invest in expensive TV ads an opportunity to reach target audiences of their choice at a fraction of the cost.
However, social media is quite competitive in itself. A unique tone and a strong brand personality will entice people to follow your business, like your content, and purchase your products. There are about 4.33 billion active users on social media every day. That figure should get every content marketer excited.
– Podcasts
Did you know that 82.4% of podcasts listeners spend more than 7 hours a week listening to podcasts? Podcasts are usually long-form audio broadcasts consisting of interviews, lectures, fiction, and nonfiction, etc. Anything that can be said without the need for visual aids finds its way on a podcast platform. More and more people are using podcasts to learn new things, discover new people, and keep themselves entertained while unwinding. They are a great way to talk about your product or topics relating to your product.
– Webinars
The shift toward online learning over the last decade is incredible. Many people are willing to invest time and money to learn from people and brands they actually look up to. Around 73% of B2B marketers say webinars are among the most effective ways to get high-quality leads. On average, webinars get about 260 registrations, which means people actively lookout for content that can benefit them.
Challenges Faced by Content Marketers
Today, everyone is a content marketer. But that doesn't mean this medium has lost its charm. In fact, how to do content marketing is more in demand now than it has ever been. Although it sounds pretty straightforward, there are many challenges that content marketers have to face.
– Poor resources or inadequate time management
Producing content is very easy, but the real challenge is creating high-quality content because that's what makes a mark. Most small businesses go ahead and build their own content, and there is nothing wrong with it. After all, who knows your content better than you? But the catch lies in time management. Taking out time from running your business to produce high-quality content can sometimes get complicated, which leads to poor quality, which doesn't do an excellent job of doing what it is supposed to.
– Early scaling
If you scale too early without being prepared for the expansion, you lose control of the business, and things can go haywire. The whole point of scaling is to ensure you grow cost-effectively. Hence, make sure you avoid premature scaling.
– Content is more than just about reach
The content you put out must resonate with your audience. But obviously, reach is also substantial. And we get so lost in content aspects that we sometimes tend to forget the real reason for putting out the content, which is to connect with your audience. Therefore, when you begin your content marketing practice, emphasize reach and engagement.
Source
– Intense competition
Let's say you are a beauty guru who is trying to take the internet by storm. But even the best ideas have already been put out there. So, you need to create better content than what's already out there, along with the frequency. Try to learn more about how your competitors can help you improve your content strategy.
– Remove poor performers
Maybe the writer you have on board is excellent, or perhaps it's you who has taken up writing to save resources. What you must remember here is to see if the writer is a good fit for your business. Let's say you have hired a tech writer to write about beauty products, something he or she is entirely unaware of and something that doesn't tickle their interest; this means they will not be able to put out quality content that can aid your content marketing. So, don't let subpar work put a dent in your strategy. Make sure you only publish the highest quality content.
How to do Content Marketing
Why Content Strategy and Infrastructure is Important to Scale Content
Now that the importance of an efficient content strategy is covered, let's talk about scale. Just like any successful business, a good content strategy needs to scale and drive business impact. Respondents in this CMI report were achieving short-term success with a content marketing strategy in place, but they struggled with scale and measurability.
There are countless ideas to start your content marketing, but what happens when you need to grow bigger? Well, that is where an efficient process and a well-oiled infrastructure comes into play.
At first, your content strategy will reach your customers with valuable information and bring them to your business ecosystem. As you begin to scale, you will explore many other goals, including churning out regular content to appear high on search results to driving leads and conversions through your content.
To reach the level where the content can be scaled efficiently, it is important to build a good infrastructure, i.e., bringing all the pieces into place with a long-term approach to strategy.
It could be something as simple as a content calendar or as complex as maximizing the value and benefits each platform provides.
The first thing to do is identify the challenges that lay ahead.
Is your digital ecosystem capable of handling scale?
Out of all the content types that lay ahead, which of these will work well for your audience?
Is your content team capable of handling additional content formats?
How do you increase and monitor engagement at scale?
What are the bottlenecks that arise while monitoring performance?
How to scale your content marketing strategy
Curate an initial strategy: Without an initial strategy, you won't be able to proceed. Therefore, come up with a well-organized plan with clear goals, which you can tweak on the way. Also, when you have a proper strategy in place, you will create content to connect with the buyer's needs, allocate the available resources wisely, and make sure you put out quality content.
Ensure you enhance the budget wisely: With a content marketing budget and unlimited possibilities of content creation, it is easy to get distracted or wasteful. However, a clean, organized process can help you avoid that. As seen in the image below, businesses are ready to invest in content marketing. If you are in the 16% unchanged bracket, a well-defined plan on using the budget can definitely help. One way to save cost is to aggregate graphics, videos, and illustrations that can be used repeatedly in your content. This way, you would not be spending extra but using your budget wisely.
Source
Learn more about how to create content that helps your sales team close more deals in this blog.
Hire specialized writers: If you are a small business owner, maybe you have been writing content as of now. But see if you have room within your budget to hire specialized writers. It will help you achieve your content goals and produce high-quality content. Now, if you don't want to hire anyone new and want to take up the role of a writer, look for courses that will help you better your craft, and slowly, you will be able to learn how to be the writer your organization needs.
Elements of a Content Marketing Machine
As with any machine to work, it is important to have different parts working in complete sync to get the best results. A content marketing machine starts with a clear tone, an efficient team, constant churning of ideas, and audience development strategies to reach scale.
– Set your brand voice
As we mentioned earlier, anyone can come up with content in today's day and age. However, you need your content to be crisp and clear, without which you will miss out on your target audience. So, the first thing you need to do is give your brand a voice. This voice must remain consistent at all times as your audience will become familiar with your tone and perspective, which will ensure you gain a loyal following.
For example, if you are into manufacturing medicines, your brand's style cannot be changed, but you need a dependable voice so that your audience can trust you. So, always choose your voice wisely and make sure you remain consistent across all channels, even when you are writing social media posts or blogs.
– Know your audience
Once you have finalized your voice, your list's next important element is to understand the audience. As a content marketer, your priority is to entice your audience and capture their attention. When you develop engaging content, it creates a buzz, which drives awareness around your business. So, spend time trying to get to know your audience better. In a world filled with content, you need to develop something that absolutely resonates with the audience.
– Establish your team's role
Without the right team, building a successful content marketing machine is almost impossible. Therefore, build a team of marketing professionals who know what they are doing. You need a curious team who is willing to try new things and move forward with fresh ideas.
An ideal team would consist of social media marketers, graphic designers, analysts, writers, and technical specialists who would handle the SEO part of the job. Most of all, you will need a managing editor to handle all the aspects of how to do effective content marketing and ensure the team is working toward their goals in harmony.
Source
Once all the elements mentioned above are taken care of, you need to understand that taking occasional risks becomes necessary in content marketing. Why? Because innovation is always the key to success. You cannot simply follow the herd. And, since almost everyone does content marketing, almost everything has already been done. The idea you have is already used by someone.
– Take risks occasionally
One of the best examples of risk is when Dominos admitted that their pizza tasted like cardboard to win back their audience's trust. It was a huge risk, but they took it, and it paid off. The brand also used real pizza images instead of the photoshopped versions because that's what their audience wanted.
Tools to Automate Content Marketing
We live in a tech-savvy era, which means there are many tools to help you on your content marketing journey. Take a look at some of the best of them:
How to Stay Creative within a Content Marketing Structure
Now that you know how to ace the race when it comes to content marketing let's talk about how you can keep your creativity intact or maybe enhance it.
– Talk to experts
Either talk to the experts in that particular field or read. Every quote that has been written on a particular subject can come in handy to elevate creativity. Even if that expert is not a writer, they can fuel you with the necessary information that can help you better your content.
– Try new things
To stay creative, you must keep trying new things. How to do content marketing is a constantly evolving space, and creativity wins out any day with the audience. This way, you will understand what works and what doesn't and help you improve your strategy.
Check out 10 Ways GIFs and Memes Can Rev Up Your Content Marketing.
Source
– Ask "What If"
You must ask yourself what if. What if I do this even if it goes against the general rule. What if I merge two ideas? These what-ifs can help increase your creativity and make you come up with a great idea.
– Go beyond expectations
As a content marketer, you generally strive to meet the audience's expectations, and that's not the best way to keep your creativity churning. So, instead of thinking about whether or not your audience will like this, think of something that can actually make them adore your brand.
Finally, to make sure you stay creative, read anything you can get your hands on and see what other brands are doing, as it will help you come up with more of your own.
Ending Note
With each passing year, content marketing is constantly evolving. What was once just about blogs is now a whole host of avenues that can directly impact a company's bottom line. As a content marketing specialist, one needs to keep their ears to the ground to constantly create, optimize and evolve how to do content marketing strategy to suit your audience.
FAQs
1. What is a content marketing machine?
It's the strategy, processes, and systems that you use to give every content piece that you produce the maximum reach and leverage. It also enables you to produce a wealth of content in the least amount of time.
2. What are content machines?
Figuratively, a content marketing machine is a set of strategies and processes on how to do content marketing that marketers use to help every piece of content produced the maximum leverage and reach. This system helps make an abundant amount of content in the least amount of time.
3. What are content marketing tools?
Content marketing tools are online mechanisms that make the undertaking of various content marketing tasks easy. Some of these include:
Writing and editing tools
Transcription tools
Video tools
Audio tools
Music tools
Graphics tools
Photo tools
Idea generation tools
Content curation tools
Web analytics tools
Social media analytics tools
Funnel analytics tools
SEO analytics tools
Management tools
Blogging and CMS Tools
4. What are examples of content marketing?
Content marketing examples include successful instances from those brands whose content marketing strategies not only resulted in increased brand awareness but also spiraling sales. Some of these successful brands include GoDutch, BoAt, ClearTax, etc.
5. What is the purpose of content marketing?
Content marketing is the holy grail of modern advertising. It is used to promote your brand online and generate quality leads for your business using content of all types and formats – from blogs to Tweets, videos, and even memes.
6. What are the benefits of content marketing?
The chief objective of your content marketing strategy is to:
Educate your leads about the services and products your offer
Boost conversion rate of each marketing effort
Build a relationship with your target market
Offer your brand as the solution to a problem people face
Building a community of loyal followers