Content
How To Become a Better Writer: Tips & Tricks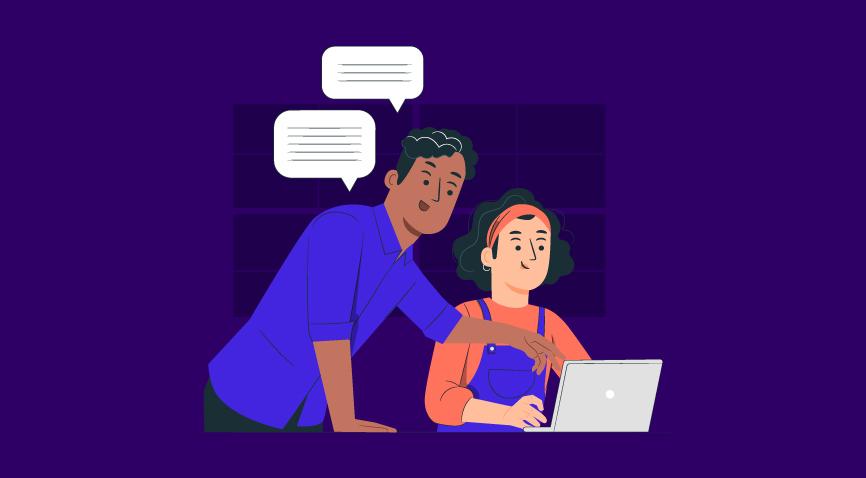 Table Of Contents
What is Content Writing?
Content Writing Skills
Copywriting vs. Content Writing
A Guide to Excellent Content Writing
Conclusion
FAQs
Most people think that they are good at writing content; it is as important as the aesthetics and design of your website. Having quality content on your website increases traffic to your page and establishes your organization as the industry's leader. In today's content marketplace, both quality and quantity play an equal role in determining the success of your business online.
With content marketing becoming one of the most wanted skills on your resume, improving your writing skills can be beneficial for your career, along with increasing traffic to your company's website.
Writing can be intimidating for some people, particularly those who don't write regularly or don't do that for a living. The good news is that writers can always work on improving their skills; it does not have to be agonizing. Almost everybody can improve their writing skills with some amount of discipline and willingness to learn. Want to become a good writer? Here are some ways you can improve your writing skills.
A content writer specializes in writing relevant and engaging content for different websites on the Internet. Every website has a specific target audience that the writer should be cognizant of while producing the content. Typically, a content writer will write content that contains target keywords. These keywords aim at enhancing website traffic.
When you look for articles and videos on 'How to become a better content writer', you will surely come across terms like SEO and keywords. Keywords are specific and are business-related. These are essentially words or phrases that make your content searchable on the Internet. By targeting these keywords, content writers aim at maximizing the chances of people finding their content on different search engines.
Content marketing has grown exponentially in recent times, creating a high demand for content writers. You will find various types of content online, including,
Web pages
Blog posts
Social media posts
Press releases
Email marketing
Audio and video content
White papers
If you want to learn content writing, you must first focus on improving your basic writing skills. Content writers generally specialize in written content form, and a good content writer will have a profound understanding of the purpose of a particular piece of content. Content should be engaging and should target a specific group of audience.
Content Writing Skills
A content writer needs to be versatile and a 'Jack-of-all-trades' in the world of writing. The primary aim of a content writer is to write content that the readers want to read. A website is essentially a platform for selling products and services. To become a well-rated content writer, you need to have certain skill sets.
1. Excellent research skills
Research plays a crucial role in content writing. It is one of the essential skills to have in 2021. There are thousands of niches, and each niche can be subdivided into several others. As a content writer, the greatest asset that you can possess along with writing is your research ability. If you know how to perform proper research, you can write on any topic without prior knowledge or experience.
When you think about content writing, SEO happens to be the first thing that comes to mind. If you have engaging content, customers will only get to know your website through SEO. If you are starting off as a writer, you must be thinking 'What is SEO content writing?' SEO stands for search engine optimization, and it helps in ranking your content higher in search engines. Readability is another important aspect of SEO.
3. Understanding social media
Social media platforms are more than just a forum for connecting people from across the world. Most companies now have their social media accounts. Just like websites, company owners and several stakeholders are now spending large amounts of money in advertising goods and services on different social media ads. Online networking plays a crucial role in building a brand's image. Social media and SEO plays are the two most essential elements of the content writing jigsaw puzzle. If your post works well on social media platforms, it will automatically appear on search engines.
4. Adaptability
As we mentioned earlier, there are thousands of niches, and everyone is searching for content that they can relate to. With time, some niches might become irrelevant, and some may skyrocket. As a content writer, you need to be flexible. How to become a flexible writer? It all starts with your research abilities.
5. WordPress skills
Most websites are built on the WordPress platform. WordPress Content Management is what businesses use to build their websites and write blogs. Having sound WordPress knowledge is great for writers.
Copywriting vs Content Writing
Content writing and copywriting are worlds apart in the skills required for it and in their applications. Young writers often find it difficult to understand the difference between the two. Here are some of the major differences between copywriting and content writing.
The greatest difference is in the purpose of each. Copywriting has a short-term, direct goal – capture the audience as quickly and impactfully as possible. Sales letters, emails, landing pages, ad copies and more, are examples of content writing. A copywriter has to have the knack of creating compelling copy – headlines and CTA – to convince customers to take an action and purchase the product or service. Copy also uses emotion to appeal to customers.
Content writing, on the other hand, revolves around longer-form copy like blogs, social media, e-books, white papers, and other types of written content that focus on softly targeting customers, engaging them, and then drawing them to the product or service being offered. Through content writing, businesses can continually improve engagement with the audience so that over time they come to trust the brand and purchase the products and services. The key element of content writing is quality. The whole idea is to help the audience understand your brand and its products.
Content writers drive traffic to a website through their content. The SEO of the website also improves through content. Copywriters help convert the traffic to actual customers.
A Guide to Excellent Content Writing
Writing content that resonates with your target audience and leaves an impact on them is a challenging task. The good news is that you can learn content writing and write engaging articles, emails, and landing pages that will help your business achieve its goals.
1. Elements of successful content writing
2. Informative
While writing content, you must focus on making it comprehensive. Remember, quality is much more important than quantity. Your text should have an objective; don't overuse CTA in your content.
3. Proper content structure
While writing content, use clear and consistent subheadings. Try to include primary and secondary keywords in your subheadings. Incorporate keywords throughout the content including the introduction paragraph.
4. Supporting materials
If you are a content writer, it is essential to back your writing with data. Use Alt attributes for accessibility and include keywords to boost SEO.
5. Link building
Add hyperlinks and internal links to relevant content available on the Internet.
Conclusion
No matter how skilled a content writer you are, if you don't have a clear set of goals in mind, you're bound to fail. Firstly, goals help in understanding and measuring the success of your content. The very next thing that you must focus on is your audience. The more information you gather regarding the audience group, the easier it will become for you to write the content. To get people's attention you need to know their pain points and concerns. You might also need to get in touch with them directly.
Some of the evergreen content examples available on the Internet are written keeping in mind the target audience group. As the adage goes, if you try to please everyone, you please no one. Try incorporating the buyer's persona in your content. It will make your content relevant. Try to understand the goals and obstacles of your readers. Understand how the product will improve their lives and how your product is better than your competitors.
FAQs
1.

What is the most important skill of a content writer?
The ability to research is the most important skill that a writer needs to have. A writer must be able to translate their findings into engaging content or copy.
2.

Is content writing difficult?
Anyone who can play with words and has basic SEO knowledge will surely be able to curate engaging and informative content.
3.

How is content writing different from copywriting? 
Content writing focuses on long-term goals, engaging the audience, and drawing them in to visit the business' website before making a purchase. Copywriting, on the other hand, captures the same audience through emotional, quick, short content, encouraging them to take the action. 
4.

What are the

types of content

?
1. Web pages
2. Blog posts
3. Social media posts
4. Press releases
5. Email marketing
6. Audio and video content
7. White papers
5.

What are the key copywriting skills?
1. Knowing how to write well. 
2. Curiosity 
3. Research 
4. Ability to understand the audience
5. Ability to refurbish content
6. Using empathy in writing