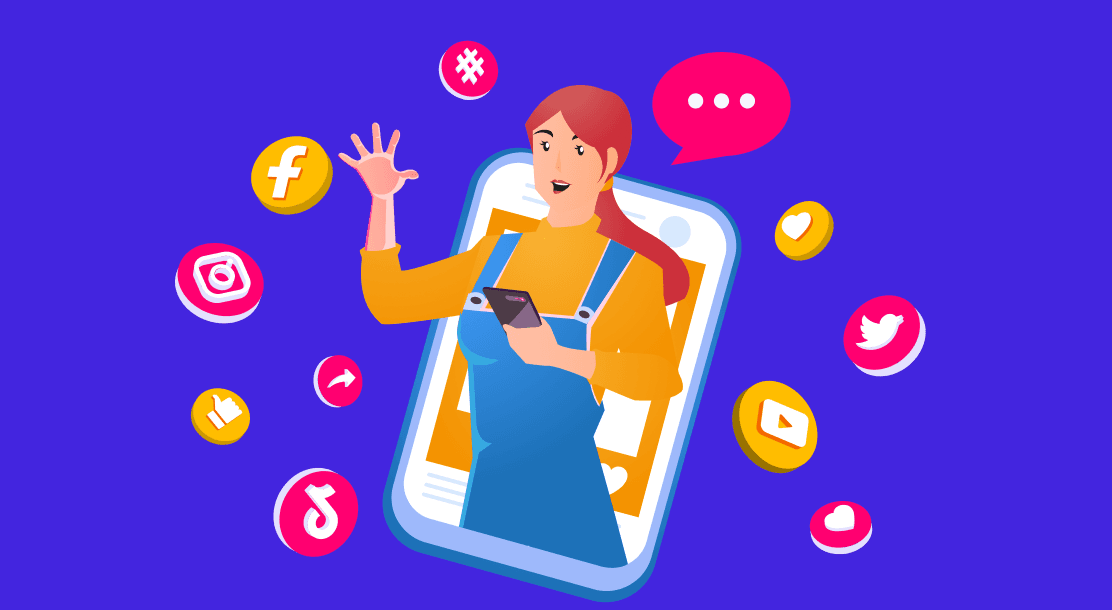 Discover how hashtag marketing can raise awareness, increase reach, and spark conversations.
Table of Contents
The Benefits of Hashtag Marketing
15 Powerful Hashtag Marketing Strategies
Five Memorable Examples of Advertising Hashtags
The chances are that anyone who's been online has come across a hashtag. For digital marketers and creators, hashtags are valuable labels to organize data. They're used on all forms of social media and let users find posts and information they're looking for.
Consumers use hashtags when they're writing about or searching for trends and newsworthy topics. Marketers use them to raise awareness, reach audience segments and insert brands into conversations. That is what hashtag marketing is all about: using keywords to attract attention and generate buzz.
Hashtag marketing can effectively promote an event, announce a launch, or celebrate a special day or occasion. Often, it is also used to convey a distinctive point of view. Here are some of the most useful hashtag marketing benefits, strategies, and examples. #LetsGo.
Benefits of Hashtag Marketing
Hashtags are widely accepted and recognized. Consumers search for them and share posts with hashtags with their connections. They are powerful ways to boost information and brand messages. Studies reveal that:
Tweets with one or two hashtags show a 50 percent rise in brand engagement.
Instagram posts with one hashtag show a 29 percent rise in interactions. Posts with up to 11 hashtags show a 79.5 percent increase in interactions.
On Facebook, posts with one hashtag received an average of 593 engagements per post. Posts with 3 to 5 hashtags got 416 engagements.
When used across social media platforms, hashtags can improve your SEO. They allow you to associate with trending topics. And they create a better connection with the target audience segment.
At times, it's important to track a competitor's hashtags. This is a window into their online tactics. They also show what consumers feel about them. In this way, competitive hashtags can be a guide to your strategy.
There are also long-term benefits. Hashtags can build a brand's follower count on social media platforms. Further, they can create communities of users. In this way, they foster loyalty and enhance a brand's reputation.
15 Powerful Hashtag Marketing Strategies
Here are 15 tried and tested hashtag marketing strategies that will turbocharge your brand mentions on social media.
1. Use the correct number of hashtags.
You should use the appropriate number of hashtags in a post. The correct number depends on the platform being used. On Instagram, for example, ten or eleven hashtags per post are acceptable.
On Twitter and Facebook, it's best to use just one or two. It can be tempting to create posts with many hashtags. The danger is that this looks cluttered, putting off online users. Fortunately, it's easy to test engagement levels online. The results can be a guide to the optimal number of hashtags.
2. Keep hashtags short and sweet.
You want to make your hashtags easy to read and remember. The best way to do this is to keep them short. Since hashtags don't have word spaces, stuffing too many words into them will be counter-productive. The average consumer is easily distracted online and will not spend time figuring it out.
Don't worry too much about providing background and context. The post to which your hashtag is attached can take care of that.
3. Use locations in hashtags
For many businesses with local activities, adding a location to the hashtag is a sensible move. This pushes the post's visibility for people at that location and those who plan to travel to the area.
For example, #yummybrooklynpizza is stronger than #yummypizza. And #bandrabookshop will get you more results than #bookshop. Location hashtags are also good reminders of the venue when promoting an event. Instead of #delhifair, for instance, you can use #pragatimaidanfair.
4. Try branded hashtags
Branded hashtags are a powerful way to raise brand awareness. These are hashtags that contain the names of companies, products, or identifying features. They are easy to track and convenient for consumers who need more information.
Sometimes, branded hashtags contain slogans that are strongly linked to a company. Nike's #justdoit is one example. Another type of branded hashtag contains the brand name and a benefit or advantage. For instance, #ShareACoke or #IntelInside.
5. Event hashtags work
If you're promoting an event online, you should try event hashtags on social media. These can be of different types, depending on the angle being promoted. They can mention the event name, the location, or the main attraction for potential visitors.
Some examples: #ComicCon2022, #JLNStadiumCricket or #RockWithColdplay. During the event, attendees can be asked to use the hashtag in their own posts. This will generate even more buzz.
6. Seasonal and holiday hashtags
Many marketers plan seasonal and holiday campaigns and offers. Marketing strategies for these campaigns should make use of appropriate hashtags. These expand organic reach, help consumers find and categorize content, and increase overall engagement.
Ideally, these hashtags should be created in advance. Posts should reflect the excitement of a launch build-up. The type of hashtag used wiped on the nature of ll dethe campaign. It could be #SummerFashion2022, or #GreatDiwaliSale or #HappySchoolHolidays.
User-generated content is a pillar of many marketing strategies. Hashtags can play a significant role in such cases. They can act as a reminder and a stimulus for followers to contribute their posts and content.
With the right hashtag, such content becomes simple to track, both for marketers and consumers. Adobe and Airbnb are two examples of brands that have powerfully leveraged user-generated content on Instagram with appropriate hashtags.
8. Hashtag contests and challenges
Contests and challenges are an integral part of many marketing strategies. Here too, a well-chosen hashtag can amplify the message.
Before using contest hashtags, marketers should be clear about the activity's objective. Is it to build follower count, create an email list, increase sales, or boost awareness? How winners are selected should also be clear.
With these in place, marketers must encourage consumers to use hashtags in their posts. There are times when an existing challenge can be leveraged for the brand. For example, many companies used the #icebucketchallenge to promote awareness of their own efforts.
9. Consider niche hashtags
Niche hashtags are those that may not have as many consumer posts in comparison with other popular hashtags. However, you can target these to particular needs and audiences. They should be specific to the communication or benefit. These help you reach your consumer quicker than broad-based hashtags.
Some examples are #blackandwhitephotography instead of #photography and #VinylMusic instead of #Music.
10. Piggyback on trending hashtags
It's common for brands to search for hashtags already trending on social media and link their offerings to them. Do this carefully; you may sound flippant and opportunistic. The brand connection to the hashtag should not be forced but come across as natural and relevant. Speed is also important, as trending hashtags change quickly. Do not use political or controversial hashtags, as these can backfire.
11. CTA hashtags
The call to action is a significant part of product websites. Call to action hashtags, too, can spur consumers to behave in the desired way. On social media, these can encourage a spirit of participation. For example, when Coke launched its redesigned cans, it also created #shareacoke. This became a popular hashtag among its consumers.
12. Research hashtags before use
Millions of hashtags are being posted every day. That's why research is important to ensure that your hashtag is noticeable and relevant. The hashtag you use should not be so common that it becomes meaningless. It should also be clear and direct. Competitor hashtag analysis is another step in the research process. Ensure that the hashtag words do not lead to any negative connotations. Don't let your hashtag become a bashtag!
13. Test and track hashtags for best results
Track and test your hashtags continuously to make sure of optimum results. A/B testing will help check the number of hashtag mentions at regular intervals. The next step is social listening to discover how consumers react to the hashtag and the conversations occurring around it. Common marketing metrics for hashtags deal with popularity, reach, interactions, and types of users.
14. Use campaign hashtags
A campaign hashtag is a hashtag that is developed and used for a specific purpose. It often involves launching a new product, an added feature, or a new benefit. Campaign hashtags also serve to amplify a brand's advertising efforts on other media. For example, Starbucks uses a new hashtag every time it launches a new flavor.
15, Aim for unique hashtags
Many brands benefit from associating themselves with generic hashtags because of their popularity. However, it's always a good idea to combine these with hashtags that are unique to your offering. The hashtag could involve a specific project or feature not offered by the rest. This can strengthen online brand image and create a distinctive image in the minds of consumers.
Five Memorable Examples of Advertising Hashtags
1. Herschel
Herschel, a leading American manufacturer of backpacks, satchels, and duffels, created the #WellTraveled hashtag for an online feed of photo essays from travelers all over the world. This went viral on Instagram and even led to a collaboration with Coke for a limited edition baggage collection.
2. Uber
To celebrate the achievements of their driver-partners, Uber created short videos on their lives with the hashtag #BeyondFiveStars. The brand asked consumers to post about their own experiences to highlight drivers who provided excellent service.
3. Domino's
Domino's UK created a successful campaign with the simple hashtag #letsdolunch. They asked users to include it in their tweets. As the tweets using the hashtag increased, the brand reduced the price of Domino's pizzas at lunchtime.
4. Cadbury's
Cadbury South Africa took its hashtag campaign to another level during the holiday season. They asked for appreciative messages using the hashtag #CadburyFestive. Then, they featured the best posts on digital billboards all across the country.
5. Berger Paints
To link the festival of Holi with its easy-to-clean range of wall paint, Berger came up with the hashtag #RangonSeKyaDarna (why be afraid of colors). In posts across social media, the brand asked people to share colorful selfies of themselves playing Holi, along with the hashtag. This went a long way in boosting awareness of the product feature.
Key Takeaways
Hashtags are valuable labels that categorize posts and make them searchable. Marketers employ them to attract attention and generate buzz.
Research shows that proper use of hashtags leads to a significant increase in engagement on social media.
Tracking a competitor's hashtags reveals a lot about their online strategy. It can also show what consumers feel about them and the category in general.
Among the best practices for using hashtags in marketing are keeping it simple, considering niche or branded hashtags, and making proper use of those already trending.
For best results, marketers should test hashtags before use and track them after. Common metrics include their popularity, reach, interactions, and types of users.
Very often, brands use hashtags to multiply their advertising on other platforms. This could involve the launch of a new product or offer.
Conclusion
Marketers can use hashtags in a variety of innovative ways. To do this effectively, they should be clear about the need for communication. Then, they should research the types of relevant hashtags before using them in social media posts. Finally, they should establish standards of measurement to gauge the performance of the hashtags.
Proper hashtag marketing can increase reach, boost interactions, and enable brands to align themselves with existing trends. At times, they can amplify other advertising efforts. #StartNow.
FAQs
1. What is a hashtag in digital marketing?
A hashtag is a searchable label that tags brands and themes on social media. The # symbol denotes it. 

2. How are hashtags used in marketing?
1. Hashtags can make it easier for consumers to discover brand content on social media platforms. 
2. They can help marketers engage with consumers based on a common theme. 
3. They can boost a brand's promotional efforts. 
3. What is an example of a hashtag?
One recent example is #ShareACoke, which Coca-Cola used to encourage consumers to post about their experiences with drinking the beverage.

4. How much do hashtags make a difference?
Studies by Twitter, Instagram, and other social media platforms show that hashtags can significantly boost engagement with posts.

5. How do I know if a hashtag is working?
Many marketers use social media listening tools to get analytical insights into the performance of hashtags and other social media activities.