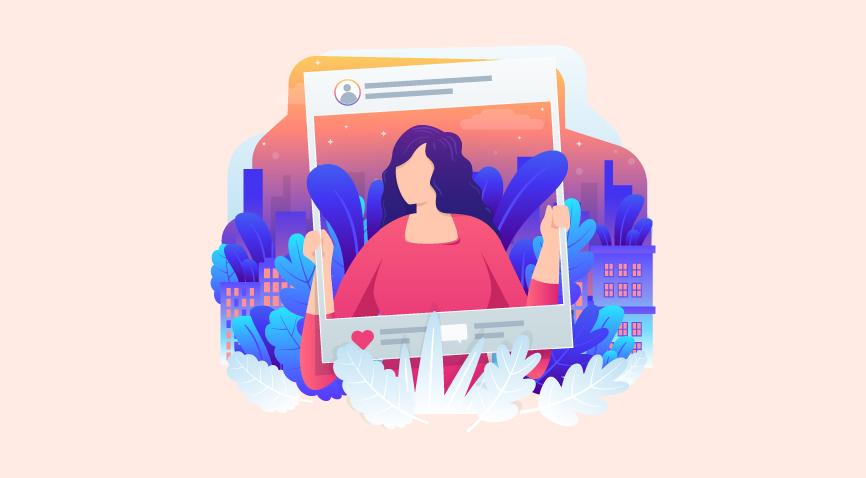 Table of Contents
How Does an Instagram Business Account Work?
Steps to Set Up an Instagram Business Account
Are There Any Disadvantages of Using an Instagram Business Account?
5 Tips for Growing Your Instagram Business Account
Key Takeaways
Conclusion
FAQs
With over a billion active monthly users, Instagram is one of the most popular and fastest-growing social media platforms today. Instagram rolled out features and updates for businesses in 2016, and since then, it has grown from a square photo-sharing app to an undeniably powerful tool for business activity. Be it a huge brand or small-business owner, all have raced to capitalize on the immense growth of Instagram business accounts.
Why is it so? You may wonder. It's because Instagram has released tons of features and updates in the last couple of years that are important for businesses and marketing experts. Using Instagram allows brands to reach new audiences, increase brand awareness, introduce new products and services, and ultimately grow sales.
So, if you don't have an Instagram work account for your brand, then you could be missing out. But how does an Instagram business account work? In this blog, we'll show you how to create one.
How Does an Instagram Business Account Work?
The Instagram business account is similar to the Facebook business page. As mentioned earlier, Instagram is no longer just a photo-sharing app. It has much more to offer: not just to individual users but to businesses too.
The platform regularly adds new features that aren't available on personal profiles, which greatly help businesses in marketing their products and services to audiences on social media. Here are a few features of an Instagram business account.
1. Access to audience insights
You can get access to built-in insights about your account reach, impressions, and interactions on a particular post or a story. These metrics allow you to analyze your account's success and performance, and optimize or tweak your marketing strategy accordingly.
2. Access to ads
With a business account, you can use the advertising features of Instagram. Instagram ads are an excellent way to reach your target customers and gain new followers.
3. Adding links to Stories
When you reach 10K followers on your Instagram business account, you can add links to Instagram Stories. This feature helps to improve the chances of action by users.
4. Clickable CTA buttons
CTA buttons are a newer feature for business accounts. This feature is incredibly handy to drive traffic to your website, book appointments, and more.
5. The ability to boost posts
Business accounts can pay to boost high-performance posts. It is a great feature to increase engagement and visibility, which in turn can help drive traffic to your website and increase sales.
6. Brand partnerships
Instagram work accounts allow you to add partners that can post on your behalf. This feature adds an extra level of authenticity to your content.
7. Access to Instagram's shopping features
One of the brightest features of an Instagram business account is its shoppable capability. With this feature, you can now sell products directly to your customers from your Instagram posts and Stories.
8. Verification requests
With a business account, you can now request a verified badge. If granted, you'll be given a blue checkmark next to your username.
The benefits that come with an Instagram work account are invaluable and crucial for the marketing of your business. You won't have the same kind of access to these extremely useful marketing features with a personal account.
Steps to Set Up an Instagram Business Account
Creating a new Instagram business account from scratch or switching from a personal to a work account is pretty straightforward. It can be carried out in just a few clicks through the Instagram app. Here are some steps to set up an Instagram work account.
Step 1: download the Instagram app
To get started, you'll first need to download the Instagram app on your Android or iOS phone, or go to Instagram for desktop.
Step 2: sign up
Next, you'll sign up by filling out a form with your email address and other details. Make sure you enter a business email address for this. Another way is to log in using the Facebook account that is associated with your business.
Step 3: choose a username
The next step is to pick a username and password for your business account. Complete the process by filling in all the required details. It's important to note that your username should be the name of your company, or as close as you can get to it. Your password should follow all recommended guidelines (include special characters, lower-case letters, etc.)
Step 4: tap on "Next"
When you tap on "Next" to open your new account, the default setting will open up a personal account. Now that you have your personal account ready, it's time to follow the steps below to switch it to an Instagram work account.
You will now have to switch to a business account.
Step 1: tap on "Menu"
From the Instagram app, go to your profile page and tap on the "Menu" (triple bar symbol) option at the upper right-hand corner.
Step 2: select "Settings"
From the menu, scroll down and tap on "Settings." You may see the "Switch to Professional Account" option. If you do, click on it. Otherwise, move to the next step.
Step 3: click on "Account"
From here, you'll see two options, i.e., Business and Creator. To switch to an Instagram business account, tap on the "Business" option. You may have to fill out extra missing details or will be able to switch over right away. It's crucial to note that Creator accounts are meant to be used by content creators, influencers, or public figures, and not for business activity.
Step 5: select "Continue"
At this point, you can swipe through the features (learn more about your followers, reach more people, etc.) of the professional account and click on "Continue" to complete your profile.
Step 6: choose a category
Next, you'll need to choose a category for your business and tap on "Done."
Step 7: complete your profile
When you get to this step, you're all set up with an Instagram business account, but you're not done yet. Review your contact details, set a profile photo, and write a short bio. If you didn't sign up with your Facebook business account, you could connect to your Facebook page here. From here, you can proceed further to complete your onboarding process and customize your profile.
Congratulations! You now have an Instagram work account.
The switch from a professional to a business account is simple and quick, but if you're wondering how an Instagram business account works, keep reading!
Are There Any Disadvantages of Using an Instagram Business Account?
There are no major drawbacks to converting a personal account to an Instagram business account unless you are someone who wants to keep your business account private (which is not advisable for reach purposes).
That said, it's important to maintain a healthy community on Instagram. Make sure your content isn't overly promotional. As long as your business creates valuable and quality content, your followers will appreciate it and engage with it more.
5 Tips for Growing Your Instagram Business Account
Now that we've covered all the key elements of creating an Instagram business account, it's time to look at some tips for making your business account powerful. Here are some tips and practices to grow your Instagram business account.
1. Write an excellent bio
Instagram bio plays a vital role in establishing your brand presence. So, use the 150 character space strategically, to sum up what your business stands for. Plus, make sure you include a website link, a CTA, and contact information in your bio.
2. Diversify your posts
Remember, Instagram is more than just a photo-sharing app. Diversify your posts by using Stories, video posts, Reels, live videos, and IGTV videos. These are some invaluable tools on Instagram for brands.
3. Engage with your audience
Instagram is one of the most popular social media tools. Take the opportunity to engage with your audience. Interact with them through your posts, respond to comments and messages, and create interactive experiences.
4. Build a visual aesthetic
Your Instagram aesthetic is the first thing the audience will notice when they check out your profile. It will also help your followers instantly recognize your brand when your content appears on their feeds. So, try to follow a unique and cohesive aesthetic for your Instagram business account.
5. Leverage hashtags
Consider creating a special hashtag for your business. It helps with branding and is a great way to connect with customers. But don't overload your posts with too many hashtags.
Key Takeaways
Setting up or switching to an Instagram business account is simple and easy.
You can link your Instagram business account to your Facebook business page.
Instagram is not just an app for sharing photos. It is a powerful marketing tool for brands.
Having an Instagram work account gives you access to a variety of features and functionalities, including audience analytics.
An Instagram business account is the best platform to connect and engage with your customers.
Conclusion
Getting started with an Instagram business account can be highly beneficial for the success of your business, and fortunately, it's a very simple process. So, follow the above steps to set up your Instagram work account today and watch your social presence grow over time.
FAQs
1. How much does it cost to open an Instagram business account?
Instagram's business account is free. It doesn't cost anything to set it up.
2. Does the business account charge for selling products?
No. Instagram doesn't charge any fees or commissions for selling items.
3. What type of business can I promote on Instagram?
No matter what type of business you are in, you can use Instagram as a marketing tool.
4. What are the most important Instagram trends in 2022?
The most important Instagram trends for 2022 are Reels and links in Stories.