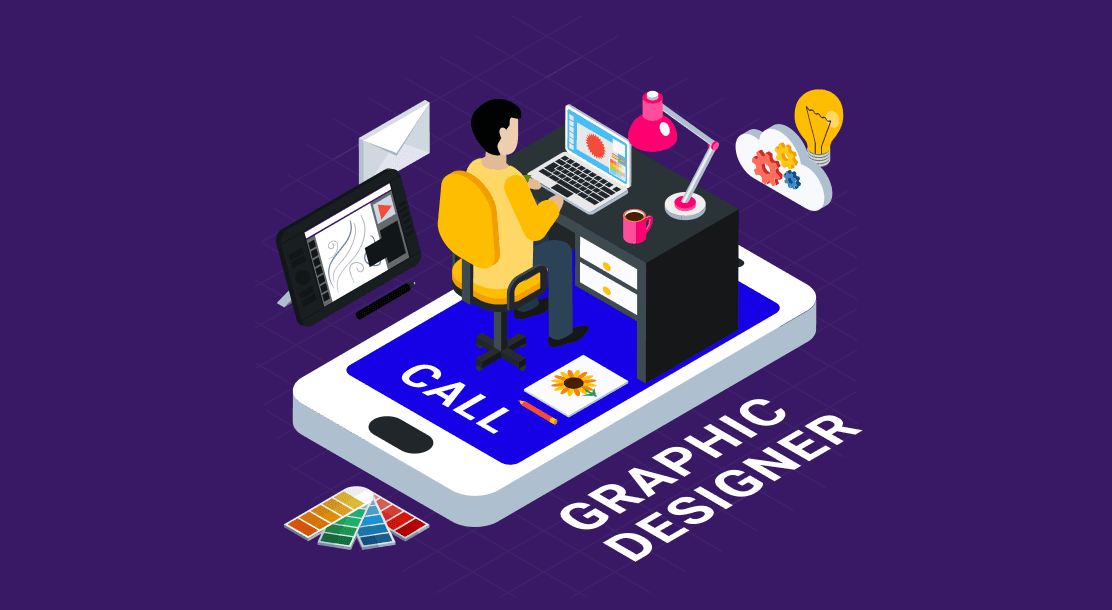 Table of Contents
What Is Graphic Design?
Graphic Design Study Guide: Understanding the Basics
What Are the Applications of Graphic Design?
Common Graphic Design Jobs
Popular Graphic Design Tools
Key Takeaways
Conclusion
FAQs
Becoming a freelance graphic designer is not a cakewalk: there are multiple things you need to consider before you jump onto the bandwagon. Let us go through this graphic design playbook to understand what the field entails in a systematic manner. To help you navigate your career better, we have curated the handiest graphic design study guide for you.
What Is Graphic Design?
In simple terms, graphic design refers to the art of planning and presenting a bunch of ideas through visual communication. You might get a business requirement in the form of an idea, and you will have to conceptualize and materialize it into visual communication.
This becomes interesting, because each need and idea is unique. People who have artistic inclinations and exhibit out-of-the-box thinking are best suited to become graphic designers.
A graphic designer attends to various needs of the client, ranging from the creation of logos and typography to website design.
Graphic Design Study Guide: Understanding the Basics
Fundamentally, you should be aware of the seven principal elements of graphic design, which act like building blocks in the development of a great design. These are discussed below.
Alignment
Alignment is an important element that decides how visually appealing your design will be. You can decide the alignment on the basis of the text and other objects you want to display in your design.
Order
To ensure your goal is accomplished, you need to decide the order or hierarchy of the different elements in your design. The most significant element should be easily identifiable. For example, if the text in your design contains the word "Discount," which is needed to draw viewers in, your design should highlight it by way of a bold font or appropriate placement.
Contrast
The correct contrast makes a design appealing to the eyes. It is always easier to read and comprehend text written on a contrasting background than to read text that is written against similar color tones. So, make sure you use a contrasting background. You can create a range of color contrasts with visuals, such as images and infographics, as well.
Iteration
The focal point of your design should often be iterated throughout your design, so that it sits well in the mind of the viewer. Repeating key motifs or themes help make your design a comprehensive whole.
Proximity
Try to keep related things and similar elements together in a design. For example, in an invitation, it is always better to keep the date, time, and venue in proximity to each other so that all these important details are easily accessible.
Balance
Keep a healthy balance between the different elements used in your design. Anything in excess will cause your design to fail. For instance, if the content is text-heavy, you need to spread it out and supplement it with enough visual elements to not overwhelm the reader.
Color
You can refer to the color wheel and find out the most appropriate color settings that appeal to the common eye. There are colors that are associated closely with human emotions, such as white that depicts peace and tranquility, red that depicts love, and so on.
Spacing
Simplicity should be your mantra when it comes to spacing. Overcrowding your design with too many elements fails to generate the desired response from the audience. Keeping ample white space helps give visual relief, and also helps your design look more presentable.
What Are the Applications of Graphic Design?
Graphic design is a vast and varied field, and it has a plethora of applications. Remember, the requirements for each type of graphic design are different. To help you get a better understanding, we have listed the seven common graphic design careers you can choose from.
Animation design
Animation and motion designers help in creating designs for short films, video games, informative social messages, etc. Their demand is growing rapidly in the animation industry for producing animated clips, graphics, and cartoons.
Page layout design
Page layout design can be applied to many areas, such as digital visiting cards, brochures, etc. Designers working in the publishing industry usually feature on this list, wherein they decide the design and layout of a magazine, newspaper, and more.
Print design
The designing of traditional advertising mediums, such as hoardings, billboards, business cards, exclusive merchandise, flyers, brochures, and other associated products, is known as print design. It forms an essential part of print advertising.
Website design
One of the most in-demand design categories, website design involves conceptualizing the layout of a website. It involves enhancing the user interface of websites and applications to make the user experience more seamless.
Branding design
This category comprises people responsible for creating a brand image for a company through the creation of visuals, such as logos, letterheads, signages, etc. Brand design helps make a business more recognizable to its customers.
Product design
Product designers research and analyze the target audience, and tap into their sentiments. They come up with innovative product ideas that will sell like hotcakes. They primarily work on enhancing the user experience.
Common Graphic Design Jobs
There are a plethora of options to explore in the field of graphic designing. You can become an art director and lead others, or become a brand identity designer to exclusively market and build a client's brand. You can even become an illustrator and handle the responsibility of developing images for websites, campaigns, magazines, etc. Art direction is another career you can choose.
What career you choose in graphic design will depend on your specific interests and the kind of skill set you possess. When starting out as a designer, you should network with fellow designers to gain enough exposure and experience. The media industry also welcomes graphic designers for multimedia animation and web designing. Film editing is also a growing career among budding graphic designers.
Popular Graphic Design Tools
Well, knowing everything about graphic designing, but being unaware of the tools used in the field is like going to a battlefield without arms and ammunition. A beginner's guide to graphic design is incomplete without discussing the necessary tools.
While paper and pencil are the traditional tools that can create a design, in the fast-evolving world of technology, you also need to be well-versed with digital tools, such as Adobe, Canva, etc.
Today, we have a wide variety of both free and paid software that can assist in making you a great graphic designer. Adobe Photoshop, CorelDRAW, Inkscape, Sketch are some of the many famous graphic design tools, ranging from premium to low-cost subscription plans.
You might wonder whether investing in such tools is feasible. These tools provide you with a lot of flexibility and scalability. They render your designs more professionally and in less time, as there is minimal human intervention. They might appear heavy on your pocket in the beginning, and there's a solution to this. You can either go for free tools or run premium software on a trial basis, till the time you feel ready to invest monetarily. In the long run, you will not even bother about the cost incurred when purchasing it.
Key Takeaways
Graphic designing refers to the craft of selling ideas through visual communication. This might be undertaken in the form of logos, advertisements, website designing, etc.
An inclination towards art, an eye for detail, the ability to present ideas in a unique manner, and a knack for using specialized software can promise you a flourishing career in this field.
The demand for graphic designers is growing in the animation and media industries.
Any graphic design study guide is incomplete without a few basic elements, such as alignment, iteration, color, contrast, balance, space, and hierarchy. These should be kept in mind while formulating a design.
Product design, animation design, layout design, print design, and branding design, are some prominent types of graphic design.
You can qualify to work as an illustrator, animation designer, website designer, film editor, or art director upon gaining the requisite experience in this field.
You must have hands-on experience in using and operating tools such as the Adobe suite, CorelDRAW, and Sketch, among others.
Conclusion
Graphic designing can be a lucrative field, if done right. This graphic design playbook will help you sail through a sea of doubts you may encounter during the journey.
FAQs
1. How to start freelancing in graphic design?
The first and foremost step is to identify your interests and start acquiring the essential skills. Post this, make your portfolio and increase your visibility to prospective clients. Be cautious of contracts and quote a price after researching industry standards.

Slowly, build your network and include like-minded people in your day-to-day interactions. The efforts you put in satisfying your initial few clients will pay off in the long run.
2. Can you become a graphic designer without a professional degree?
If you are still in a dilemma about whether a degree is a mandate to become a graphic designer, then let us burst the bubble for you. Luckily, for a few new-age professions, clients are no longer going by your institutional degrees and achievements.

If you have enough work to showcase and enough fire in your belly to switch up your skills, most clients will be happy to have you on board. However, to upskill and keep yourself updated on the latest technologies, you can always pursue short-term courses that can add value to your portfolio.
3. How much do graphic designers earn?
The payments are commensurate with the kind and nature of work, and the size of the client. For example, if the project is of recurring nature and longer duration, then you can expect decent remuneration. Smaller clients who hire you for ad-hoc projects might not be great in terms of pay, but if you are a beginner, they will provide you with the best exposure.
4. How to find clients as a freelance graphic designer?
Honestly, pitching is a skill that not many can ace at the beginning. However, with the right guidance, anyone can master it. You need to mark your presence at every possible platform where your clients are. 

LinkedIn or other social media platforms like Twitter will sometimes amaze you with the potential they have in bringing business. Create your profile on all such platforms, and showcase your best work frequently. Remember, what shows will ultimately sell. Your coworkers and well-wishers can also help spread the word about your talent.