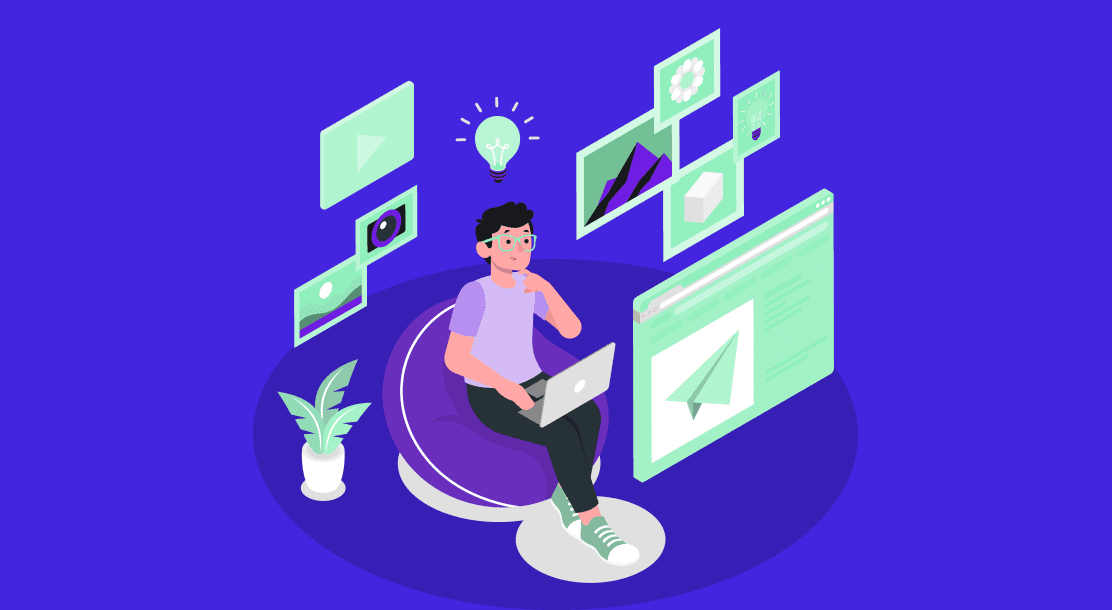 Table of Contents
10 Graphic Design Inspiration Sites to Follow
Key Takeaways
Conclusion
FAQs
Your passion for creativity is strong, and your desire to improve is ever-commendable. Yet, the dearth of inspiration and motivation can be frustrating. But that shouldn't thwart your creative work. To help you build stunning designs and creatives, we've hand-picked some graphic design blogs.
10 Graphic Design Inspiration Sites to Follow
The blogs listed here are run by professional graphic designers and are among the best graphic design inspiration sites out there. Do away with creative blocks through these creative blogs.
Abduzeedo is all about photography, UX, and design. It's a place where bloggers from around the world share articles on everything related to design and visuals. Established in 2006, Abduzeedo is the brainchild of Brazilian graphic designer Fabio Sasso. Today, abdz is a blog wherein you'll find enticing articles and tutorials on illustration, graphic/web design, and photography, besides getting fresh updates on the design industry.
For years, Abduzeedo has been one of the best graphic design blogs in the creative scene. It's evolved along with the creative community, and is now mighty with 3D graphics too.
This blog showcases identity and branding design. It is like an online archive of remarkable branding designs, along with analysis of the works of the greatest designers and best branding studios out there.
Renowned designer and author David Airey's blog will take you through some of the best brand identities ever created. You'll gain insights into popular branding projects done by designers from around the world.
Another blog by David Airey, known as Logo Design Love, is dedicated to logos, icons, and symbols. It features amazing creations with brilliant elucidation. It's also available in the form of a book called Logo Design Love: A Guide to Creating Iconic Brand Identities.
One of the best graphic design blogs out there, BP&O stands for branding, packaging, and opinion. Founded by writer and designer Richard Baird, BP&O hosts a collection of distinctive branding designs. You'll find insightful reviews and publications by the author on interesting design projects. It showcases design work focused on graphic identity, packaging, and other graphic work, capturing the exclusive creative direction of each project.
This design blog is essential to keep yourself abreast of the latest projects in the identity design sphere. Richard Baird also founded a logo research tool called LogoArchive. This educational platform documents past logos, thoroughly reviewed and carefully curated by a community of researchers.
Visuelle is another graphic design blog that houses a curation of striking projects from international graphic designers. Curated by designer David Bennett, Visuelle presents some of the best works by freelancers as well as creative studios. The blog features work ranging from typography to a range of graphic design solutions, which are sure to spark stunning graphic design content ideas in you.
Visuelle is an image-directed display and visual feed, and the blog collects all sorts of creatives, their tagline being "If it's great, it goes on." The creative design featured on Visuelle comes with discerning analysis on the layout, tone, and typeface, among other elements of the design.
Eye on Design is a blog by the American Institute of Graphic Arts (AIGA). This blog is packed with thoughtfully cataloged work and excellent commentary, making it a great graphic design inspiration site. It displays the latest work on the creative front, even that of emerging artists, besides reports on design trends. The blog covers important issues of the design world and promotes contributions from contemporary designers, while building an engaging design community.
With designs covering graphics, branding, books, magazines, illustration, digital, and typography, Eye on Design is replete with diverse design categories to get inspired by and to satiate your design knowledge.
Dieline caters to packaging designers. The blog was launched by Andrew Gibbs in 2007, and it showcases fabulous packaging design ideas. It publishes editorials as well as projects submitted by readers and contributors. Dieline is a platform that shares design innovation and creativity. You can check out the latest news and dossiers on notable packaging design projects on this platform.
Mindsparkle Mag is one of the greatest graphic design inspiration sites for professionals and amateurs alike. Launched in 2011, it curates only the best projects in the fields of design, including videos, web design, and motion graphics. The design category on this blog covers everything from product design, branding, art, interior, photography, and architecture.
The blog talks about new trends, curates designs of the highest quality that are aimed to inspire and connect. Mindsparkle Mag also writes about jobs in the design industry.
A well-loved design blog, The Inspiration Grid serves to inspire and is one that won't fail to fix your creative block. It's one of the best graphic design blogs that showcase amazing design, art, illustration, typography, photography, and more.
The Inspiration Grid is where you'll get to know about groundbreakers in the creative world. From book covers and fashion and beauty to UX & UI Design, advertisements, and product designs, creative inspirations are aplenty up on The Inspiration Grid.
99U is a platform by Adobe for professionals and aspirants pursuing design careers. The blog holds high-value resources, such as guides, articles, and features on creative work. Get inspired by design experts, pick up tips and ideas, and connect with folks from the creative industry at 99U.
A blog popular among creative professionals, Creative Bloq is packed with the latest updates and inspirational pieces, one of which is bound to serve as a graphic design content idea for you. Creative Bloq caters to a variety of designs, including web design, illustration, 3D graphics, and traditional art, among others. The blog publishes helpful tutorials, reviews, and advice. Explore their "Trending" section when in need of a creative drive.
Key Takeaways
For graphic design content ideas, head to the best graphic design blogs, such as Inspiration Grid, Creative Bloq, Mindsparkle Mag, etc.
For packaging design, go for the likes of Dieline.
For inspiration and knowledge on branding design, check Identity Designed.
For more learning, check out Adobe 99U and Creative Bloq.
Conclusion
To sum it up, there is no dearth of graphic design blogs that can fuel your inspiration. Whether you're looking for motivation or tutorials, those blogs can serve as a haven for inspiration and professional advice, keeping you updated with the latest trends and news related to the creative industry.
FAQs
1. Is there any women-centric graphic design blog?
Women of Graphic Design talks about female designers and their work.
2. Are there other good design blogs not mentioned in this blog?
Yes, you can check out Dribbble, Smashing Magazine, and Creativeoverflow, to name a few.
3. What are some graphic designer blog topics?
Graphic design topics can include logos, fonts, photography,  typography, illustrations, 3D art, tutorials, etc.
4. What do graphic designers do?
They create visuals for communication/information.
5. How do graphic designers get ideas?
They explore sites, read blogs and books, join creative communities, seek inspiration from their surroundings, and enroll in classes/programs.
6. What are the four types of graphic designers?
Brand identity and logo designer, packaging designer, web and mobile Designer, and layout and print designer are the four types of graphic designers.