Design
9 Freelance Graphic Design Tips to Follow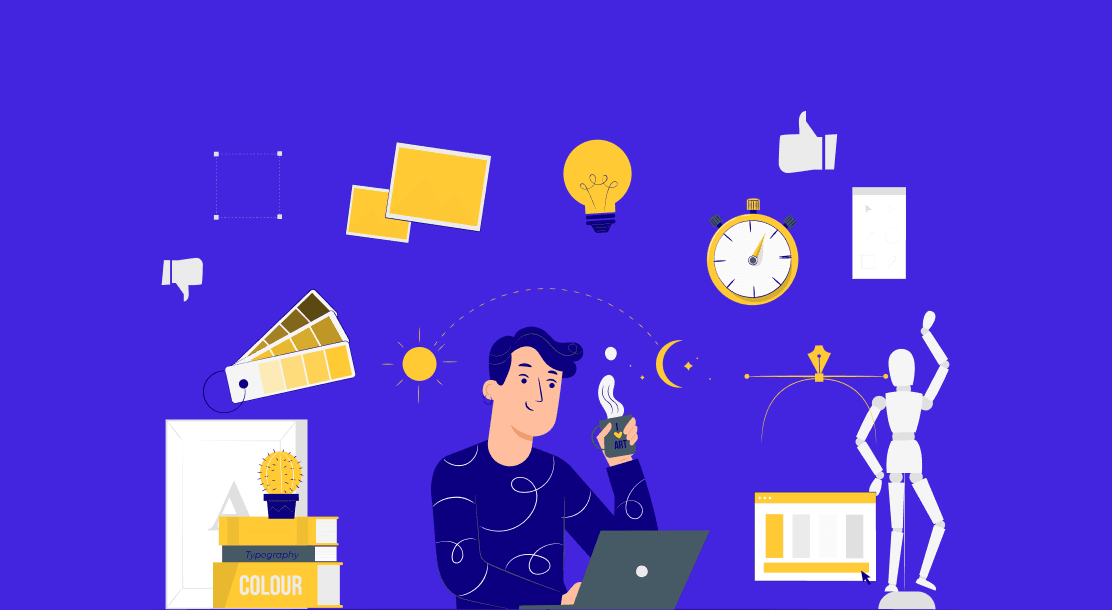 Table of Contents
9 Freelance Graphic Design Tips
Key Takeaways
Conclusion
FAQs
With COVID-19 changing business dynamics everywhere, freelancing has become one of the fastest growing and evolving industries worldwide. According to Forbes, the demand for freelancing professionals has risen tremendously, as hiring managers are more likely to hire freelancers now than they were in the pre-COVID-19 era.
Freelance graphic designing, in particular, has become a challenging field that is fraught with competition. If you're just starting out, you may need to weather many a storm. So to make your journey smooth, we discuss some freelance graphic designer tips ahead.
9 Freelance Graphic Design Tips
Let us talk about the nine things to keep in mind as a freelance graphic designer.
1. Pay attention to your contracts
When you start freelancing, you are the director, producer, and actor of your own film! Meaning, you must pay attention to every detail involving your business. You should pay attention to details like the terms of services, terms of payment, the scope and timing of work, the charges applicable, the clauses applicable for any defaults, deadlines for deliverables, confidentiality clauses, etc.
Make sure all these parameters are clearly defined in your contract. Sometimes, an assignment may appear too good to be true and quite lucrative to you. However, you should always investigate the hidden details of such enticing offers.
2. Learn constantly
Well, nothing can replace a professional who is backed by top-notch skills. Upskilling is essential, especially in the field of graphic designing. It helps you cater to the ever-changing needs and demands of customers. Having a grip on tools such as Adobe will always give you an edge over professionals who may not be that handy with design software.
A top freelancing tip is that you should keep researching to enhance and upgrade your skills from time to time. For this, as a prerequisite, you must identify your interests and then build upon your skills accordingly. Tap into areas that few people have expertise in; this will help you carve a niche for yourself. It will also enable you to sell your services at a premium.
3. Take the time to know your client
One of the most helpful tips for new freelancers is to know your client and their requirements inside-out. When a prospective client approaches you, ask them questions about their specific needs and requirements. The better you understand the requirements of the client, the more likely you are to suggest effective solutions for their business needs.
Every person prefers tailor-made business solutions. When you inquire more, you are developing your networking skills and long-term relationships. This will not only help you deliver better for a one-time project but will also attract more work from that client.
4. Avoid scope creep
Scope creep occurs when a client adds tasks or deliverables or makes changes to the project at the last minute. These are usually not defined in the initial scope of work. Now, this is a tricky situation. You might lose a well-paying client if you don't fulfill their requirements; but if you cave in, it may become a routine. Scope creep is a double-edged sword, and hence, should be managed tactfully.
You should clearly define the scope of the work at the beginning, and keep connecting with the client, often informing them about the progress and milestones achieved. Frequent communication will help set the expectations transparently. Do not hesitate to say "No" when ad-hoc requests are made with no corresponding monetary element.
5. Manage your finances
Money is loved by all, but many share a love-hate relationship with money! It is crucial to managing your finances smartly, as freelancing individuals do not have a constant, fixed source of income.
There will be days when you might receive a stash full of money and run dry the other day. Therefore, money management is a life skill you will need to learn. Carefully estimate your monthly income, and extrapolate your expenses out of that. You can even follow the 50-30-20 rule: 50% of your income is reserved for your needs, 30% towards your wants, and the remaining 20% goes towards your savings.
Do not forget that you must build up a retirement fund, have your insurance in place, create a sound investment plan, and have enough money for rainy days. Remember, your financial goals come before personal ones.
6. Don't work for free
We can't stress on this enough. One of the most important freelancing tips for beginners is to not work for free. Don't entertain any client who does not pay you or underpays you. Striking a deal and quoting the correct remuneration for it is an art. And when you are a beginner, people are bound to take you and your skills for granted. For most of their initial days as freelancers, many are either unpaid or severely underpaid.
Remember, there are no free lunches, and you do not want to be the person serving one. Do your own research to find out the applicable remuneration rates in the market for the skills you have to offer. Don't settle for anything less. It is okay to let go of a couple of clients than be unpaid for your hard work.
7. Don't bite off more than you can chew
Remember, you might have the best of skills and abilities, but you will still have only 24 hours to work and function. Do not over-commit. It is not necessary to accept every assignment that comes your way.
Many freelance graphic design tips might have you believe that in order to grow your network, you must be open to as many projects as possible. However, often, freelance designers end up accepting too many tasks, as against their full capacity. This, in turn, leads to failure in catering to deadlines, endless revisions, burnout, and most importantly, a bad impression.
The best way to not overburden yourself is to have a planner or scheduler in place. Plan your day, and add in the daily deliverables and fast-approaching deadlines. Make sure you do not overload your plate by committing to some new assignment when you already have a string of partially done assignments.
8. Join a community
You may have ditched your nine-to-five job to become a freelancer, but you can't overlook the power of networking. It is extremely essential, especially for a beginner in freelancing, to have a network of like-minded individuals and creatives for professional growth.
Platforms like LinkedIn allow you to showcase your work, and at the same time, connect with like-minded people. A lot of hiring for freelancers happens on such social networking platforms. Thus, it is quite essential that you mark your presence on such sites. That said, don't restrict yourself to networking alone. Instead, dedicate your energy to build sustainable relationships that can take you to greater heights. In addition, there are many freelancer communities you can join.
9. Take it easy
Breathe in, breathe out! You must have decided to become a freelancer to be your own boss, to work independently, and most importantly, to follow what you love.
But with all the stress that comes with being a one-person-army—from managing your finances to raising invoices and meeting deadlines—it may sometimes become too overwhelming for you.
Hold on, this is just a part and parcel of being a freelancer, and you will slowly ace it like you've aced other undertakings before. Each day, remind yourself why you chose to be a freelancer in the first place. Relax your mind and keep taking ample breaks; you can try mindfulness exercises or even go for a short walk. Keep working hard and watch your journey grow bigger and better with each passing day.
Key Takeaways
Make a strong portfolio and do your research on market needs and trends. Learn the basics of reading a legal document and be aware of your rights and duties when signing contracts.
Stick to deadlines and project quality. Do not hesitate in saying no to a client's last-minute requests. Discuss and communicate the deliverables, timelines, milestones with your client frequently and with utmost transparency.
Finance is the lifeblood of any business. One of the most crucial freelancing tips is to make sure you are in control of your finances and that you manage them well.
Keep upskilling yourself in accordance with the latest requirements of the market.
Work smarter and build your professional network.
Take breaks often. It will help you reconnect with yourself and come up with better ideas too.
Conclusion
The freelancing industry is growing at a fast pace. It is opening so many doors of opportunities for both part-time and full-time freelancers. This trend is poised to only grow from here. The business dynamics have changed and so have the needs of clients. Graphic designing is one of the most trending skills of the new age, and commands a good reputation in the freelancing industry.
You might be brimming with joy and excitement for kick-starting your freelance designing journey. But remember to not go overboard with work or overcommit. Check your bandwidth before accepting any new assignment. You should stick to providing timely and quality work, rather than accepting every assignment that comes your way and then under-delivering.
Ensure you are adequately insured and have emergency funds in place for unfortunate situations. In addition, do not accept any assignments that underpay you or do not pay you at all. Remember that you are skilled to charge the amount you deserve.
FAQs
1. How can I start freelancing in graphic designing?
The best part about freelancing as a graphic designer is that having just the requisite skill set, a knack for art, and a quest to learn is enough. You may or may not be judged based on your educational qualifications. Thus, to start working in graphic designing as a freelancer, you just need to equip yourself with the right tools. 

To get a better hang of things, you can pursue short-term specialized courses meant for freelancing professionals in graphic designing. A tip for new freelancers is to create a crisp portfolio and create an online presence on platforms that are frequented by prospective clients.

2. How can a freelance graphic designer succeed? 
Well, there is no sure-shot formula for success, but you need to be a thorough professional to succeed. Make sure you develop a strong portfolio and start building your connections. Always endeavor to deliver the project deliverables on time and serve your client quality work. For the first few clients, you should be willing to put in the extra effort so that you get a good head-start.

3. How long does it take to become a graphic designer?
The time duration for most formal and short-term graphic design courses range between six months and five years. Hence, it depends on the choice of course you wish to pursue. If you are confident enough about working without a degree, and are banking solely on your skills and competence, you can start your freelance graphic design journey right away. 
 

4. What are some key freelance graphic design tips? 
Find below some important freelancing tips for graphic designers. 
You should define your objectives and goals at the onset. 
You should get a hold of all the functional tools and software like Adobe that are used in graphic designing. 
Start reaching out to the people in the community.
Identify your area of interest. 
Once you are settled in terms of managing and procuring clients, start organizing your finances.
5. How much can you make as a freelance graphic designer?
There is no exact estimate of how much you can earn while working as a freelance graphic designer. It totally depends on the kind and magnitude of the project you are working on, your skills and experience, and who your client is. 
On average, freelance graphic designers earn upwards of Rs. 15,000. Some clients will prefer to pay you on an hourly basis, while some may prefer to pay a lump-sum amount for the entire project. While setting your fee, make sure to take a reasonable margin over and above your basic charges, before quoting it finally to the client.

6. How to manage work-life balance when working as a freelance graphic designer?
It is true that freelancing gives you flexibility, but it is also a known fact that there are no defined time-offs in this industry. Hence, maintaining appropriate work-life balance solely depends on your time-management skills.

It is always advisable to have a planner in place so that you know how much time you have to complete each assignment. You should make it a point to go for short breaks in between and rejuvenate yourself, so that you come up with better ideas and approaches to your assignments.