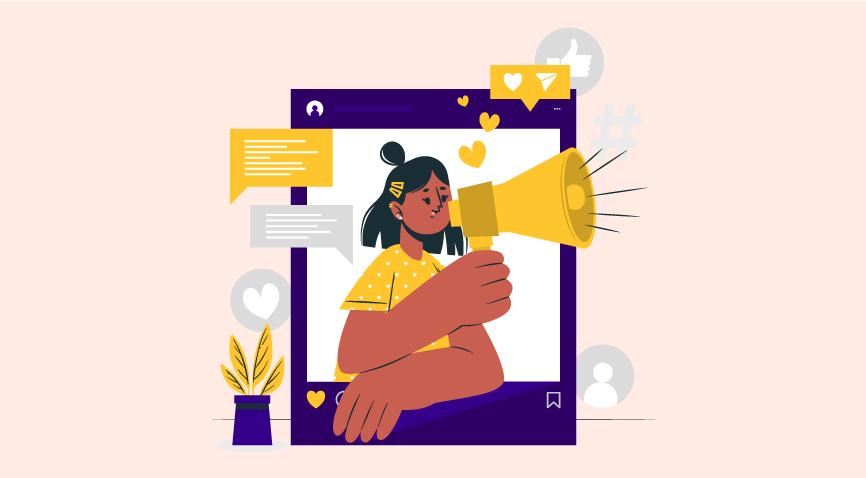 Read on for details on Facebook marketing, its benefits, formats, and tips for creating an effective Facebook marketing strategy.
Table of Contents
What is Facebook Marketing?
Why is Facebook a Good Marketing Platform?
Benefits of Facebook Marketing
Facebook Marketing Formats
How to Create an Effective Facebook Marketing Strategy?
Key Takeaways
Conclusion
FAQs
Facebook is undoubtedly one of the most widely used platforms by different demographics, providing an excellent opportunity for businesses to connect with their target audience. It has over 2.8 billion monthly active users, making it an ideal platform for marketing.
This article talks about Facebook marketing for beginners and how brands can leverage it.
What is Facebook Marketing?
Facebook marketing is a broad term encompassing all the ways to market your brand on Facebook. Some of the most popular methods include Facebook Ads, Facebook Marketplace, groups, and business pages. This platform allows brands to display targeted paid advertisements and organic posts to promote their products and services before a vast audience.
In fact, Facebook's digital marketing has become so popular over the last decade that Facebook is better placed as one of the biggest marketplaces as a social media platform.
​​
Why is Facebook a Good Marketing Platform?
There are many reasons Facebook is considered a great marketing platform. Some of the major ones are listed below.
Facebook has a global reach with over 1.5 billion users visiting the platform daily and over 7 million businesses posting ads for their targeted audience.
Facebook Ads can target a particular audience based on their age, location, gender, or interests. This is possible because of the personal data shared by users with Facebook. Such ads form a big part of Facebook business marketing.
Brands can even build connections with users organically by posting high-value and relevant content on their Facebook page. Once built, such connections are long-lasting.
The best thing about FB marketing is that it integrates with other marketing channels to develop a promotional strategy that allows the brand to reach out to maximum people. The other marketing channels can be email or mobile marketing, Facebook Messenger ads, and the likes.
Benefits of Facebook Marketing
Apart from its attractive features for marketers, Facebook offers many other benefits that allow businesses to achieve their marketing goals.
Facebook's demographic targeting option allows brands to precisely target an audience based on a particular income level, relationship status, or interest. You can even reach out to potential customers based on their purchase behaviors and history or preferred sports or hobbies.
Increase in website traffic
A primary aspect of Facebook's marketing strategy is to generate quality leads and drive them to your website. Since these people are primarily followers of your Facebook page, they already know your brand and trust your products or services. This gets them interested in exploring your website, leading to a higher conversion rate. Thus, marketing efforts on Facebook can attract users' attention to a brand and boost traffic.
Companies can showcase their products in the best light using Facebook's different ad formats with text and visual elements. There are various ways to promote your products on Facebook, including posting stories, making slideshows launching your new collection, etc.
So many people buy products through social media because of the instant customer support they receive on those platforms. Brands can easily create a chatbot for Facebook Messenger to connect with their users on common queries. This gives them the time to resolve more complicated issues faced by customers.
It has been observed that social media engagement positively impacts the brand's ranking. When users share, like, or comment on your posts, it indicates to search engines that people are interested in your content.
Facebook Marketing Formats
Facebook has come up with different ad formats over time to meet digital marketing requirements. The most popular ones are as follows:
You can make short videos, GIFs, and longer in-stream videos to showcase your products and their features in action.
These ads are cost-effective and are used to attract users to your website and raise brand awareness.
This unique ad format allows you to show up to ten images or videos in a single ad. You can either demonstrate the features of a single product in detail or different products altogether.
A collection ad is like a small catalog of your products, consisting of one large video or image and four smaller images below in the form of a grid.
This ad format is like a slideshow that can create an ad using multiple images, video-editing tools, and music.
This kind of ad format is developed mainly to encourage lead generation. A subscription form asks for user details when a user clicks on the product image.
How to Create an Effective Facebook Marketing Strategy?
If you are implementing a Facebook marketing campaign or strategy, the first step should be to set precise goals that can be used as a reference to measure the progress of your campaign. A business can have several goals such as increasing brand awareness, sales, lead generation, boosting website traffic, distributing relevant content, etc. To have a perfect strategy, brands should know which goals they have to address.
Your audience will determine the marketing strategies you will employ. They are who you want to engage and connect with. Spend time understanding your Facebook demographics and then decide the best way to reach out to them.
Engage with your audience
Just having a business page and posting ads is not enough. It's important to proactively and consistently converse and engage with your users. Try and create a community for your target audience. Instead of just perceiving them as customers, try to understand and connect with them in the first place.
Timing is of great relevance in marketing. Facebook provides a range of options on the type of posts. However, to be effective, brands need to pick the best time for such posts when the highest audience engagement can be expected. Thus, scheduling your content calendar helps you address gaps and saves time in the long run.
Prepare a Facebook ads strategy.
An increase in brand awareness and audience base does not happen overnight. However, with a proper Facebook ads strategy in place, you can reach your goals faster. Your ads should be cost-effective and relevant to the customers' needs. Utilize the range of ad formats Facebook provides and keep the content fresh. Analyze each ad campaign's success with the help of specific metrics.
Track your marketing campaign's progress
Determine certain metrics like click-through rate, page impressions, fan growth and many more to see how your posts perform. Keep an eye on your competitors as well. There are tools like Facebook pixel, which are available for Facebook data analysis and social listening. Use them to ensure that your marketing efforts are on the right track.
Key Takeaways
Facebook marketing refers to marketing a brand's products or services on Facebook to capitalize on the vast audience base. The standard Facebook marketing services include Facebook Ads, groups, business pages, and a Facebook marketplace.
The features that make Facebook an attractive marketing platform are its global coverage, highly targeted paid ads, the possibility of organically connecting with audiences, and integrations with other marketing channels.
Facebook marketing offers excellent benefits, making it one of today's most popular marketplaces. Brands can precisely target their potential customers based on several factors. A good Facebook marketing strategy can even boost website traffic. It offers different ad formats to promote products and has options for customer support. FB marketing even has a positive impact on SEO rankings.
To implement an effective Facebook marketing strategy, brands should keep the following points in mind:

Set specific goals
Know your audience well
Engage proactively and consistently with them to improve brand loyalty.
Make a content calendar
Prepare a Facebook Ads strategy
Track the progress of Facebook marketing campaigns using specific metrics.
Conclusion
Follow the steps mentioned above to create a Facebook marketing strategy for your business today itself. You cannot ignore it any longer since your competitors are already benefiting from the vast audience base.
FAQs
1. What does Facebook marketing mean?
Facebook marketing is the process of marketing the products or services of a business on Facebook. This can be done by utilizing several marketing services provided by Facebook, such as Facebook ads, Facebook marketplace, business pages, etc.

2. What makes Facebook an effective marketing platform?
Facebook provides several appealing reasons to be used as a marketing platform, such as its extensive global coverage and user base, highly targeted paid ads, integrations with other marketing channels, and enabling brands to connect with users organically.

3. What are the different ad formats offered by Facebook?
Facebook offers a variety of ad formats to brands such as video ads, image ads, carousel ads, collection ads, slideshow ads, and lead generation ads.

4. What are the steps to create an effective Facebook marketing strategy?
Set specific goals for your campaign
Know your audience and engage with them proactively
Schedule your posts
Prepare an elaborate Facebook ads strategy
Track the progress of your campaign