Marketing
7 Digital Marketing Models: The Expert Opinion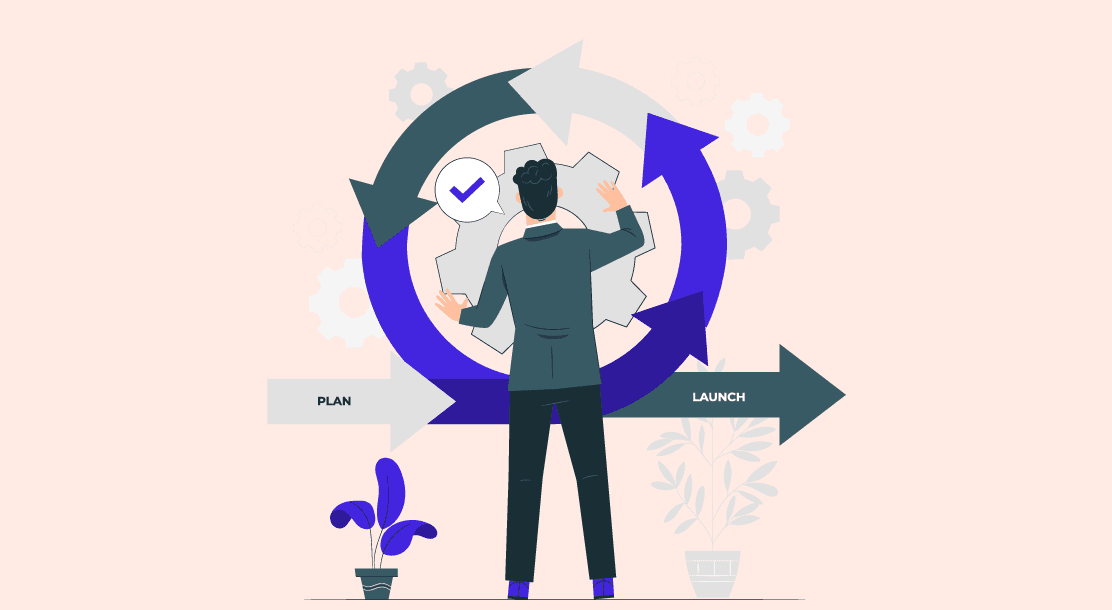 Table of Contents
The Most Popular Digital Marketing Models
7 Digital Marketing Models by Experts 
Key Takeaways
Conclusion
FAQs
In the past decade, the rise of the digital age has given birth to a form of marketing that rests on the pillars of the Internet and online communication. Digital marketing is a system of marketing where companies can personalize communications to a specific audience, allowing them to promote to people who are most likely to be interested in their product.
Digital marketing has revolutionized the marketing industry and enabled organizations to establish their brand identity by producing unique content that promotes their services/products and offers value to the consumer. Content assumes center stage in a realm where almost all sales depend on what the consumer clicks on. A competent digital marketing model thus becomes essential to make your content stand out.
According to Dr. Mark Hobson, Senior Dean of the business program at Southern New Hampshire University, even though digital marketing appears to be a new world concept, we can still find its roots in traditional marketing knowledge. Thus, to understand digital marketing models, let us briefly go through the most popular marketing models that have cut the mustard over the years. 
The Most Popular Digital Marketing Models
Digital marketing models are now one of the major elements that every marketer needs to know how to construct and exploit, as analytics and science remain central to marketing's success. It's great if you've already got your wagon running, but if you are still in the pilot phase, don't worry because if there is even a little bit of traffic, it's time to venture out. 
1. 7 Ps of the marketing mix
Product, price, place, promotion, people, process, and physical evidence are the 7Ps of the marketing mix model that form the fundamental strategic elements of a marketing program.
The 7Ps framework for the digital marketing mix is often referred to as the 7Ps framework for analyzing and identifying critical issues that affect a company's marketing and its products.
You can use this strategy to define goals, conduct a SWOT analysis, and conduct a competitive analysis. It's a practical framework for evaluating a current business and developing appropriate techniques while assessing the mix aspects.
2. USP
The premise of this concept is that a company should make its uniqueness evident to potential consumers. They must know why you are different from your competition. You can't successfully target your sales efforts unless you can pinpoint what makes your firm unique in a world of homogeneous competition.
3. Boston Consulting Group Matrix
Simply put, the growth-share matrix is a portfolio management framework that assists firms in determining how to prioritize their various operations. It's a table divided into four quadrants, each with its distinctive symbol representing a different level of profitability: question marks, stars, pets (usually a dog), and cash cows. Executives could determine where to focus their resources and capital to generate the most value and where to cut their losses by assigning each business to one of these four categories.
Dogs: These are products with low growth or market share.
Question marks or problem child: Products in high growth markets with a low market share.
Stars: Products in high-growth markets with a high market share.
Cash cows: Products in low growth markets with a high market share
4. Brand positioning map
This model allows marketers to evaluate a brand's relative position in the marketplace by graphing consumer views of the brand and competitor brands against the factors that drive purchase. This is a fantastic notion for figuring out how clients perceive a brand. It is critical to complete brand planning, strategy, and market research.
Perceptual maps are beneficial for the following four reasons:
Analyzing strengths and limitations in comparison to competitor brands, as well as specific customer-relevant criteria
Identifying the brand's competitive advantage
Recognizing market possibilities
Observing the movement of ideal points
5. Customer lifetime value marketing models
Customer lifetime value (CLV) is a forecast of the net profit ascribed to the customer's entire future relationship. It's also known as the monetary value of a customer relationship calculated from the present value of the customer's future cash flow.
6. Growth strategy matrix/Ansoff matrix
The Ansoff model can be utilized to develop alternate growth methods by examining current and potential products in current and future markets. Market penetration, market development, product development, and diversification are the four growth tactics.
7. Loyalty ladder marketing models
Loyalty models depict how a person progresses through the stages of prospect, customer, client, supporter, and advocate before being loyal to a business. It's a relationship marketing idea in which customers progress through the relationship levels, starting at the bottom as prospects (those who want to buy but haven't yet) and ending up at the top as advocates (intensely loyal brand champions).
8. PESTLE
This analysis framework – an extension of the standard PEST model – examines the impact of macro-environmental elements – political, economic, social, technological, legal, and economic – on a product or brand. It enables a business to understand the factors that might influence a new business or sector. Different types of firms may prioritize different elements, and a PESTLE analysis will aid in identifying risk factors for the SWOT analysis.
9. Porter's Five Forces
The five forces in Porter's model are rivalry, supplier power, the threat of substitutes, buyer power, and barriers to entry and are used to analyze the industry context in which the organization operates.
This is useful since you'll be able to change your approach based on your understanding of the variables in your environment or sector that can affect your profitability. For example, you might take full advantage of a good position or strengthen a weak one, all while avoiding future mistakes. Organizations are likely to keep a close eye on their competitors, but Porter encourages them to go beyond their competitors' actions and consider what other factors might impact the business environment. He identified five forces that shape the competitive landscape and can eat into your profits.
10. Product life cycle
Product life-cycle management (PLM) is the company management's succession of strategies as a product progresses through its life cycle. The circumstances under which a product is marketed (advertising, saturation) change over time and must be handled as the product progresses through its stages.
The natural route of a product, as it travels through the stages of introduction, growth, maturity, saturation, and decline, is plotted in this diffusion innovation model.
11. Segmentation, targeting, and positioning
Before implementing the communications strategy adapted for the chosen target group, this three-stage STP process requires examining which consumer groups exist and which segment the product best suits.
Every marketer should understand and use this model, which is centered on offering relevant products, services, and communications to customers and thereby generating benefits for the organization.
12. PR Smith's SOSTAC® model
This acronym stands for situation, objectives, strategy, tactics, actions, and control and is the structure of a marketing plan. Every marketing activity requires prior planning since that strategy will direct future actions that will aid in the achievement of goals and objectives and impact a company's digital growth. For all of that planning, the SOSTAC model is your best ally.
​​
7 Digital Marketing Models by Experts
In this digital space, it is important to surf through the plethora of data available. Content becomes the prime focus, which is why consumers will have to wade through a lot more material before finding you and your brand. While content reigns supreme, it isn't the only factor to be given attention. It's just as important to know how to strategize for online marketing as it is to grasp the more technical components of it.
Today, the ones sitting on the top are there because they have figured the right balance between the strategy and technical details. Now, if you want to learn how to bring your business or organization to the top, there are no better teachers available than these experts themselves. Let us look at what these top 7 digital marketers have to teach us about the potential models that could get you the growth and success you always dreamt of.
1. Neil Patel – Growth Marketing
It's tough to miss this name when it comes to digital marketing experts. Neil Patel has managed to stay on the top for 4 years and is still leading the digital marketing industry. He has over 340k Twitter followers and a total social media following of over one million. Patel shares his digital marketing expertise on YouTube, Twitter, Facebook, his own website, which also houses his blog, and LinkedIn, where his skill endorsements are set to "99+."
Patel is a New York Times bestselling author who has garnered numerous awards for his work, including being named one of President Barack Obama's top 100 entrepreneurs under 30. The Wall Street Journal, Forbes, and the United Nrecognizede all recognized him.
His first major hit was Crazy Egg, a software product that analyzes user engagement by mapping where users click the most on a web page. After that, he founded Kissmetrics, which delved even further into site analytics for use in digital marketing. Patel's first venture, Advice Money, an employment board, failed miserably. But he persisted, and today he is the owner of a digital marketing empire.
The question that arises from this is, how did he achieve such great heights of success, and more importantly what does he have to teach us? Neil is a Facebook Messenger chatbot enthusiast and a growth marketer. "The open rates and click-through rates on Facebook Messenger are insane: 80% open rates and at least 20% click-through rates — that's big," he says, adding that any marketer would be happy to achieve data like that with an email marketing campaign.
Neil's recommendation
To add to your marketing mix, go to MobileMonkey and create a free Facebook Messenger marketing chatbot. The field of growth marketing has become more sophisticated as marketing technology has improved. Growth marketers are developing experiments around what content is seen and when by different user segments. It uses the results to design highly optimized plans for each identified user segment, down to the individual level, using A/B testing and multivariate testing.
Marketers may create highly targeted ads that reach consumers across numerous channels, allowing them to establish customized growth strategies based on the customers' own behavioral indications.
2. Gary Vaynerchuk – The GaryVee Content Model
Gary Vaynerchuk must be included in any list of the finest digital marketing influencers. Vaynerchuk, often known as "Gary Vee," is a tenacious entrepreneur, speaker, author, and online content developer.
Vaynerchuk turned his parent's wine business into a multimillion-dollar business before launching the famous ad agency VaynerMedia. How? By utilizing digital marketing strategies early on. Vaynerchuk was an early adopter of email marketing, and as a result, he was able to get his product in front of buyers before anyone else. This was in the late 1990s when no one was using the Internet to promote their business.
Vaynerchuk, on the other hand, saw an opening and took it. Based on The Gary Vee Content Model, Gary Vee creates exceptional result-generating content. Documentation, creation, and distribution are all covered under one umbrella. It involves documenting long-form information, such as podcasts and vlogs, and turning it into micro-content, such as memes, articles, photographs, and quotes. Finally, the material must be distributed across all relevant social media networks. Gary's team turned one of his 4D session keynotes into 30+ micro-content pieces that were distributed across six marketing platforms. The repackaged content received over 35 million views.
Another thing Gary Vee emphasizes on is the importance of email marketing. "Email is a killer app and is definitely not dead," Gary Vee said during an #AskGaryVee session. Keeping promises and delivering results, according to Gary, is a critical aspect of email marketing. You can maintain a strong link with your targeted list of subscribers without relying on search engine rankings or other platforms. Unless it's you, no one can take your active subscribers away from you.
Throughout his career, he's maintained that the pattern of early adoption and experimentation must constantly remain at the forefront of digital developments. Through his podcast "Ask Gary V," his YouTube videos, and his daily email newsletter, the Hustler's Digest, he consistently serves up heaping helpings of honest talk.
He's also a five-time New York Times bestselling author, a member of numerous boards and organizations, and has a hand in everything from restaurant reservation software to charitable work. He was an early investor in some of today's most well-known startups, including Facebook, Twitter, and Venmo, and he has no plans to slow down. He's "crazy for the hustle," as he puts it.
3. Tim Ferris – Granular Content
Tim Ferriss is another successful entrepreneur, with millions of followers on his blog and podcast, as well as many books on the New York Times and Wall Street Journal bestseller lists. As he explains in his best-selling book The 4-Hour Workweek, his content is targeted towards assisting others in starting and growing their own enterprises.
He's been named one of Fast Company's most inventive CEOs, and four of his five books have achieved number one on bestseller lists. He was also named on Fortune magazine's "40 under 40" list.
According to his website, Ferriss has a Twitter following of over 1.6 million people and his podcast episodes have been downloaded over 300 million times. What we can learn from Ferriss is to be as detailed as possible. One thing that sets Ferriss apart is the quantity of detail he provides to his audience. All you have to do is look at his content to see this.
Ferriss creates granular material for every piece of content he creates. It's chock-full of links, allowing readers to track down the origins of everything Ferriss talks about. It contains practical advice, precise techniques, and in-depth debates. In fact, that's what the entire show is based on: high performers' identical routines and methods. And Ferriss's audience (whom he knows well) devours it.
4. Ann Handley, Epic Content Creation
Handley has been writing since 1985, first as a journalist and then as a marketer. In 1997, she switched to marketing, and she and her husband recognized a trend: digital marketing was becoming more popular. It was being used by more individuals, yet innovation within the space was still possible. She and her husband founded Clickz, a directory of tools for anyone interested in learning more about online marketing, and sold it three years later for $16 million.
She went on to become a successful author, keynote speaker, and Chief Content Officer of MarketingProfs, a company that educates budding entrepreneurs in all they need to know about digital marketing.
Handley believes in a model that portrays the consumer as the hero. She points out that many businesses create content and write what they know, usually about themselves, which is OK, except that you actually want to talk more about your customers. Discuss your products and services from the perspective of what they can do for others.
According to Handley, the three elements needed to create epic content are,
Find your voice: What distinguishes your company, what do you stand for, and what is your point of view? That also includes what you don't try to help and who you don't try to help.
Take risks with your content: Take some chances and have some fun with your content. It's terrifying to put something out there and have people dislike it, but it's also the only way to develop something that will truly resonate with people. Remember, you're not producing for everyone; you're creating for the individual people you want to pursue.
Promote: Give your information wings to help it fly while also giving it the roots to keep it rooted in your business and who you are. That goes for social media as well and tools like Pinterest and Instagram. Products like marketing automation can help you reach out to more people and be more strategic about using your content to strengthen your customer relationships.
Forbes has also designated Ann Handley as a prominent LinkedIn influencer and a Top Thought Leader. She has been described as "one of the persons driving the world of modern marketing" by IBM.
Handley is emphatic that you can't be a competent marketer if you can't write. She wrote a bestseller on the subject called Everybody Writes: Your Go-To Guide for Creating Ridiculously Good Content.
5. Seth Godin
Godin has been writing, speaking, and motivating others on the subject of unconventional entrepreneurship for the past three decades. 18 of his books have become bestsellers and are considered essential reading for any aspiring business leader. The Dip and Purple Cow are two pieces that are frequently recommended. This is Marketing, his newest book, is now in the works.
Godin's blog, where he shares his marketing thoughts, is extremely popular. He also hosts the Akimbo podcast, teaches courses on Udemy, and schedules regular speaking appearances. His work may be seen on Medium, and his lectures can be found on his YouTube account. Godin introduced the altMBA Program, a four-week online leadership, and management training for aspiring entrepreneurs and businesspeople, in 2015. Managers and communications professionals from Chiobani and Sony Music are among its graduates.
Godin was recognized by the Direct Marketing Hall of Fame in 2013 and the Marketing Hall of Fame in 2018, and his website is chock-full of excellent information and links to other sites. According to Godin, content marketing is the only form of marketing that still exists. It's gaining popularity as more and more firms realize its importance. And it's largely due to the fact that advertisements are becoming ineffective by the day.
"Possibility can be found wherever. We all have more to offer than the rest of the world realizes. And as long as we're devoted to seeing what we can contribute, we'll be able to expand," he says. As businesses and economies reopen and seek to grasp how consumer behavior, attitudes, and preferences have changed forever, this comment from the world-renowned Seth Godin is a pertinent and uplifting reminder.
6. Guy Kawasaki
Kawasaki, a self-described "chief evangelist," is most known for his marketing work at Apple in the 1980s, and now works in a similar capacity at online graphic design business Canva. According to his website, he's also a Mercedes Benz brand ambassador and an Executive Fellow at UC Berkeley's Haas School of Business. He is a Stanford and UCLA graduate. Kawasaki was born and raised in Honolulu, Hawaii. His first job out of college was with Nova, a jewelry company, and after graduation, his Stanford roommate got him a job at Apple. He worked there for years before leaving, founding a few software firms, and eventually returning as an Apple Fellow before moving to Canva.
Rather than saving the best for last, Guy started the countdown with a helpful tip on when to launch your social media campaign. While most people follow a sequential procedure for their commercial pursuits, this method is not as productive as it appears on the surface. Guy suggests that your thinking, creating, finishing, and selling tasks should run concurrently rather than sequentially. This means that as soon as you have a new concept, product, or service, you should start establishing your social media network.
Guy laid the groundwork for several platforms, including Facebook, Twitter, Google+, Pinterest, and LinkedIn.
7. Shama Hyder – Zen Master of Marketing
Hyder is on our list as an up-and-comer, but that doesn't mean she hasn't accomplished as much as her peers. Fast Company has dubbed Zen Media's founder and CEO, Shama Hyder the "Millennial Master of the Universe," while Entrepreneur magazine has dubbed her the "Zen Master of Marketing."
Her book, The Zen of Social Media Marketing, is a best seller, and Hyder has presented international keynote presentations. She's appeared on big television networks like CBS and Fox and in prominent magazines like the New York Times, Wall Street Journal, Business Week, and others, as an expert in her area.
Hyder was recognized as one of the top 25 entrepreneurs under 25 by Business Week, and her company's performance landed her a spot on Forbes and Inc.'s "30 Under 30" lists. She's also been named one of the top 100 entrepreneurs in North America by the White House and the United Nations.
Hyder is an internet marketing professional who also pushes for young entrepreneurship and gender equality in the workplace, writing articles on social media such as "Top 2 Reasons #girlbosses Are Better for Women."
Key Takeaways
Content should always remain in the spotlight: We live in a world where every tiny device is swarming with content. It would seem that some tips and tricks could put you ahead of the others but really, sometimes, it is all about how good and valuable information is being provided to the consumer.
A balance between techniques and strategic knowledge: Success cannot be achieved if you can't strike a balance between traditional techniques and the strategic knowledge of your content.
A seamlessly executed digital strategy starts with a lot of planning: Many businesses that do not have a digital marketing strategy do not have clear strategic objectives. This makes allocating sufficient money to particular marketing efforts challenging, and it's much more difficult to determine whether you're meeting your goals through statistics.
The online marketplace is a very competitive environment: To be successful, you must set yourself apart and stand out from the crowd. This is something that only a well-thought-out digital marketing strategy can help you with.
Your online content should always provide real value to the consumer: If your content is only focused on what you are trying to sell, there is little chance of success. Your content should also convey how your service or product would benefit the consumer. Many brands are rampantly trying to make sales, and amongst that hustle-bustle, the consumer needs to see some authentic value in your content to follow through with the purchase.
Nothing can be a substitute for consistency: No matter which framework you want to pursue for your brand, if you are not consistent with your analytics and SEO, the strategy will not take off. If it's email marketing, you need to keep sending emails; if it's direct contact with your users, you need to keep making videos or podcasts or whatever you have chosen. In the case of SEOs, it's a marathon, not a sprint. If you want to stay on top of SEO, you must stay on top of it at all times. Businesses tend to cut back on marketing efforts and ad spend during fear and crisis, and your gain is their loss. This is the ideal time to strike and jump ahead in the ranks, especially for competitive phrases.
Conclusion
Now that you know about the various digital marketing models, putting them to good use will be easier. Remember, focus on what you feel works for your brand and customer. 
FAQs
1. What are the 7 types of digital marketing?
1. SEO 
2. Pay-per-click 
3. Social media marketing 
4. Content marketing
5. Email marketing
6. Mobile marketing
7. Marketing analytics 
8. Affiliate marketing
2. Who invented the 7Ps of marketing?
E. Jerome McCarthy created the 7Ps concept in 1960 and published it in his book Basic Marketing.
3. What are the models of digital marketing?
Strategy& has identified four equally successful digital marketing models: Digital Branders, Customer Experience Designers, Demand Generators, and Product Innovators.
4. What are the 5 components of digital marketing strategy?
The components of a digital marketing strategy are structured into a framework called the Five Cs to understand how they fit together. (1) firm strategy; (2) customer experience; (3) content generation; (4) channel promotions; and (5) check-back analysis.
5. What are some examples of successful digital marketing?
1. The establishment of authority by American Express.
2. Airbnb and its emphasis on user-generated content
3. Lyft and the requirement for promoters
4. Domino's and its willingness to accept new technology
5. Sephora's omnichannel strategy
6. Slack and a solution-oriented mindset